Are you confused about which landing page builder to choose for your WordPress website? The three biggest players in the game, Leadpages vs Unbounce vs SeedProd, all have their strengths. However, understanding what sets them apart can be a tough choice.
To simplify, we've compared these three page builders. We've looked at them based on key factors like features, ease of use, design choices, and more to help you make an informed decision.
Table of Contents
Before we dive in, why are landing pages important for your WordPress site?
Why Are Landing Pages Important?
Landing pages are a big deal because they help you get more conversions. And let's face it, getting people to take action is the whole point of online marketing.
When you send visitors to a clean, focused landing page instead of a busy homepage, they're likelier to do what you want. This could be signing up for an email list, buying something, or downloading a free e-book.
Save Money: Landing pages are cheaper than traditional ads but can be just as effective for promoting new products or events.
Track Results: Most tools for building landing pages come with analytics. This helps you see what's working and what's not so you can tweak your approach.
Boost SEO: A well-designed landing page with the right keywords can help your site rank higher in search engine results.
Get More Leads: The core of a good landing page is a simple form. It asks only for the info you need to keep the conversation going with potential customers.
Grow Your Email List: Landing pages with sign-up forms are great for expanding your email list and staying in touch with leads.
To wrap it up, landing pages are super important. And to make the most of them, you'll need the right tool.
That's where landing page builders like Leadpages, Unbounce, and SeedProd come in. They make it easy to set up effective landing pages, even if you're not a tech whiz.
Key Features of LeadPages vs Unbounce vs SeedProd
Ready to dig in? Leadpages, Unbounce, and SeedProd all help you make landing pages that convert well. But they each have unique features that could tip the scales in their favor.
So, what makes each one unique? Let's compare their features to find out.
SeedProd Features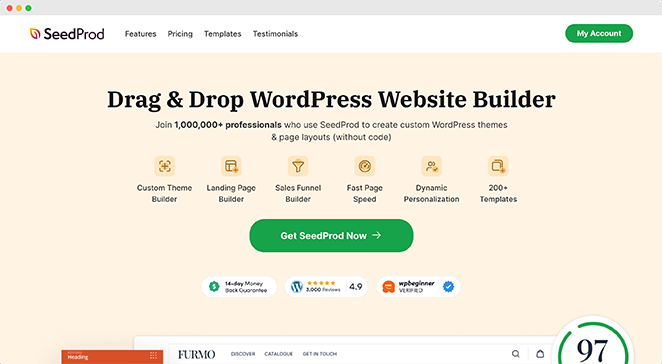 SeedProd is one of the best WordPress page builders and website builders, with over 1 million users. It's all about making things easy and fast. You can see your design changes in real time thanks to its drag-and-drop editor.
Key Features:
Easy Page Design: With SeedProd's drag-and-drop builder, creating a landing page is a piece of cake. No coding needed.
Create Your Theme: Need a unique WordPress theme? SeedProd lets you build one, complete with custom headers, footers, sidebars, and more, all without coding.
Advanced Blocks: SeedProd offers more than just basic elements. Add features like sign-up forms and countdown timers easily.
Coming Soon & Maintenance Pages: SeedProd is unique in offering Coming Soon and Maintenance Mode pages. Keep your audience engaged even when you're updating your site.
Control Access: Want to limit who sees your page? SeedProd lets you set passwords or restrict access to certain users.
Undo Changes: Made a mistake? No worries. SeedProd keeps a history of your revisions, so you can go back to an older version anytime.
In short, SeedProd makes building and managing your site easy, especially when you're growing or making changes.
Leadpages Features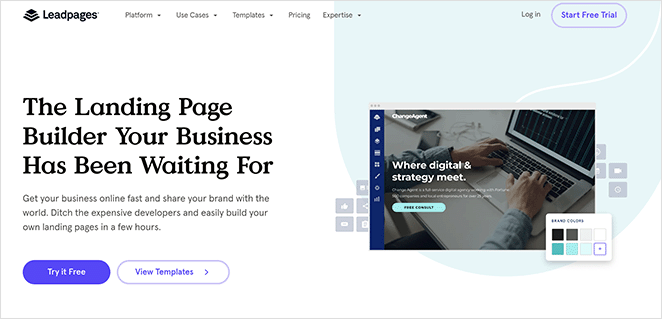 Leadpages is a strong option for building landing pages. It's packed with features to help you get more conversions. You'll find everything from customizable templates to easy design tools and smart testing options.
Key Features:
Simple Design Tool: Leadpages has a drag-and-drop builder, just like SeedProd and Unbounce. This means you can make and edit pages easily, no matter your skill level.
Lots of Templates: Make designing even easier with over 200 ready-to-use templates for landing pages, websites, and popups.
Test and Tweak: Use Leadpages' built-in A/B testing to find out what works best. You can easily compare different designs and content to get more conversions.
Capture More Leads: Use popups to gather extra info from visitors without messing up your page design.
Text-to-Join: This unique feature lets people join your email list or a webinar by texting them from their mobile phones.
In short, Leadpages makes it simple but effective to build professional-looking landing pages.
Unbounce Features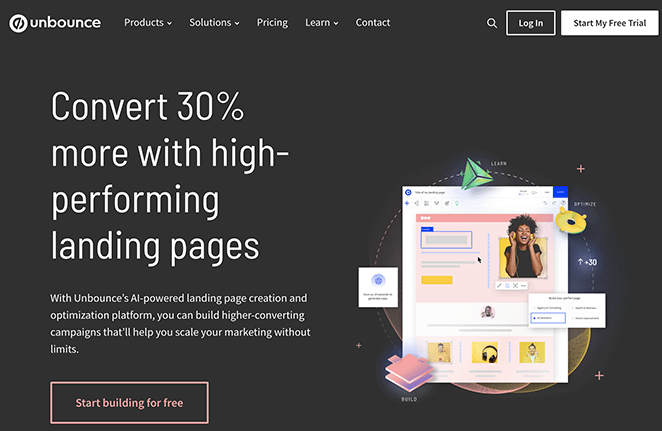 Unbounce is another popular choice for creating landing pages that really work. Even if you're not tech-savvy, you can easily create, test, and launch your pages in one spot.
It's designed for easy use and flexible design, with built-in testing tools to help you get more conversions.
Key Features:
Simple Drag-and-Drop: Unbounce has a user-friendly drag-and-drop feature. This means anyone can create custom landing pages without needing to code.
Personalized Content: With Dynamic Text Replacement, Unbounce lets you tailor the content on your landing page based on what visitors search for, making their experience better.
More Engagement: Use pop-ups and sticky bars to keep visitors interested and capture more leads.
Smart Testing: Unbounce comes with A/B testing tools built in. This helps you make changes based on real data to get better results.
Lead Tools: There are lots of ways to get more leads with Unbounce, including forms and overlays.
In short, Unbounce offers a range of tools to make landing page creation and optimization easy and effective.
User-Friendliness: Leadpages vs Unbounce vs SeedProd
A good landing page builder needs to be easy to use. Even if it has lots of features, it's no good if it's too hard to figure out. After all, no one wants to waste time or get frustrated.
Now, let's see how Leadpages, Unbounce, and SeedProd compare when it comes to being user-friendly.
SeedProd Ease of Use
From the outset, SeedProd is carefully designed to empower novice users. It does this with its effortless drag-and-drop builder, which eliminates the need for any coding knowledge.
An intuitive user interface greets you as soon as you launch SeedProd, giving you immediate access to an array of options that are easy to navigate.
The straightforward layout of the builder helps you get the hang of it from the first instance, simplifying your journey from a blank slate to a professional landing page.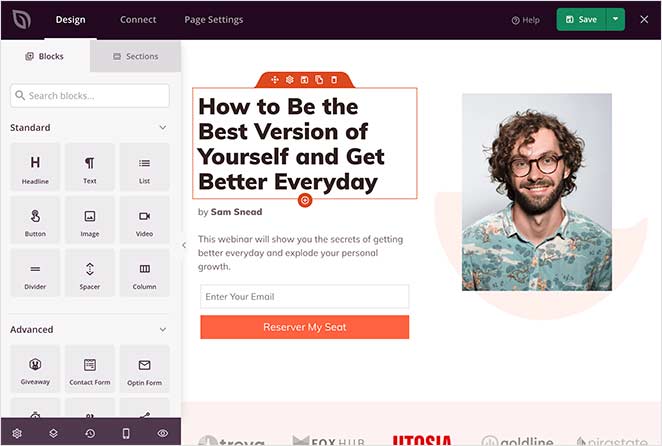 Plus, it features an all-in-one style builder that lets you control every aspect of your landing page design, including background, fonts, and colors, right from a single panel.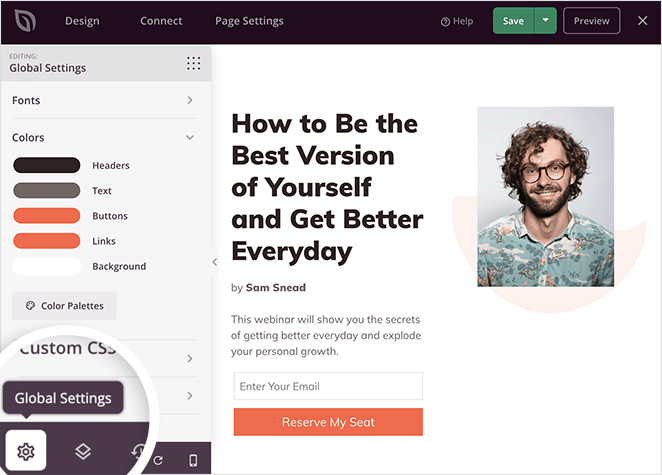 The builder's advanced options even allow power users to add custom CSS for more tailored designs.
SeedProd also has a 'Live Preview' function that shows your modifications in real-time. No need to save and preview changes externally.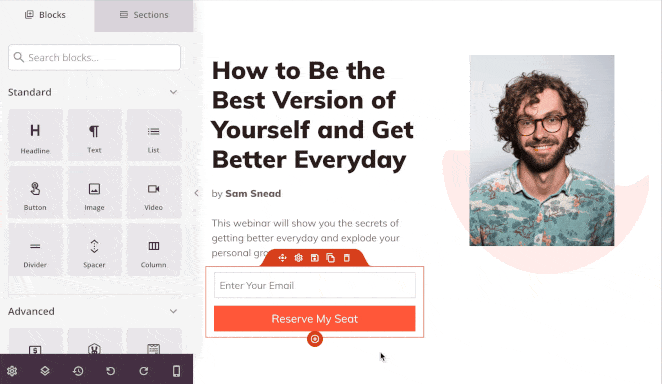 Leadpages Ease of Use
Leadpages has a simple, user-friendly interface for novices. From the moment you log in, you'll see a clear overview of your pages and the various actions you can take.
Leadpages drag-and-drop editor makes it simple for beginners to design and deploy landing pages. You can move images, text, and other elements around with ease.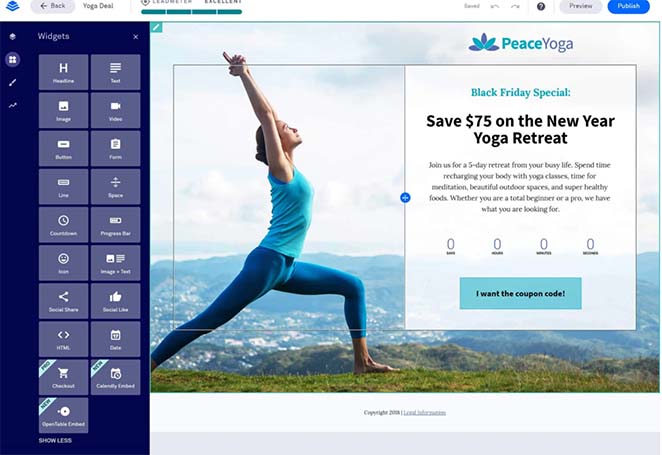 Each widget, whether for text, images, or forms, is highly customizable. You can tweak colors, fonts, spacing, and other attributes to match your branding.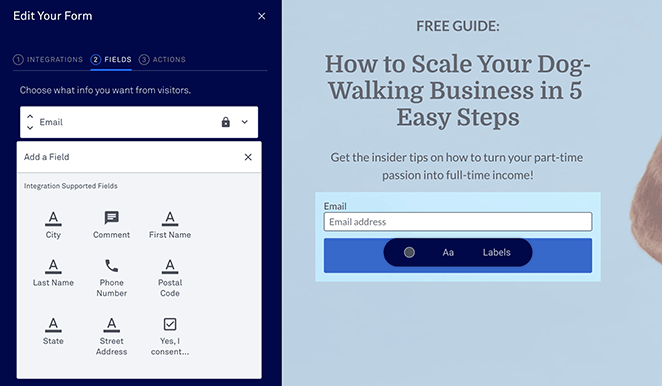 LeadPages also allows you to share your drafts with team members or clients for their input, fostering a more collaborative design process. However, it has a slight learning curve when compared to SeedProd.
Unbounce Ease of Use
Unbounce prides itself on being user-friendly, especially for non-technical users. Its interface comes in 2 formats: the smart A.I. powered builder and the classic drag-and-drop builder. Both options let you build and customize your landing page without any coding knowledge required.
In the smart builder, you start by providing some information about your business and the A.I. will suggest a template for you.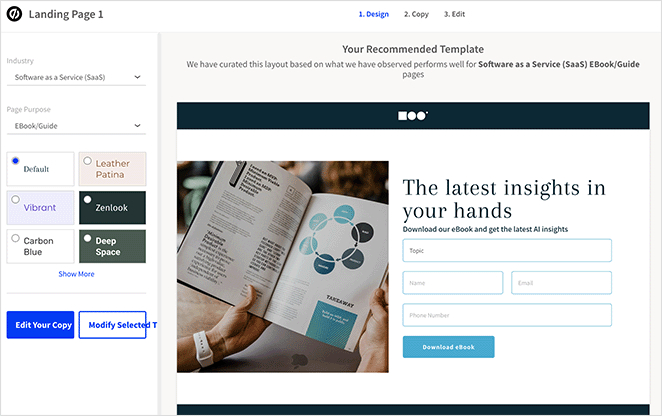 Then you can enter details about your busienss purpose and the builder will generate copy for your page automatically.
The classic builder is more hands-on. You just select the elements you need and place them where you want using your mouse.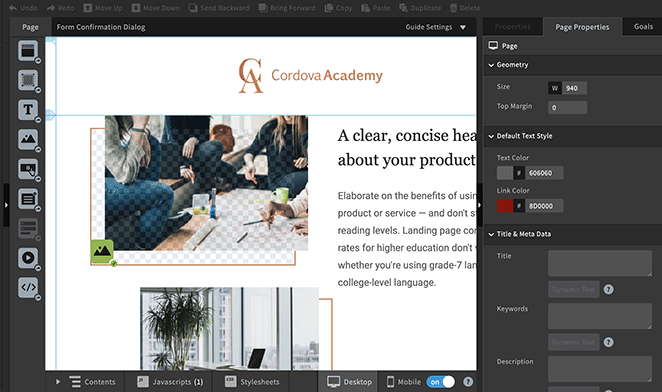 Unbounce also allows you to create any design layout you have in mind. With element-based editing, you can adjust each part of the landing page.
That said, mastering all of Unbounce's features might require a learning curve, particularly if you're new to landing page design. The classic builder's interface also seems more cluttered than SeedProd and Leadpages.
Which Platform Is the Easiest to Use?
Ultimately, the decision concerns your comfort level with design interfaces and customization.
If you prefer a straightforward, beginner-friendly experience, SeedProd may be your best bet. However, if you're up for a learning curve, Leadpages and Unbounce could offer you the flexibility you need.
Design Options: Customization and Templates
Everyone wants their landing page to be unique and attractive. So, how do you ensure that with Leadpages vs Unbounce vs SeedProd?
To help you decide, let's look at the templates and customization options for each page builder:
SeedProd Design Options
With SeedProd, you can create and design your landing page or WordPress theme as you see fit, without any restriction. Its visual drag-and-drop builder lets you build your page from scratch or start with one of SeedProd's numerous pre-made templates.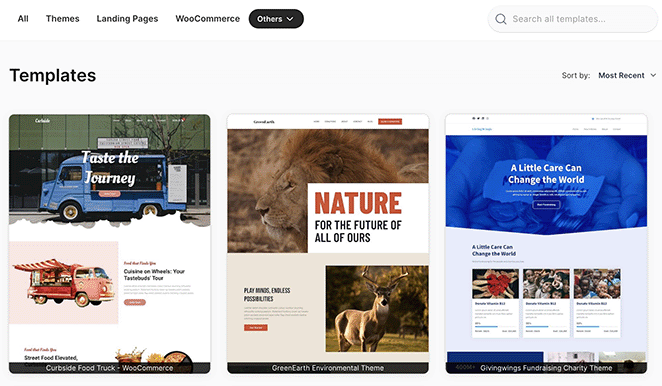 SeedProd offers 100+ full website kits and 200+ landing page templates to use as a starting point. Templates are categorized for easier selection, with options for sales, coming soon, webinars, and more layouts.
Customizing these templates is uncomplicated, with options to alter the color scheme, typography, button style, and more.
Additionally, the builder has sections and blocks for commonly used landing page features such as headers, footers, testimonials, opt-in forms, and more. You can arrange these blocks and sections in any way you want.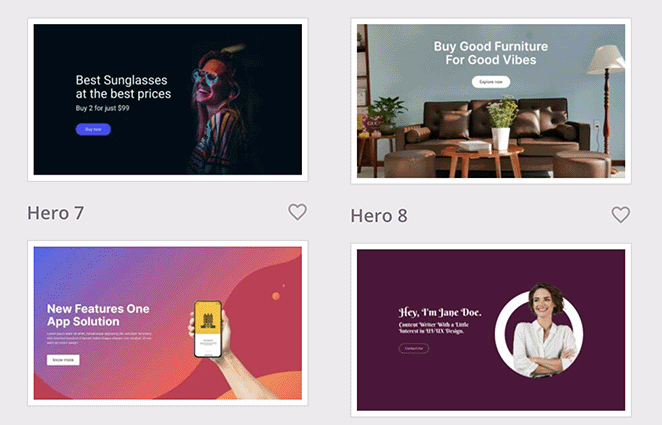 Even better, all designs are fully responsive and optimized for SEO, ensuring your landing page looks great and performs well on any device.
With SeedProd, you receive full design control, making it easy to create a highly customized, professional-looking landing page.
Leadpages Design Options
Leadpages offers an appealing range of templates that cater to different business needs. Its template collection is categorized based on conversion rates, allowing you to select templates that are proven to perform well.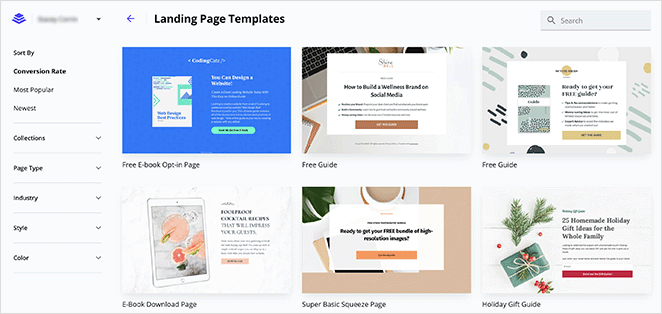 The customization level is also noteworthy. You can tweak colors, fonts, and even layout elements. Its drag-and-drop editor allows you to position elements where you want, giving you granular control over your page design.
Unbounce Design Options
Unbounce doesn't fall short in terms of design options. Their offering includes a wide selection of templates focusing on elements that help increase conversions, like call-to-actions and testimonials.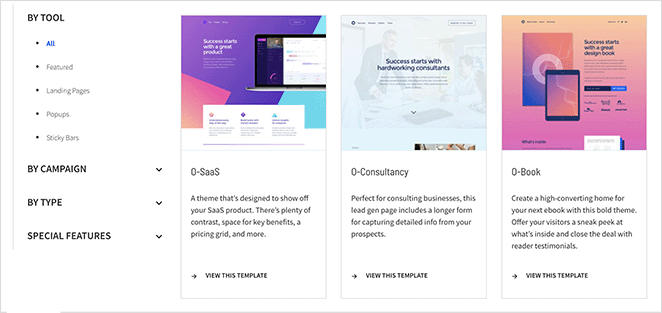 Customization options abound with Unbounce's drag-and-drop builder. Movability isn't restricted to a grid, offering free-form design.
It supports parallax scrolling, embedded videos, and many other helpful features.
Which Plugin Has the Best Customization Options?
While all three platforms provide extensive customization options, we found that SeedProd is best for user-friendliness and full website building.
On the other hand, Leadpages prioritizes conversion rates, and Unbounce's strength is in its free-form layout.
Mobile Responsive: Leadpages vs Unbounce vs SeedProd
How well do your landing pages perform on mobile devices? Are they fully responsive and easy to navigate?
When talking about Leadpages vs Unbounce vs SeedProd, you'll be pleased to know that all three are mobile-friendly. But to what extent? Let's find out.
SeedProd Mobile Options
SeedProd boasts fully responsive templates, and with real-time responsive design controls, you can optimize your landing pages for any device or screen size. Simply choose your device in the bottom panel and make edits for that view.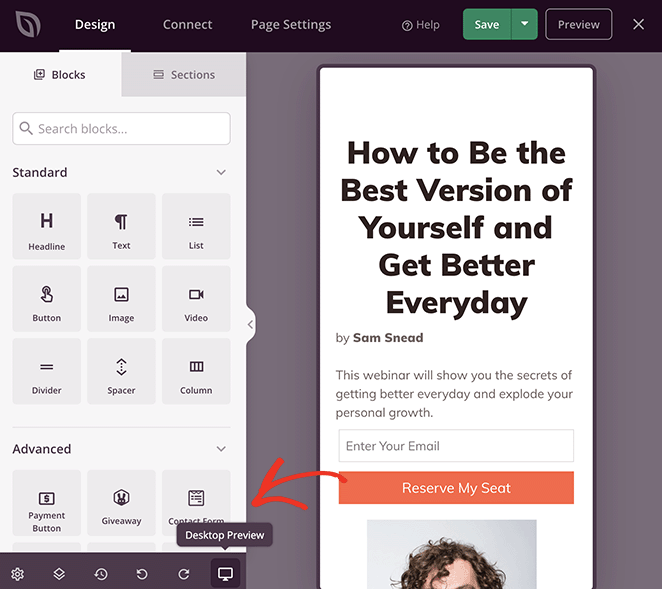 What's more, SeedProd offers more granular controls inside its WordPress blocks. You can adjust each block to show or hide features on mobile screens or desktops individually.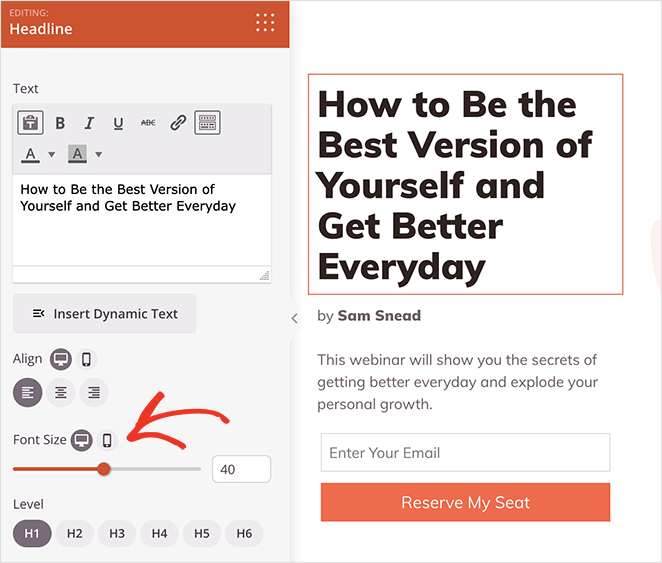 Essentially, it allows you to create completely different designs for mobile and desktop devices.
Leadpages Mobile Options
Leadpages makes mobile responsive design a priority. Each of their templates is built to automatically adjust to any screen size, ensuring that your landing page looks great on a desktop computer, tablet, or smartphone.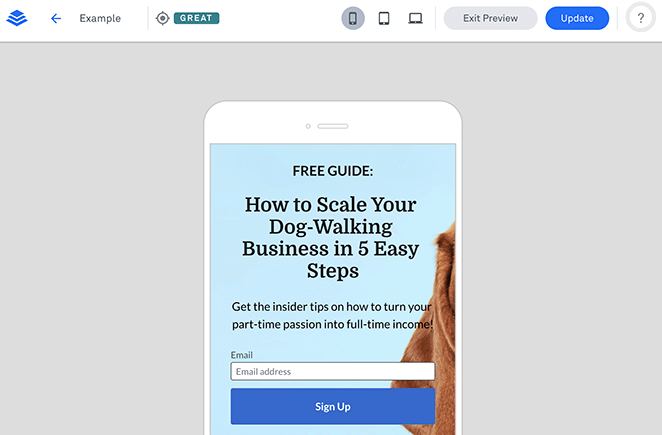 Additionally, Leadpages offers a mobile responsive preview within its editor, enabling you to see how your page will appear on mobile devices.
Unbounce Mobile Options
Unbounce is also mobile-friendly. Like Leadpages and SeedProd, Unbounce's templates automatically adjust to fit each user's device.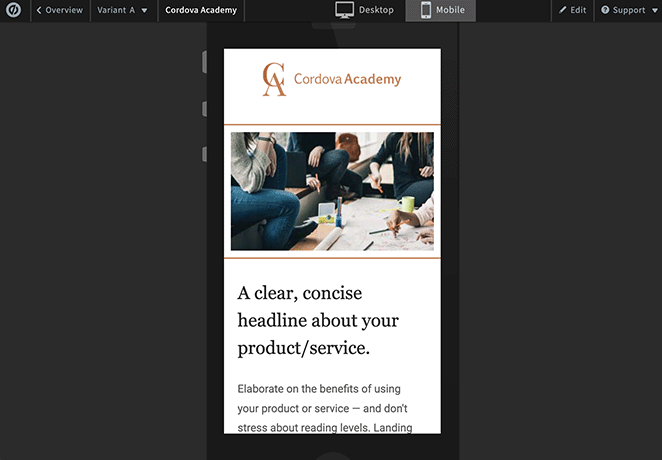 But, they go a step further with the unique mobile layout assistant. This feature helps you adjust the elements for mobile, ensuring your page isn't just scaled down but truly optimized for smaller screens.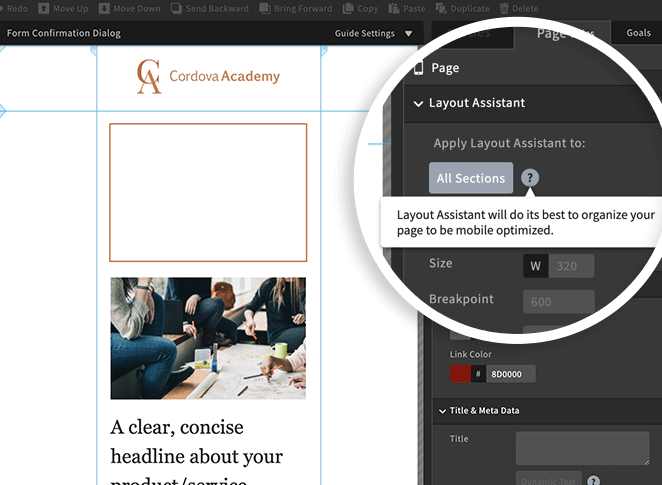 Which Plugin is the Most Mobile-Friendly?
While all three builders provide excellent mobile responsiveness, Unbounce and SeedProd win based on their personalized level of mobile optimization. They offer features designed for mobile-specific layout adjustments, making it a breeze to create mobile-optimized landing pages without any stress.
However, Leadpages also offers solid mobile design options that might suit your needs.
Integrations with Other Platforms
Choosing a landing page builder that seamlessly integrates with your existing tech stack is critical to ensure smooth operations. Let's take a deep dive into how Leadpages, Unbounce, and SeedProd pair with other platforms.
SeedProd Integrations
SeedProd is compatible with many popular email marketing services and Zapier. These are crucial in managing subscriber lists, sending follow-ups, and nurturing leads.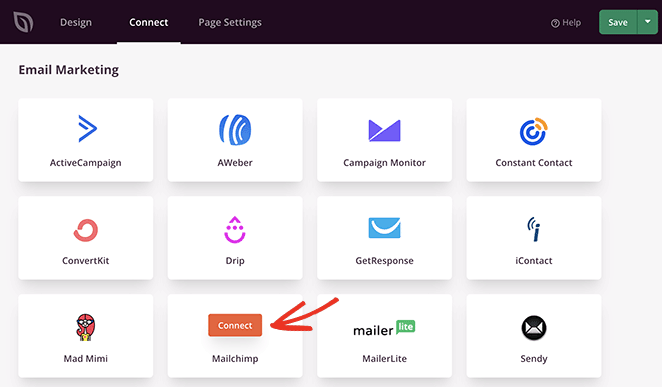 On top of email marketing, SeedProd also integrates with popular eCommerce plugins, allowing you to easily sell products or services from your landing page or WordPress theme.
Connect to plugins like WooCommerce or Easy Digital Downloads to boost your online store's conversion rates, and customize your site with built-in WooCommerce and Easy Digital Downloads blocks.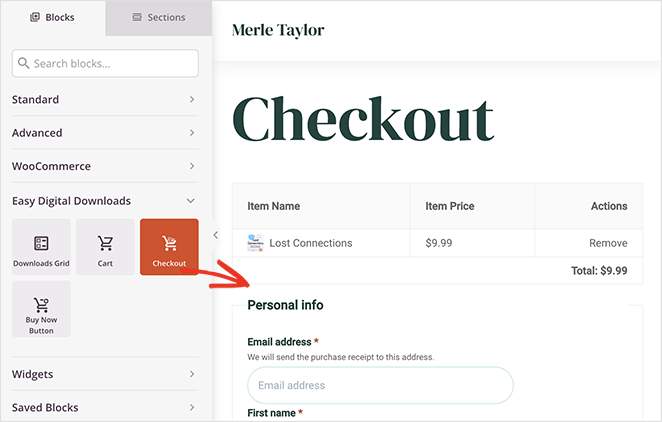 Since SeedProd is a WordPress plugin, it works with other popular WordPress plugins you may already use. It's also theme agnostic, so you won't face any WordPress theme compatibility issues.
In a nutshell, SeedProd is highly flexible, making it fit easily with your existing tech stack.
Leadpages Integrations
Leadpages also plays nice with various applications. Whether you use email marketing software like MailChimp or Aweber, CRM tools like Salesforce or HubSpot, or run an eCommerce store on Shopify, you'll find it easy to integrate Leadpages.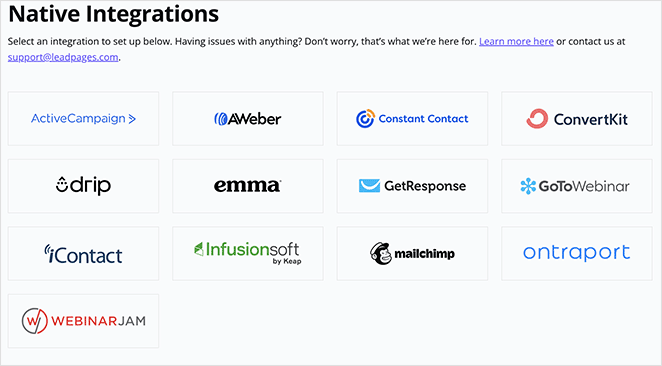 In addition to these, LeadPages also supports integration with payment gateways like Stripe, webinar platforms like Zoom, and many more. This wide variety of integrations makes it a versatile choice for many businesses.
Unbounce Integrations
Unbounce offers a robust list of integrations, including popular email marketing platforms, CRM systems, analytics tools, and webinar software.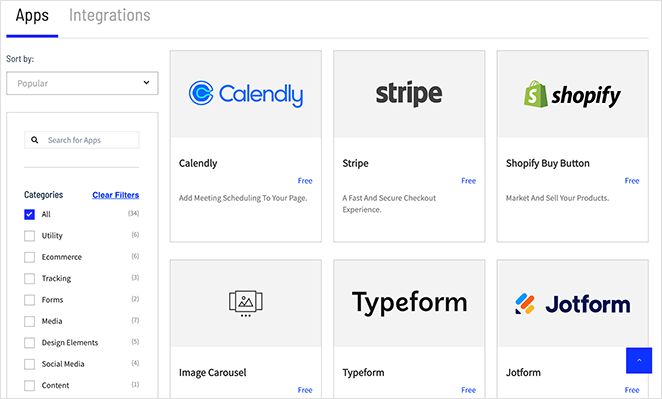 Unbounce also has a Zapier integration, opening the door to thousands of other apps. With this, you can automate workflows and save considerable time.
Which Plugin is Best for Integrations?
When it comes to integrations, Unbounce comes out on top, as it supports over 100+ integrations across various categories. Leadpages follows with a moderate number of integrations suitable for essential marketing needs.
SeedProd, although offering fewer integrations, shines by working seamlessly with critical WordPress plugins that many website owners use.
Performance and Speed: Leadpages vs Unbounce vs SeedProd
While functionality and design are crucial in landing page builders, optimal performance and speed can enhance the user experience. Let's look at these aspects for Leadpages, Unbounce, and SeedProd.
SeedProd Performance
SeedProd is well-known for its outstanding performance. Even with heavy customization, your landing pages load at an impressive speed.
Average page loading speed: 1.2 seconds
Page loading speed under high traffic: 1.5 seconds
With clean code and optimized images, it ensures your landing page remains responsive and efficient, regardless of the extra functionalities you choose to add.
Leadpages Performance
The performance of Leadpages is similarly commendable. It integrates well with most themes and plugins, reducing the risk of conflict and performance issues.
However, while it boasts efficient load times, heavy customization can sometimes slow down your pages slightly, especially if you use a wide range of templates.
Average page loading speed: 2.5 seconds
Page loading speed under high traffic: 3 seconds
Unbounce Performance
Unbounce also performs well when it comes to speed and efficiency. Its Smart Traffic technology optimizes landing pages in real-time, ensuring fast load times and enhanced user experience.
However, similarly to Leadpages, extensive customization can impact page load times.
Average page loading speed: 1.5 seconds
Page loading speed under high traffic: 2 seconds
Regardless, with Unbounce, your pages are always mobile-responsive and display correctly across different devices.
Which Platform Has the Fastest Loading Times?
All three builders—SeedProd, Leadpages, and Unbounce—are extensively optimized for speed; however, if we had to select the best performer, it would be SeedProd. With its clean coding and optimal image loading, it provides a slightly faster, more reliable performance, even when up against heavily customized pages.
SEO-Friendly Landing Pages
Let's not beat around the bush—optimizing your landing pages for SEO is crucial for getting that organic search traffic. But how well do our three contenders stand on this front? Let's find out.
SeedProd SEO Options
While SeedProd doesn't include native SEO options, it integrates flawlessly with popular SEO plugins like All in One SEO (AIOSEO). As a result, you can optimize your landing pages for the best possible search engine performance.
After installing an SEO plugin, you can customize meta titles, descriptions, schema markup, sitemaps, knowledge graphs, and more to improve your on-page SEO.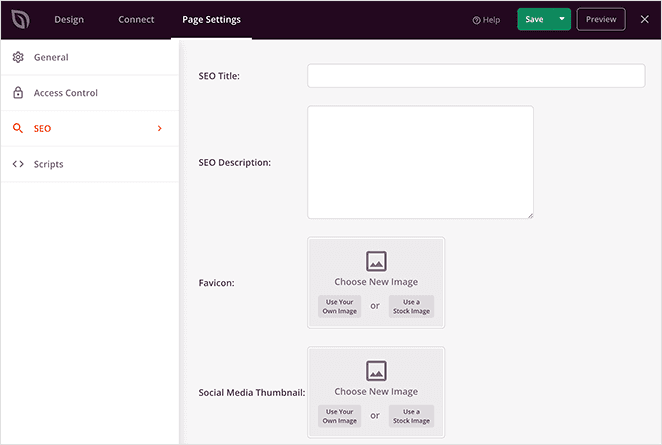 This is a crucial benefit for SEO as meta information helps search engines understand what your page is all about. They also appear in search engine results, which can influence people to click on your page.
Given that Google now prioritizes mobile versions of content for indexing and ranking, it's vital that your landing pages perform well on mobile devices. SeedProd ensures this through its mobile-responsive design feature.
Leadpages SEO Options
Leadpages also comes right out of the box with SEO-friendly features.
You can set up your landing pages in a way that's easy for search engines to read and rank. It also lets you optimize meta titles and descriptions to help search engines understand your page content better.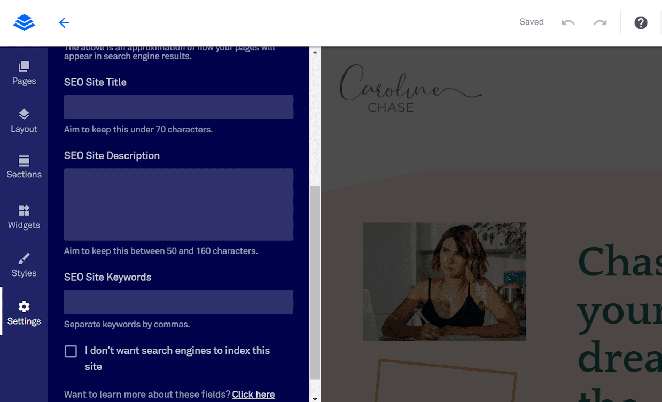 In addition, Leadpages landing pages are mobile responsive, which is important for user experience and SEO.
Like SeedProd, Leadpages integrates with major SEO plugins, like Yoast SEO and All in One SEO, to further boost your SEO efforts.
Unbounce SEO Options
Unbounce offers a range of SEO features. It lets you populate meta tags with targeted keywords and offers full control over meta titles and descriptions.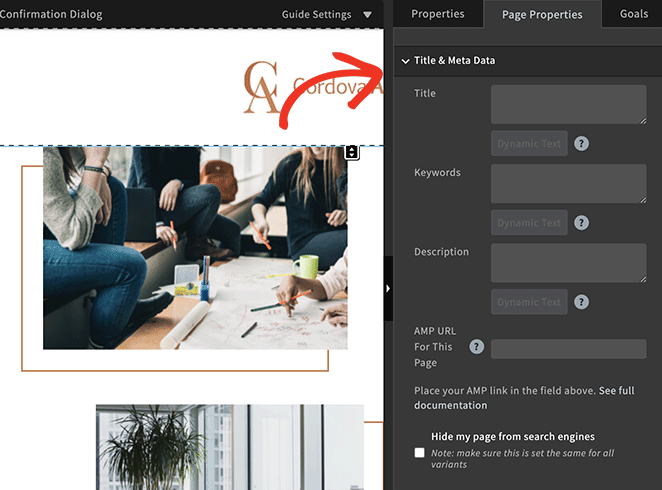 Unbounce also lets you select custom URLs for each landing page. Plus, to maintain your site's traffic, it enables you to redirect URLs from old to new pages.
Considering the importance of security in SEO, Unbounce offers SSL encryption for all pages, a critical factor in Google's ranking algorithms.
However, keep in mind that while Unbounce does offer these SEO features, it doesn't provide advanced SEO tools such as schema markup or XML sitemaps. This might mean you'll need to install additional SEO plugins.
Which Page Builder is Best for SEO?
If SEO is a top priority for you, SeedProd may have a slight edge due to its compatibility with popular SEO plugins.
But let's not forget – SEO is an ongoing process, and the tool alone won't drive your pages to the top of search rankings. You also need to create valuable content that your audience loves and trusts.
Customer Support: Leadpages vs Unbounce vs SeedProd
No matter how user-friendly a page builder is, there may still be instances where you'll need help. With this in mind, let's look at the customer support options for SeedProd, Leadpages, and Unbounce.
SeedProd Support
SeedProd offers robust customer support for its users. The platform boasts a dedicated team of customer service professionals who are at your disposal and who respond in 1 hour or less during business hours.
Moreover, you can access their wealth of self-help resources from their site anytime. Those include:
Extensive documentation covering how to use the different features.
Guides and tutorials for both beginners and advanced users.
Detailed blog posts on different topics to assist you in leveraging the platform.
LeadPages Support
Leadpages also provides a helpful support infrastructure. The standout feature is its live chat support. Available from Monday through Friday, this service allows you to get immediate help when you need it most.
In addition to live chat, Leadpages also offers:
Regular webinars led by experts covering various aspects of the software.
A wide-ranging repository of articles, tutorials, and FAQs to guide you through any issues or questions you might have.
A support system is available for less urgent queries. Typically, you can expect a response within 24 hours.
The level of support you get, however, depends mainly on your plan. While live chat is available to all customers, priority support is only available for Advanced Plan subscribers.
Unbounce Support
If you thrive on detailed tutorials and comprehensive learning resources, Unbounce might be your ideal landing page builder.
So, what does Unbounce's customer support platform have to offer?
Unbounce provides real-time support via Live Chat with a team ready to help almost any time of the day.
If your query isn't urgent, you can raise a ticket from your Unbounce account, and their customer support team will get back to you as soon as possible.
Unbounce has a rich help center with tutorials, guides, and articles.
It also offers a community where you can find helpful tips from other users.
Which Plugin Has the Best Customer Support?
While all three platforms provide reliable and good customer support, Unbounce appears to trump the other two with its more diverse options – especially the inclusion of phone and live chat support.
However, remember that some prefer SeedProd or Leadpages due to their less tier-restrictive support offerings.
Pricing Comparison: How Do They Stack Up?
When choosing a landing page builder, pricing is an essential factor. To help you find the most cost-effective solution, we'll look at the pricing structures of Leadpages, Unbounce, and SeedProd.
SeedProd Pricing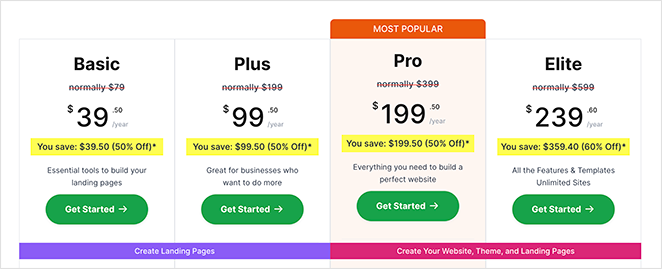 SeedProd comes with four plans: Basic, Plus, Pro, and Elite, which are billed yearly at $39.50, $99.50, $199.50, and $239.40.
Basic: For a single site, offering drag & drop builder, subscriber management, 50+ pro templates, 90+ pro blocks, and access controls.
Plus: Up to three sites, all Basic features plus email integrations, and 100+ templates.
Pro: For up to five sites, all Plus features, WordPress theme builder, website kits, priority support, and domain mapping.
Elite: For unlimited sites, it comes with all features from the Pro plan, WooCommerce, Easy Digital Downloads support, dynamic text replacement, and future premium add-ons.
SeedProd also offers a limited free version that lets you create simple landing pages in WordPress, something neither Leadpages nor Unbounce offers.
Leadpages Pricing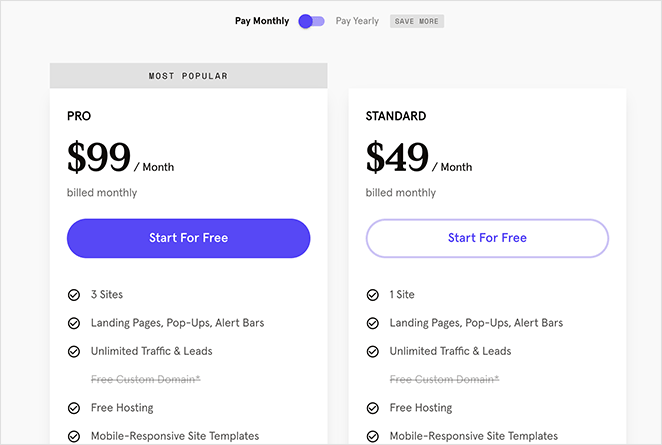 With Leadpages, you get three subscription plans to choose from: Standard, Pro, and Advanced. They cost $49 and $99 monthly, while advanced plans have custom pricing.
Here's what you get in each plan:
Standard Plan: This package is perfect for new businesses, offering one custom domain, 90+ integrations, and unlimited traffic and leads.
Pro Plan: In addition to all the features of the Standard Plan, it offers 3 custom domains, eCommerce support, and an A.I. writing assistant, making it a good fit for small businesses.
Advanced Plan: This plan unlocks advanced integrations, 50 custom domains, and a detailed success coach, along with all Pro Plan features.
Unbounce Pricing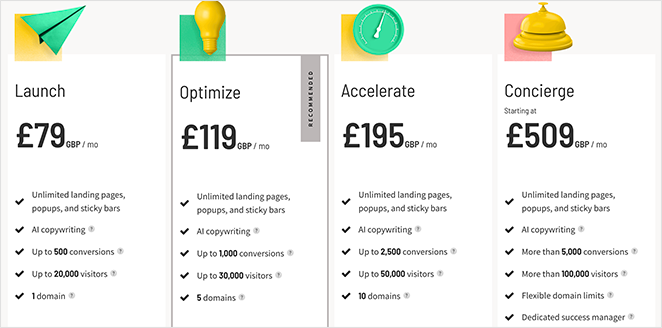 Unbounce offers four pricing levels: Launch, Optimize, Accelerate, and Concierge. These cost $99, $145, $240, and $625 per month, respectively.
Here's what each pricing level includes:
Launch: Ideal for those starting out, it offers unlimited landing pages, popups, sticky bars, and 20,000 visitors for one domain.
Optimize: More comprehensive, including dynamic text replacement, A/B testing tools, and up to 30,000 visitors for 5 domains.
Accelerate: For fast-growing businesses, it offers advanced targeting and scheduling, unlimited users, and up to 50,000 visitors for 10 domains.
Concierge: Offers flexible domain limits, 100,00+ visitors, and all other features from other packages.
Which Plugin is the Most Cost Effective?
If you're starting out or have a limited budget, SeedProd offers a lot of value for a fraction of the price. However, if A/B testing and conversions are the backbone of your marketing strategy, the higher price tag of Unbounce might be justified.
As for Leadpages, its unlimited landing pages provide exceptional value and can accommodate growing businesses well, too.
Which is Best? LeadPages vs. Unbounce vs. SeedProd
After thoroughly testing and comparing each page builder, we've concluded that SeedProd is the best option for beginners.
However this is just our personal opinon. The best platform for you depends on the needs of your business or project.
Are you looking for the utmost ease of use, or do you prioritize a wide selection of design features? Do you need to ensure the page builder is optimized for speed and performance, or are you more invested in SEO?
Your answers to these questions will help determine which builder is the best fit for you.
Let's recap some of the key points from our comparison:
SeedProd might be the perfect solution for beginners. With high user-friendly scores, comprehensive design options, and an emphasis on performance and speed, it's an all-rounder that won't break your budget.
LeadPages offers an impressive array of features, extensive integration options, and excellent customer support. However, it might not be the best option if you're working with a tight budget.
Unbounce stands out for its powerful customization abilities and robust integration features. While its pricing might be a sticking point for some, businesses focusing on ultra-customized, high-converting landing pages may find it well worth the investment.
In conclusion, all three page builders are solid options, so choosing the best one really comes down to what you're looking to achieve.
We hope this comparison of Leadpages vs Unbounce vs SeedProd has given you a clearer understanding of what each platform can offer!
If you're looking for more help with your WordPress website, you may find the following landing page tips and tutorials useful:
Thanks for reading. Please follow us on YouTube, Twitter, and Facebook for more helpful content to grow your business.