Have you ever considered selling digital products but avoided the idea because building an online store sounds too hard? The newest update for SeedProd might just change that.
With our new Easy Digital Downloads integration, creating a website to sell your digital goods is easier than ever. In under 30 minutes, you could have a brand new website with everything you need to display, sell, and deliver your products using one of the best digital eCommerce plugins for WordPress.
However, this barely scratches the surface of what you can do with SeedProd and Easy Digital Downloads (EDD), so let's dive in for a closer look at how this game-changing new feature works.
Build an Easy Digital Downloads Website Without Code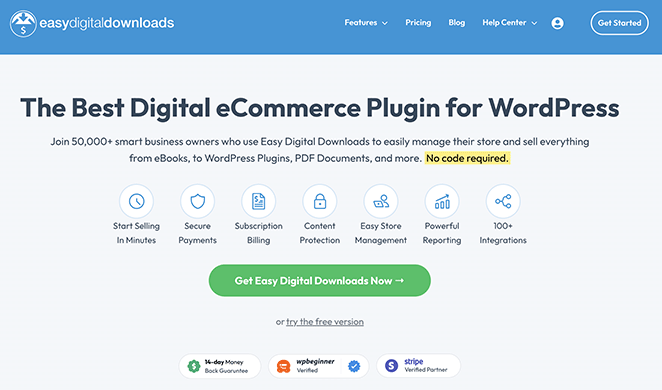 Easy Digital Downloads is one of the most popular digital eCommerce plugins for WordPress. Over 50,000 smart business owners use it to manage, store, and sell everything from eBooks and WordPress plugins to PDFs, music, and more.
The demand for digital products is huge, with a predicted growth rate of 6.9% by 2028. As a leader in its field, EDD's powerful eCommerce plugin is one of the easiest ways to capitalize on that trend.
Couple this with SeedProd's effortless website customization, and you have the perfect pairing for a high-converting online store that meets the demands of a booming industry.
Showcase Digital Products in One Place
With the new EDD Downloads Grid block, you can display all your products on a custom digital storefront. Your customers can browse, select, and purchase your digital products all from one place.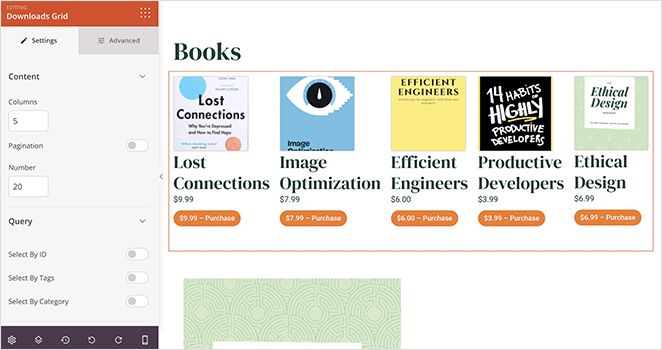 The block settings are easy to customize with similar point-and-click features to our WooCommerce blocks. For example, you can display products by ID, tags, or category, show multiple columns, and include pagination, which is ideal for stores with many products.
You can also show or hide the following details:
Price
Excerpt
Full Content
Buy Button
Product Thumbnails
The Downloads Grid is perfect for highlighting your product library if you sell software or apps. For instance, you can add the software icon as your product thumbnail, the price, a brief description or excerpt, and a buy button for immediate download.
Alternatively, as a digital artist, you can display your work with high-quality thumbnails, including the price, the story behind your work, and a buy button for shoppers to purchase right away.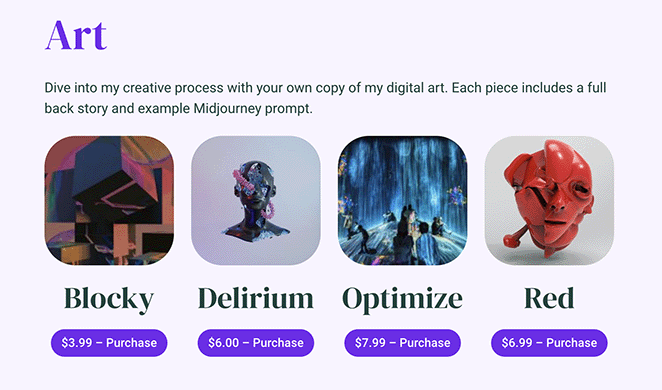 If shoppers need more convincing, they can always click through to see all the details on a professionally designed product page, which we'll talk about next.
Display Pixel-Perfect Product Details
Product presentation is key in digital commerce. With SeedProd's new Download Post Type, you can build pixel-perfect product detail pages for a seamless user experience.
Simply create a new Theme Template using the Theme Builder and choose the Download Post Type.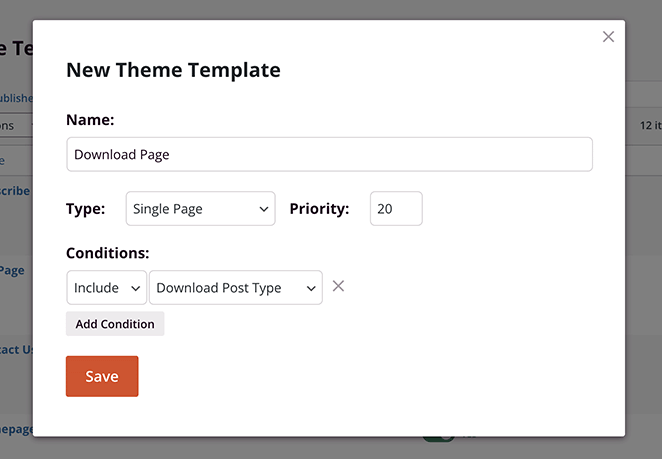 You can then edit the page using 7 new EDD template tags to customize how everything looks:
Featured Image
Title
Price
Content
Excerpt
Instructions
Add-to-Cart
Highlight key features, include high-quality images, and add compelling product descriptions to entice your customers. Plus, each block works seamlessly with our drag-and-drop builder, allowing you to display your product information anywhere you like.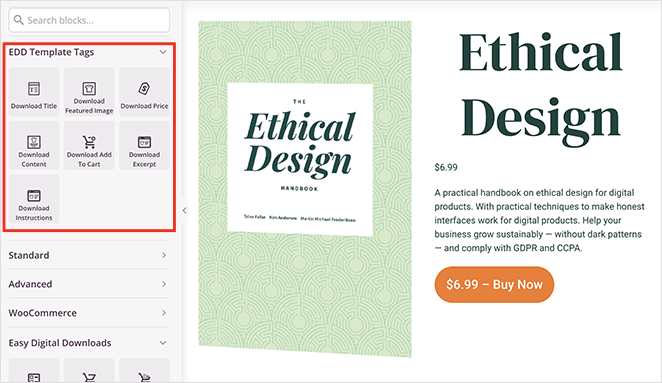 Want to explain how shoppers can download their product? Simply drag over the Download Instructions block to pull that information from your EDD product listing.
Maybe you want customers to head right to the checkout, bypassing the shopping cart when buying. To do this, you can enable the Direct to Checkout toggle in the Add-to-Cart button settings.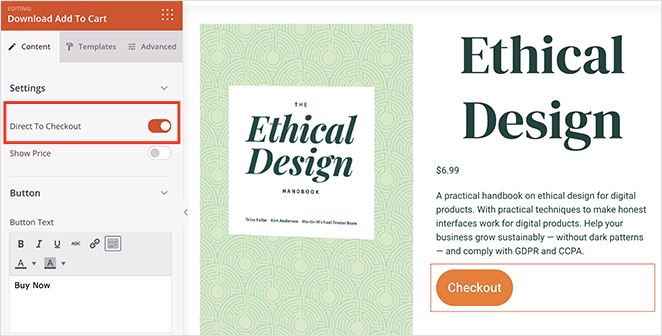 Customize Your Checkout Process
While Easy Digital Downloads already has an excellent checkout experience, SeedProd lets you take things a step further with a fully customizable shopping cart and checkout pages.
Click the Edit with SeedProd button from either page, and you can add the EDD Checkout or Shopping Cart block to create custom layouts with a couple of clicks.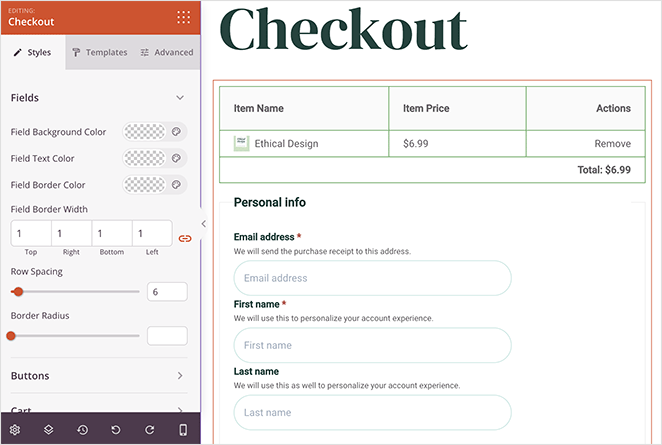 This is a fantastic way to combat shopping cart abandonment. Instead of displaying a simple checkout page, you can add relevant digital products shoppers may also like.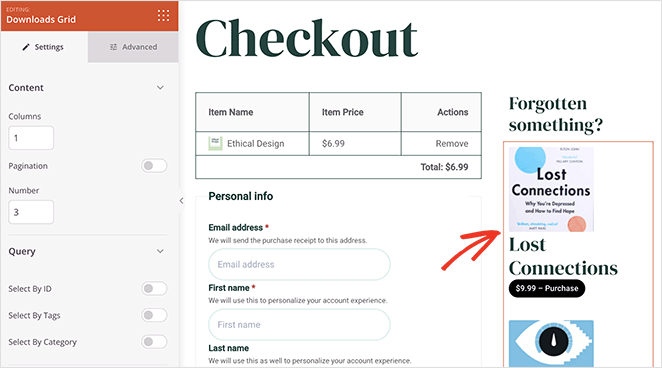 You can even drag over the Testimonials block to show valuable social proof, proven to increase conversions by as much as 10 percent.
12 New Customizable Website Kits
To make things even easier, we've been hard at work developing even more website kits. Instead of starting from scratch with your online store, you can customize any design to suit your needs.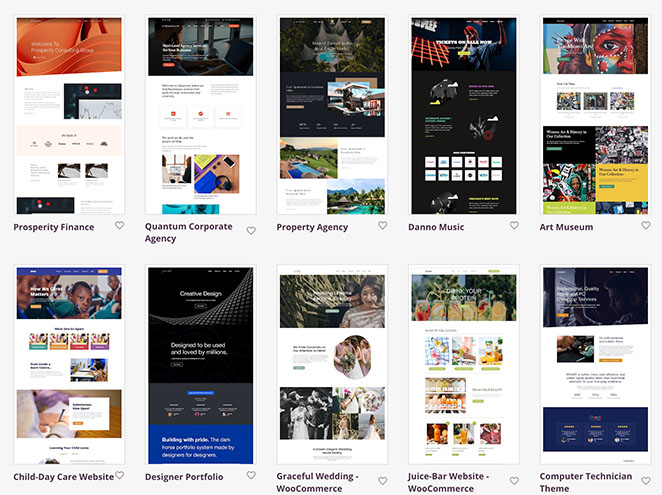 Our newest kits include themes for:
Property Agency
Corporate Agency
Finance Website
Music Website
Art Museum Website
Beauty Salon Website
Child Day Care Website
Wedding WooCommerce Website
Designer Portfolio
Juice Bar WooCommerce Website
Marketing Website
SaaS Web App Site
For a closer look, check them out in our template library, where you can browse all the pages each kit includes.
Start Selling Digital Downloads Today
Ultimately, our Easy Digital Downloads integration is a game-changer for anyone selling digital products online. It combines the power of EDD's robust eCommerce plugin with SeedProd's intuitive website-building features, making creating a high-converting online store easier than ever.
Users with an Elite SeedProd license can update the plugin now to take these new blocks for a spin.
Otherwise, get started with SeedProd today to start selling your digital products.
If you need help getting to grips with this update, reach out to us, and we'll walk you through it personally.
As always, thank you for your continued support in making SeedProd the best WordPress website builder plugin.
Thanks for reading. Please follow us on YouTube, Twitter, and Facebook for more helpful content to grow your business.