Are you looking for the best no code tools for WordPress?
WordPress offers countless plugins that let you build a smooth, engaging website without writing a single line of code. In this guide, we'll share the best no code tools for WordPress to make managing your website easier.
What Are No Code Tools for WordPress?
No code tools are WordPress plugins or software that help you enhance your website's functionality and design without writing code or hiring a developer. They often include a drag-and-drop interface and pre-built templates, making it easy to build and customize elements on your site.
These tools can range from SEO optimizers, form builders, and eCommerce platforms to social media plugins, project management, automation tools, and more. The result is a simpler and more efficient website experience.
Are No Code Tools Worth It?
If you're not a fan of coding or you have no technical background, no code tools are worth it. They're user-friendly, customizable, and extend your site's functionality without software development help.
Moreover, these tools streamline your business processes, saving you time and allowing you to focus more on content creation and marketing. So, if you have no coding experience, a code-free workflow could be a game-changer for your business.
Best No Code Tools for WordPress
Finding the right no code apps and tools may seem challenging at first. There's a lot of information out there, making it hard to choose a tool that best fits your needs.
Luckily, we've done the work for you. Below, you'll find our best no code plugin suggestions for WordPress, complete with why we think they're the best at what they do.
Best No Code Tool for Website Building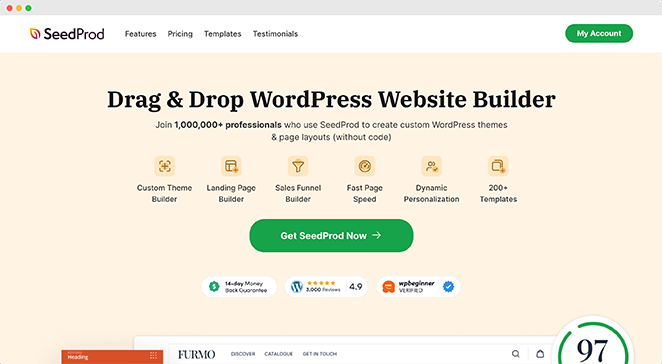 Let's dive in with SeedProd first, the best website builder for WordPress. With over 1 million users and a powerful drag-and-drop user interface, it makes code-free web design effortless.
SeedProd has hundreds of pre-made themes and layout templates to give your WordPress design a head start. Whether you're building a sales page or a thank you page, you'll find a fully customizable design to hit the ground running.
What's more, the page builder includes point-and-click design tools for almost any web design feature, including: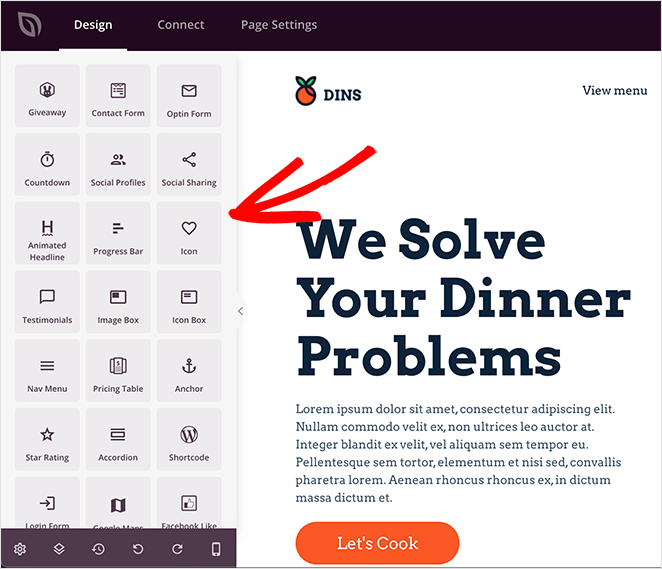 Pricing tables
Contact forms
Animations
Video popups
Image galleries
Call to action buttons
Accordions
Testimonials and reviews
Opt-in forms
Countdown timers
Google maps
And more
You can even preview your design on various mobile devices to ensure it looks perfect on desktops, mobiles, and tablets.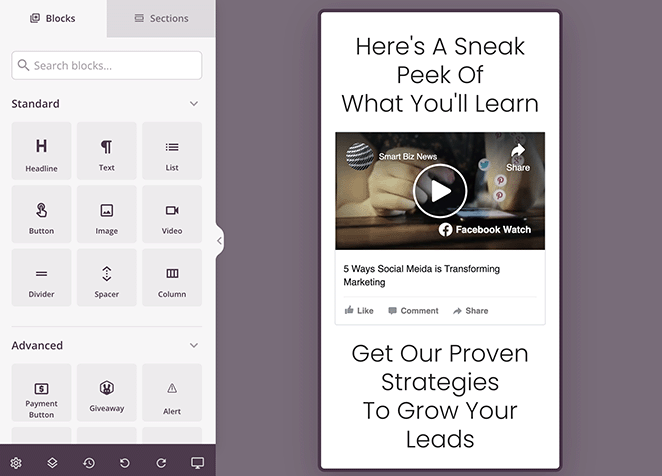 SeedProd's Theme Builder feature takes no code development to the next level. You can customize every part of your WordPress theme, from headers and footers to sidebars and eCommerce pages, all without coding.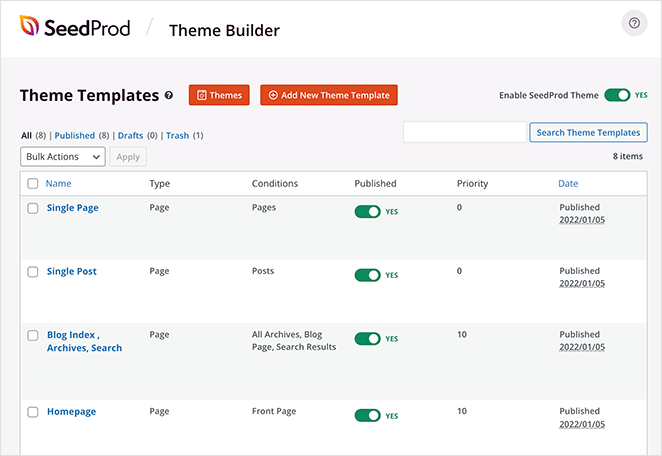 Moreover, SeedProd has built-in coming soon and maintenance mode features, allowing you to build anticipation among your users without letting site modifications disrupt their experience. You can expertly craft coming soon and maintenance mode pages and swap them with the live site when you're ready.

Additionally, SeedProd integrates with popular email marketing services like Mailchimp and Constant Contact. It also integrates natively with WooCommerce and Easy Digital Downloads for eCommerce websites.
Pricing: SeedProd's pricing starts at $39.50 per year. You can also get started with the free version of SeedProd, which comes with everything you need to create a simple landing page in WordPress.
Why We Recommend It: SeedProd helps users of all levels design stunning WordPress pages without writing code. Whether you're building your first website or managing several, SeedProd provides top-notch, hassle-free site creation.
Best for WordPress Giveaways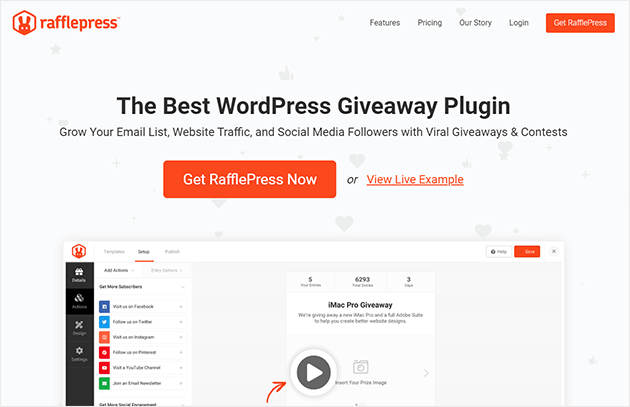 Next is RafflePress, one of the best WordPress giveaway plugins. With its user-friendly interface, it makes it easy for anyone to create and manage online giveaways in WordPress.
The plugin comes with various pre-made giveaway templates that make creating an online contest a breeze. Plus, the drag-and-drop giveaway builder lets you add and arrange different elements with a few clicks.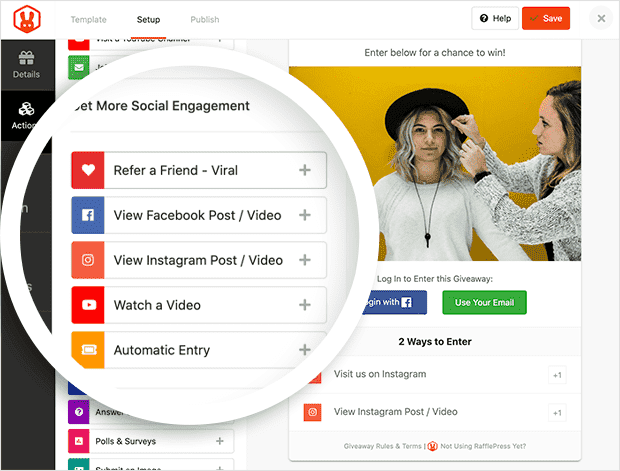 Moreover, RafflePress is also highly versatile, supporting numerous entry methods, from simple sign-ups to more complex options like social media engagement. Whether you want to encourage visitors to like your Facebook page, follow your Twitter account, or watch a YouTube video, you'll find a giveaway action to meet your needs.
Additionally, RafflePress ensures that your giveaways are mobile-responsive. Giveaway entries will look great and work smoothly on any device, increasing your potential reach and engagement.
Furthermore, it integrates seamlessly with email marketing services and popular social media platforms, making it easier to promote your giveaway and gather leads.
Pricing: RafflePress's pricing starts at $39.50 per year. There's also a free version of RafflePress with everything you need to run a simple giveaway in WordPress.
Why We Recommend It: RafflePress helps small businesses grow their website traffic, email subscribers, and social media engagement with viral giveaway campaigns. It's easy to use, requires zero coding, and has a limited free version.
Best No Code Plugin for Forms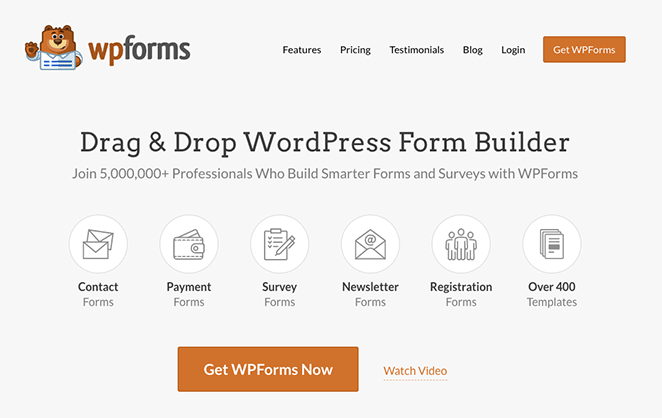 WPForms is one of the most popular and best form builder plugins for WordPress, with over 6 million users. With its drag-and-drop form builder, you can create any form for your WordPress website without code.
WPForms is flexible, allowing you to create countless forms, including contact forms, payment forms, survey forms, newsletter forms, and much more. It even offers hundreds of pre-made form templates, making it an excellent choice for beginners.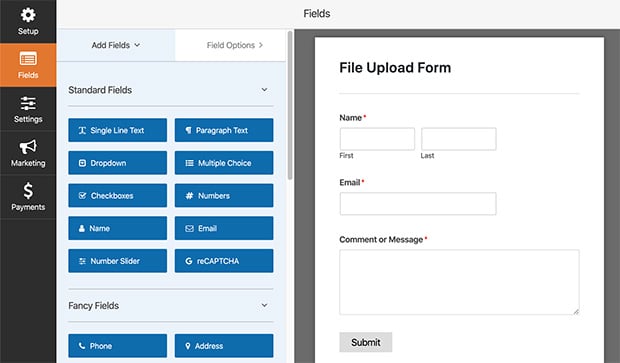 Advanced form-building is also a breeze. With conditional logic, you can show or hide form fields depending on user selection. And with the file-upload feature, you can accept file submissions to your website right from your web form.
WPForms integrates with popular marketing and payment platforms, ensuring your forms not only look great but perform superbly for your business needs. You can even use Zapier to connect with other tools like Google Sheets, Chatbots, and messaging apps.
Pricing: WPForm's pricing starts at $39.50 per year. You can also get started with the free version of WPForms to see if it's the best fit before upgrading.
Why We Recommend It: WPForms helps beginners and advanced users create highly customizable web forms in WordPress without writing code. With hundreds of templates and advanced form-building features, you can make any form that meets your business needs.
For more details, see our WPForms review.
Best No Code Tool for WordPress Analytics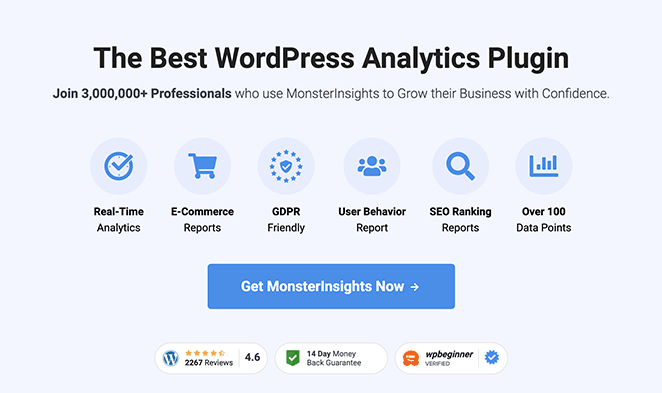 MonsterInsights is one of the best WordPress analytics plugins, with over 3 million users. It helps you easily connect your WordPress to Google Analytics without manually adding code snippets to your site.
MonsterInisghts curates your Google Analytics data and presents it in easy-to-read reports right inside your WordPress dashboard. That way, you can understand who visits your website and how they interact with it.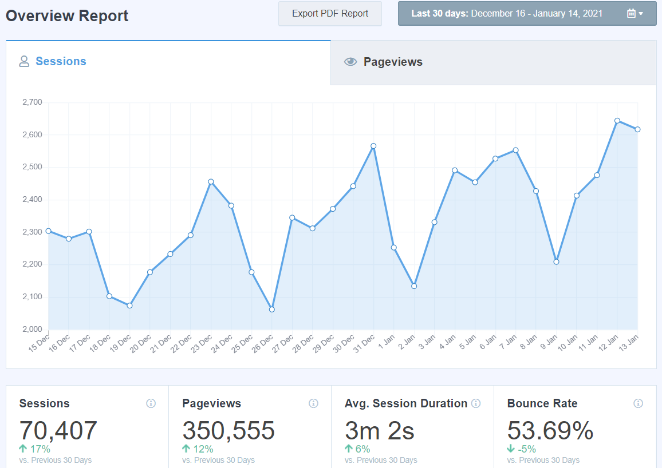 Additionally, the plugin offers real-time stats, eCommerce tracking, and behavior tracking, all without the need for programming. With powerful insights like the most popular posts, page views, referral sources, and more, MonsterInsights is a reliable companion for any WordPress website owner to improve their performance.
Pricing: MonsterInsights pricing starts at $99.50 per year. There's also a free version of MonsterInisghts that you can try.
Why We Recommend It: MonsterInsights helps website owners connect to Google Analytics, understand their site's performance, and transform complex analytics tasks into simple, efficient processes.
For more information, please see our MonsterInsights review.
Best for No Code Search Engine Optimization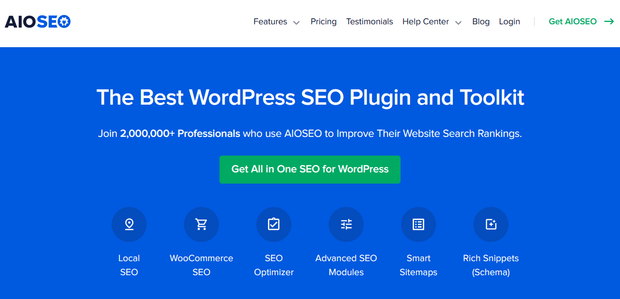 All in One SEO (AIOSEO) is another top no code tool for WordPress. It's one of the best WordPress SEO plugins that ensure your website is search engine friendly.
With this plugin, you can optimize your website for search engines to maximize traffic and sales. Its suite of no code SEO tools helps you optimize titles, create XML sitemaps, add Meta tags, insert schema markup, and more.
Even if you're a novice to the concept of SEO, this tool makes the process seamless and stress-free. For example, its content analysis tool guides you through creating SEO-rich content that ranks higher on search engines.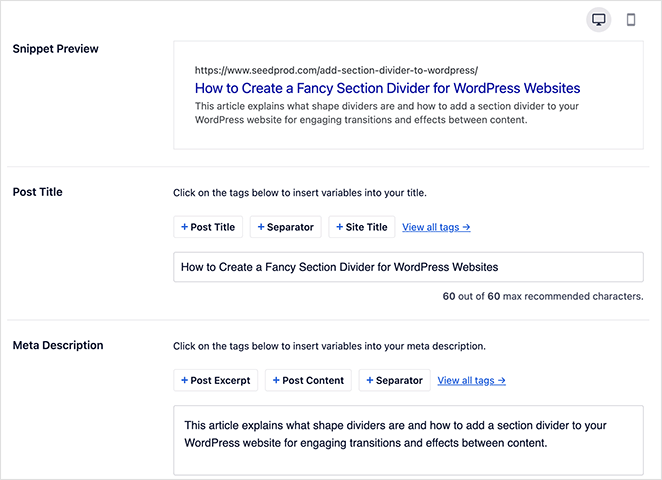 Additionally, it comes with built-in social media integration, internal linking, and automatic redirects, ensuring all your SEO bases are covered without getting into any programming hassle.
Pricing: All in One SEO comes in both free and premium versions. While the free version provides basic functionality, to access enhanced features, you can opt for the premium version that starts at $49.50 per year.
Why We Recommend It: All In One SEO warrants its place as one of the best no code tools for WordPress. It's easy to use, requires minimal setup, and walks you through optimizing your website for search engines.
For more details, please see our AIOSEO review.
Best for WordPress Lead Generation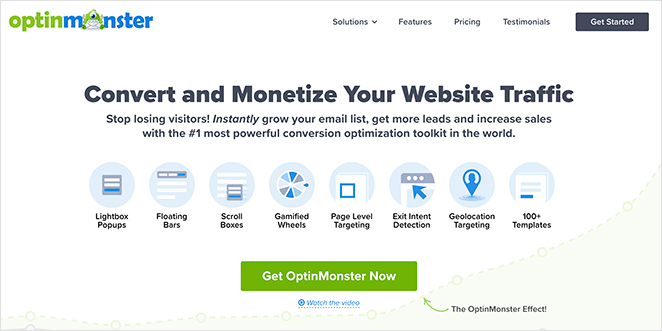 OptinMonster is a SaaS tool and one of the best WordPress lead-generation plugins. It helps boost conversion rates and maximize lead generation with easy opt-in campaigns.
With this no code platform, you can build high-converting opt-in campaigns with drag-and-drop and zero coding necessary. You can start with a pre-made template and make everything from intricate pop-ups and fullscreen welcome mats to floating bars, discount wheels, and more.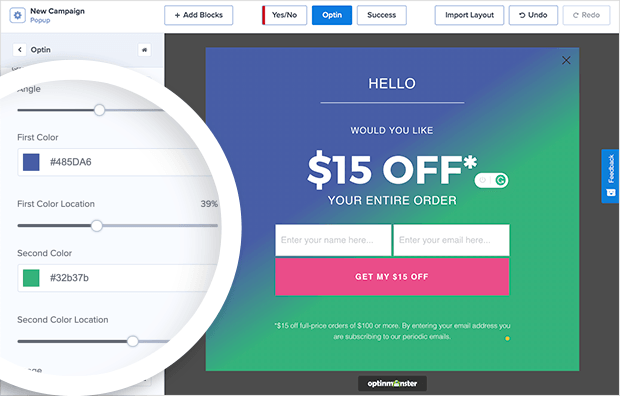 OptinMonster backs up its easy design tools with powerful targeting and segmentation features so your marketing efforts reach the right people at the right time. For example, you can create eye-catching exit-intent popups that show when users are about to leave your site.
Moreover, this powerful web application works seamlessly with third-party development platforms, including Shopify, Drupal, Squarespace, BigCommerce, and more.
Given all these functions, it's no wonder OptinMonster ranks as one of the best no code tools for WordPress users, especially those looking to make an impact with their lead generation.
Pricing: OptinMonster's pricing starts at $9 per month when billed annually.
Why We Recommend It: OptinMonster helps website owners make an impact with lead generation with its easy drag-and-drop campaign builder, pre-made templates, and smart targeting rules.
For more information, see our OptinMonster review.
Best for Selling Digital Goods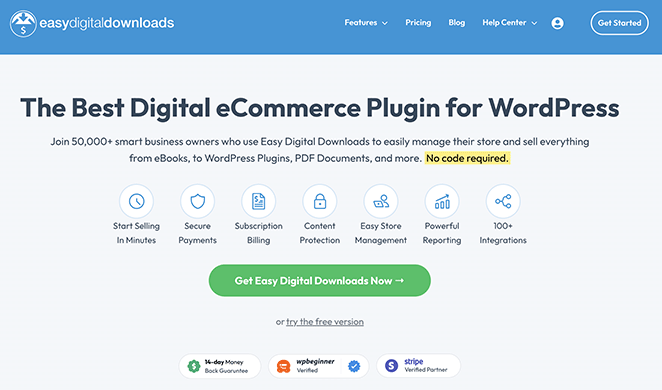 Easy Digital Downloads is one of the best eCommerce plugins for digital downloads. It lets you sell digital products from your WordPress site without the hassle of coding an online store from scratch.
With easy WordPress integration, you can sell everything from eBooks and WordPress plugins to PDFs and online courses from an intuitive digital storefront.
The beauty of Easy Digital Downloads is its simplicity. You can effortlessly add new products, set prices, and create discount codes without touching a line of code. It's as straightforward as filling out a form.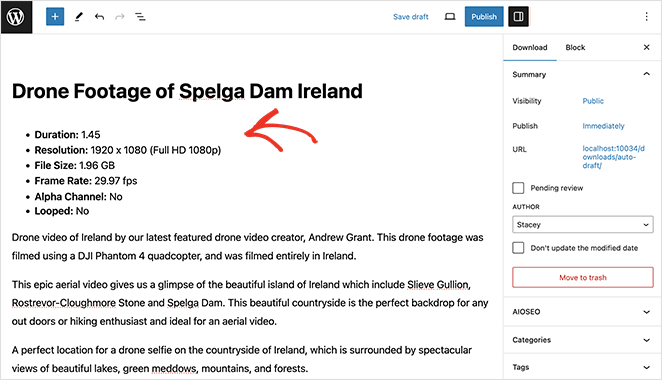 Moreover, you can set up various payment gateways, enabling you to sell to a wider audience. The tool's detailed reporting system also provides timely insights into your business, allowing you to make data-driven decisions and boost sales.
Pricing: Easy Digital Download's pricing starts at $99 per year, offering core features including discount codes and data reporting.
Why We Recommend It: Easy Digital Downloads help startups, entrepreneurs, bloggers, and small businesses sell digital goods in WordPress without grappling with complex code.
Best for WordPress Migrations and Backups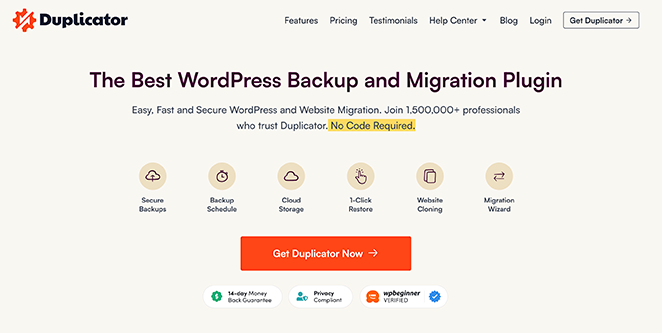 Duplicator is one of the best migration and backup plugins for WordPress. It lets you easily create a site backup and transfer it from one location to another, eliminating the technicalities often associated with site migrations and backups.
With a few easy steps, you can create a 'package' that includes your site's plugins, themes, content, and database. You can then migrate the package to any location, such as a different server or another domain.
Backups are a breeze with Duplicator. The tool helps you to schedule backups, which means your website's information is always secure. You can restore your site quickly in case of mishaps—eliminating downtime that could affect your revenue or business presence online.
Duplicator's user-friendliness packs a punch, especially for beginners. With its intuitive interface and clear instructions, you don't need to be a WordPress expert to perform migrations and backups like a professional.
Pricing: Dupliactor's pricing starts at $49.50 per year.
Why We Recommend It: Duplicator helps website owners easily backup, restore, and move their WordPress site from one location to another without losing content or hiring a developer.
Best No Code Tools for Social Media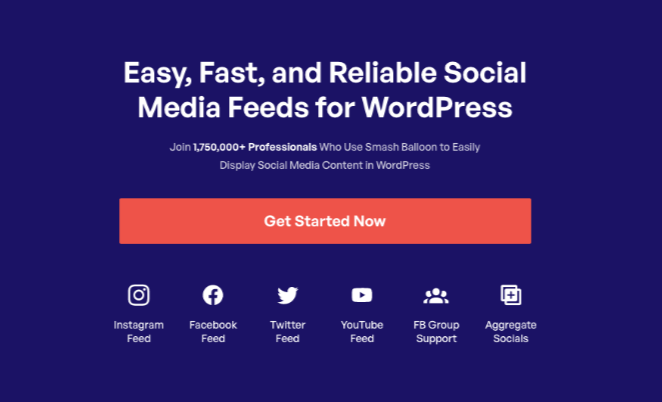 Smash Balloon is one of the best suites of social media feed plugins for WordPress. It lets you seamlessly integrate social media content into your website, keeping it up-to-date and engaging.
Smash Balloon offers several feed plugins for different social media platforms, including Facebook, Instagram, YouTube, TikTok, and X (formerly Twitter). With each plugin, you can import a feed of your latest social content without writing code.
With Smash Balloon, your feeds update automatically, saving you from manually updating your site with fresh social content. Moreover, its visual feed builder lets you customize your social media feeds to match your website's theme and brand to create a consistent look and feel for your visitors.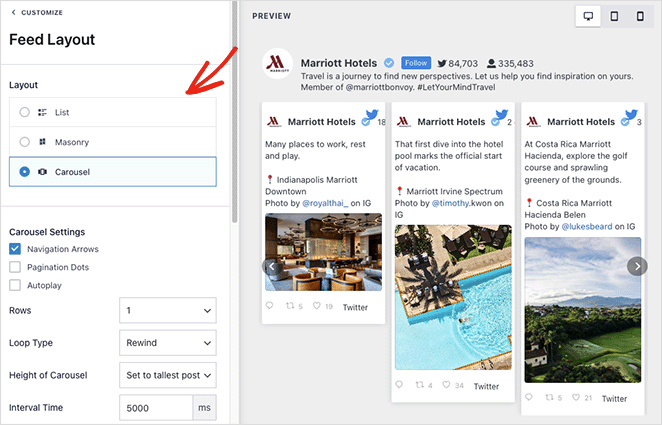 Beyond its design capabilities, Smash Balloon is an excellent tool for driving customer engagement. It lets you showcase social media reviews, posts, and photos on your website. In doing so, you boost your social proof, engage your audience, and enhance your brand's authenticity, but you also stimulate site visitors to join the conversation right on your platform.
Pricing: Smash Balloon's pricing starts from $49 per year. There are also several free versions with basic features to help you get started.
Why We Recommend It: With its straightforward interface and easy-to-follow instructions, Smash Balloon makes it easy to add and manage social media content in WordPress without coding.
For more details, please see our in-depth Smash Balloon Review.
Best Suite of Node Code Tools for WordPress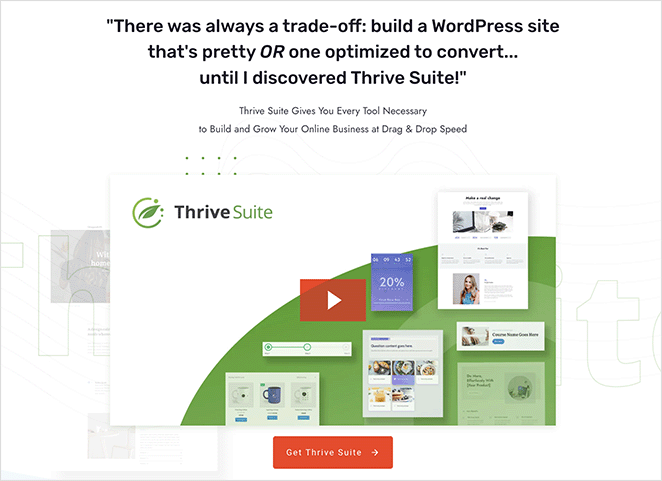 Thrive Suite is a collection of WordPress plugins that help build and grow your online business quickly and efficiently. It provides hassle-free solutions for everything from content building and lead generation to analytics and eCommerce without the need for coding skills.
One of its most popular no code tools is Thrive Architect, a powerful drag-and-drop page builder. With it, you can design and customize unique, professional-grade pages without writing a single line of code.
For boosting your site's engagement, Thrive Suite offers Thrive Quiz Builder, an easy-to-use tool for creating captivating, interactive quizzes. Coupled with Thrive Leads, a lead generation solution, these tools work harmoniously to skyrocket your email list and engagement rates.
Thrive Suite doesn't only cater to the front end of your website but also the back end. With Thrive Optimize, its A/B testing tool, you can split-test different website elements and make data-backed decisions to improve your site's performance.
So, if you're looking for high functionality, ease of use, and versatility in one neat bundle, you can't go wrong with Thrive Suite.
Pricing: Thrive Suite has two membership plans, the Quarterly plan at $149 per quarter and the more economical Annual plan at $299 per year.
Why We Recommend It: Thrive Suite is an excellent suite of no code tools that cater to every part of building, managing, and marketing a WordPress site without hiring a developer.
How to Choose the Best No Code Tools for WordPress
With so many options available, choosing the right no code tools can feel overwhelming. To make things easier, ask yourself the following questions:
What features do I need? Is faster page loading a priority? Or are you focusing on improving site security? Once you've defined your needs, it's easier to shortlist the tools.
Will it work with my existing plugins? Compatibility issues can lead to malfunctions and slow down your page speed.
Is it easy to use? While low-code tools are accessible, some are more user-friendly. Look for tools with a clean interface and good user experience.
Is it within my budget? While some tools offer free basic services, others charge a fee for more advanced features. Find a balance between your budget and requirements.
Ultimately, the tools you choose depend on your needs and circumstances. So, carefully evaluate the features of each tool, and never hesitate to try them out – most no code tools offer trial periods.
Frequently Asked Questions
Can I use no code tools for WordPress websites to create a mobile app?
Yes, you can perform mobile app development without coding using several WordPress plugins, such as AppPresser or WPMobile.App. These app builders let you create fully functional, customizable mobile applications directly from your WordPress site.
Do no code tools for WordPress websites provide customer support?
Yes, most no code solutions provide extensive customer support. This support often includes user guides, tutorials, and the ability to contact their team for technical assistance.
How do no code tools compare to traditional coding methods?
No code tools offer a user-friendly, efficient alternative to traditional coding methods. They help with website customization by removing the need for advanced technical knowledge, making them ideal for beginners or non-tech-savvy users.
Discover More WordPress No Code Tools
We hope this guide has helped you find the best no code tools for WordPress. These tools are designed to make your website-building process a breeze, even if you're not a coding wizard.
If you're looking for even more no code tools for WordPress, you'll find the following guides helpful:
Thanks for reading. Please follow us on YouTube, Twitter, and Facebook for more helpful content to grow your business.