Are you looking for the best WordPress backup plugin?
Backup plugins allow you to backup WordPress and quickly restore your site with a few clicks. In this article, we'll help you find the best WordPress backup plugin to give you peace of mind.
Why You Need a WordPress Backup Plugin
You need a WordPress backup plugin to help you restore your site quickly if you lock yourself out, it crashes, or you face malware or security issues. Without a backup solution on your live WordPress website, you could lose the content you worked so hard to create and face downtime that hurts your search rankings, reputation, and business growth.
Many WordPress site owners rely on their web host to backup their sites. The backup solutions that hosting providers offer have limits or require you to upgrade to higher pricing.
As such, we suggest you avoid relying on hosting backups alone and take responsibility for backing up your website yourself.
Backup Plugin Features to Consider
A reliable backup plugin should make it easy to backup and restore your website. It's also important to look at the following backup features when choosing a WordPress backup plugin:
Full website backup: Look for a plugin that includes database backups as well as backing up your WordPress files. Some plugins only offer one or the other, so ensure you find one that offers backups for your whole website.
Scheduled backups: If you update your site regularly, you'll need a backup plugin that offers scheduled backups to save your site often. Automated backups can also help to save time when creating a backup of your site.
Incremental backups: Backing up your website can put pressure on your server resources and slow down your site. A plugin with incremental backups breaks your site into parts and will create a copy of it without impacting your website speed.
Secure storage: Your website backups may include sensitive information, so your backup solution should handle and store it securely. Look for plugins that offer encryption, safe storage, multiple storage locations, and, if needed, off-site storage.
Real-time backups: Backing up your site in real-time is important if you run an online store or eCommerce site. They ensure that transactional information is saved when shoppers place an order. The top backup plugins will only backup that change, adding it to the backup copy instead of running a full backup each time.
Now that you know what to search for in a backup plugin, it's time to look at the best backup solutions for WordPress.
Best WordPress Backup Plugins
If you're not using a backup plugin yet, you should look at these top solutions and start using one immediately to ensure your WordPress files and database security.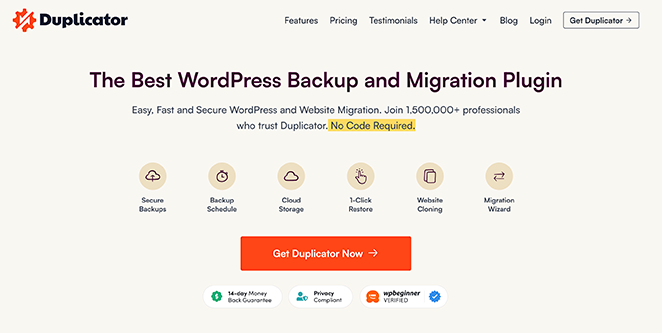 Duplicator is the best WordPress backup plugin. It lets you backup your WordPress files in a .zip format to download and store them locally. It's also possible to store files in Dropbox, Google Drive, OneDrive, and more. Additionally, this plugin lets you schedule backups and send email notifications to yourself.
You can also use Duplicator to migrate your site across servers. Doing so lets you clone pre-configured sites with your favorite WordPress plugins and themes instead of setting them up manually each time.
As a result, you can migrate pre-configured sites to different locations without reworking them.
Key Features:
Scheduled and on-demand backups
WordPress site migration
Easy cloud storage solutions
Select backup limits
Email notifications
Include or exclude specific files
Pricing: Duplicator is a free backup plugin. Premium plans start from $69 per year.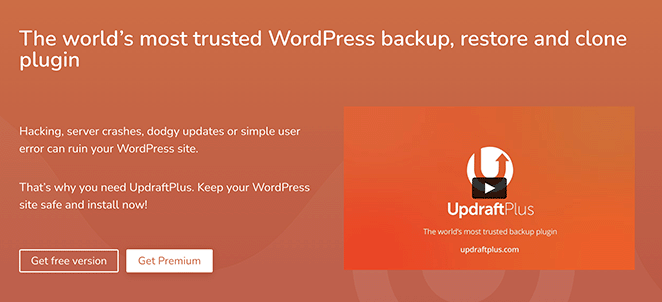 UpdraftPlus is among the best free WordPress backup plugins available. More than 3 million site owners use this plugin to create full backups of their WordPress websites.
Updraft lets you store your backup files in the cloud or download them to your computer. You can choose which files to back up, schedule automatic backups and back up your site on-demand.
The plugin can automatically save your backups to Google Drive, Dropbox, Rackspace, S3, SFTP, FTP, email, and many other cloud storage solutions. You can also restore backups directly from your WordPress admin.
Additionally, the premium version of UpdraftPlus offers add-ons for website cloning or migration, allowing you to migrate your site to a new domain. It also offers search and replace for database tables, support for WordPress multisite, priority customer support, and more.
Key Features:
On-demand or scheduled incremental backups with daily backups
Multiple add-ons to extend the functionality
Restore backups from WordPress
Multisite support
Cloning and migration
Secure storage options and remote storage locations
Pricing: The basic core version is free. Premium plans start from $84 per year.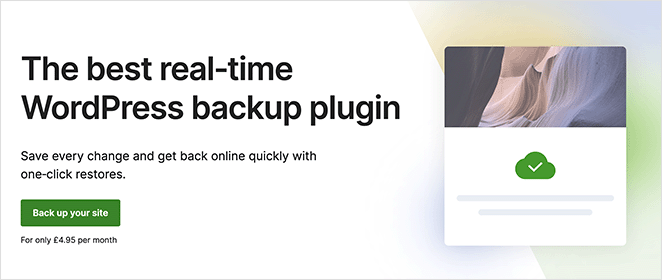 JetPack Backups is a powerful backup plugin from Automattic, a company by WordPress co-founder Matt Mullenweg. It was initially called VautlPress but is now refreshed and renamed JetPack Backups.
This plugin offers automatic daily and real-time cloud backups without impacting your website speed. It also has a mobile app that lets you restore your website anywhere.
JetPack Backups is an excellent solution for WooCommerce websites because you can restore your site while keeping your products and orders up to date.
Key Features:
Full backups with incremental backup options
Use the mobile app to restore from anywhere
Unlimited backup archive storage space
Real-time and automatic backups
Supports customer order data for WooCommerce
Pricing: The pricing for JetPack Backups starts from $4.77 per month, billed annually with a 14-day money-back guarantee.
You might also like to read this showcase of the best Jetpack alternatives.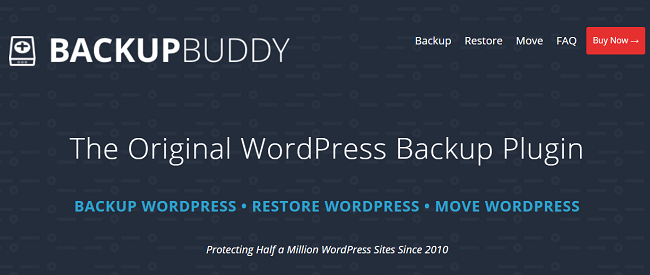 BackupBuddy is a popular backup plugin for WordPress that has been around since 2010, helping you backup your whole website from your WordPress dashboard.
With a few clicks, you can schedule automatic backups, send your backups to a secure, remote location and restore files quickly. You can also optimize and repair your database to ensure your site works correctly after restoring it.
BackupBuddy offers 1GB of Stash storage with every plan. This allows you to backup database changes continuously, including modified posts, offering peace of mind.
Key Features:
Backup your files and database
Automatic backups
Customize backup content
One-click restore
Off-site secure backup storage
Real-time backups
Cloning and staging
Pricing: BackupBudddy pricing starts from $80 per year.

BlogVault is a popular backup solution that is Software as a Service (SaaS) rather than a WordPress plugin. After setting up your account, you'll see a dashboard where you can manage backups for multiple websites.
It offers a step-by-step backup process allowing you to view your site's uptime, schedule backups, and restore your site with a single click. You can even backup your site on-demand and download it as a .zip file to your computer.
BlogVault uses incremental backups to optimize your site's speed and performance. It also encrypts your backup files, storing them off-site in a safe location where you can access them anytime.
Key Features:
Automatic backups and scheduled backups
Website uptime monitoring
Free staging with 1-click merging
Centralized dashboard
Multisite backup support
WooCommerce backup with 365 backup archive
Pricing: BlogVault pricing starts from $7.4 per month with a 7-day free trial.

BoldGrid Backup is a premium backup plugin for WordPress that lets you backup your site automatically. You can also instantly restore your site and roll back failed updates with a few clicks.
This WordPress plugin lets you set a predefined backup schedule and create backups on-demand easily. There are several remote storage solutions, including Google Drive, Amazon S3, FTP, SFTP, and more.
BoldGrid Backup has several tools to help prevent your website from crashing. For example, it can monitor your site for potential errors and email you to take action to fix them.
Key Features:
Customize and schedule backups
Restore single or multiple files
Secure remote storage
Automatic updates
Effortless site migration
Database encryption
Pricing: BoldGrid Backup pricing starts from $5 per month, billed annually.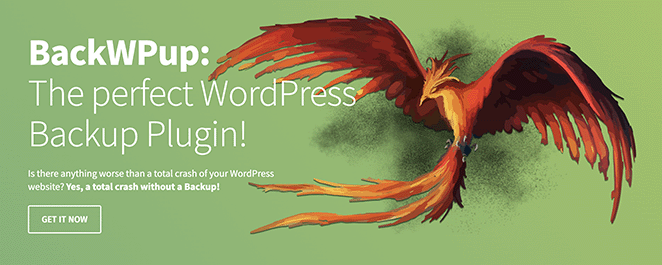 BackWPup is a complete WordPress backup solution with several powerful features.
The lite version of this plugin lets you backup your site, but the features are limited. In contrast, the premium version lets you encrypt and save website backups to many storage locations, including Amazon Glacier and Google Drive.
BackWPup also offers automatic backup and site restores, making it an excellent choice for beginners.
Key Features:
Back up to many locations for each job
Remote storage solutions
Emergency restore app
Customize backup file path
Pricing: BackWPup is free. Premium plans start from $69 per year.

Backup Migration is another free backup plugin for WordPress. It includes automatic and manual backups and lets you get started quickly.
With this plugin, you can schedule daily or monthly backups. Moreover, the premium version lets you define which files or databases to include in your backup, the backup location, file name, and more.
Key Features:
Schedule regular backups
Control what to include in your backup
Store backups locally
Easy backup and restore
Site migration support
Pricing: Backup Migration is free for backups up to 2GB. Premium plans start from $19.98 for 6 months.

WPvivid is a backup, staging, and migration plugin you can download for free. It lets you send WordPress backup files to remote storage destinations and use them to migrate your website.
A standout feature of WP Vivid is the ability to clean up your images before backing them up. Doing that reduces your file sizes, so the backup and restore process is faster.
You can also use this plugin on multisite networks to migrate a child site to a single WordPress installation.
Key Features:
Backup customization
Encrypted backups
'Push to live' staging sites
Include and exclude files
White labeling support.
Pricing: WP Vivid is a free backup plugin. The Pro versions start from $32.9 per year or a one-time fee starting at $79.2.
Alternative: You might also like WP Time Capsule which offers similar backup and staging features for free.
Which Backup Plugin is Best for WordPress?
After comparing the backup plugins in this list, you're probably wondering which is the best? Let's answer that for you.
In our opinion, the best WordPress backup plugin is Duplicator. It's a complete backup solution with essential features right out of the box. It has everything you need to back up and restore your entire site hassle-free.
We hope this article helped you compare and find the best WordPress backup plugin to fit your needs. You might also like this guide on how to change WordPress themes without losing content.
Thanks for reading. Please follow us on YouTube, Twitter, and Facebook for more helpful content to grow your business.