Are you looking for an easy way to create a service page design in WordPress?
When people visit your site, they'll want to learn about the services you offer. With a service section or page design, you can quickly provide that information, making it easier for potential customers to learn more about your small business.
In this article, we'll show you how to make a service page design in WordPress without writing a single line of code.
Why Do You Need a Service Page Design?
A well-designed service page is essential for showcasing your products or services, making it easy for potential customers to understand what you offer and why they should choose your business. What you put in your service section can include your pricing information, technical specifications, benefits, and more.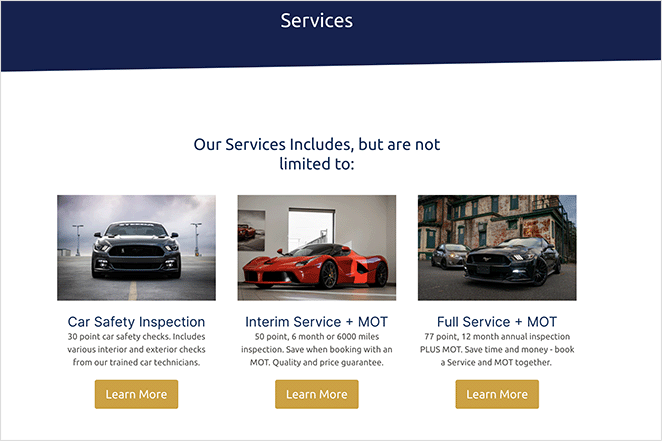 Since this is a lot of information, it's often better to create a custom page for each service where users can get more details.
Alternatively, you can create a services landing page or a section on your homepage with a brief overview of each service to keep things compact and easier to browse. Then you can include a link to individual service pages where users can get more information.
You can even add a call to action (CTA) button for customers to request a call-back or fill in a form.
In a nutshell, the best business websites have a clear section or page dedicated to showcasing their services to improve user experience and boost their client base and online presence.
With this in mind, let's look at how to create a service page design in WordPress's content management system.
How to Create a Service Page Design in WordPress with SeedProd
One of the easiest ways to make a professional service section or service page design in WordPress is with a page builder. With a good WordPress page builder plugin, you can add as many services as you like to your page and arrange them in an attractive layout.
Moreover, you can include CTA buttons, links, widgets, and other custom elements to increase conversions.
For this guide, we'll use SeedProd, the best WordPress page builder with drag-and-drop functionality. With hundreds of professionally designed templates and ready-made sections, it's perfect for creating a custom service page design.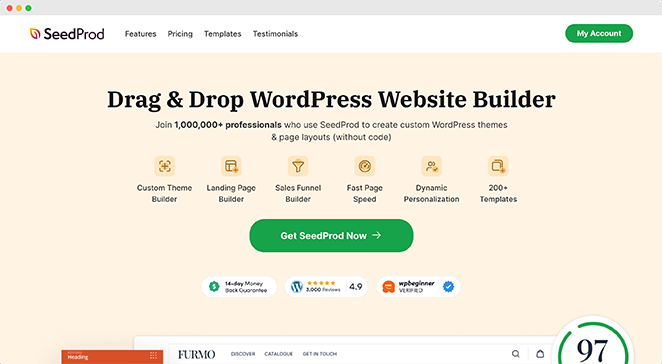 Besides helping you make custom designs for landing pages, you can use this plugin to create a custom WordPress theme from scratch without code, which is excellent if your company offers WordPress website design services.
Other popular features include eCommerce support, custom sidebars, headers, and footers, subscriber management, custom domains, animations, and more.
This powerful WordPress plugin also works seamlessly with third-party tools you may already use to drive conversions. For example, it integrates with popular email marketing services, Google Analytics, WooCommerce, and more.
To create a service page design with SeedProd, simply follow the steps in the tutorial below.
Step 1. Install and Activate SeedProd
First, you'll need to install and activate the SeedProd plugin on your WordPress website. If you need help with this, you can see our documentation on how to install SeedProd.
The documentation will guide you through the installation process and show you how to activate your SeedProd license key.
Step 2. Choose a Landing Page Template
Once the plugin is activated, navigate to SeedProd » Landing Pages from your WordPress admin panel and click the Add New Landing Page button.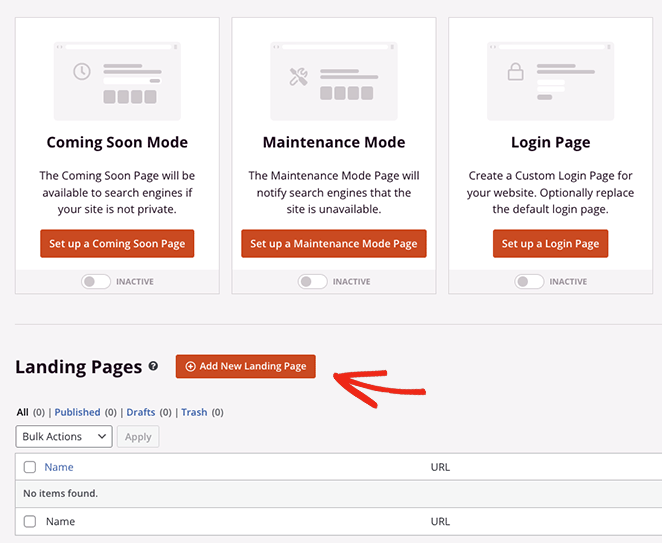 From there, you can browse the library of responsive landing page templates to use as a starting point for your design.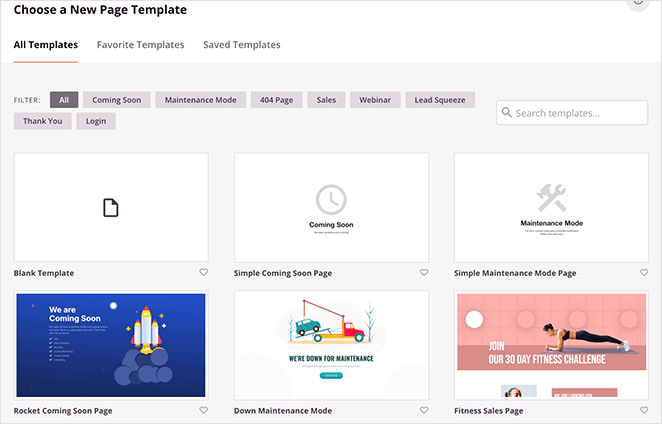 You can use the filters at the top to see templates for various campaign types, like coming soon, lead squeeze, sales page, webinar, and more.
Once you find a template you like, simply click the orange checkmark icon.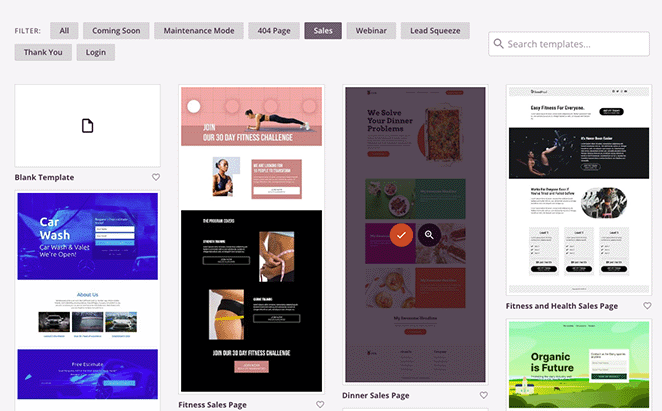 Now you can give your page a name and URL before clicking the Save and Start Editing the Page button.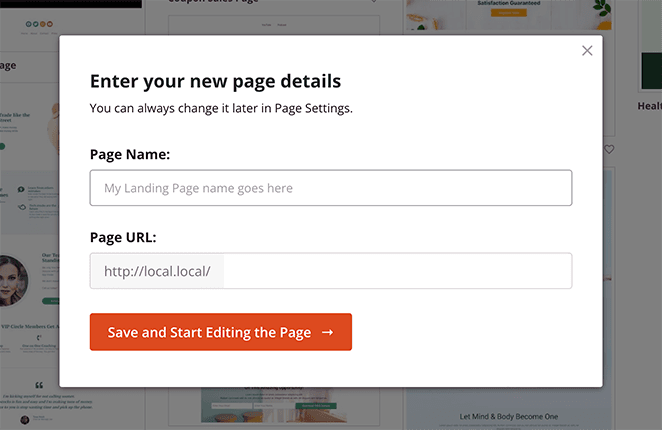 Step 3. Customize Your Service Page Design in WordPress
On the next screen, your template will load in SeedProd's visual drag-and-drop page builder. It has a live preview on the right and several WordPress blocks and settings on the left.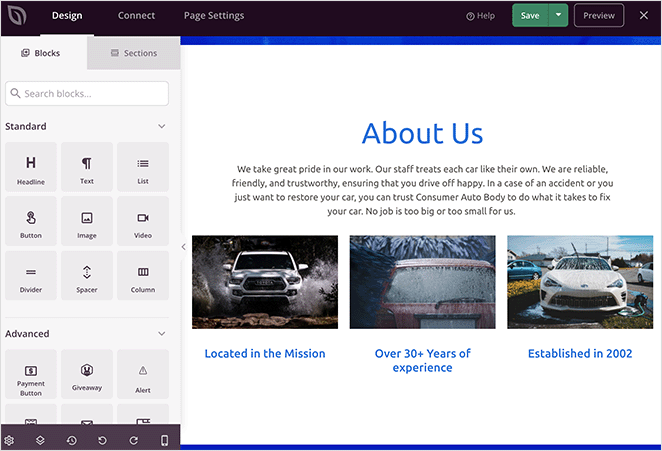 Many of SeedProd's templates use blocks to make up the overall layout. To customize them, you only need to click one, which will open its settings in the left-hand menu.
For example, clicking a heading or text block will open settings to change the content, font size, style, and more.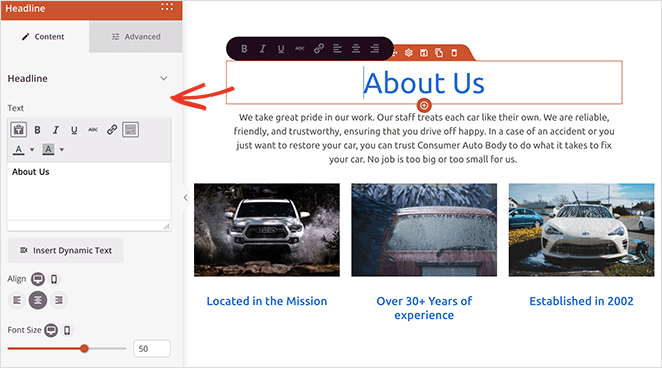 Removing an element you don't need is as simple as hovering over it and clicking the trashcan icon.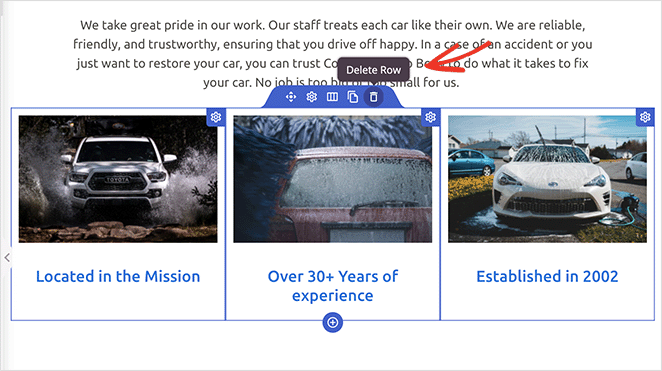 If you want to add new elements to your design, such as a call-to-action button, drag the block from the left-hand panel and drag it into place on your preview.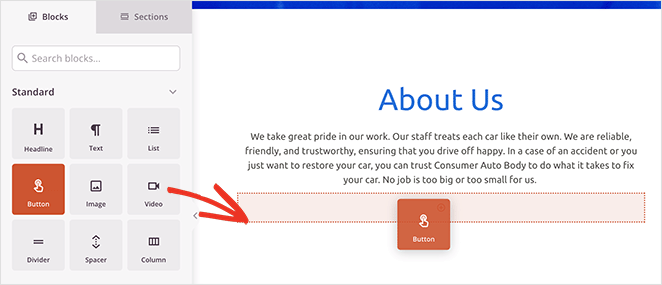 You can then select it to customize its appearance, content, and other settings.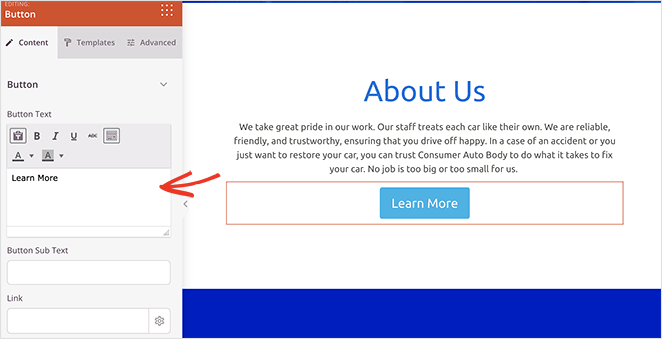 Adding a Services Section
Another helpful SeedProd feature is its premade Sections. You can find them by clicking the Sections tab in the left-hand panel.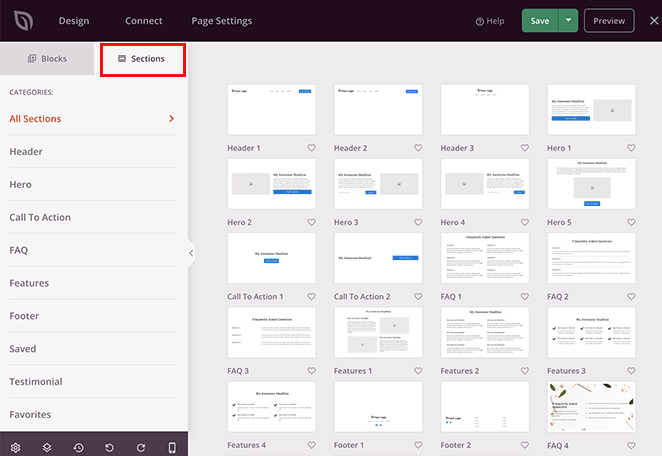 Sections are like mini templates that combine rows, columns, and blocks to make premade designs like FAQs, Hero areas, Headers, and more.
For example, the Feature sections are ideal for adding a services section to your WordPress page. They use a combination of headings, images, paragraphs, and columns to create an attractive layout for your service information.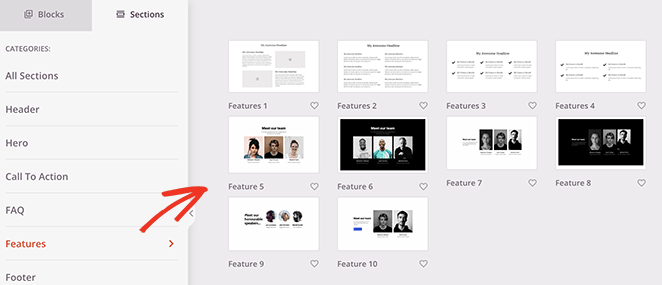 Below you'll see the Call to Action 6 section, which comes with space for 3 services and a custom hero image.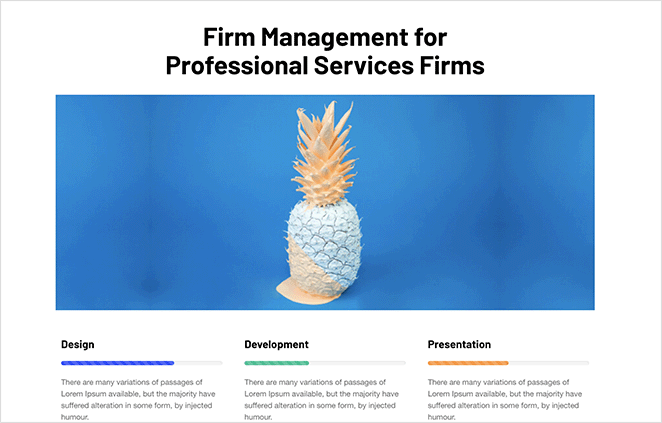 To add the section to your page, just hover over it and click the orange plus icon.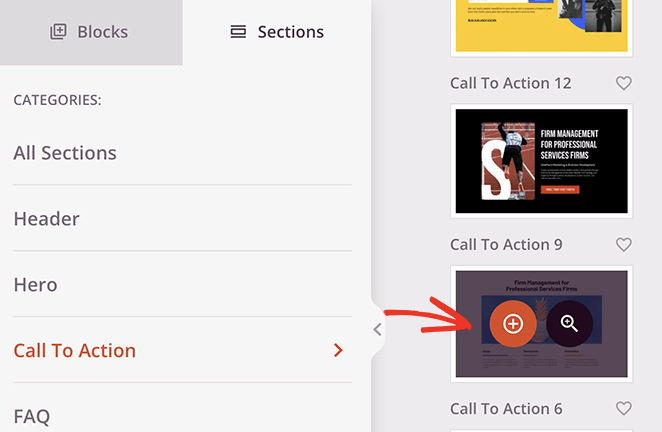 By default, new sections will appear at the bottom of your page. However, you can click, drag, and drop the entire section to move it to the right place.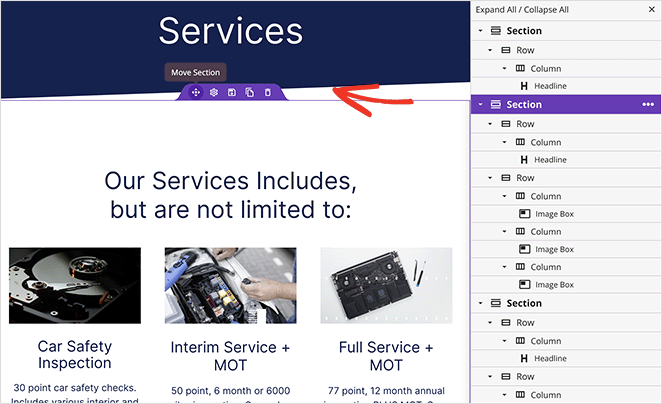 After repositioning your section, you can click any of the elements to customize the content. For instance, to swap out an image, click it and choose the trashcan icon in the left panel to remove it.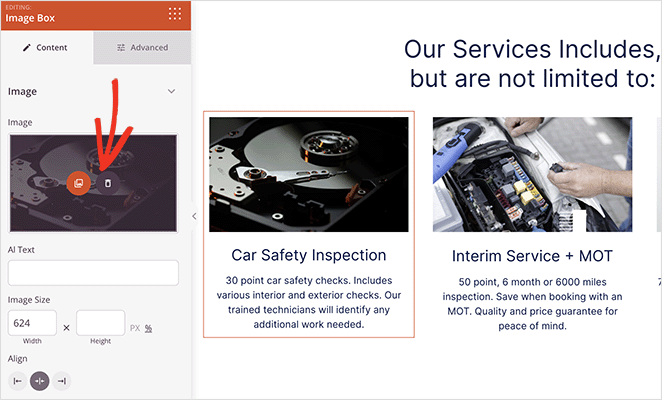 From there, you can upload a new image from your computer or WordPress media library.
Continue customizing your services page until you're happy with how it looks. You may want to include your phone number to help users get in touch or even an events calendar for upcoming webinars and conferences.
Step 5. Publish Your Service Page Design in WordPress
When you're ready to make your new service page live, you just need to click the dropdown arrow on the Save button and select Publish.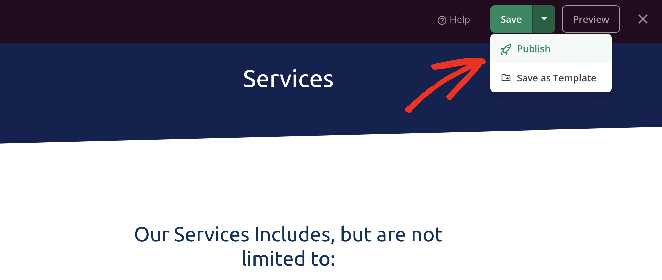 The page will go live on your WordPress site automatically, where any potential customers can see your services at once.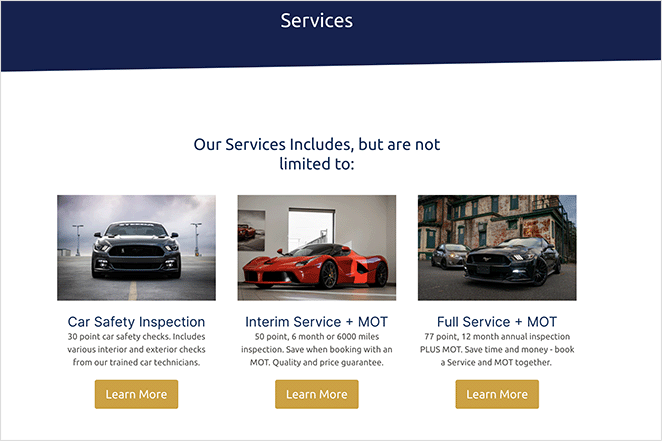 Alternative: Creating a Services Section Using WordPress Block Editor
Another way to add services to your WordPress website is with the Service Box Showcase plugin. With this tool, you can create a service section and add it to any post or page using the WordPress block editor.
However, you'll need to use one of the plugin's premade layouts, so it's not the most customizable option. If you need more flexibility for your service section design, we suggest using the first method.
To get started, you'll need to install and activate the Service Box Showcase plugin on your WordPress site. Here's a helpful guide if you need help installing and activating a WordPress plugin.
After activating the plugin, navigate to Service Box » Add New Service Box from your WordPress dashboard. Then, enter a title for your new service box.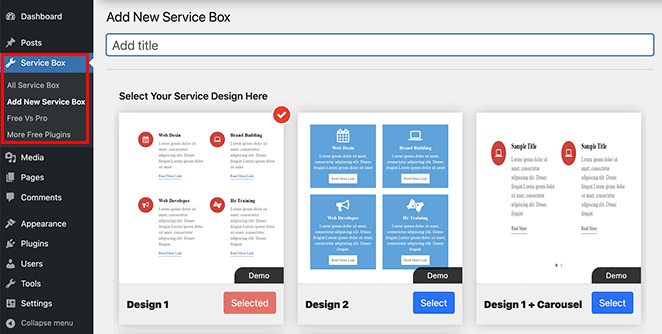 Next, choose a service box design from the premade themes by clicking the Select button.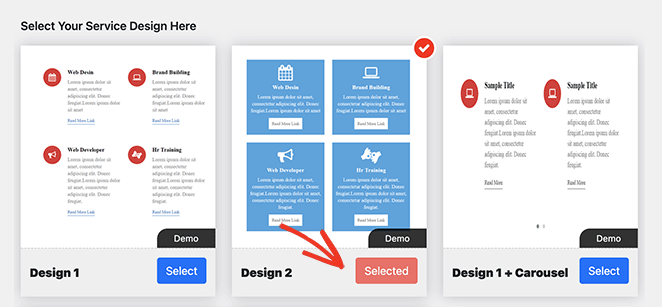 From there, scroll down to the 'Add Service Box' section, which has 2 boxes by default. If you need more than that, click the Add New Service Box button.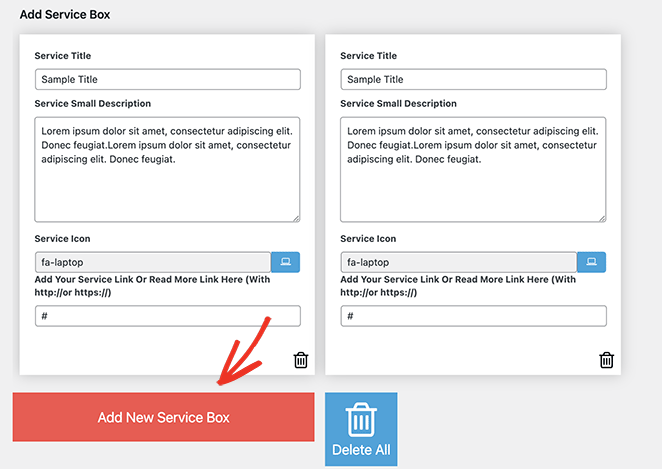 Now you can add a title and description for each service box. Visitors will see this text when they browse your website, which will help them find the service information they need.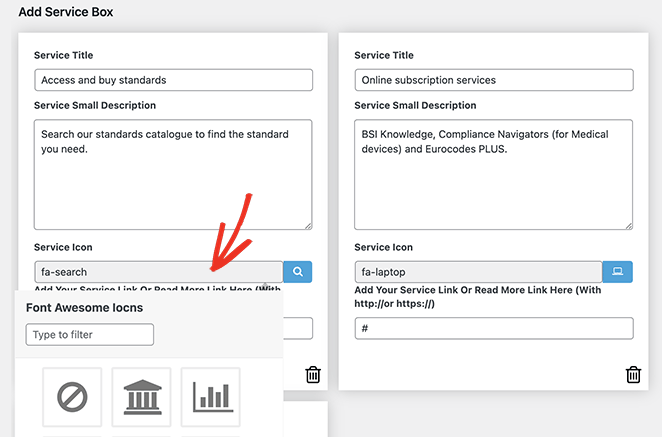 Each box will include the same icon by default. However, you can change the icon on each box to something more suitable by clicking the 'Service icon' field.
This will reveal a popup box where you can search for and select from various Font Awesome icons.
Below that, you can add a custom URL for each service. This is a good idea if you want to link to dedicated pages for each service or to a contact form to get in touch with you.
After entering your service information, you can use the Service Box Settings panel to customize the styling. These settings are generally easy to use and include text colors and sizes, font families, column layouts, and more options.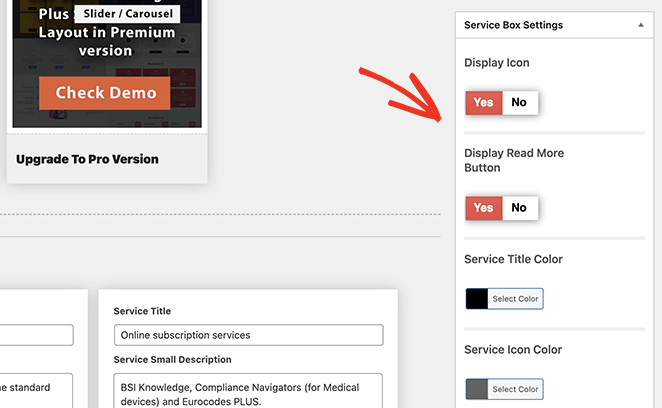 If you prefer to hide icons from your service section, you'll need to disable the Display Icon switch.
Play around with these settings to get a look that matches your style. You can always return to this page later to change things.
When you're satisfied with your service boxes, click the Publish button in the top-right corner of the screen.
After, scroll down to the Service Box Shortcode section and copy the shortcode from the first field.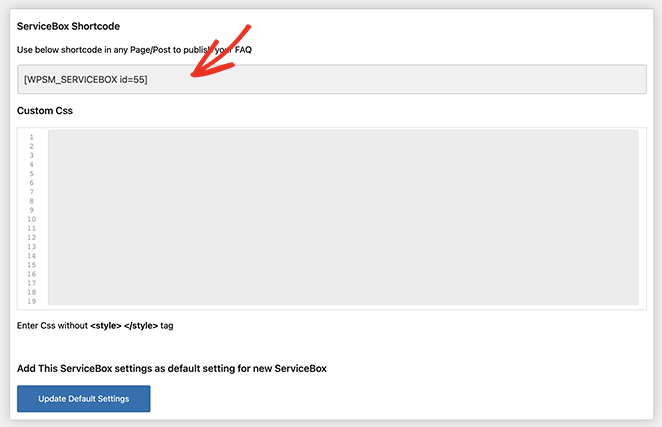 Now you can add this shortcode to any post or page on your WordPress site by pasting it into the content editor. From there, simply publish or update the post or page to make the changes live.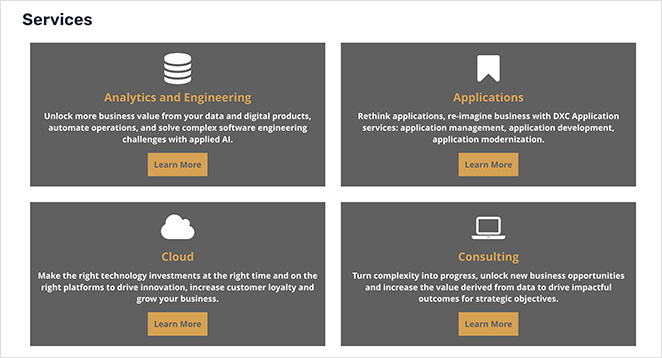 Service Page Design FAQs
How do I add images to my services section in WordPress?
To add images, you can upload them directly through the WordPress media library. If you're using a page builder like SeedProd, Elementor, or Divi, there will be an option to add an image block in the editor.
What services can I add to my service page?
Business owners can show any type of service, including website design services, web hosting, maintenance services, social media, web development, search engine optimization (SEO), and more. Whether you're a digital marketing agency, web design company, or graphic design agency, a service page will make your new website look professional and help boost conversion rates.
Can I add a contact form to my services section?
Yes, you can add a contact form to your services section. You can do this by using a WordPress plugin like WPForms.
How do I add testimonials to my services section in WordPress?
You can add testimonials to your service section using SeedProd's Testimonials block. This will allow you to include a testimonial carousel with headshots from your clients.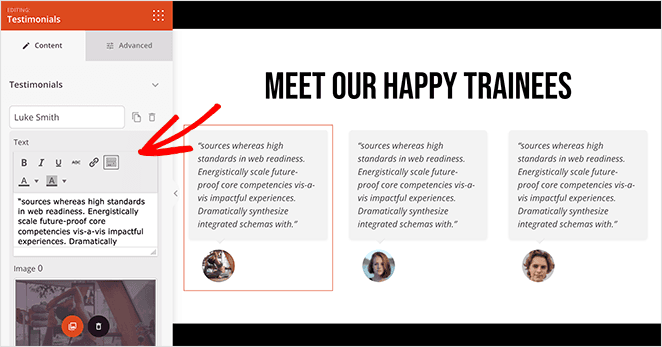 How can I make my services section mobile-responsive?
SeedProd is mobile responsive out-of-the-box, so your service page will always display well on mobile devices. You can also use the live mobile preview option to check your page before publishing.
Can I duplicate my services section to use on other pages?
In SeedProd, you can duplicate any section by using the copy section option in the layout navigator or saving a section as a template.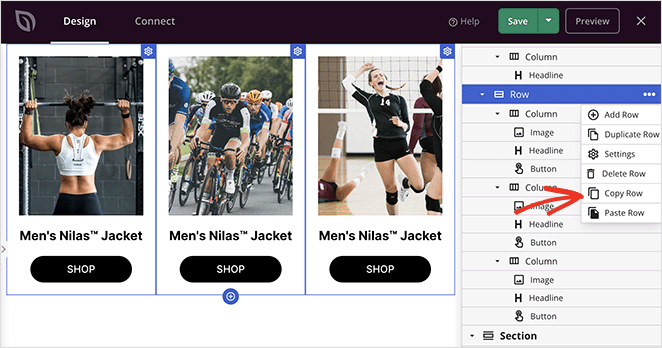 How can I optimize my services section for SEO?
To optimize your services section for search engine rankings, use relevant keywords, add alt text to images, and include meta descriptions. WordPress SEO plugins like All in One SEO can help guide you through the process and integrate seamlessly with SeedProd.
There you have it!
We hope this guide has helped you learn how to create a service page design in WordPress.
If you're looking for more ways to make your service page convert, social proof can help. Here's a guide on how to add Google and Yelp reviews to WordPress to highlight positive feedback about your business.
You might also like this guide on the best WordPress hosting services to ensure your website is fast, secure, and in peak condition.
Thanks for reading. Please follow us on YouTube, Twitter, and Facebook for more helpful content to grow your business.