Are you looking for the best Linktree alternatives to add links to your social media profiles?
Bio link tools like Linktree let you link to other social networks, posts, and web pages by adding a single link to your bio. However, Linktree may not be the best solution for your small business.
That's why in this article, we'll look at some of the top Linktree alternatives with excellent link features for your social media bio.
What Is Linktree, and Why Do You Need an Alternative?
Linktree is a popular link-in-bio tool that lets you create personalized landing pages with clickable links to your favorite content. It's useful for platforms like Instagram, where you can only have one link on your bio page.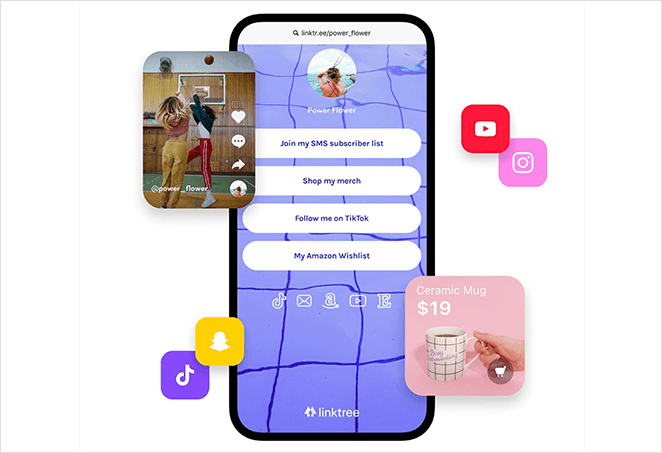 By adding a Linktree link, you can share multiple destinations in one go, making it easy for your followers to find your social links, business websites, affiliate products, and more.
Now, you might be wondering why you'd need an alternative. While Linktree is an effective solution, it's not the only marketing tool with link page functionality. Here are a few reasons why you may want to explore other options:
Customization: Linktree offers a decent range of designs, but if you're after something more unique or tailored to your brand, you might want to look elsewhere.
Features: Some alternatives offer extra features, like advanced analytics, eCommerce integrations, or email signup forms.
Price: While Linktree has a free version, you might find a more affordable option that still meets your needs if you want to upgrade to a paid plan.
For most businesses, Linktree is a fantastic choice, but it's always good to know what else is out there. Exploring alternatives can help you find the perfect solution that fits your style, needs, and budget.
So what should you look for in the best alternatives to Linktree? Let's find out.
What to Look for in the Best Linktree Alternatives
When looking for an alternative to Linktree, there are several things to consider. For one, you'll want a user-friendly platform that's a breeze to set up and update your link hub. Nobody wants to spend hours wrestling with a clunky interface.
A great alternative should also offer plenty of options for personalizing your landing page. Look for features like customizable backgrounds, colors, fonts, and layouts to make your page pop and reflect your unique style.
Are you a social media butterfly? An eCommerce whiz? A blogger extraordinaire? Make sure the alternative you choose plays nice with the platforms and tools you use most, so you can keep everything connected and streamlined.
Here are some other factors to consider when looking for a Linktree alternative:
Look for analytics features like click tracking, location data, and referral sources to help fine-tune your content and marketing strategies.
Compare prices and features to find an alternative with the best value for money.
Ensure there's a responsive, helpful support team should you ever run into any hiccups.
By considering these factors, you'll be well on your way to finding a fabulous Linktree alternative that ticks all the right boxes.
Top Linktree Alternatives to Boost Your Online Presence
Ready to look at some of the best Linktree substitutes for your business? Click any of the links below to learn more about each bio link tool in this guide:
Let's dive in.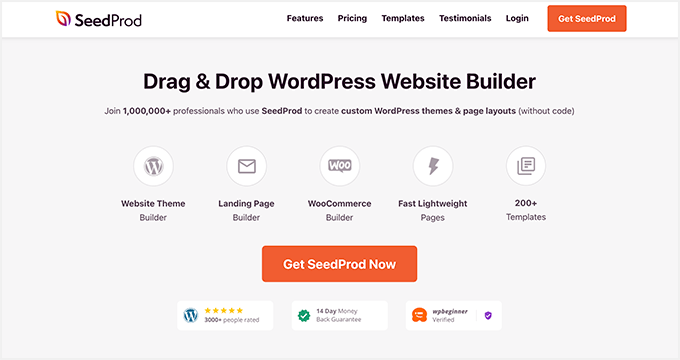 First, let's look at SeedProd, one of the best WordPress website and landing page builder plugins.
With SeedProd, you'll have complete control over your link page's design and layout. You can create a unique look that matches your brand and style, making it stand out from the crowd.
No coding skills? No worries! SeedProd's user-friendly drag-and-drop builder lets you create stunning landing pages without breaking a sweat. Adding, arranging, and customizing links, images, and other elements is a piece of cake.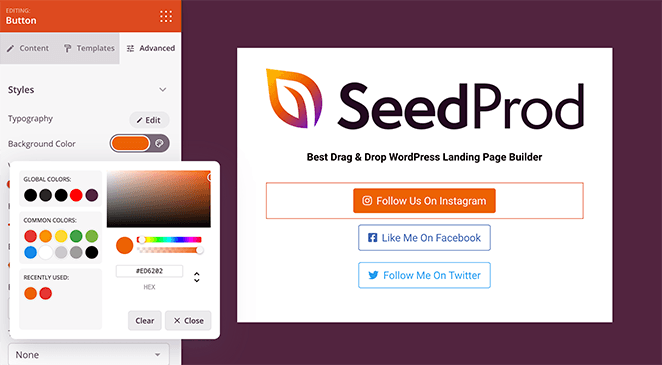 Even better, SeedProd has a personal links landing page template made specially for link in bio pages. With this template, you can make a stunning link page in minutes.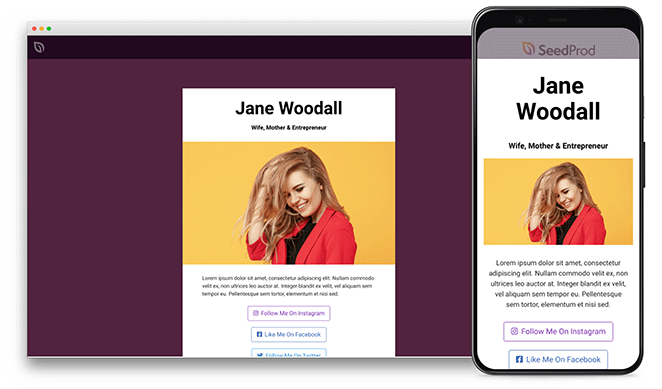 For example, you can add social links to popular sites like TikTok, Instagram, WhatsApp, Facebook Messenger, YouTube, Spotify, LinkedIn, and more. Additionally, you can drag and drop visual content elements, including image gallery carousels, YouTube videos, and Twitter and Facebook embeds.
SeedProd also offers a range of extra features that can boost your link page's functionality, like email signup forms, countdown timers, and social sharing buttons. This gives you the flexibility to tailor your page to your specific needs.
Other key SeedProd features include:
Custom Domain feature to give your bio link page a custom URL
Coming soon and maintenance mode to hide your site during updates
100% responsive design for easy mobile device viewing
Built-in subscriber dashboard to view and manage email subscribers
WordPress theme builder should you want to make a custom WordPress theme without coding
Direct integrations for popular email marketing services to help grow your email list
Easy settings for Facebook tracking pixel and retargeting
Works seamlessly with Google Analytics, SEO plugins, WooCommerce, and other marketing platforms
Here's a step-by-step guide on how to create a link-in-bio page with SeedProd.
Price: SeedProd is a freemium plugin. The Pro version starts from $39.50 per year, but you can also take the free plan for a test drive before upgrading.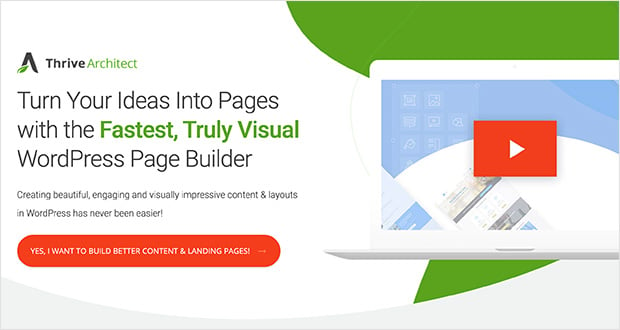 Like SeedProd, Thrive Architect is a WordPress page builder that lets you easily build beautiful, conversion-focused pages. From the team behind Thrive Themes, you can use it to make landing pages on your WordPress site with unlimited links to your favorite online pages and resources.
This powerful tool also has a huge library of premade templates, allowing you to make everything from micro landing pages to full websites. Plus, its drag-and-drop builder makes customizing any design hassle-free.
The best thing about Thrive Architect is how it works seamlessly with other products in its suite. For example, you can build online courses with Thrive Apprentice, grow your email list with Thrive Leads, display testimonials with Thrive Ovation, and more.
Here's what else you can do with Thrive Architect:
Split-test your landing pages to optimize their performance
Display comments from Disqus and Facebook
Include any number of links to social media platforms
Integrate with popular WordPress tools and email marketing platforms
Preview your design for mobile device layouts
Price: Thrive Architect is part of a suite of WordPress plugins. You can get the full suite from $299 per year or the standalone Thrive Architect plugin from $99 per year.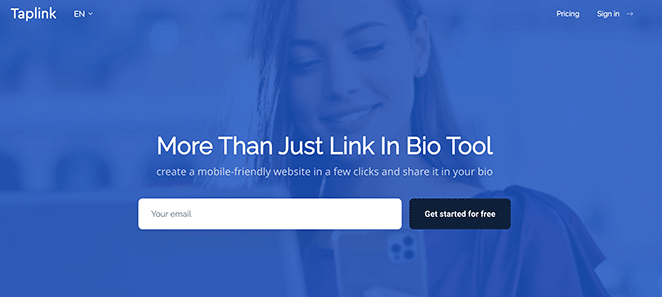 Taplink, formerly known as ContactInBio, is a free Linktree alternative. It lets you create a link in bio landing page hosted on the Taplink platform to display links to other destinations.
With various design options at your disposal, Taplink lets you craft a page that reflects your brand's vibe.
One of Taplink's biggest draws is its range of added features. From appointment scheduling to eCommerce support, you can offer your audience a richer, more interactive experience.
For example, you can add videos and pictures to engage your audience and use countdown timers for limited-time promotions. There's even the option for 1-click messaging and payment notifications.
Other Taplink features include:
Pre-designed themes to help you get the perfect look
Embed eCommerce products on your link page
Google Analytics and Facebook Pixel integration
Code-free design interface
More customization options than Linktree
Price: Taplink is a freemium Linktree alternative. Pro plans start from $3 per month, while business plans are from $6 per month.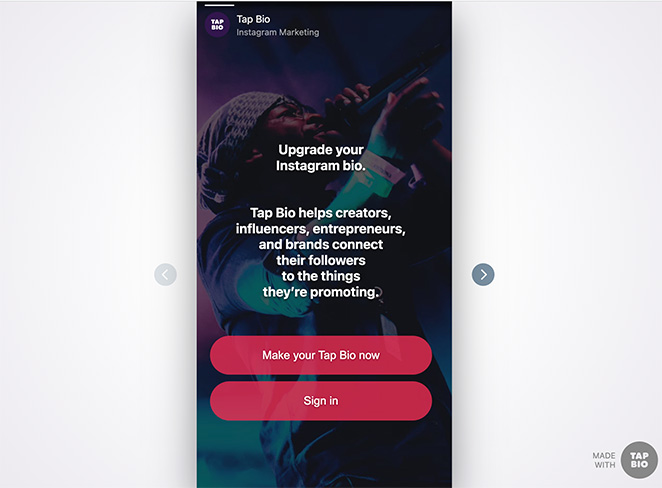 Tap.Bio is another popular Linktree alternative. It's a user-friendly tool that makes setting up your account and creating a bio link page a breeze. With its customizable design options, you can easily add links, Instagram links, email signups, Twitter posts, YouTube videos, and galleries to a single page.
Another cool thing about Tap.Bio is its unique "card" system. You can add multiple cards to your page, each with its own link or content. This is great for organizing your links in a way that makes sense to your audience. It's like having mini web pages within your main landing page.
But that's not all – Tap.Bio also offers built-in analytics. You can track clicks and views on each card to help you better understand what your audience is interested in. This way, you can make data-driven decisions and optimize your content.
Where this tool differs is with its limited customization options. You can't easily change your text colors, fonts, or sizes and can only change the background image.
More Tap.Bio features include:
Distraction-free interface for a streamlined design
Multiple card options to drive traffic to different destinations
Built-in analytics for easy performance tracking
Price: Tap.Bio lets you create 1 card on its free plan. For more, the pricing starts at $3 per month.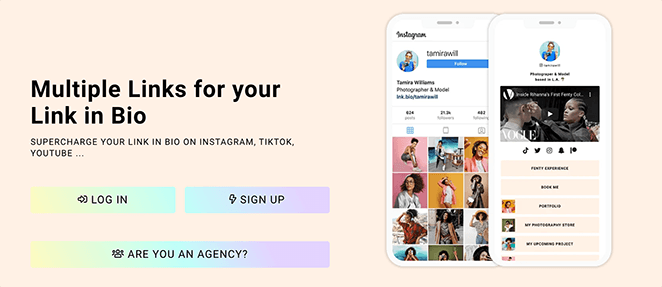 Lnk.Bio is another popular Linktree Alternative for business owners and influencers. Its simple user interface allows users of all tech levels to set up a link page quickly, so you don't have to be a computer whiz to use it. Plus, it's got a sleek, modern design that's easy on the eyes.
This tool also offers more flexibility than Linktree. You can choose between free and paid plans, which means you can decide what features you need and only pay for what you use. This way, you won't break the bank and will still get top-notch service.
Additionally, Lnk.Bio helps boost your brand by allowing you to customize your page. You can add your logo, change the colors, and even use a custom domain. This means your Lnk.Bio page will match your style and look professional, making it perfect for sharing across all your social media platforms.
Here are some of the key Lnk.Bio features:
Easy signup with no separate login creation
Embed music and videos on your bio page, which is perfect for podcasts
Add unlimited links with all plans
Create password-protected links
Instagram feed-type grid layout
Easy WordPress and Zapier integration
Price: You can get started with Lnk.Bio for free. Premium plans start from $0.99 per month.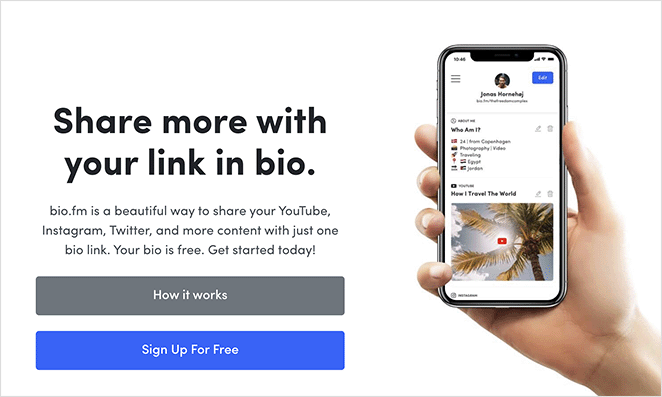 Bio.fm is another great alternative to Linktree and one of the more advanced solutions on this list. It's more than a simple link management tool; it's a content hub too. This means you can share links, videos, images, and even Spotify playlists on your page. It's a fantastic way to showcase your content and engage your audience.
Secondly, Bio.fm has a neat feature called "blocks," which lets you arrange your content in an eye-catching, creative way. You can design your page just the way you like it, making it truly unique and representative of your brand.
For example, you can add GIFS, opt-in forms, polls, and more.
Some other Bio.fm features include:
Drag-and-drop block system
Works with Spotify, Medium, Facebook, YouTube, Twitter, and Instagram profiles
Offers customizable themes
Price: Bio.fm is a freemium Instagram bio link tool. You can access more features with the pro version starting from $5 per month.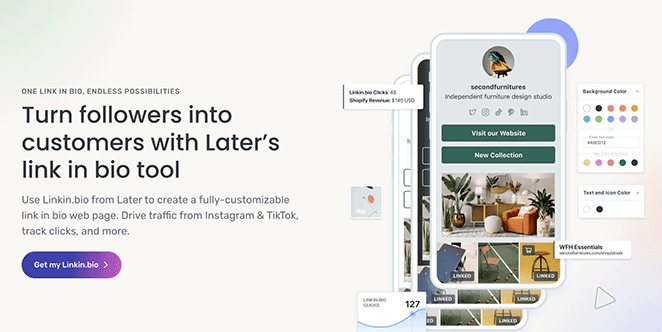 Linkin.bio is another fantastic Linktree alternative designed to integrate with Instagram accounts. This allows you to link individual Instagram posts to specific URLs, making it easy for your followers to find and explore your content. It essentially reproduces your Instagram feed on your bio link page.
If you have an online store, its eCommerce integration is a game-changer. You can connect your Shopify, WooCommerce, or BigCommerce store directly to your Linkin.bio page, allowing followers to shop your products with just a few taps. It's an efficient way to drive sales and keep your audience engaged.
On top of that, Linkin.bio provides helpful analytics. You can track link clicks, conversions, and other metrics to understand how your audience interacts with your content. With this valuable information, you can optimize your posts and drive more engagement.
Here are the other key features of Linkin.bio:
Convert Instagram posts into shoppable, custom links
Add up to 5 custom links per Instagram post
Integrate with Mailchimp, Google Analytics, and UTM tracking
Include links to other social media platforms
Price: Linkin.bio is available for free. However, you can access more features with one of Later's premium plans, including hashtag suggestions, auto-publishing, social media management, and more, starting from $18 per month.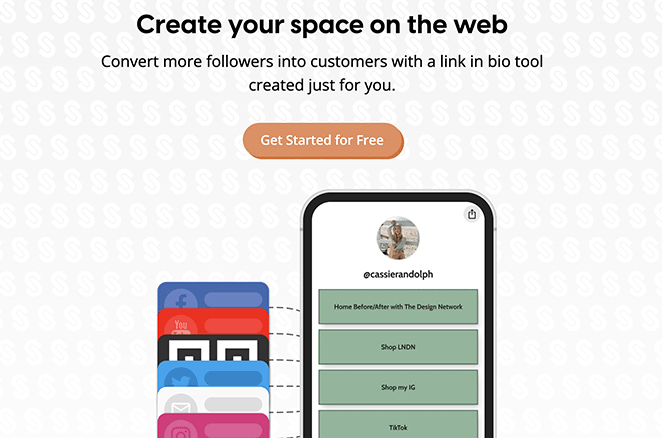 Campsite.bio is a free Linktree alternative with the essential features needed to create a micro landing page for your bio links. 
The platform is easy to use, so you can set up your page and share your links quickly. Plus, the clean and straightforward design ensures your content remains the star of the show.
Campsite.bio is all about customization. You can change your background, add your own logo, include post thumbnails, and even create custom buttons for a truly personalized experience. This helps you create a link page that reflects your brand and catches your audience's attention.
Other Capsite.bio features include:
Easy linking to all social media accounts
Video, music, and carousel embeds
Custom domains and subdomains
Premium integrations for opt-in forms, forms, and more
In-depth analytics and tracking
Price: Campsite.bio is a freemium link-in-bio tool with paid plans starting at $7 per month.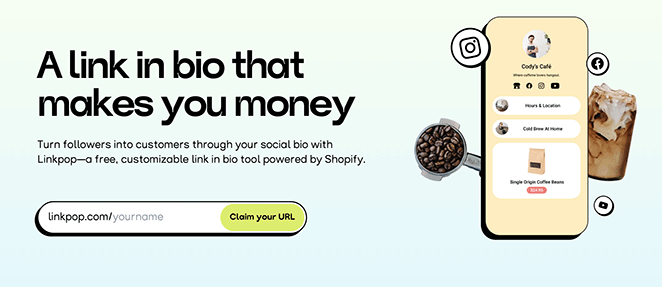 Linkpop is another stellar Linktree competitor for eCommerce store owners. It works seamlessly with Shopify, allowing you to monetize your link hub page with links to order your products.
With Linkpop, you can create an attractive link page featuring images and GIFs. You can easily connect your Facebook, Instagram, Twitter, and other platforms directly to your Linkpop page.
Linkpop also values your privacy. The platform doesn't track your personal or audience data, so you can enjoy peace of mind knowing that your information is safe and secure.
Here are some other key Linkpop features:
Easily add shoppable links to your bio link landing page
Offers decent analytics to track your performance
Works across major social media sites
Price: Linkpop is free for anyone to use, even if you don't have a Shopify site. However, for shoppable links, you'll need a Shopify subscription.
Which Linktree Alternative is Best for You?
The best Linktree alternative for you depends on your unique needs. However, if you're using WordPress and prefer a user-friendly solution that offers full control over your link page design, SeedProd is the top choice.
With SeedProd, you can create a custom URL that perfectly aligns with your brand or business name – a unique feature that sets it apart from other bio link tools.
Moreover, SeedProd lets you connect your business website to other pages, showcase products, and gather email leads, instead of relying on a third-party link bio tool for creating a landing page. This approach drives traffic to your main site and helps you promote your links simultaneously.
Linktree Alternatives: FAQs
What other Linktree alternatives are there?
A few other Linktree substitutes include Shorby, Milkshake, Pallyy, Everlinks, Snipfeed, Smart.bio, and more.
Can I use a Linktree alternative with my existing website?
Tools like SeedProd allow you to create a bio link page within your WordPress site, helping you drive traffic to your main site while promoting your links simultaneously.
Are Linktree alternatives suitable for small businesses and influencers?
The tools on this list cater to small businesses, influencers, content creators, and organizations. The customization options, analytics, and multimedia support offered by these tools make them suitable for diverse needs, enabling users to create an engaging and professional online presence.
There you have it!
We hope this article helped you find the best Linktree alternatives for your small business.
You might also like this guide on the best coming soon page examples to grow your site before you launch.
Thanks for reading. Please follow us on YouTube, Twitter, and Facebook for more helpful content to grow your business.