Are you looking for the best link in bio tools for Instagram?
With a link in bio tool, you can add multiple links to your Instagram profile. And as a result, send traffic to your website, social media networks, and other online platforms.
In this article, we share the best link bio Instagram tools you can use to promote your business online.
What Is An Instagram Bio Link Tool?
A link in bio Instagram tool offers an easy way to get around the "one link" rule for Instagram accounts.
Typically, Instagram only lets you add a single clickable link to your Instagram profile. Any other Instagram links like those in your Instagram posts are unclickable.
For users, this means you need to swap out the bio link manually every time you want to promote a different post. Yet, with an Instagram bio link tool, the link you add to your profile leads visitors to a page where you can add unlimited links.
Here's an example of how a link in bio page looks: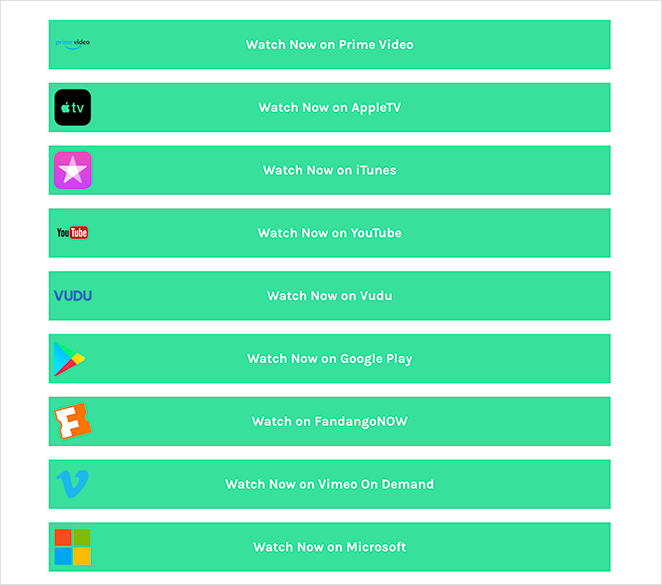 As you can see, by linking a single page like this to your Instagram profile, you can promote multiple pages at once without adding one link at a time manually.
How to Choose The Best Bio Link Tools
There are many Instagram marketing tools around to help you link to more content and pages. But each tool works differently, leading to a different end result.
When looking for the best link in bio Instagram tool for you, consider the following details:
Ease of use – You'll need a tool that has a simple learning curve, allowing you to get up and running quickly.
Customization options – Look for a solution that lets you customize your bio link page without writing code.
Integrations – If you want to grow your email list, look for a tool that allows you to integrate with third-party services like your email marketing service.
Affordability – The best link in bio tools offer pricing plans for a range of budgets. Check if you can use a free version to try it out before spending any cold hard cash.
With the above in mind, here are the best link bio Instagram tools you can use to grow your business.
Best Instagram Bio Link Tools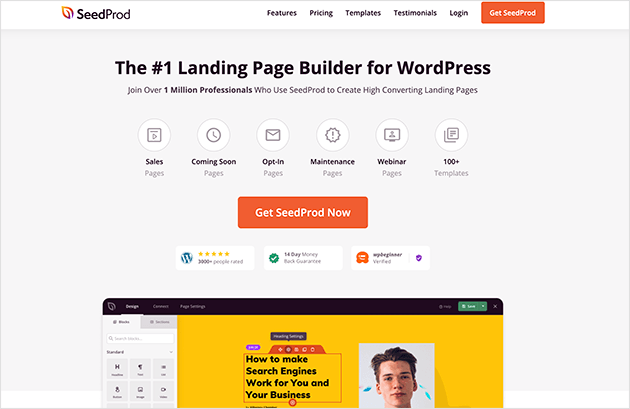 SeedProd is the best WordPress theme builder and landing page builder on the market. With its drag-and-drop visual editor, you can create any WordPress theme without writing a single line of code.
You can choose from hundreds of mobile-responsive landing page templates or build your page from scratch visually, in real-time. Or if you want, you can create an entire website with the visual theme builder.
And the best part is you won't need to hire a developer.
With SeedProd, it's super easy to create an Instagram link in bio landing page. You can customize it with a variety of content elements to show any kind of information.
For example, you can:
Add links to blog posts, pages, and product pages
Show social media profile icons to promote your other social networks
Highlight popular products with WooCommerce product grids
Sell products right from your link in bio page with an "add to cart" button
Grow your email list by displaying opt-in forms
Display social proof with testimonials and star ratings
Showcase viral giveaways with the RafflePress giveaway block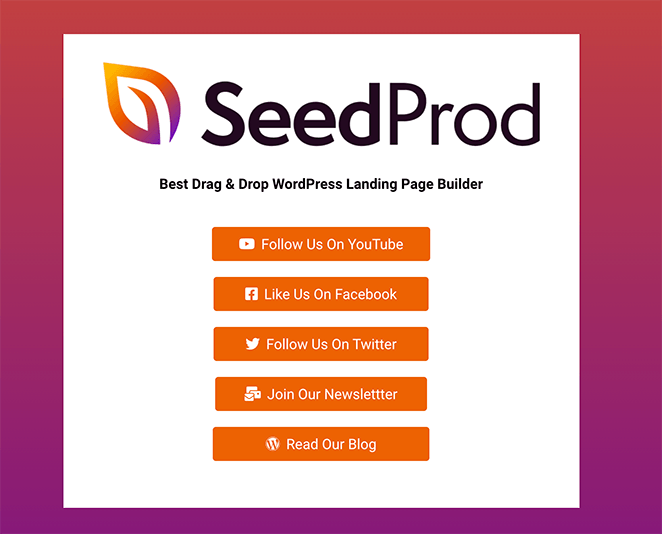 In addition, SeedProd features 4 built-in page modes: coming soon, maintenance mode, 404, and login page. This lets you "turn on" different pages with a single click.
For example, if your site is undergoing maintenance, you can enable maintenance mode and show a user-friendly message to your visitors.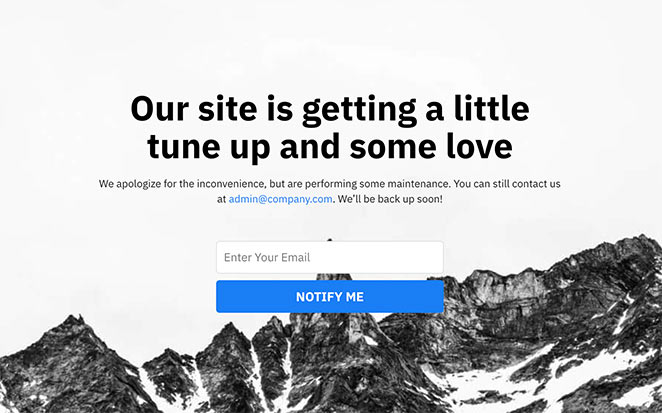 The great thing about this is that you won't need extra plugins to get this functionality – it's all included in SeedProd.
Last but not least, SeedProd has a free plan you can try to see if it's the best fit for your business. However, we suggest opting for the paid plan to enjoy its theme builder and all of the best features.
Pricing:
The paid version of SeedProd starts from $79.00 per year.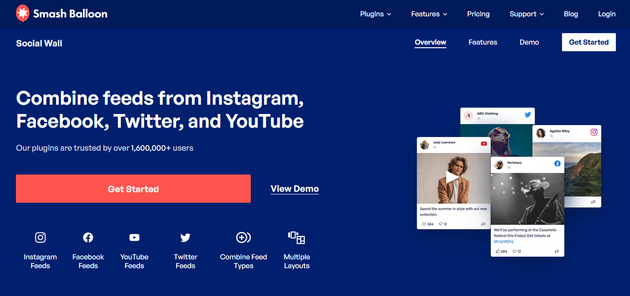 Smash Balloon is another powerful WordPress plugin you can use to showcase other social media content from your Instagram bio link. Its Social Wall plugin combines content from Instagram, Twitter, Facebook, and YouTube and displays it all in a single social media feed.
By showcasing all your social media content on a single wall, you can maximize your content and increase engagement with your audience.
Here's an example of how social walls look: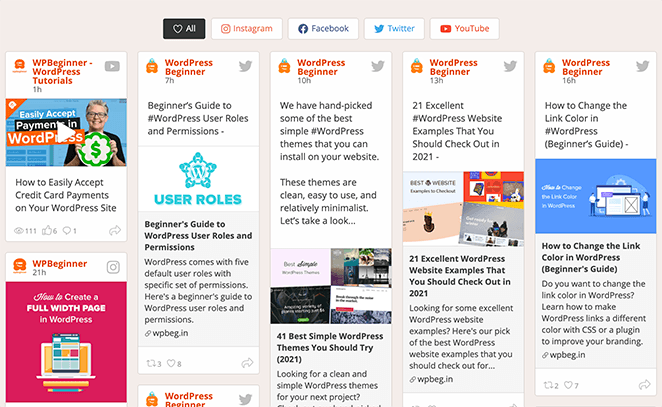 This WordPress plugin is super-easy to use with no coding needed. You can customize your design quickly and choose from 3 different layouts, including:
Grid
List
Carousel
You can filter out content you don't want to display and choose specific hashtags, phrases, and search terms you do want to show. As such, you can embed multiple feeds without limitations.
Plus, it looks great on your site right out of the box. Social Wall uses the same fonts, colors, and other styles from your WordPress theme, so it doesn't require any work to get it looking great.
With a mobile responsive design and easy options for embedding content in WordPress, Social Wall is an excellent way to drive traffic to your social media profiles on Instagram.
Simply paste your social wall custom URL into your Instagram bio and watch the engagement begin.
Pricing:
The pricing for Smash Balloon's Social Wall plugin starts from $49 per year.
Get Started with Social Wall Today.
Bonus: If you want to show a shoppable Instagram feed, Smash Balloon has a dedicated Instagram Feed plugin that does exactly what you need.
For more details, see our Smash Balloon review.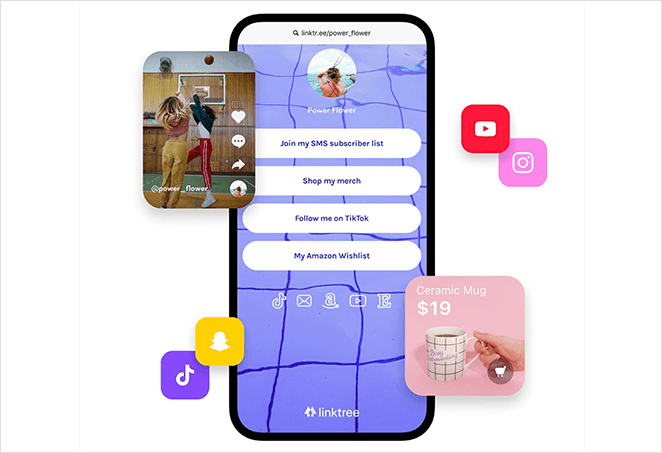 Linktree is a link in bio tool popular with many Instagram users. It provides you with a single page you can use to house links to all of your online content.
With its drag-and-drop editor, you can link to anywhere online, including:
Videos
Articles
Website
Social profiles
And more
It also includes integration with Mailchimp, Google Sheets, and Google Analytics to collect email addresses and monitor your statistics.
Once your Linktree page is set up, just add it to your Instagram profile. Then when users click the link, they'll see your custom Linktree page with all of your links.
Unlike SeedProd, which uses your custom domain name, Linktree's bio link is branded. For instance, your link may look something like this: "linktr.ee/example", which isn't particularly helpful for keeping your brand consistent.
That said, it's a good solution for brands who need a cost-effective link in bio tool.
Pricing:
Linktree offers a free plan with all its basic features. For advanced features, including 3rd party integrations, plans start from $6 per month.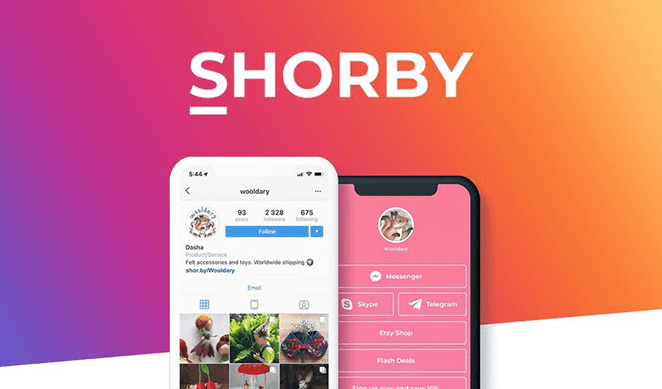 Shorby is another Instagram bio tool that lets you create an Instagram landing page for showcasing multiple links. With their SmartPages feature, you can add text, buttons, and cards linking to any content online.
Plus, you can add the option for visitors to message you on a variety of messaging apps, including:
Facebook messenger
Telegram
Skype
Viber
Whatsapp
To customize your page, you can choose a custom background image or color and set your call to action button color.
But just like Linktee, your bio page URL starts with Shorby's branded link: "shor.by/example" unless you add a custom domain, of which you can have 1 per project.
Pricing:
Shorby includes a 5-day free trial to test out its features. Then pricing starts from around $15 per month, billed annually.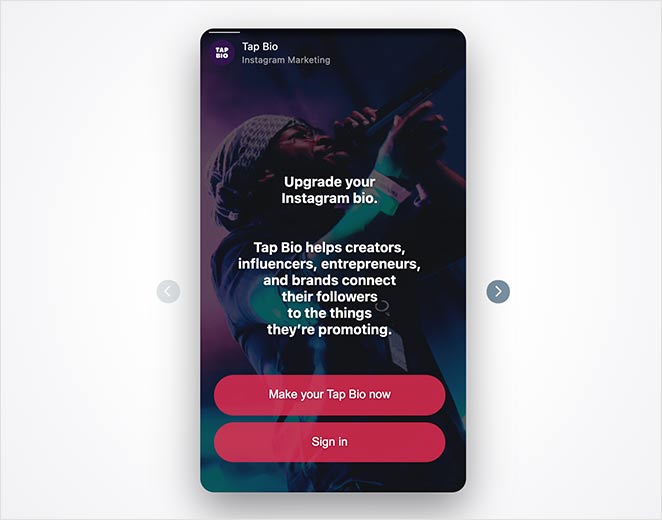 Tap Bio is an Instagram link tool that turns a straightforward link into an interactive Instagram story. This is an excellent solution for small brands that can't add links to stories until they reach 10,000 followers.
The stories display on your link page as cards, and you can use them in various ways. For instance, you can show specific Instagram posts, other social networks, and links to posts and pages elsewhere online.
This responsive Instagram bio tool also includes email sign-up form cards, retargeting, and statistic tracking for paid plans.
Pricing:
Tap Bio offers a basic plan for free. But to see statistics and other advanced features, pricing starts from $5 per month.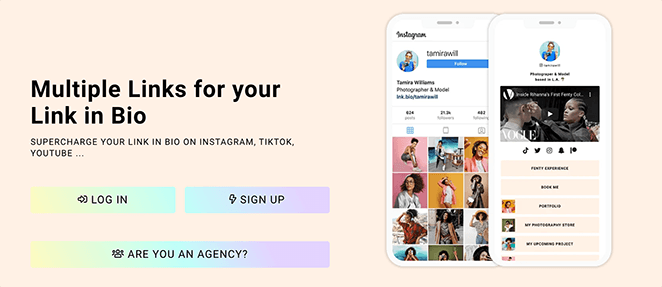 Lnk.Bio is a popular Instagram bio tool similar to the other solutions on this list. It lets you create an interactive page for showcasing links to your most important content online.
With the easy to use interface, you can add:
Social links
Videos
Music
Images
And more
You can also customize your design to suit your business's branding. But like other tools, the URL you get is branded like this: "lnk.bio/example", which can detract from the consistency of your brand's image online.
Pricing:
You can get started with this tool for free. But to access link scheduling, analytics, Instagram syncing, and more, you'll need to upgrade. Paid plans start from $0.99 per month per account.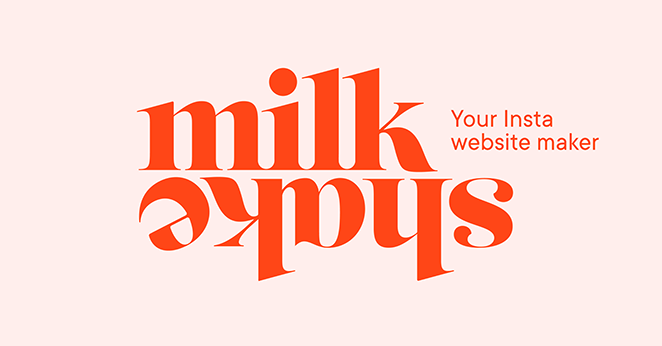 Now for something a little different. Milkshake is a mobile app that helps you make a free Instagram website on your phone in minutes. As a result, the link in your Instagram bio becomes an Insta website where your fans can connect with your content and offers.
It works by using cards that users can swipe through, like Instagram stories. You can personalize the cards with any content you like and customize each card to suit your branding.
After, it's simply a case of pasting your unique link to your Instagram bio. You can even create multiple sites with Milkshake and switch between them easily.
Pricing:
Milkshake is a free app available on both iOS and Android with optional in-app purchases.
Which Is The Best Link In Bio Instagram Tool?
After looking at some of the most popular Instagram bio tools, we conclude that SeedProd is the best link in bio Instagram tool.
With SeedProd's easy and powerful drag-and-drop builder, you can add any kind of content to a custom landing page. And unlike other tools on this list that host your content on their servers, you own your Instagram page, giving you complete control over what happens to it and how you use it.
Ready to start engaging your Instagram followers, driving targeted traffic, and collecting valuable leads?
We hope this article helped you find the best link in bio Instagram tools for your business. You might also like our guide on How to Add a Link to Your TikTok Bio.
While you're here, don't forget to follow us on Twitter, YouTube, and Facebook for more helpful WordPress content.