Are you looking for the best WordPress map plugin for your small business website?
With an interactive map on your WordPress website, it's easier to help potential customers find your physical store or office location. It's also an excellent way to improve your search engine rankings.
In this article, we'll explore some of the best WordPress Google map plugins to add store locator functionality to your website.
What Is a WordPress Map Plugin?
A WordPress map plugin is a WordPress plugin that allows you to add a customizable map to your WordPress site. There are several different map plugins available, with functionality for various business needs.
For example, some map plugins offer store locator features with custom markers and geolocation, while others connect to OpenStreetMap instead of relying solely on Google Maps.
Here are some of the benefits of using a WordPress map plugin:
Ease of use: Most WordPress map plugins are easy to use, even for non-technical users.
Affordability: There are many free and affordable map plugins available.
Customization: Most map plugins include customization options to style the look and feel of your maps.
Features: Map plugins offer a variety of features, such as the ability to add map markers, labels, and custom styles.
Support: Most map plugins offer support from the developer or a community of users.
How Do I Create a Custom Map for My Website?
The easiest way to create a custom website map is by using a WordPress map plugin.
A plugin offers almost unlimited map styles and customization options. You can change your map style to match the look and feel of your website and branding.
Manually customizing your map's CSS and HTML is time-consuming for beginners. It requires coding knowledge that may be more than a typical blogger or site owner can handle.
However, a Google Maps plugin is more user-friendly, making it a time-saver and an easier option for your business.
How Do I Add Google Maps to My WordPress Site?
There are a few ways to add Google Maps to your WordPress site:
Add Google Maps in WordPress manually.
We recommend using one of the first 2 options. Many map plugins have easy embed options, making it easy to add maps to any post, page, or sidebar on your WordPress site.
Best WordPress Map Plugins
Below you'll find both free and paid WordPress map plugins, so you can find the best map types for your business. Let's start with some of the most user-friendly and customizable solutions.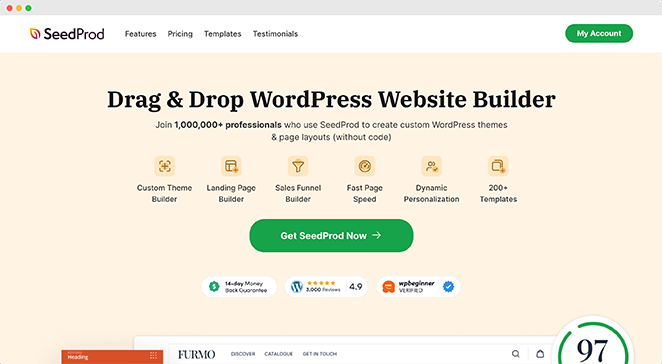 SeedProd is one of the best WordPress website and landing page builders, with over 1 million users. It lets you build flexible website layouts using WordPress blocks without writing code.
With SeedProd's Google Maps block, you can add responsive maps to your website with drag-and-drop. The visual frontend builder lets you customize your map in real-time, allowing you to see the changes as you build.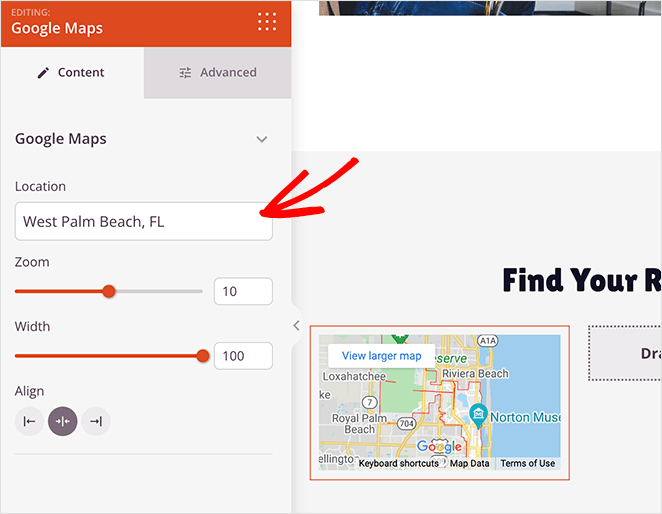 The plugin lets you customize your map location, width, height, and zoom level. You can also add map animations, various styling options and control your map visibility on different mobile devices.
SeedProd comes with many other features to help grow your business, including:
Coming soon, maintenance, 404, and login page modes
WooCommerce blocks for product grids, checkouts, shopping carts, and more
Built-in subscriber management dashboard
Full WordPress website kits and landing page templates
WordPress drag-and-drop theme builder
100+ other lead-boosting WordPress blocks
And more
Pricing: Starts at $39.50 per year for the premium versions. You can also use the free version to test drive SeedProd before upgrading.
In the end, adding Google Maps to WordPress with SeedProd is a breeze. Here's a step-by-step guide showing you how:
Alternative: Thrive Themes.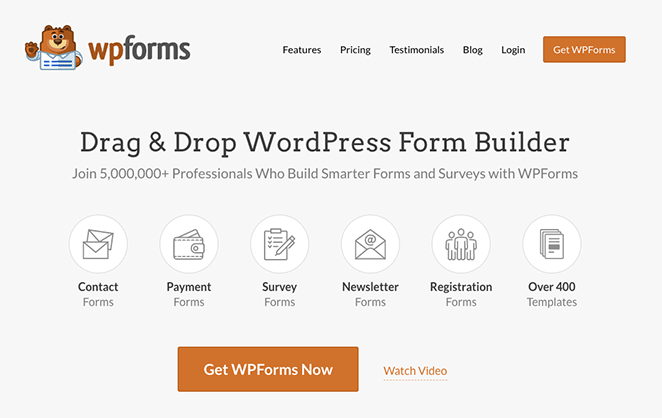 Another fantastic maps solution is WPForms, the best WordPress form builder plugin. While this isn't a standalone maps plugin, it lets you add advanced functionality to your forms without code.
For example, the Pro version of WPForms has a Geolocation addon that lets you add maps to your contact forms. Simply connect it to Mapbox or Google Places, then use the Single Line Text or Address field to add address autocomplete to your forms.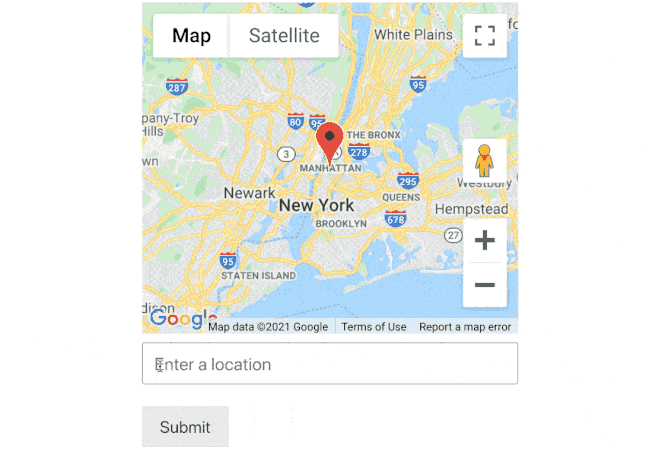 Doing so allows visitors to move the pin around an interactive map to change their addresses.
Besides the Geolocation Addon, WPForms Pro includes many other features, including:
Pre-made form templates
Drag-and-drop form builder
Payment gateway integration
Conversational forms like Typeform
Detailed user journey reports
Save and resume form submission
And more
Pricing: WPForms Pro starts from $199.50 per year.
For more details, see our detailed WPForms review.

WP Go Maps (formerly WP Google Maps) is a free WordPress Google Maps plugin. With this plugin, you can easily add a custom Google Map block or Store Locator to WordPress posts or pages with a shortcode or Google Maps widget.
You can add as many map marker icons as you like and choose between Google or Open Layers Maps. The map builder has 9 map themes to choose from, with the option to create your own map theme to match your site's branding.
Moreover, you can choose from 4 different map types: roadmap, terrain, satellite, and hybrid.
Additional features of WP Go Maps are as follows:
Supports Google Maps Street View
Offer full-screen map functionality
Add polylines, polygons, and routes to your map
Includes Google Maps autocomplete and transport layer
Uses the latest Google Maps API
Embed maps using the WordPress block (Gutenberg block) or shortcode
Pricing: Free from the WordPress.org plugin repository. The Pro version is available for a one-off payment of $39.99.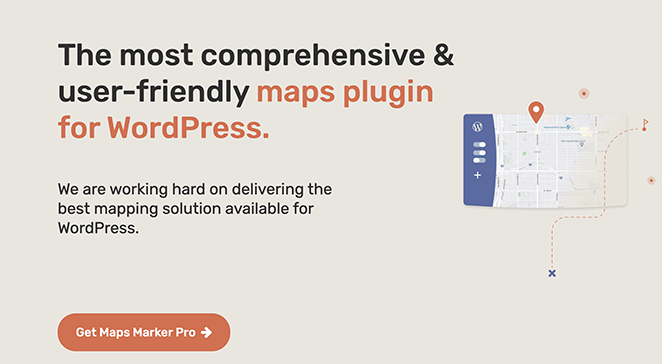 Maps Marker Pro is a popular WordPress map plugin that lets you build any map. Right out of the box, you can create maps for any solution, including Google Maps, Open Street, Bing, TomTom, HERE, and more.
Using the plugin's GPX tracks, you can display routes with metadata like duration, distance, and pace. Plus, with polyline support, you can draw circles, lines, polygons, and more directly on the map.
Additional features in Maps Marker Pro include:
Add map categories and filters
Create animated marker clusters
Sort markers with dynamic marker lists
Import and export from XML and CSV file
Show your location and movement in real-time
Support for multiple languages
Pricing: Starts from €49 per year.

MapPress is another free WordPress maps plugin that makes adding beautiful Google Maps to your website easy. You can create unlimited Leaflet maps and Google Maps using the WordPress block or classic editor.
With this plugin, you can add any map to WordPress posts, pages, or custom post types by typing the address. Embed maps before or after a post, or use the shortcode to place your map inside a post.
Other MapPress features include:
Build maps with latitude and longitude coordinates or an address
Define the zoom level for each map
Build maps based on custom fields
Add custom map markers
Bloat-free and user-friendly features
Pricing: Free. Pro versions start from $39 per year.

WP Maps is another of the best map plugins for WordPress. It lets you create custom Google Maps with markers containing locations, descriptions, images, categories, links, and directions.
This plugin can create various maps, including interactive tour maps, store locators, contact page maps, and more. It even includes marker clustering and +500 ready made markers for a colorful look.
Additional features of WP Maps include:
Display real-time traffic conditions and overlays using Layers
Add bicycle path information with the Bicycling Layer
Enable Google Map Transit layer
Display a tooltip message for any location
Decide center latitude and longitude for individual maps separately
Support for WordPress multisite
Pricing: Free. WP Maps Pro pricing starts at $89.

Maps Widget for Google Maps is a must-have map plugin if you want to embed maps in your website header, footer, sidebar, or widget. It's a freemium plugin that lets you add maps anywhere on your WordPress site in minutes.
Using the Google Maps Static API, it loads your map with a single request, ensuring your site loads quickly. Besides this, you can customize various settings, including the map size, type, and color scheme.
Other helpful features are as follows:
Adjust lightbox or full-screen map size automatically
Close the lightbox on overlay click, esc key, or close button
Full pin clustering and filtering support
Change the pin type, color, size, and label
Pricing: Free. The Pro version starts from $29 per year.

If you're looking for a much simpler solution to map building, Easy Google Maps is an excellent choice. It's a free WordPress maps plugin allowing you to easily build maps with unlimited map markers, locations, descriptions, and more.
You can add maps to your WordPress site with a shortcode, open it with a lightbox popup, or use the built-in Google Maps widget. Display any type of map, including real estate, contact page, delivery areas, Bing maps, and more, with a few clicks.
Additional features include:
Add media descriptions to map markers
Use the shortcode or PHP code to add maps
Include social share buttons on maps
Use custom map themes
Includes a Heatmap layer
Pricing: Free. The premium version starts from $49 per year.

WP Google Map is another popular WordPress map plugin with a free version for smaller budgets. With this plugin, you can embed advanced google maps into your posts and pages.
The WP Google Maps plugin is fully customizable, offering the ability to change the map language and regional area. It also includes automatic Google Map location identification with user consent, draggable map markers, autocomplete, and more.
With the premium version of WP Google Map, you can access the following:
Unlimited maps and markers
Detailed direction support
Images in map info windows
Various map types, including terrain, satellite, and hybrid
Google Maps Street View support
Pricing: Free. The premium version of WP Google Maps starts from $29.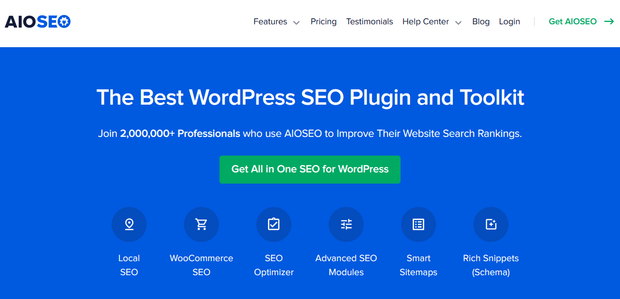 If you're looking for a way to add Google Maps to WordPress while improving your search engine rankings, All in One SEO (AIOSO) is a must-have. It's the best WordPress SEO plugin and comes with Local SEO which helps your business rank in local search results.
You can add your local business information with the correct schema markup. Plus, with the Google Maps integration, you can display a map of your business on both your WordPress site and local search results.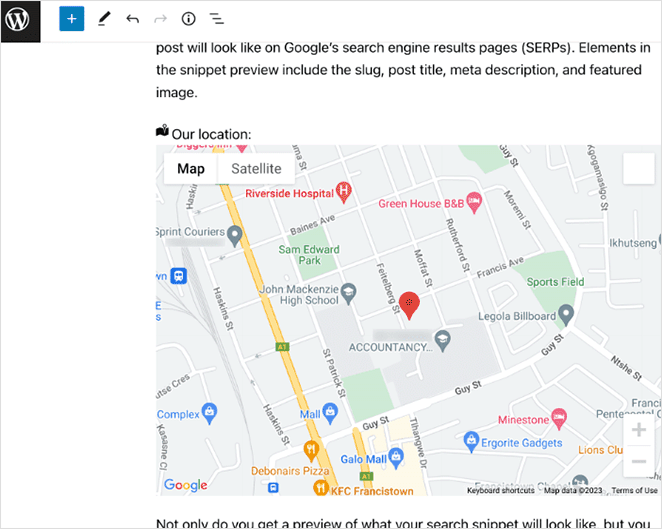 Additional SEO features include:
On-page SEO analysis
SEO audit checklist
Link assistant and redirection
Search statistics
Rich snippets schema
Multiple sitemaps
Social media integration
And more.
Pricing: Starts from $49.60 per year.
You can see our AIOSEO review for more information.
Which is the Best WordPress Map Plugin?
The best WordPress map plugin for your business depends on your specific needs. That said, if you want to build WordPress layouts without code, SeedProd is the best solution with its Google Maps block. It works seamlessly with WPForms, AIOSEO, and other popular WordPress plugins for exceptional performance.
Alternatively, you might prefer a free plugin with simpler features, such as WP Go Maps.
There you have it!
We hope you found this list of the best WordPress map plugins helpful. If you want to change your WordPress theme, you may also like this guide on the best WordPress themes.
Thanks for reading. Please follow us on YouTube, Twitter, and Facebook for more helpful content to grow your business.