Are you looking for the best WordPress duplicator plugin for your business website?
Duplicator plugins let you create a backup or copy of your WordPress site, including its files and database. From there, you can make changes or move your site to a different web hosting company.
In this article, we'll share the best WordPress duplicator plugins on the market.
When Should You Duplicate or Clone Your Site?
Duplicating your WordPress site is an effective way to test new plugins or updates in a controlled environment before applying them to your live site. It prevents website visitors from seeing a broken site because you'll be working on a copy instead of a live version.
You can also duplicate your WordPress website in the following situations:
Creating a development site: You can use a duplicated site to work on new features or redesigns before publishing them on your live site.
Moving to a new host: Duplicating a site can help you migrate it to a new WordPress hosting provider without downtime.
Backup: Cloning a site can be a backup in case your live site experiences issues or data loss.
WordPress multisite deployment: Duplicating the original site can save time if you need to deploy multiple sites with the same content and design.
Reusing designs: Some WordPress page builders allow you to save and copy design elements for other web design projects.
Ultimately, if you want to make changes to your existing WordPress site or use its design elsewhere, you'll need to clone or duplicate it to save time and avoid breaking your website.
Let's dive in and look at the best duplicator plugins for WordPress.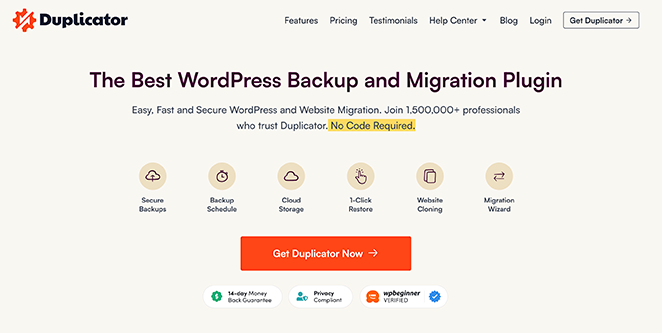 Duplicator Pro is the best WordPress duplicator plugin, with over 15 million downloads. It's a versatile tool for backing up and cloning your WordPress website.
One of Duplicator's key benefits is transferring your website between domains or hosts without experiencing downtime. This is a significant advantage if you want to avoid losing traffic or customers during the migration process.
The plugin creates a single "package" of your entire website in a zip file format, including plugins, themes, content, database, and WordPress files. That means you can migrate WordPress sites to a new location without installing WordPress, as the Duplicator package has all the WordPress files your site needs.
The Duplicator Pro plugin also offers other features, such as scheduling backups, migrating multisite networks, and more. There's also a comprehensive guide available to walk you through the cloning process step-by-step.
Key features:
Backup and migration of WordPress websites
Create a package that includes all site data and database
One-click migration of the website to a new host or location
Scheduling options for automatic backups
Multisite network support
File filtering to include/exclude specific files from a backup package
Manual or automatic backup of a database
Scan and repair database tables
Integration with cloud storage services (Dropbox, Google Drive, Amazon S3, etc.)
Support for larger sites with chunking and resumable uploads
Password protection for backup packages
Email notifications for backup completion
Price: Duplicator Pro starts from $69 per year for up to 3 websites. For those on a tight budget, the free version of Duplicator is a viable option. However, it does have some limitations, such as the absence of advanced features like scheduled backups and multisite network support.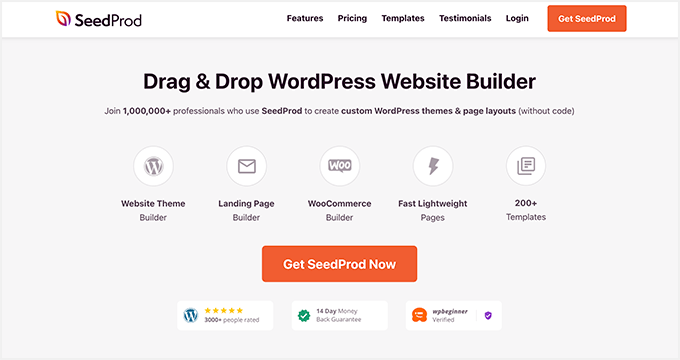 SeedProd is the best WordPress page builder with drag-and-drop functionality. It lets you create any WordPress page or website visually without writing code or hiring a developer.
This plugin is a powerful way to customize your entire WordPress website. With its block-based interface, you can add new features and styling and even build a custom WordPress theme from scratch.
SeedProd's copy-and-paste feature is a fantastic way to duplicate sections of your design across multiple pages and WordPress sites. It copies a section's content, images, and styling and lets you paste it on a new page or website without building it from scratch again.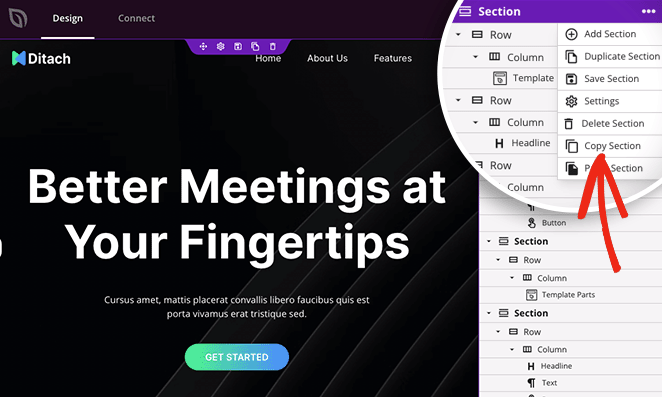 You can also use SeedProd's export feature to save your WordPress design as a template. It will download your template as a .zip file, allowing you to upload it to another WordPress site with an active SeedProd installation.
As a result, you can improve your design workflow and save time on your web design projects.
Key features:
Built-in coming soon, and maintenance mode to hide your site behind a landing page while you work on it
Premade landing page templates and themes to help you get started quickly
Drag-and-drop page builder
Countless WordPress blocks, including contact forms, countdown timers, and more to enhance your site's functionality
Subscriber management WordPress dashboard
Custom 404 and WordPress login pages
Custom domain name mapping
Popular email marketing integrations
Price: SeedProd's premium plans start from $39.50 per year for a single site license.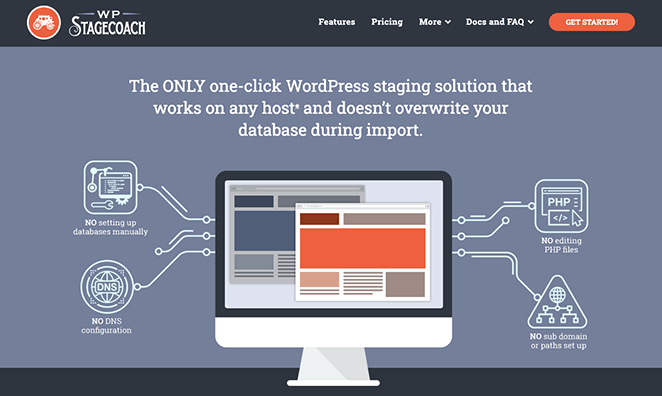 WP Stagecoach is a popular WordPress duplicator plugin that lets you set up a WordPress staging site. It's convenient if your WordPress hosting company doesn't offer a staging feature.
A staging site is a test version of your site where you can try new plugins or code or perform updates that you don't want to affect your live server and website.
With the WP Stagecoach plugin, you can create a short-term staging site. You can use this to test everything out and then push your changes to your live website when you're happy they work correctly.
The plugin merges rather than overwrites your database changes. As a result, you won't lose any new posts, updates, or changes that have happened on your live site since you made the staging environment.
WP Stagecoach's interference is easy to use and works with virtually any WordPress site. It also hosts your staging site on its own servers, so you won't need to use your existing server space.
That said, this plugin doesn't currently work with WordPress multisite networks.
Key features:
Website staging and deployment for WordPress
Easily create a development copy of your live website
Synchronize changes between your development and live sites
One-click push changes from development to a live site
Automated backups of your live site before deployment
Ability to test changes before pushing to the live site
Support for custom post types and plugins
Exclude specific files and database tables from synchronization
Support for WordPress Multisite
Email notifications for backup completion and deployment
Price: The pricing for WP Stagecoach starts from $99 per year. It offers a 5-day free trial and a money-back guarantee if you find it isn't the best fit for your needs.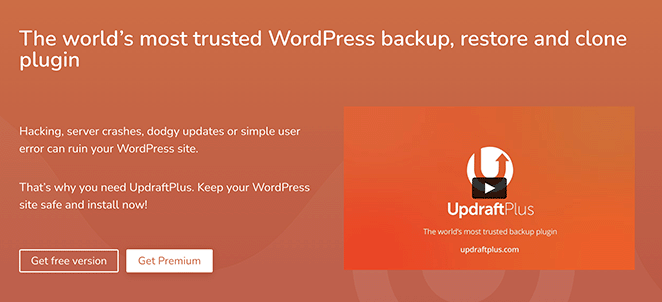 UpdraftPlus Premium is a powerful WordPress backup plugin that simplifies the process of cloning and migrating websites. The premium version includes additional features, including the Migrator tool, the UpdraftClone add-on, and other useful add-ons.
To utilize the Migrator tool, you'll need to install WordPress and UpdraftPlus on both your original and new sites. From there, you can duplicate a standalone WordPress site into a WordPress network and vice versa.
The UpdraftClone add-on lets you create new test sites to experiment with updates and changes. Since it's hosted on UpdraftPlus's servers, your test site will only take a few minutes to make.
That said, you'll need tokens to create and maintain a test environment. Some tokens are free with a monthly subscription, but you may want to buy more.
Key features:
Backup and restore options for your website, including the database, themes, plugins, and uploads
Scheduling options to automate backups
Backup to cloud storage options (such as Google Drive, Dropbox, Amazon S3, and Microsoft OneDrive)
Backup exclusions to exclude specific files or directories from your backups
Multiple storage locations to store backups on
Database optimization and repair options
Downloadable backup logs
Integration with Multisite
Migration options to move your website to a new host or domain
Encryption options to protect your backups
Support for larger websites with split archives and incremental backups
Staging sites for testing and development
Price: The Migrator add-on for UpdraftPlus is $49. UpdraftClone comes with the free version of UpdraftPlus; however, you'll need to buy tokens at $12 for 4.
The premium version of UpdraftPlus includes Migrator and the other UpdraftPlus add-ons for $70/year.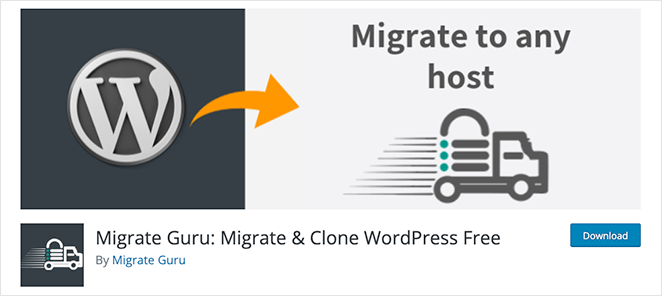 Migrate Guru is a free WordPress migration plugin that works with many popular WordPress hosting providers. It helps you transfer your website from one web host to another quickly and easily.
Created by the developers behind the well-known BlogVault plugin, Migrate Guru uses BlogVault's servers to ensure a fast and straightforward process. Once the migration is complete, the plugin will remove the copy of your site from BlogVault's servers.
Migrate Guru is a super effective solution for large sites. You can move sites up to 200 GB in under 30 minutes and get real-time notifications and email updates throughout the process.
That said, it's not a viable solution for developing on local hosts because it doesn't support migrating between localhost and live websites.
Migrate Guru limits users to 5 migrations per month. You can move each of those 5 sites unlimited times, which is enough for most users. However, you can request a cap increase if you're a developer.
Key features:
Website migration tool for WordPress
Automated migration with no downtime
Support for migrations to/from WordPress and other platforms (such as Shopify, Magento, etc.)
Ability to migrate entire website or specific components (such as database, themes, plugins, etc.)
Real-time progress monitoring
Integration with cloud storage services (such as Google Drive, Amazon S3, Dropbox, etc.)
Support for migrations of large websites
Automatic detection and resolution of compatibility issues
24/7 support
Pricing: Migrate Guru is free and does not offer a paid version or any paid add-ons.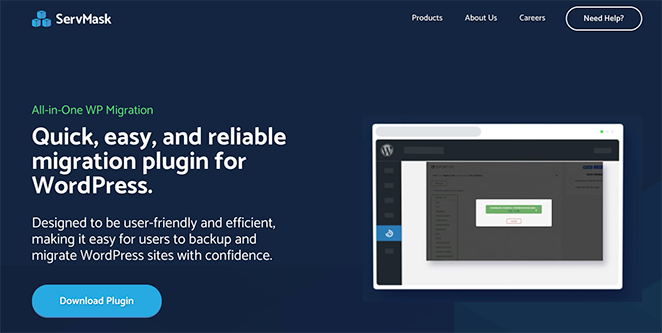 All-in-One WP Migration offers a simple way to clone your website and move it to another web server or domain.
Because the plugin has no specific dependencies, it works with various hosting providers. Moreover, it overcomes file size limitations imposed by your web host by splitting the data into smaller portions during the import process.
However, this plugin does have a few limitations. The main drawback is it limits data imports to 512MB, which may not be enough for larger websites.
You can lift any limitations by purchasing the Unlimited extension. Plus, there are also many other premium extensions available for the plugin, including a Multisite option to use with multisite setups.
Key features:
WordPress migration and backup plugin
Export and import of entire WordPress website
Unlimited size of website transfer
Easy migration process with no technical knowledge required
Support for WordPress multisite
Import and export to multiple file formats (including .wpress, .zip, etc.)
Integration with cloud storage services (such as Google Drive, Dropbox, etc.)
Find and replace tool to update URLs and file paths
Migration of database-only or file-only components
Pricing: The basic All-in-One WP Migration plugin is free of charge. To add more functionality, you can purchase paid extensions. The Unlimited extension is $69 for personal use and $69 plus $29 per month for business use.
Please note that there's no refund policy, and any potential refunds are at the company's discretion.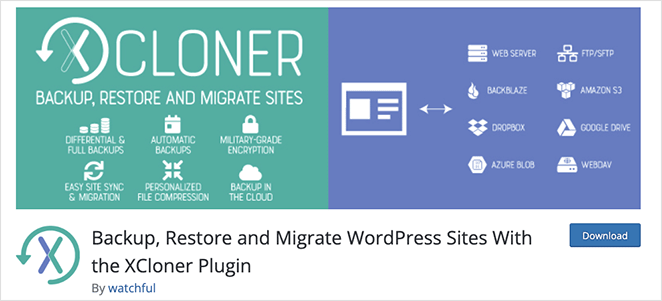 XCloner is a free and user-friendly WordPress plugin that lets you create backups of your website. It also offers the option to generate "differential backups," which only capture changes made after a specific date.
With XCloner, you can set up regular automatic backups and schedule backups before automatic WordPress updates. You can use the backups to restore your website or move it to a new server or domain.
While XCloner is free, it may require a certain level of technical expertise, so it may not be ideal for those with limited WordPress experience.
Key features:
Website backup and restore tool for WordPress
Create full website backups or backup specific components (such as database, themes, plugins, and more.)
Support for scheduled backups
Backup to multiple storage locations (such as local server, FTP, Google Drive, and more.)
Encryption options for secure backup storage
Support for larger websites with split archives and incremental backups
Migration tool to move website to a new host or location
Integration with WordPress Multisite
Price: XCloner is available for free, but for added features and support, you can upgrade to the premium version offered by Watchful for $1.83 per site per month.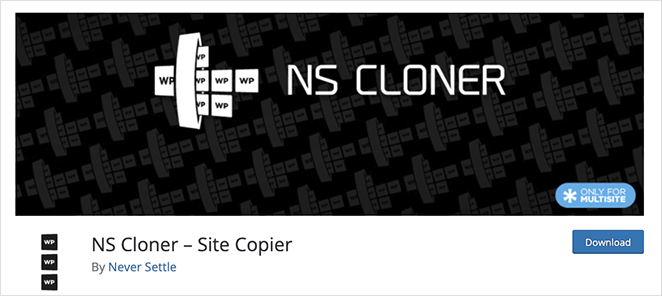 NS Cloner is a WordPress duplicator plugin that allows you to clone websites within a WordPress multisite network. This will enable administrators to duplicate an existing site on the network, including its WordPress themes, plugins, and content.
This tool is ideal for hosting and managing multiple client sites within a multisite setup. You can also use it for creating test sites or sites for organizational members.
Please note that NS Cloner is only compatible with WordPress multisite. The pro version of NS Cloner is available for those looking to clone single WordPress sites, which supports cloning between single and multisite WordPress. The pro version includes added features such as cloning site users and permissions.
Key features:
Website backup and migration tool for WordPress
Create full website backups or selective components (such as database, themes, plugins, and more.)
Backup to multiple storage locations (such as local, FTP, SFTP, Dropbox, and Google Drive.)
Scheduling options for automatic backups
Support for WordPress multisite
Integration with Joomla! CMS for backup and migration
Migration of backups to new domains or servers
Compression and encryption of backups for added security
Price: The basic NS Cloner plugin is free, while the pro version with additional features is available for $298.
Which WordPress Duplicator Plugin Is Best?
Duplicator Pro is the best WordPress duplicator plugin for most website owners. It makes it easy to clone, duplicate, migrate, and even move your WordPress site to another server.
However, if your goal is to duplicate parts of your web design, SeedProd is the best tool for the job. You can save and export entire website templates and even copy and paste sections across multiple pages and websites.
We hope this guide has helped you find the best WordPress duplicator plugin for your small business. Before you leave, you might also like our guide on the best business phone systems.
Thanks for reading. Please follow us on YouTube, Twitter, and Facebook for more helpful content to grow your business.