Are you looking for some inspiring blog landing page examples?
With an effective blog landing page, you can encourage more website visitors to read your content and become loyal readers and email subscribers.
In this article, we'll look at some excellent blog landing page examples to help your content marketing efforts.
What Is the Difference Between a Blog and a Landing Page?
You might not know how a blog and a landing page differ. Aren't they the same thing? The truth is, they're slightly different.
A blog is a page on your website that updates regularly with all your latest blog posts. You'll often find links at the bottom of the page to go further into the blog archives.
Sometimes, a blog page may also include a sidebar with categories, recommended posts, social media sharing buttons, and even a form to opt-in to your newsletter.
The purpose of a blog is to get website visitors to read, share, and engage with your content.
In contrast, a landing page is a single web page that only includes a selection of your blog posts. It's designed to give your target audience a taste of your content but only provides some of it on one page.
For instance, a blog landing page may include 4 of your best blog posts, but the focus will be on convincing users to learn more. The page may also have a welcome video, convincing copywriting, testimonials from subscribers, and a sign-up form with a call-to-action button (CTA) to join your email list for new blog posts.
In essence, the purpose of a blog landing page is to remove unnecessary distractions, get visitors to take action, and increase conversion rates.
Can a Blog Be Used As a Landing Page?
Many small businesses use their blog as a landing page. You'll land on the blog page immediately when you click a link in search results or social media. This is fine if you're a blogger because you may not have digital marketing goals to meet.
However, if you're a small business, we recommend using something other than your blog as a landing page. Instead, you should send traffic to your homepage or a high-converting landing page, so you can better control how users navigate your website.
For example, if you want visitors to learn more about your business, sending them to your homepage or an about page is a good idea. Yet, if you want to grow your email list, promote a webinar, or encourage sales of a specific product, it's best to create a landing page.
Inspirational Blog Landing Page Design Examples
After looking at the explanations above, it's clear that a blog landing page is a standalone page designed to get visitors to take a specific action. If you still need clarification, check out the best blog landing page examples below to see how they work.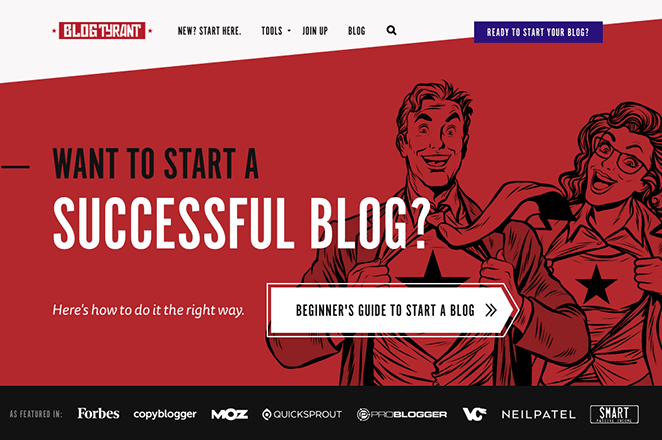 First is a great blog landing page example from Blog Tyrant. This blog focuses on helping other bloggers build better blogs, so much of the page is geared towards showcasing its best content.
At the top of the page is an eye-catching header posing a question for readers: "Want to start a successful blog?" If the answer to that question is yes, users can click a call-to-action button to learn how to do it the right way, which is a fantastic way to drive clicks to the most important post on Blog Tyrant's site.
Some of the other great features on this page are as follows: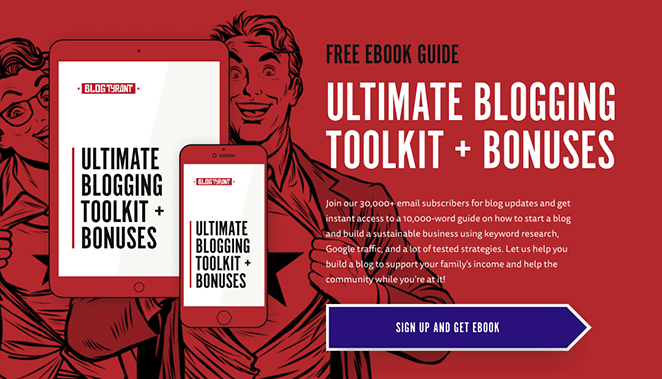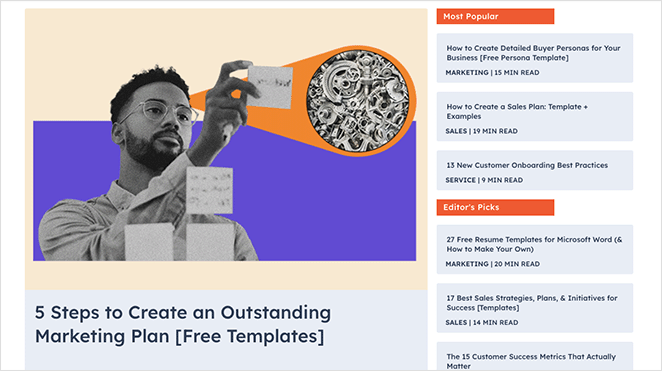 HubSpot's blog landing page is another example of how they focus on providing the right content to the right audience. This page is aimed at marketers and includes content related to online marketing.
At the top are the most popular topics and top picks from HubSpot's editors. Then, as you move down the page, you'll see a modular layout for further recommended reading.
Included in the layout is a call to action to subscribe to HubSpot's email list, and further down, you can opt-in to download their free ebook.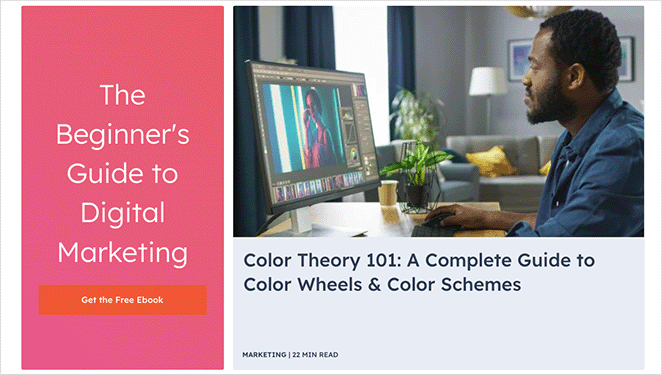 Here are some of the key features of this landing page example: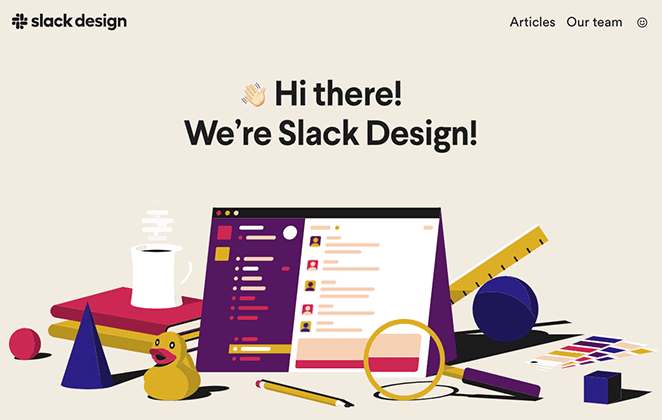 Slack is a Software as a Service (SaaS) company, and its blog landing page has a minimalistic yet welcoming design that reflects its personality.
This page has a simple layout featuring a collection of the latest design articles and a CTA to view more. Even though it doesn't include any lead generation features, it does an excellent job focusing on exactly what its audience is looking for.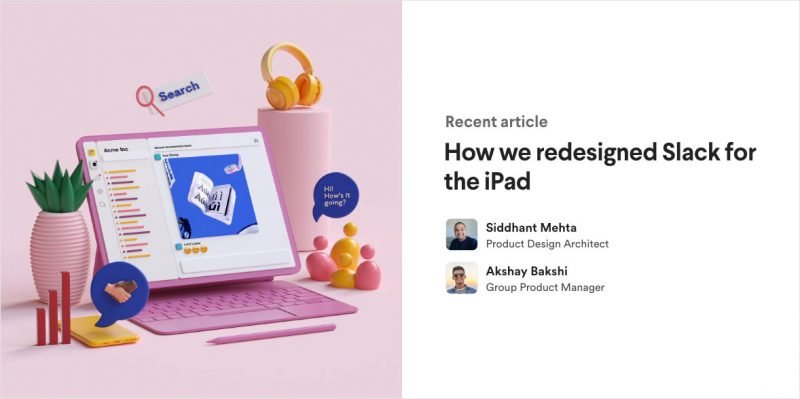 Continuing with the light-hearted vibe and showcasing its impressive web design skills, this page has a nifty feature. Click the emoji icon, and a new random emoji will appear whenever you click on the page.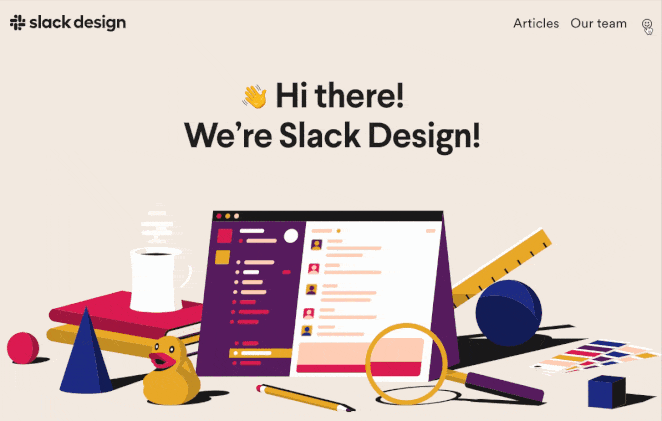 We have to warn you it can be quite addictive.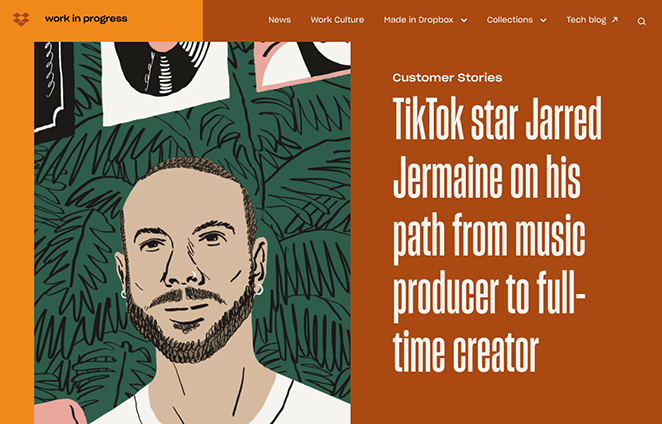 Now, let's take a look at Dropbox's Work in Progress blog landing page design. It has a vibrant design that instantly commands attention, and the layout has different sections for easier browsing.
For instance, there are sections on customer stories, news, work culture, and product tips. They also offer featured collections or blog posts on specific themes.
We particularly like the scrolling CTA button in the footer area. When you click on it, you'll see a static email sign-up form encouraging you to join the email list.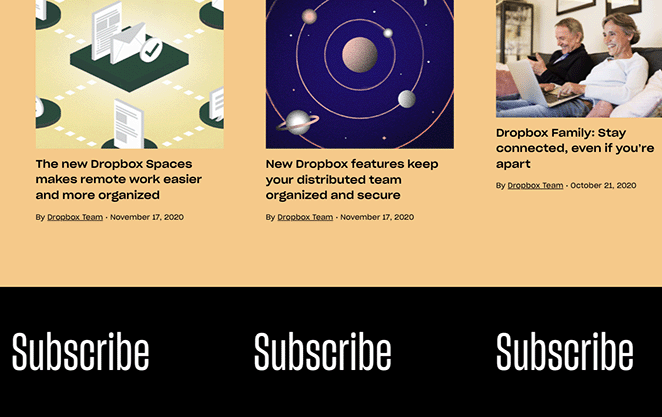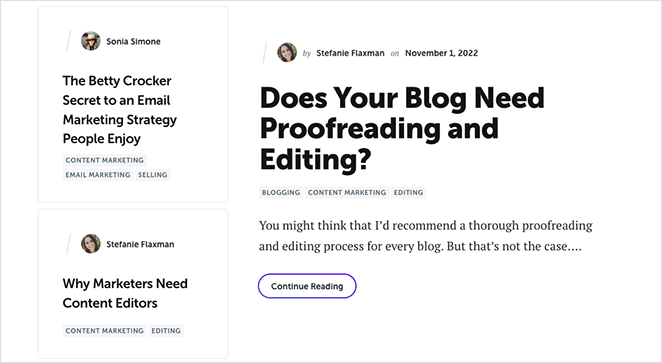 Next is an effective blog landing page example from Copyblogger, a brand that offers content marketing tips and training. Unlike other examples on this list, Copyblogger uses its blog as its homepage and landing page because they want visitors to consume their content immediately.
The page has a minimalist design, preferring to focus on the content rather than high-quality images and videos. Plus, the layout is distraction-free, with clear fonts you can read easily.
When you land on the page, you'll see a clear CTA to subscribe to Copyblogger's free email series. The CTA is also repeated at the bottom of the page, offering visitors one more chance to subscribe.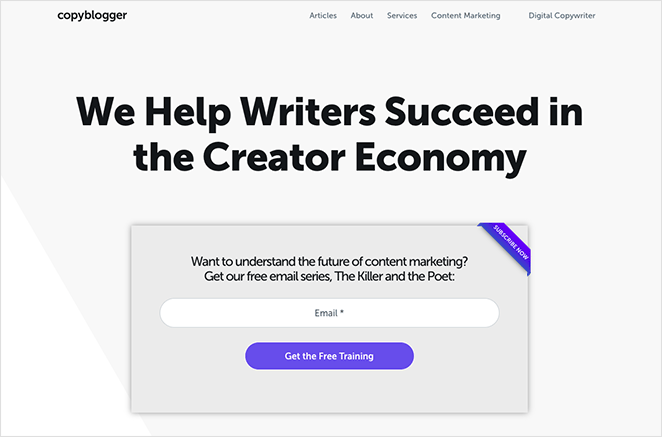 This type of lead magnet is an excellent way to grow your list and nurture relationships with valuable content.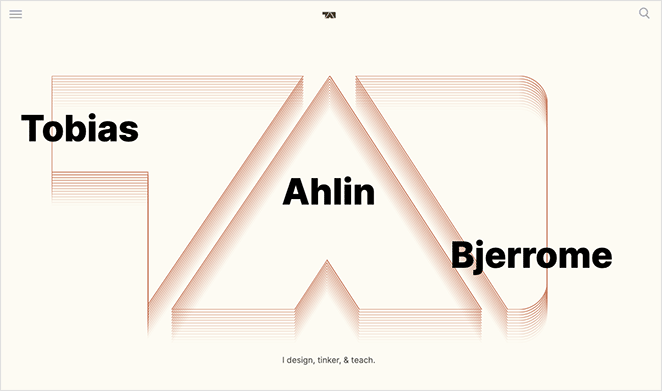 This blog landing page example from Tobias Ahlin is the perfect way to showcase his design and development skills. The top section features a collection of recent blog posts with buttons to read more.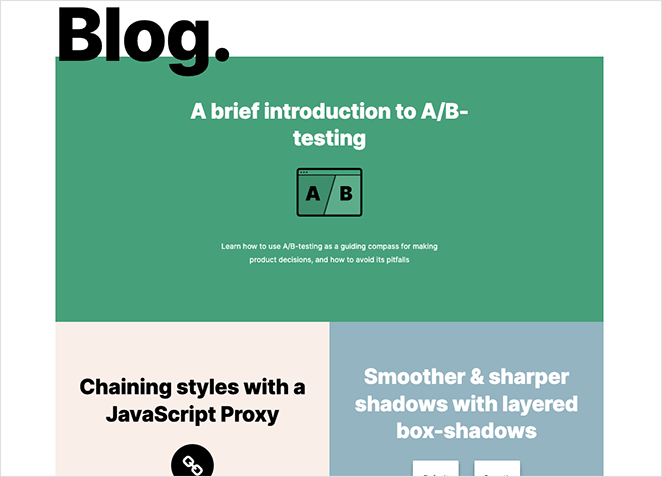 Further down the page, you can see some of Tobias' projects, recent work, and methods to get in touch.
Overall it's one of the best landing page examples we've seen used for a blog and personal brand.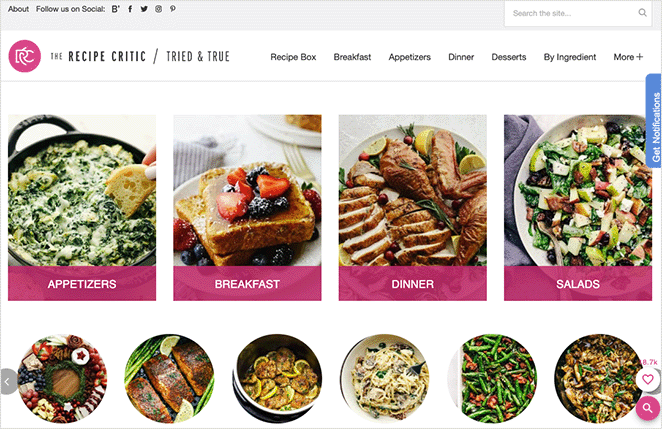 The Recipe Critic is a food blog with a beautifully designed landing page. The main design offers different sections like breakfast, dinner, salads, slow cooker meals, and more, which helps visitors easily find the recipe they need.
In the center of the page is a large call to action, encouraging users to sign up for free recipes.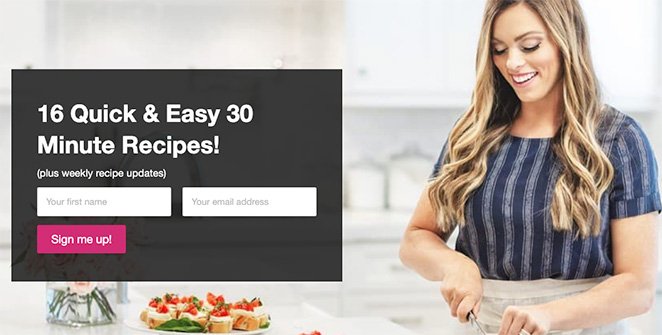 The page also includes a search box, and social media follow buttons.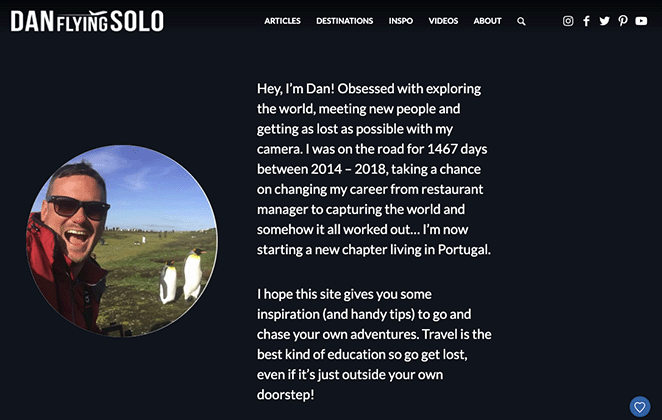 Dan Flying Solo has a simple yet effective blog landing page design that focuses on the content.
The header section helps readers learn more about Dan, the topics he covers, and the places he visits. As you scroll down, you can see Dan's latest blog posts, with large buttons to read more.
You'll also notice that Dan embeds his YouTube videos on the page, which is a fantastic way to grow his YouTube fan base.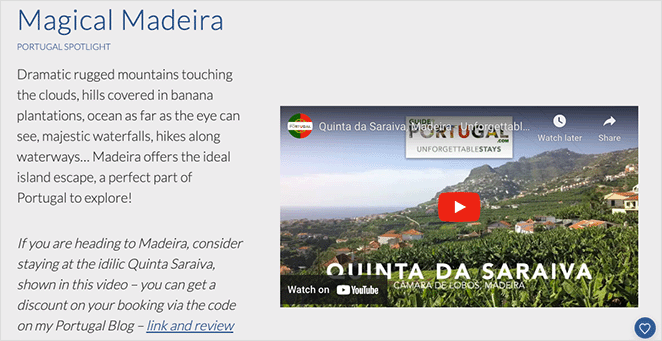 How to Create a Blog Landing Page in WordPress
If you want to create a stunning blog landing page like the examples above, there's no need to worry because it isn't as hard as you might think.
You can use a page builder plugin to create a custom blog page and bring your vision to life without coding.
We recommend using SeedProd, the best drag-and-drop landing page builder and website builder for WordPress.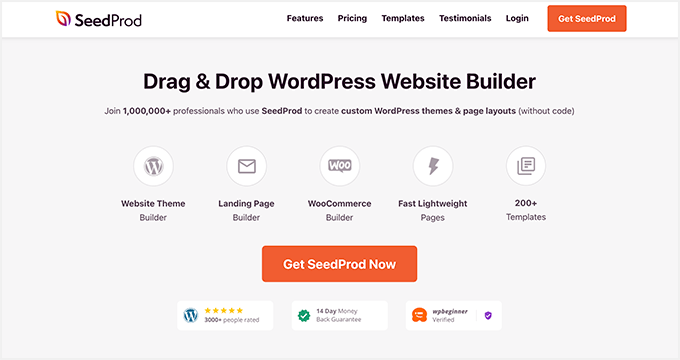 SeedProd is easy to use, developer-friendly and has tons of professionally designed landing page templates so you can get started quickly.
From there, you can use ready-made landing page blocks to help you design the perfect page, generate leads, and boost conversions.
Here are some of the landing page blocks you can customize:
You can even promote eCommerce products to potential customers with WooCommerce blocks like popular products, shopping carts, checkout, and more. All you have to do is drag and drop each block onto your page and see the changes in real time.
SeedProd is fully-responsive, search engine (SEO) friendly, works with any WordPress theme, and even lets you create a WordPress theme from scratch.
You can read this tutorial to create a landing page in WordPress without hiring a developer.
That's it!
We hope you found this list of the best blog landing page examples helpful. Now that you have some design inspiration designing a beautiful landing page for your blog will be a breeze.
Ready to create your own landing page and drive blog conversions?
You might also like the following tutorials and tips:
Thanks for reading. Please follow us on YouTube, Twitter, and Facebook for more helpful content to grow your business.