Looking for a quick guide on how to make a one product website?
Single product websites are ideal for entrepreneurs, dropshipping brands, and small business owners. They let you sell digital goods and physical products from your online store.
If you're a business owner looking to make a one product store, you're in the right place. This step-by-step guide will show you how to make a one product website easily.
What Is a One Product Website?
A one product website is an eCommerce website that only sells a single product. Instead of promoting many different products like Amazon using a full eCommerce platform, it only lists one product line.
You can sell any product on a single product website, including physical goods, digital products, and even a professional service. The only way it differs from a typical eCommerce store, such as a Shopify store, is in the number of products and the website size.
For example, an eCommerce business site will likely have many more web pages, including a shop page with categories, landing pages for marketing campaigns like Facebook ads, and hundreds of product descriptions.
Yet, a single product store generally has only the essential pages for promoting and selling one product.
With the above in mind, let's dive in and look at how to start your one product website.
How to Make a One Product Website Step-by-Step
Before you start building your site, you'll need to set up its foundations by getting:
A domain name
Web hosting
Your domain name is the address of your online store, and web hosting is like the house your website lives in. You'll need these for your target audience to find your website via search engines and for potential customers to learn more about your product.
Since you're making an online store, you'll also need an SSL certificate to protect consumers' personal data.
If this sounds like a lot of work, don't worry. Most modern web hosting companies offer all 3 features in their hosting plans. Here are 3 of the top hosting providers that we recommend:
All of these companies are entirely optimized for WordPress. Plus, when you buy web hosting, they come with a free domain name and SSL certificate.
Below we'll show you how to set up your one product website with Bluehost.
Step 1. Set Up Your Website Hosting and Domain
First, go to the Bluehost website and click Get Started.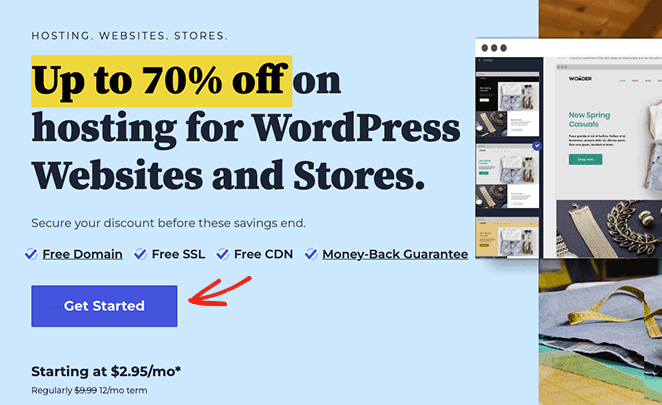 On the next screen, you can choose a pricing plan. We recommend the Choice Plus plan for the added functionality, but if you're just starting, the basic plan should be fine for now.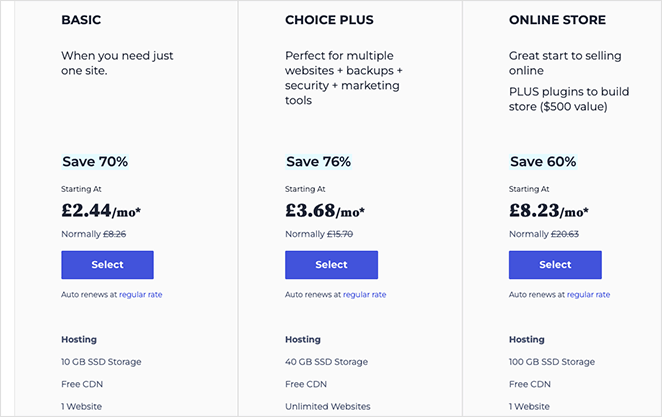 Next, choose a domain name for your website. Remember, this will be what people use to find you online, so ensure you're happy with your domain before committing.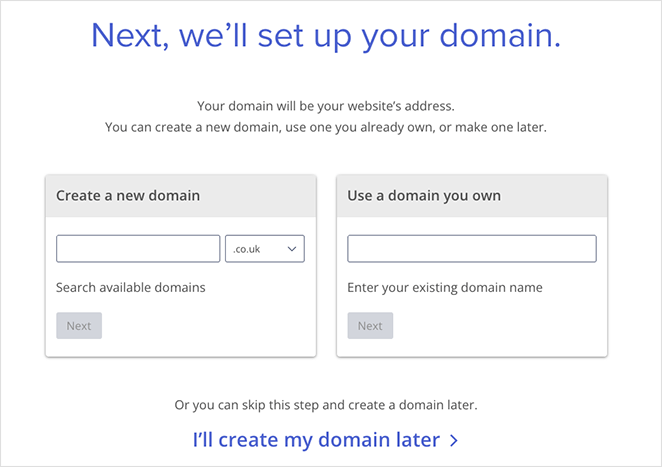 After that, you'll go to the checkout page, where you can add your payment details and confirm your purchase.
Step 2. Install WordPress on Your One Product Website
When you've finished the checkout process, you'll receive an email from Bluehost with details on logging into your web hosting control panel. The control panel allows you to manage your hosting settings, domain info, email inbox, and log into your WordPress dashboard.
After logging into your control panel, you'll notice that Bluehost has installed WordPress automatically. To access your dashboard, click the Log into WordPress button.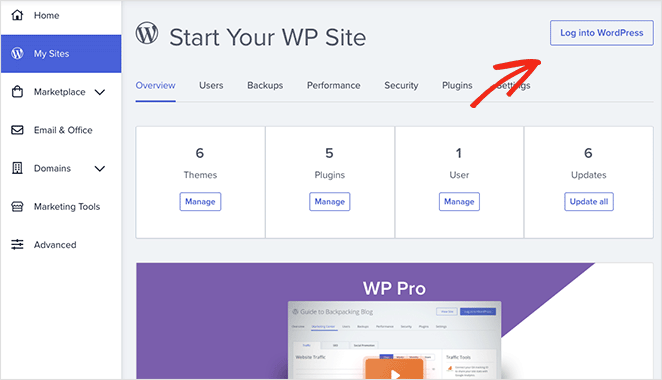 Your WordPress dashboard will look similar to the screenshot below: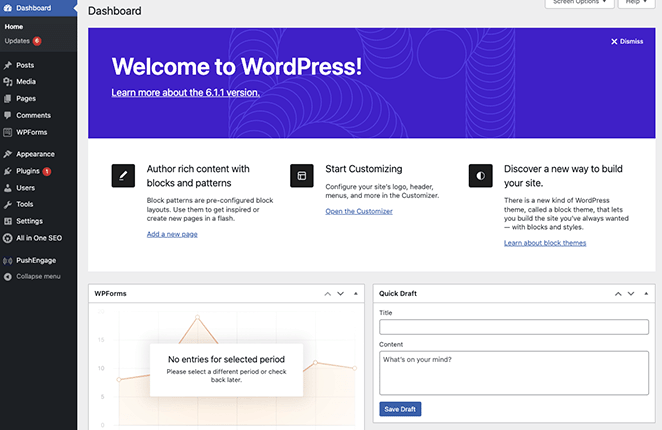 Note: Installing WordPress with other hosting providers may involve different steps.
When you log into your WordPress dashboard for the first time, you'll need to change a few settings. First, go to Settings » General and enter your website title and tagline.

Then ensure you change your WordPress Address and Site Address to the HTTPS version to use SSL on your website.
Now go ahead and click the Save Changes button.
Step 3. Install the WooCommerce Plugin
Once you've installed WordPress and configured your settings, you'll have a basic website for your online business. You can upload images and create content, but it will need more features to sell new products.
To turn this simple website into an online store, we'll install WooCommerce. It's a WordPress plugin that turns any website into an online store without having to hire a developer or write custom code.
First, navigate to Plugins » Add New from your WordPress dashboard and search for WooCommerce. Now click the Install button next to the WooCommerce listing in the search results.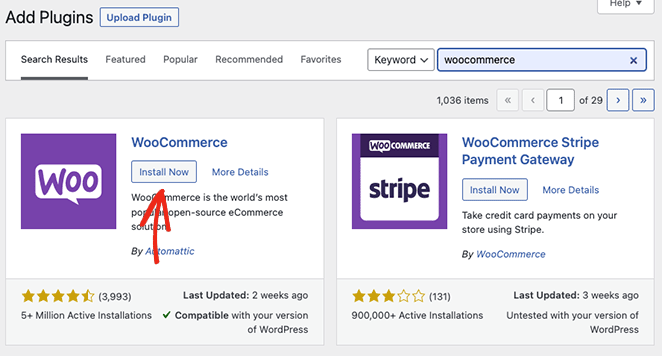 When the plugin has finished installing, click on the Activate button.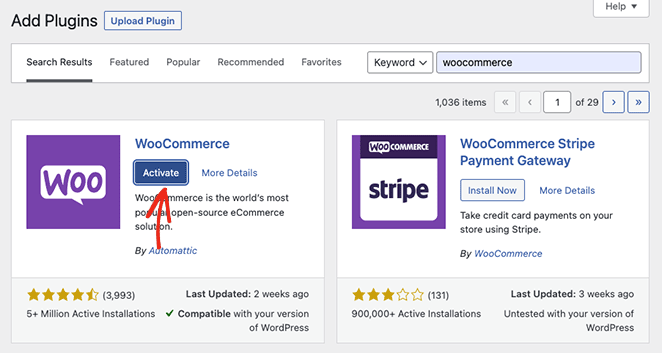 Once WooCommerce is active on your website, it will launch an easy setup wizard. Simply follow the steps until the wizard is complete.
At one point during the setup wizard, WooCommerce may ask you to choose a WordPress theme. You can choose an alternative WordPress theme like Astra or Divi or keep your current free theme.
We'll stick with our current WordPress theme because we'll customize it later with SeedProd, a drag-and-drop website builder.
Step 4. Configure Your Payment Settings
The next step is to set up the payment options for your online store. This will allow you to accept payments from users who wish to buy your product.
WooCommerce offers several payment gateways, which are pretty easy to set up. To find them, go to WooCommerce » Settings, then under the Payments tab, find the payment options that best suit your business.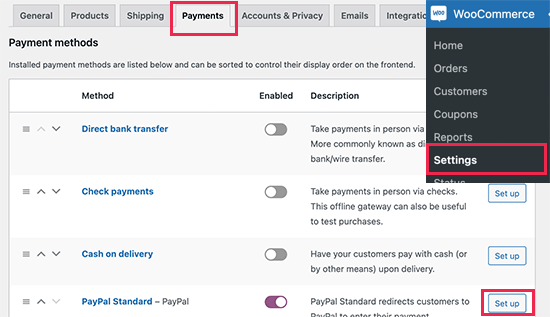 With your Payment processor in place, you're ready to add your single product to your new online store.
Step 5. Create Your Single Product in WooCommerce
Adding a new product in WooCommerce is super easy. First, go to Products » Add New from your WordPress admin, where you can add your product details.
Let's start by adding a product title and description.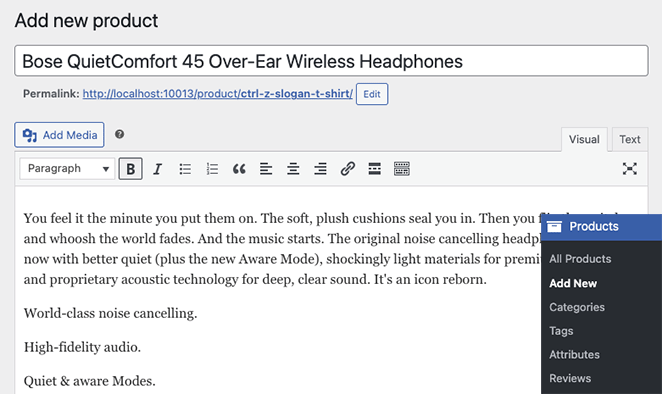 Next, scroll down the page until you see the Product Data box. This is where you can enter the regular price, sale price, and other product attributes.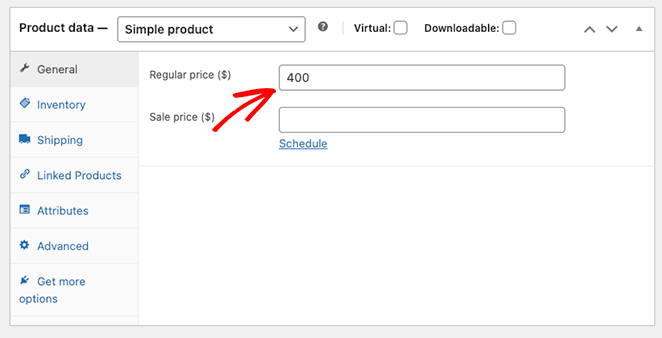 Below that, you may also want to add a short description of your product.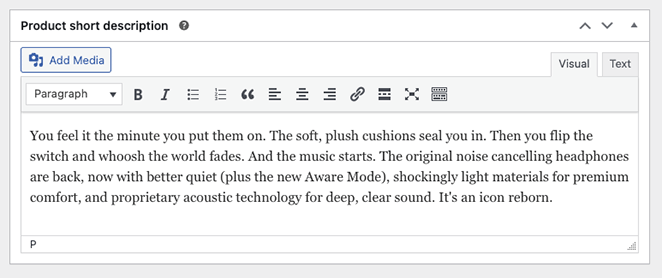 After adding your product details, you can upload a product photo. We also recommend adding a product photo gallery using the option below to give shoppers as much information as possible.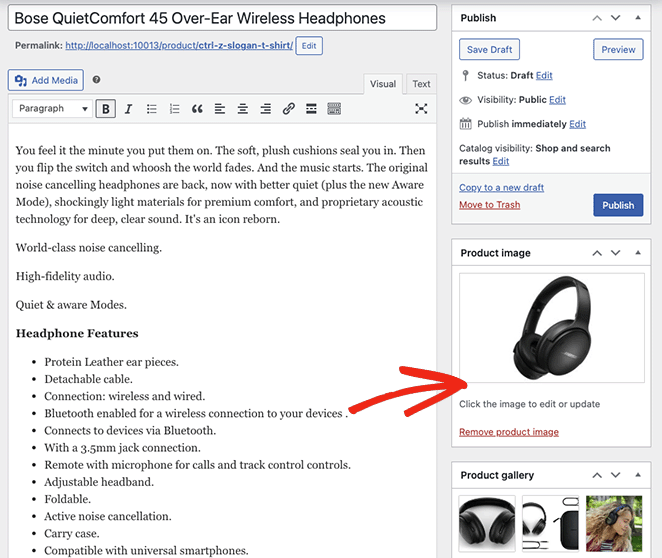 When you're happy with your product, click Publish.
Your one-product website is now ready to attract your ideal customers.
Depending on the WordPress theme you're using, your product page will look similar to the example below: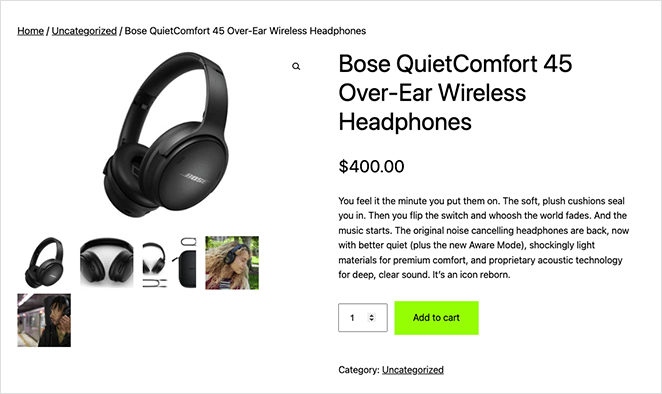 If you're happy with your single product website's overall look and feel, you're all set. But if you want to turn your site into a high-converting one product store, adding your own customizations is a good idea.
We'll show you how to do that next, and don't worry; it isn't hard.
Step 6. Customize Your One Product Website with SeedProd
So you want to customize your one product website. While many WooCommerce plugins can help you achieve the perfect look, the best solution is SeedProd.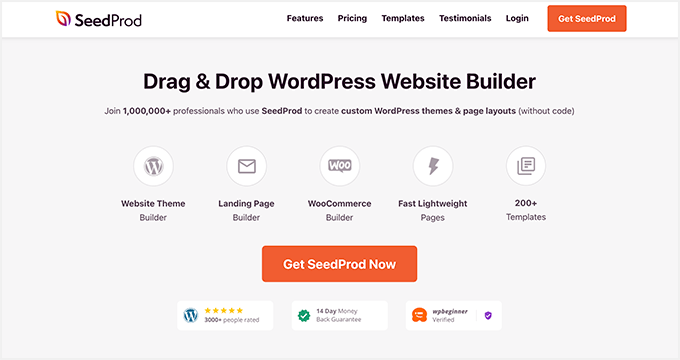 SeedProd is a drag-and-drop website builder with full WooCommerce compatibility. You can use it to customize any of your store pages without touching a single line of code.
This powerful page builder also lets you:
Build custom WordPress themes from scratch
Hide your site behind a coming soon page before launching
Collect email addresses with optin forms
Accept payments with its Stripe payment button
And much more.
Follow the steps below to customize your single product WooCommerce site with SeedProd.
Install the SeedProd Plugin
For full WooCommerce support, you'll need to get the SeedProd Elite plan and download the plugin to your computer. Then go ahead and install and activate the .zip file on your WordPress site.
If you get stuck with this, try this guide on installing a WordPress plugin.
Next, head to SeedProd » Settings and paste in your SeedProd license key, which you can find in your account dashboard.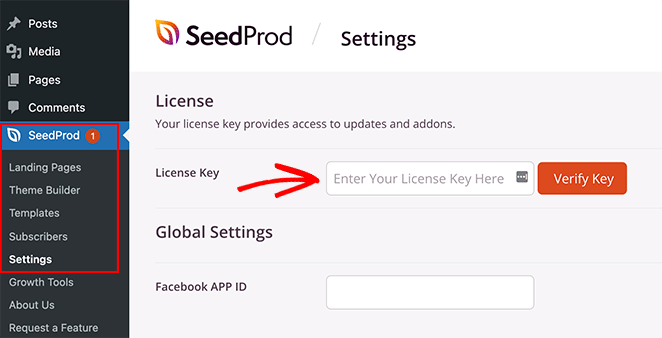 Finally, click the Verify Key button to continue.
Choose a WooCommerce Template Kit
For this step, we will choose a new design for our one-product website. It will overwrite the existing WordPress theme and replace it with one you can customize with SeedProd's visual editor.
You can do this by going to SeedProd » Theme Builder and clicking the Theme Template Kits button. This will open the library of pre-made designs you can use as a starting point for your new theme.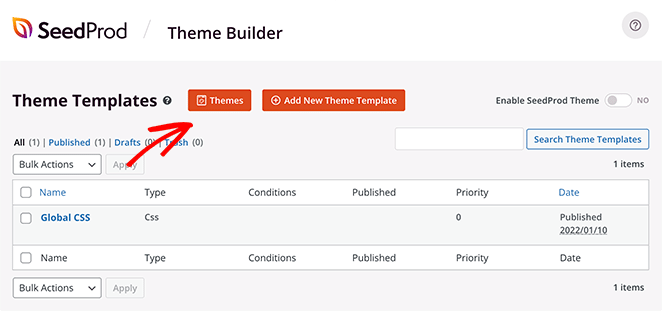 Let's click the WooCommerce tab to show only the themes relevant to WooCommerce stores.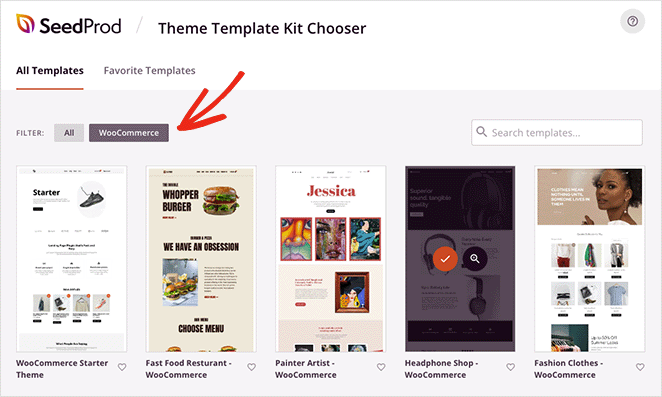 From there, scroll through the designs until you find one you like, then click the orange checkmark icon to make your selection.
It will only take a few seconds for SeedProd to import the template, and after, you'll see a page like this: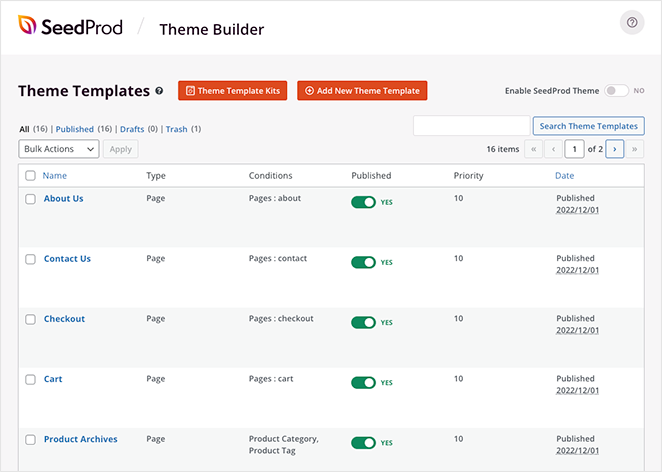 These are all the individual parts that make up your WordPress theme. You can click any of them to customize the design and optimize them for maximum conversion rates.
It's just as easy to remove any pages you don't need. For instance, we won't need a Shop page because we only sell a single product.
Let's start by editing your homepage.
Customize Your One Product Website Homepage
To customize your homepage, scroll down until you see the Homepage heading, and click the Edit Design link.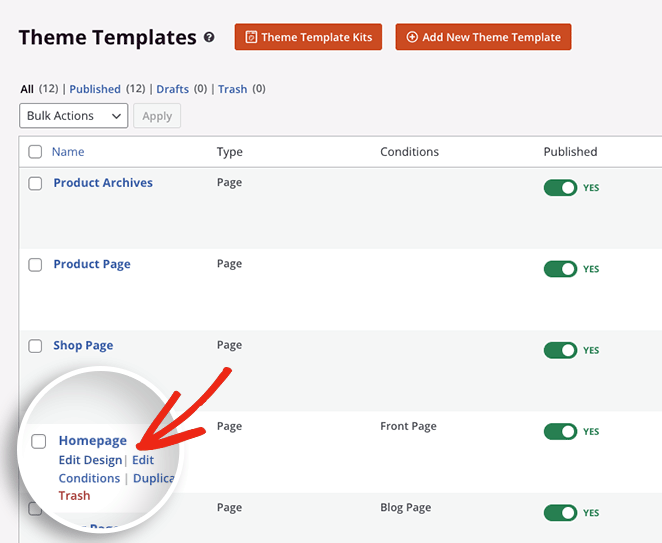 On the following screen, you'll see SeedProd's page builder, where you can customize any part of your design.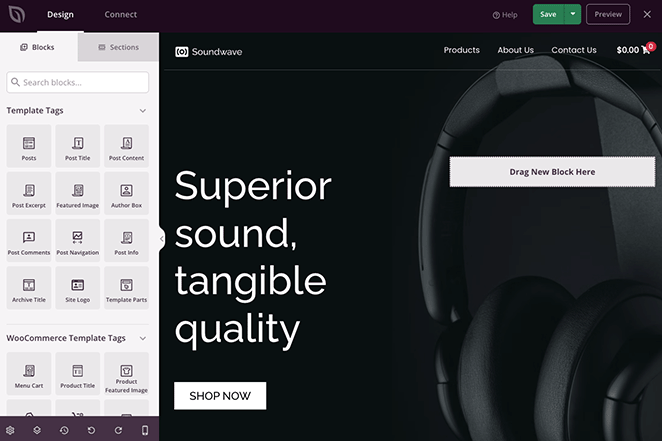 Simply click any block to edit its settings, customize the colors, and add your own content. For example, you can add a high-quality hero image to inspire potential customers.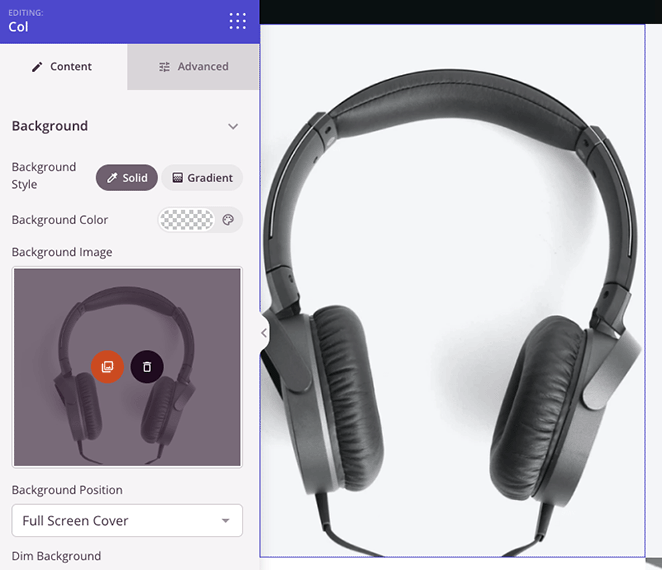 Or you can edit the call-to-action (CTA) buttons to link directly to your product page.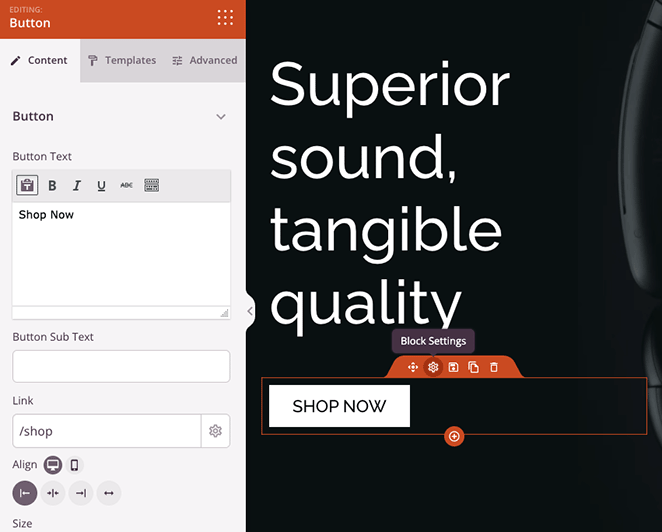 You can even drag over the Star Rating and Testimonials block to add valuable social proof, which is an excellent way to increase trust when you sell online.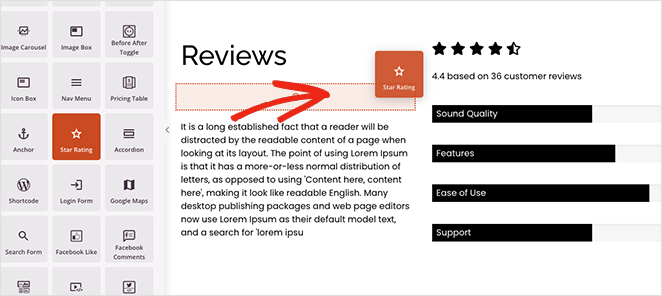 When you're happy with your customizations, click the Save button in the top-right corner of your screen.
Related: How to change shop page title in WooCommerce.
Customize Your Single Product Page
Now let's make some similar changes to our main product page. Head back to the theme builder, then find the Product Page template and click on the Edit Design link.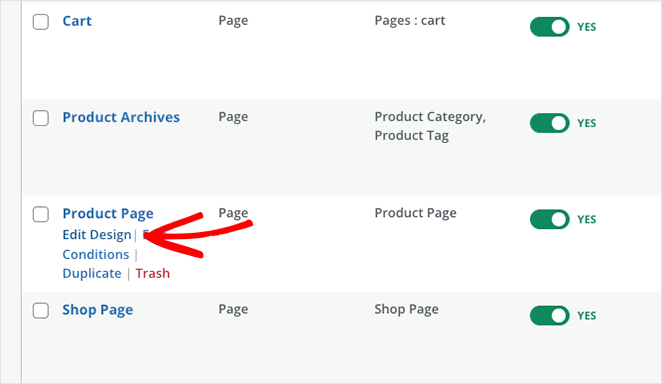 On this screen, you can use SeedProd's WooCommerce Template Tags to customize your product details.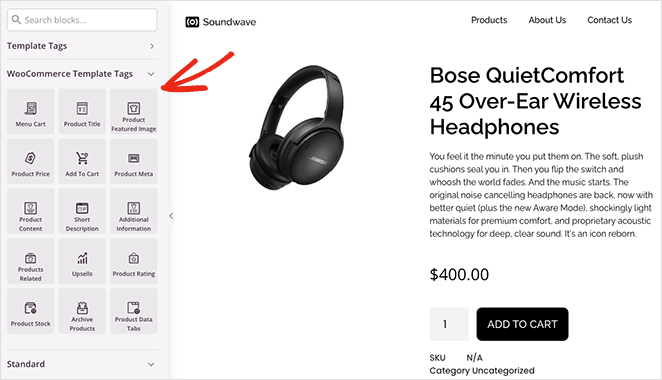 Let's start by deleting the product category. This feature is only really useful if you're selling multiple products. Removing it will streamline the page, making it cleaner and easier to browse.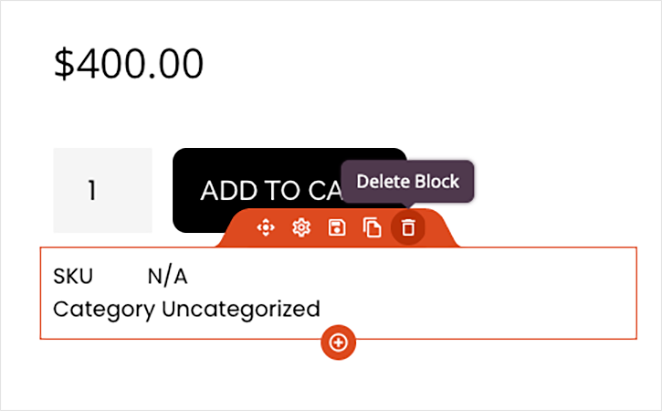 From there, you can add, remove, and customize elements, including:
Product Images
Product description and short description
Product data tabs
Product Stock
Product Rating
And more.
Remember to click the Save button in the top corner to save your changes.
Continue customizing your one product website until you're happy with its appearance. If you need some help, here are some other pages you should consider editing, with step-by-step tutorials on how to do it:
Step 7. Publish Your One Product Website
Publishing your new WooCommerce theme with SeedProd is a breeze. From your WordPress dashboard, go to SeedProd » Theme Builder and turn the Enable SeedProd Theme toggle on until it says "Yes."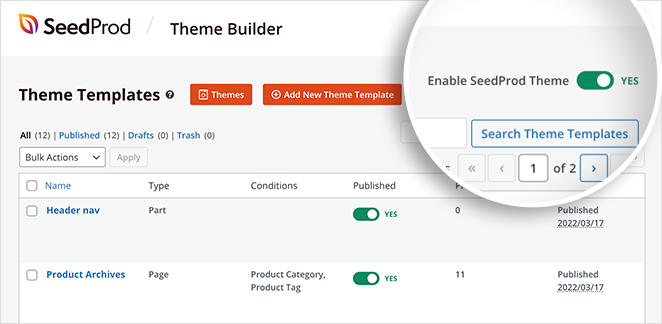 In a few seconds, you'll see a success message and can visit your single product store to see it in action.
Here's an example of our one product website homepage: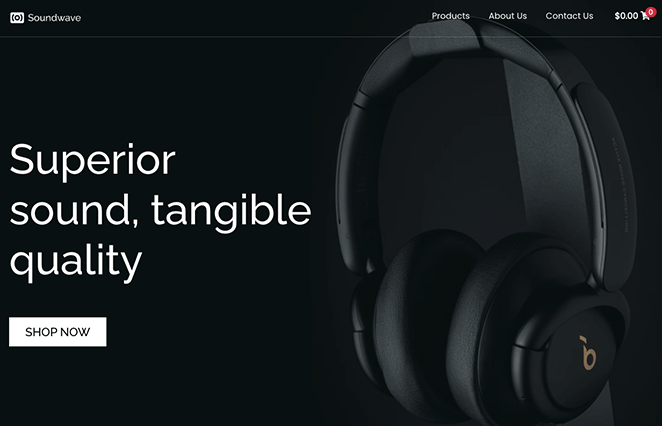 And this is an example of our single product page: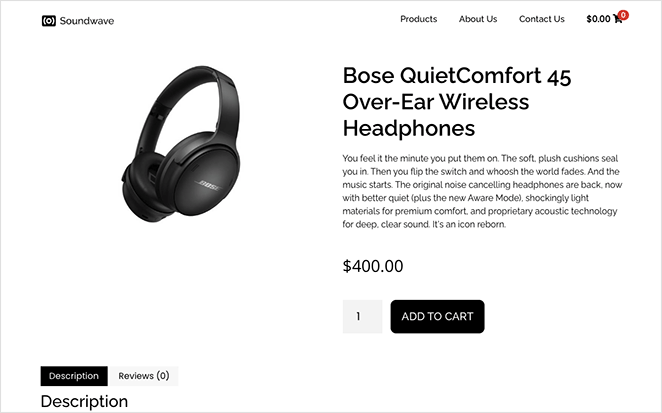 There you have it!
You've now successfully created and customized a one product website, and it didn't require any complex coding.
Ready to boost sales with a custom WooCommerce site?
You might also like these WordPress tutorials and tips:
Thanks for reading. Please follow us on YouTube, Twitter, and Facebook for more helpful content to grow your business.