Beaver Builder vs Elementor vs SeedProd: Drag & Drop Compared
Are you looking for an easy way to build pages on your WordPress website? Several WordPress plugins on the market let you create stunning landing pages in minutes, even if you have no design experience.
In this article, we compare 3 of the most popular drag and drop page builders: Beaver Builder, Elementor, and SeedProd.
Before we dive in, let's clarify what a WordPress page builder is and what they're used for.
What Is a WordPress Page Builder and Why Use One?
A WordPress page builder is a WordPress plugin you can use to build pages quickly on your website. They often have drag and drop functionality, allowing you to make easy design changes yourself without hiring a developer.
The best WordPress page builder plugins use a front-end editor. This means you can make changes directly on your landing page with a visual editor and see the changes in real-time.
Some page builder plugins let you design entire websites visually in WordPress. Yet, others specialize in creating professional-looking landing pages to help boost your leads and sales.
You'll also find that popular WordPress page builders have a library of pre-made templates. With a landing page template, you won't have to build your page from scratch. Instead, you can choose a design that's close to what you need and customize it in the visual page builder.
What to Look for In a WordPress Page Builder
When choosing a landing page builder, you should look out for the following features:
Ease of Use – A Page builder plugin should be easy to use, even for complete beginners. Look for a solution with a drag and drop page builder, with the ability to see changes in real-time.
Template Library – To make it easy to get started, choose a page builder plugin with a good range of landing page templates. This means you won't need to start your design from scratch. Building your page will be easier if you can find a design close to what you have in mind.
Customization Options – You'll need the ability to change any template you choose to match your website's style and branding. This will include editing fonts, colors, styles, and more, so pick a WordPress page builder with easy customization options.
Third-Party Integrations – If you want to grow your email list, manage your SEO, and track conversion rates, you'll need to integrate other apps and tools. Find a page builder that allows easy email marketing integration and is compatible with other WordPress plugins.
Mobile Responsive – Your audience likely visits your website from several different devices. So you'll need your WordPress pages to adapt seamlessly to different screen sizes. Look for a solution that offers mobile responsive landing page templates. You should also be able to preview and edit pages on a mobile layout.
Beaver Builder vs Elementor vs SeedProd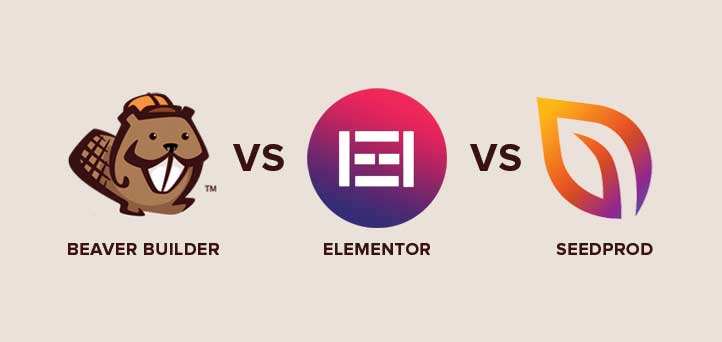 Now you know what to look for in a WordPress page builder, let's dive deeper and look at what Beaver Builder, Elementor, and SeedProd can offer WordPress website owners.
Page Builder Interface Comparison
All 3 of the page builders in this comparison provide visual front-end page building. However, each plugin has a slightly different approach. For this section, we'll look at each solution's interface and see how they differ from each other.
Beaver Builder Interface
The Beaver Builder interface is minimalist and straightforward. It has a sidebar that allows you to drag modules onto your page. Once the module is in place, the sidebar disappears. It then shows a popup editor for changing the module content and settings.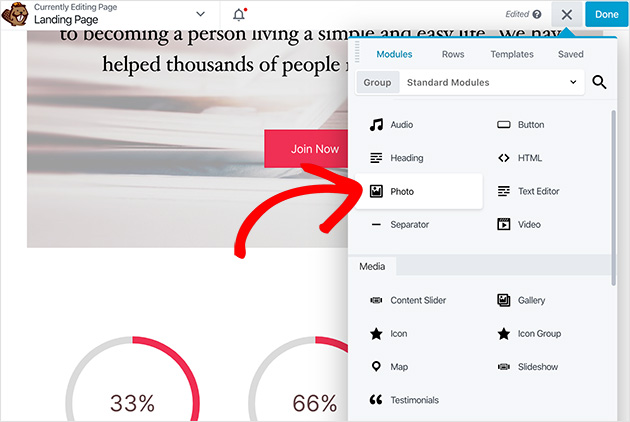 Whenever you add a new module to your Beaver Builder page, it automatically creates a new column. This removes the need for you to manually create new columns for each module, saving time during the design process.
Elementor Interface
Elementor's interface is separated into 2 parts. It has a left-hand sidebar where you can drag and drop new page elements and edit their settings. It then has the visual page preview on the right, where you can see changes in real-time.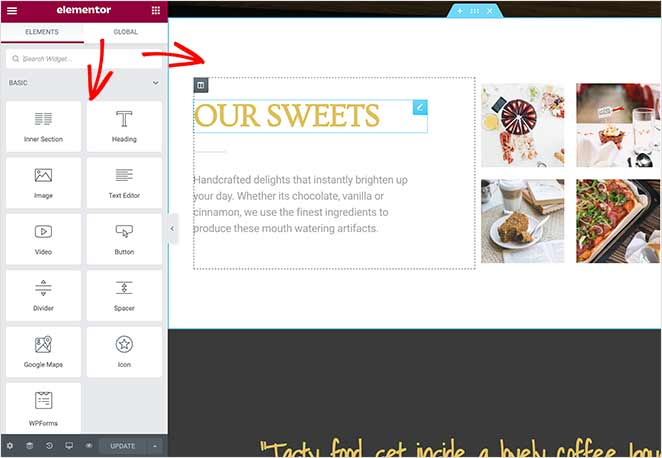 To edit the text of any element, you can either use the text box in the sidebar or type directly on the page (inline editing).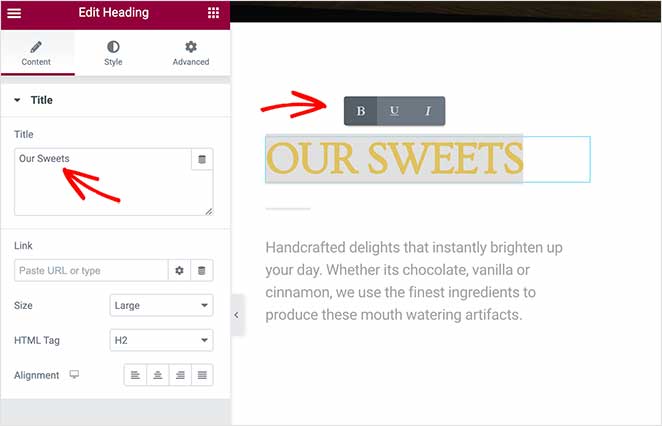 You can edit the styling of elements by clicking an element and changing the settings in the sidebar.
Where Elementor differs from Beaver Builder is you have to manually create new columns for each module instead of having them appear automatically. Plus, Beaver Builder doesn't offer an inline editing option.
You can see our detailed Elementor review here.
SeedProd Interface
SeedProd's interface is relatively similar to Elementor. It has a sidebar on the left for dragging and dropping different page blocks and a live preview on the right for seeing your changes in real-time.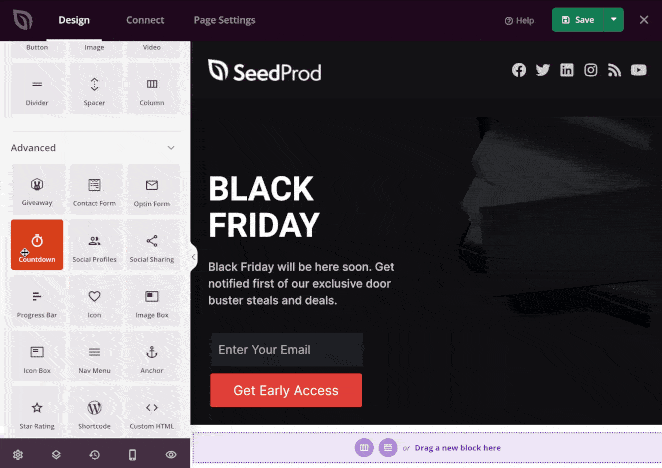 SeedProd also offers inline editing to edit any text elements by typing directly in the live preview or using the sidebar's text box.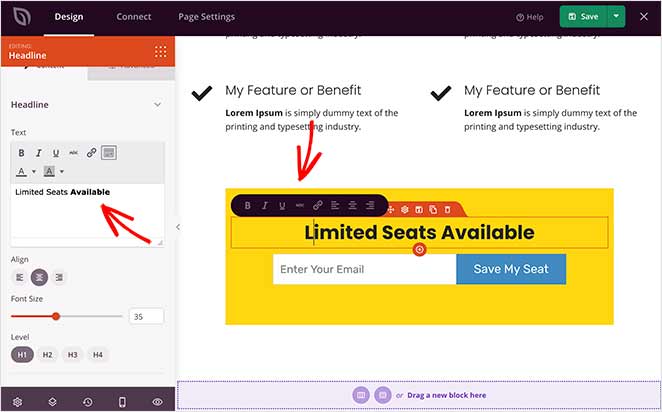 Editing page blocks in SeedProd is much easier than Elementor and Beaver Builder.
The settings are simplified to include only the essential changes you'd need to make. This means you won't be overwhelmed with too many options but can still make your page look stunning.
Page Elements and Modules Comparison
The best WordPress page builders use various elements, modules, or blocks (the terms are different for each plugin). These are the building blocks for your page that allow you to build it without coding each section from scratch.
Most page builders have a long list of page elements, including standard design elements, such as text, image, and button blocks. They also offer advanced modules like:
Pricing tables
Optin forms
Countdown timers
Since there are so many different modules for each page builder, we won't list each one here. Instead, we'll show the differences between Beaver Builder vs Elementor vs SeedProd for their advanced page blocks.
Beaver Builder Content Modules
Beaver Builder has all the basic page modules you'd expect from a page builder. You can add text, images, videos, lists, and more with ease.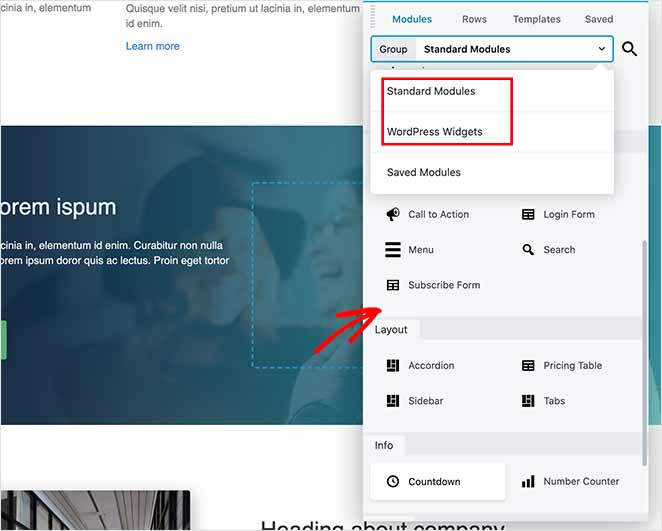 When it comes to more advanced modules, you can use:
Social Share buttons
Contact Form
Testimonials
Recent Posts
Subscribe Form
Number counter
Countdown clock
Post Carousel
Gallery
Beaver Builder also allows you to add several WordPress widgets to your pages, such as Archives, Calendar, Menus, and more.
In comparison to Elementor and SeedProd, Beaver Builder has the least variety when it comes to niche page modules.
Elementor Content Elements
Elementor has all the standard page elements that are shared among all 3 page builders. It also has the most elements of the three with over 53 different options.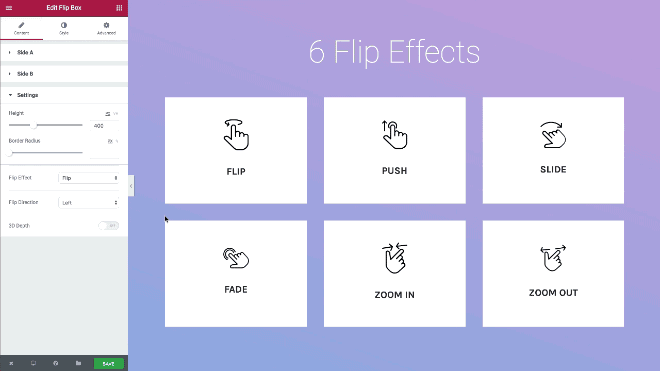 The page elements that stand out are:
Flip Box
Lottie Animations
Facebook Comments
Audio Player
Portfolio
Animated Headlines
Login
With so many features and options, Elementor's page elements are best suited to business owners looking for an easy way to customize their entire WordPress site visually.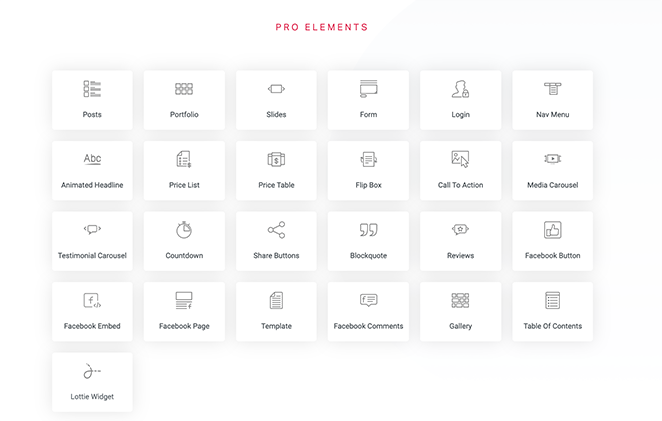 However, if all you need is to make a few well-designed landing pages, the choice can be overwhelming.
SeedProd Landing Page Blocks
Compared to Beaver Builder and Elementor, SeedProd has just the right balance of standard and advanced page blocks.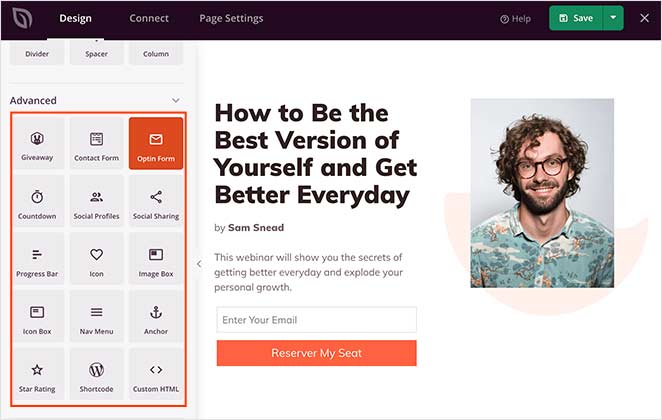 Unlike Elementor, which works well as a complete WordPress theme builder, SeedProd is dedicated to landing pages. As such, all of SeedProd's advanced landing page blocks are focused on helping you generate leads and improve website conversions.
For example, you can use the Giveaway block to create an online contest with RafflePress, the best WordPress giveaway plugin, and display it on your landing page.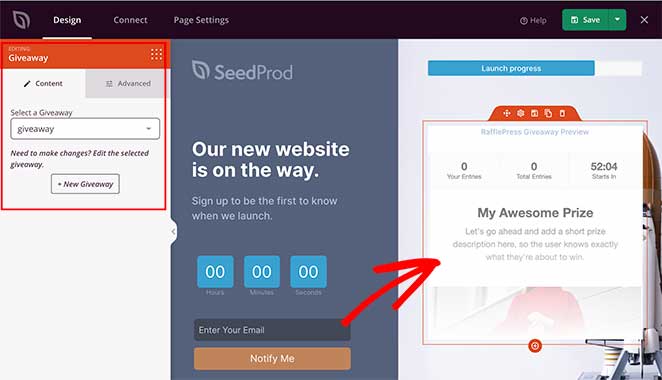 Doing so will help you drive targeted traffic to the page, as well as boosting leads.
With SeedProd's optin-form block, you can add a sign-up form to your landing page and connect it with your email marketing service to grow your email list.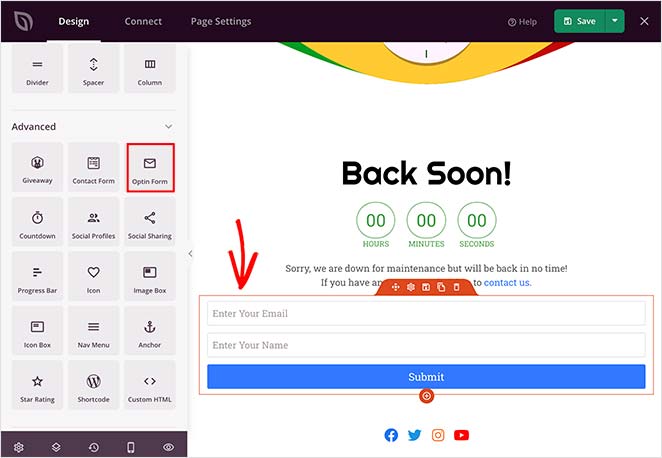 You can also use the Contact Form block to integrate your page with WPForms, the most user-friendly contact form plugin for WordPress.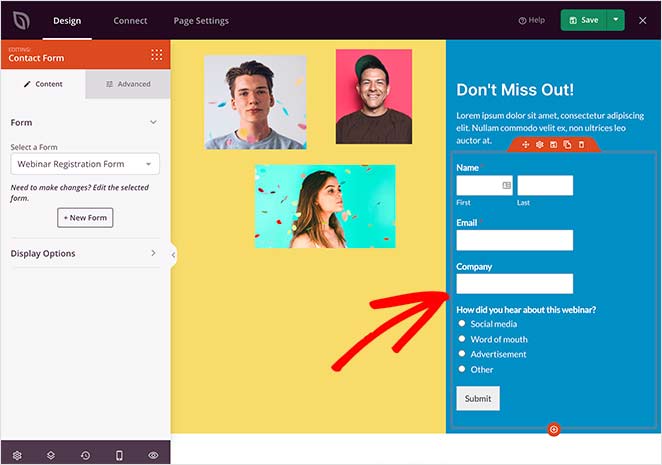 SeedProd's other Advanced blocks include:
Countdown Timer
Social Profiles
Social Media Sharing
Progress Bar
Heart Icon
Image Box
Icon Box
Navigation Menu
Star Rating
WordPress Shortcode
Custom HTML
With this landing page builder, there are neither too few nor too many blocks. The blocks are made just for landing pages, with no extra fluff, to help you build the highest converting landing pages in WordPress.
SeedProd also has a Sections tab allowing you to add whole sections of content to your landing page with a single click. This means you won't need to build parts of your landing page block by block.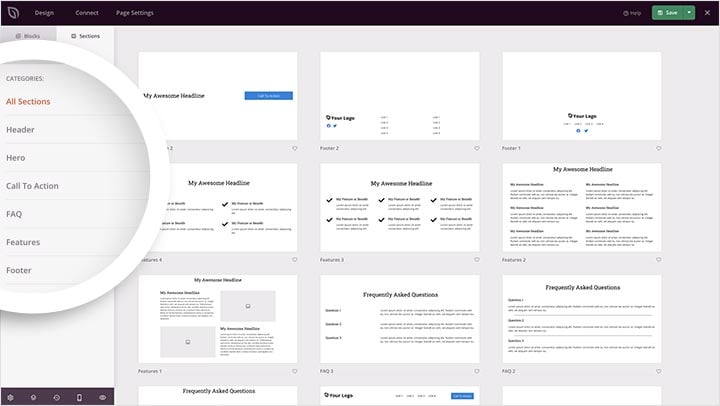 Advanced Styling Options Comparison
It's the goal of any WordPress page builder to make designing your page as easy as possible. However, you'll likely want to do more than just dragging a module on your page and leaving it at that. You'll probably want to tweak certain options to change the colors, positions, padding, and more.
For this reason, page builders tend to offer advanced customization options. Below we'll compare the advanced styling and customization options for Beaver Builder, Elementor, and SeedProd.
Beaver Builder Advanced Styling
Beaver Builder allows you to select advanced styling options for page modules and sections by showing a popup window. This window has 3 different tabs, including:
General – Add basic content and functions
Style – Choose colors, alignment, font size, etc.
Advanced – Add custom margins, mobile responsive settings, animations, user roles, CSS, and more.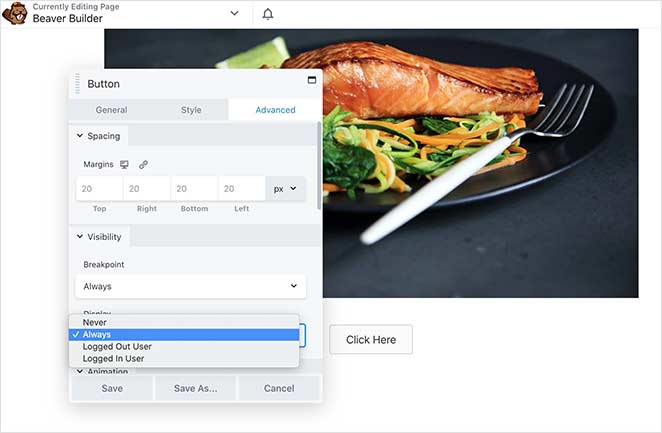 With Beaver Builder, you also have the option to show specific modules based on if a user is logged in or out. This is an option that isn't available with Elementor.
Elementor Advanced Styling
Clicking any element or section in Elementor shows 3 tabs similar to what you find in Beaver Builder:
Content – Specify basic alignment and content settings
Style – Set fonts, colors, borders, etc. depending on the element
Advanced – Add custom margins and paddings, entrance animations, change z-indexes, custom CSS code, and identifiers, and more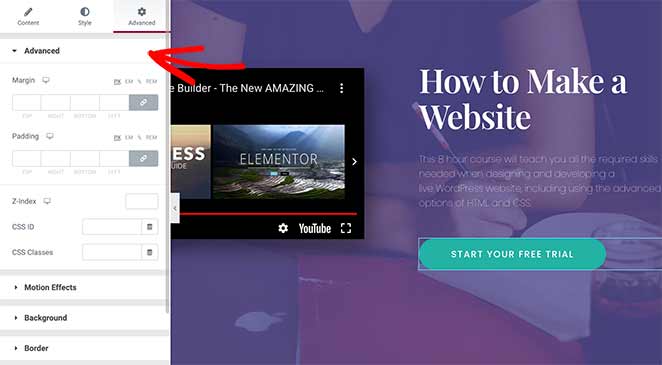 You also have an adequate level of control over the different sections, allowing you to set gutter widths, column gaps, and more.
SeedProd Advanced Styling
Depending on the landing page block you choose, clicking any block in SeedProd offers the following tabs:
Content – Add content and change the font size, alignment, and more
Templates – Choose a premade design for that specific block and implement it with a single click.
Advanced – Change typography, spacing, shadows, border radius, colors, and more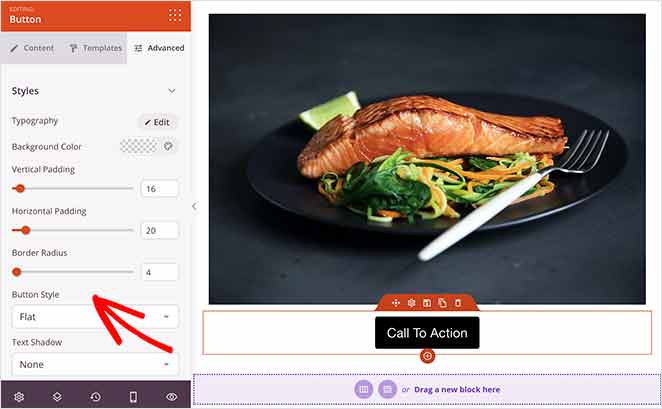 Many advanced settings use simple sliders that show the changes in real-time on your live preview, making it quick and easy to adjust. And because what you'll find in each tab is specific to the block you use, you won't find any unnecessary settings to make things confusing.
SeedProd's block templates are the stand-out feature here. Almost all of the advanced landing page blocks have several templates with different designs.
Want a different Call to Action button? Just click the Templates tab and choose from a list of styles.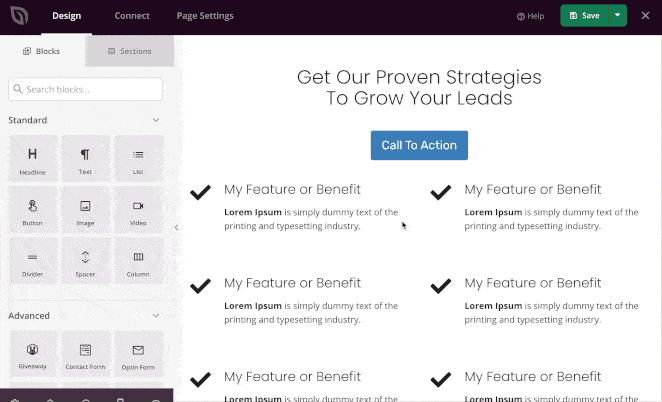 In SeedProd's Global Page settings, you can control your landing page design even more.
The background section, allows you to easily upload background images, video backgrounds, and video slideshows.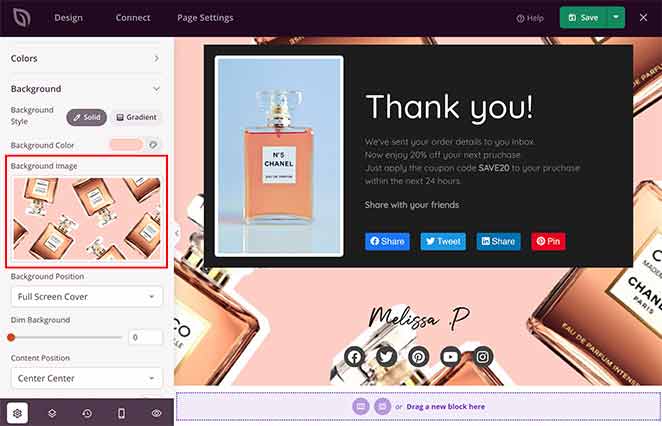 You can also change the global page colors and fonts in their respective tabs.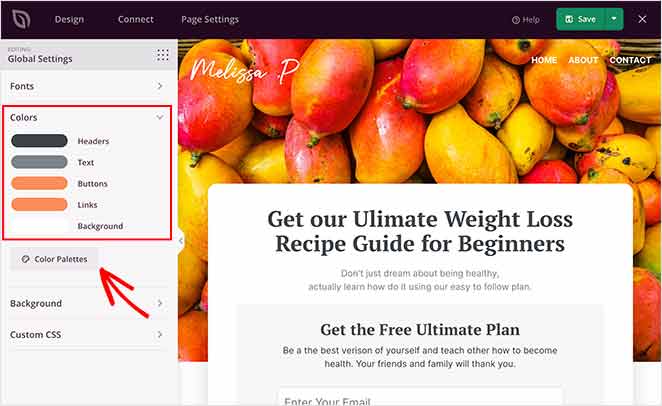 Plus, if you need inspiration, you can choose from various pre-made color palettes and font combinations to use throughout your page.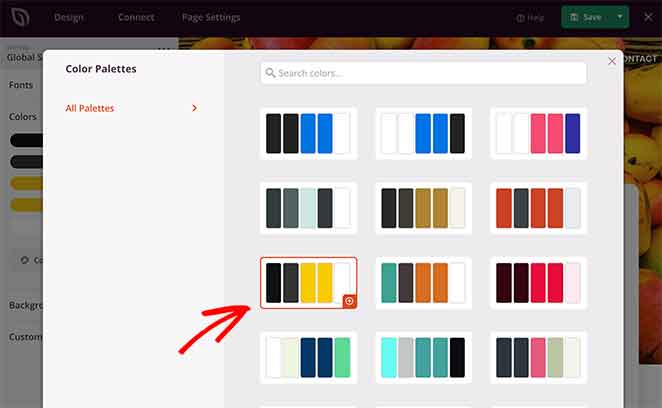 Landing Page Templates Library Comparison
A successful WordPress page builder should have a growing library of responsive landing page templates. With a good landing page template, you can choose a landing page design closely matching the look you have in mind. Then you can customize it using the drag and drop builder.
All 3 page builder plugins below have a variety of templates. However, you'll find that some are more focused than others.
Beaver Builder Templates
Beaver Builder's website templates are divided between landing page templates and content templates.
The Landing Page Templates are designed with a range of different industries in mind, from DJs and Apps to lifestyle blogs and online stores.
While there are quite a few templates to choose from, the selection is limited. They also don't offer a way to filter landing pages by goal or industry.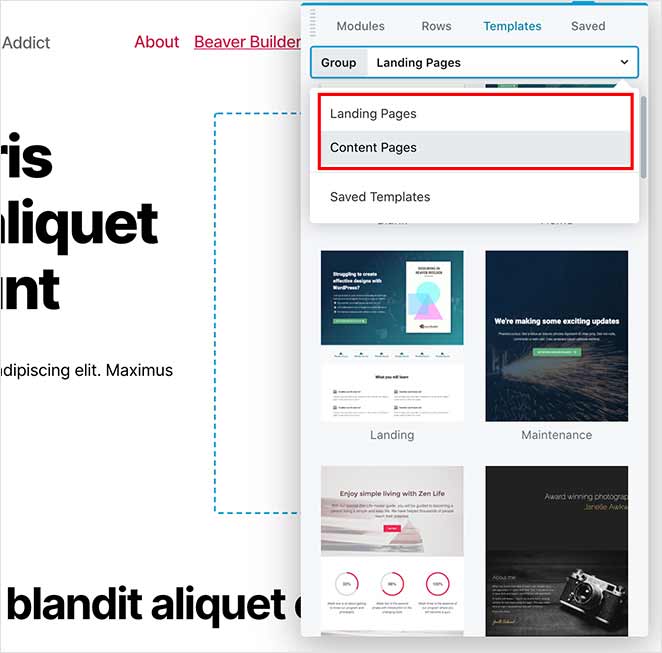 In the Content Templates section, you can find pre-made designs for contact pages, about pages, services, and more. These are useful if you're looking to easily change the structure of pages across your website. You can also save templates in Beaver Builder to use again.
You'll find that with many Beaver Builder templates, you'll first need to ensure that your WordPress theme has a full-width page setting. Otherwise, your template may not display as it should.
Elementor WordPress Templates
Unlike Beaver Builder, Elementor combines both its landing pages and content page templates in one area. You can then filter them by new, trend, popular, or search using a keyword.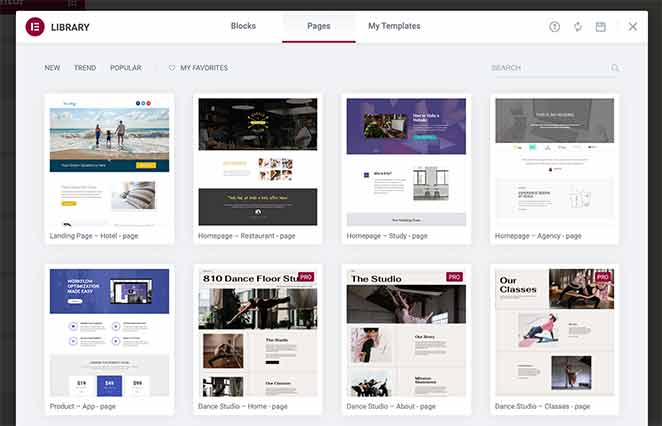 The page templates include:
Homepages
Landing pages
Contact pages
Service listing pages
Pricing pages
Coming soon pages
Login pages
You can also save any custom designs as new templates to use elsewhere.
Many of the more straightforward templates are available on their free plan; however, to use the more advanced Elementor templates, you'll need to upgrade to the pro plan. Elementor's templates are a good choice for website owners looking for a complete unified look throughout their website.
SeedProd Landing Page Templates
SeedProd has over 100+ professionally designed, mobile responsive landing page templates. Unlike Beaver Builder and Elementor, they're all designed around specific landing page goals.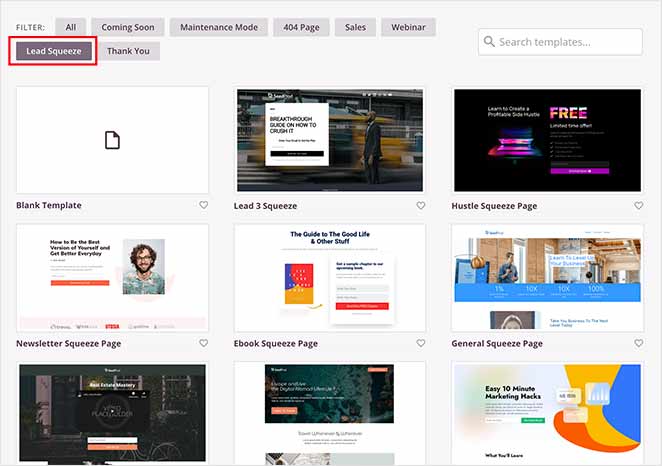 Many of SeedProd's mobile-friendly landing page templates are available to free users, so you can build beautiful landing pages without paying a penny. It's also easy to filter templates by landing page type, including:
We should also mention that SeedProd is the ONLY plugin on this list with built-in Coming Soon, Maintenance, and 404-page modes. With a simple click, you can create a coming soon page in WordPress and control who does and doesn't see the nuts and bolts of your website.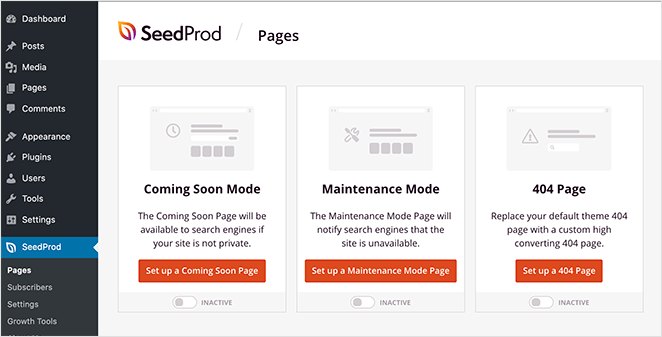 Plus, when you're making small changes and updates, you can put your WordPress site in Maintenance Mode, with a countdown timer showing when you'll be back.
With this in mind, SeedProd's landing page templates are ideal for website owners who need to create professional-looking landing pages that convert.
Speed and Performance Comparison
Many WordPress page builders tend to be bloated with features you don't need. This can slow your website down. If there's even a 1-second delay in page loading times, potential customers could click away from your site and never return.
To help you discover which page builder has the best overall performance, we ran some tests and compared the results in the table below. To keep things fair, we created landing pages using Beaver Builder, Elementor, and SeedProd with the following page elements:
Here are the results:
| | | | |
| --- | --- | --- | --- |
| Page Builder | Page Size | Load Time | Requests |
| Beaver Builder | 142.7 KB | 1.22s | 12 |
| Elementor | 312.2 KB | 1.57s | 30 |
| SeedProd | 124.1 KB | 1.18s | 11 |
As you can see from the results above, SeedProd came out on top with the smallest page size, quickest load time, and fewer requests.
However, we achieved even better results by running the same SeedProd landing page in Isolation Mode.

Isolation mode stops the wp-header and wp-footer hooks from running, loading only the essentials elements needed to render your page. This is a great way to avoid conflicts with WordPress themes and plugins.
The results with Isolation mode switched on were:
Page Size: 96.6 KB
Load Time: 1.12s
Requests: 7
With a faster landing page, you're much more likely to see better click-through rates, leads, and conversions, not to mention improved SEO results.
Pricing: Beaver Builder vs Elementor vs SeedProd
Now that we've compared all the essential elements of each landing page builder let's take a look at the price points.
Each WordPress page builder plugin has both a free version and a pro version. In the marketing world, we call this "freemium". What you get on the free plan with each plugin varies.
Here is how the pricing compared for each plugin:
| | | | |
| --- | --- | --- | --- |
| | Beaver Builder Pricing | Elementor Pricing | SeedProd Pricing |
| Free Plan | Yes | Yes | Yes |
| Standard Plan | $99 | $49 | $39.50 |
| Unlimited Plan? | Yes | 1,000 sites | Yes |
| Lifetime Pan? | No | No | Yes |
Beaver Builder vs Elementor vs SeedProd: Which Should You Choose?
After comparing Beaver Builder, Elementor, and SeedProd, we've concluded that SeedProd is the best WordPress page builder.
SeedProd is the easiest landing page builder to use, is entirely focused on creating professional quality pages, and doesn't include bloat in the form of features you'll never use.
You can integrate SeedProd with a wide variety of email marketing services, CRM, and third-party tools. And it has a great range of quality landing page templates you can customize in the visual drag and drop builder.
SeedProd is also the fastest plugin in this comparison and offers the most value for money based on the advanced features you receive.
So what are you waiting for?
And if you liked this article, then please follow us on Twitter and Facebook for more useful content to help grow your business.