Do you want to create a landing page in WordPress for free?
Building a website is the first crucial step in marketing your brand online. But if you really want to generate more leads and sales, you'll need a high-converting landing page. Luckily there are plenty of free website landing page builders to make the process easier.
In this article, we'll show you how to create a free landing page in WordPress with no coding needed.
What Are Landing Pages Used For?
Landing pages are standalone web pages that are used to convert visitors into leads or customers. They do this by encouraging them to perform a specific action like subscribing to your email list, buying a product, or other similar actions.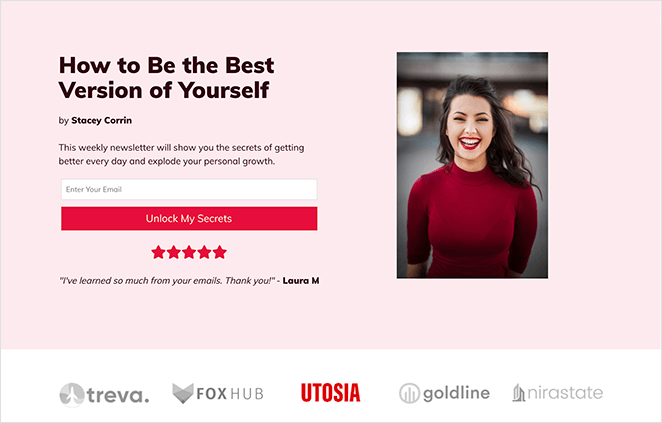 Unlike a full-blown website, landing pages are single pages with 1 specific target: getting visitors to click through and achieve your final goal. When a landing page is done well, it can significantly improve your chances of getting the results you want from your marketing campaign.
How Do Landing Pages Work?
For your landing page to be a success, you need to drive targeted traffic towards it. There are many ways you can do this, such as:
Sending your landing page to your mailing list to encourage click-throughs.
Posting your landing page link on social media networks to drive traffic.
Adding your landing page link within a blog post.
Optimizing your landing page for search engines to drive organic traffic.
Creating a PPC Ad campaign on search engines, linking to your landing page.
These are all excellent ways to drive traffic to your landing page. But what should people do when they get there?
After clicking your call-to-action, will users be sent to a shopping cart, contact form, or an inner page on your website? Think carefully about the next steps, then make an easy way for people to get there with 1 click.
Things to Consider When Creating a Good Landing Page
Before you start creating your free landing page, there are a few things you should keep in mind, including:
Landing page goal: Define what you want your landing page to accomplish and keep those details consistent across your entire design.
Clear visual hierarchy: Figure out which page elements are the most important and make them stand out to encourage people to take action.
Create action with CTAs: Make it crystal clear what your landing page visitors should do and make it easy for them to do it.
Eye-catching design: Engage your visitors with a compelling design that makes them want to click. You should also try to keep important page elements above the page fold.
Snappy copy: Keep your body copy short, to-the-point, and informative. Use enticing headlines that make people want to read the next sentence and the next.
Powerful images: Use images to illustrate what you're talking about. Avoid generic stock photos and choose images that tell a story.
Focus on value: Explain to people how clicking your CTA button will benefit them. What will they get? How will it make their lives better?
How to Create a Free Landing Page in Under an Hour
Now that you know what a landing page is and how it works, let's look at how to create a free landing page in WordPress with a website builder.
For this tutorial, we'll be using SeedProd's landing page builder to build a free landing page.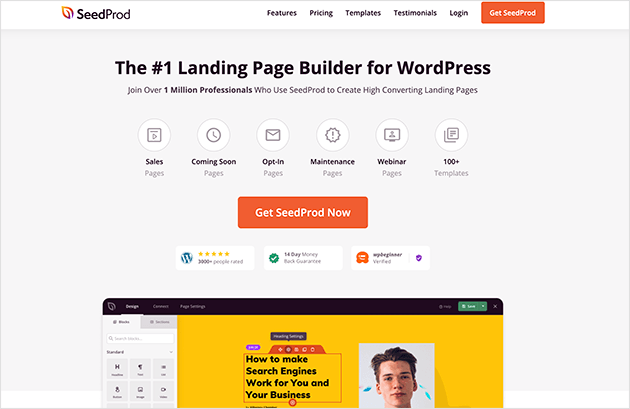 SeedProd is the best free landing page plugin for WordPress, with coming soon and maintenance mode functionality. It makes it easy to build any landing page on your WordPress site without hiring a developer.
With its drag-and-drop visual page editor, you can create custom landing pages quickly without writing a single line of code. SeedProd also includes a variety of customizable landing page templates. You can then customize them in the visual editor by adding signup forms, contact forms, and other page elements.
SeedProd also integrates with a variety of email marketing tools to help grow your email list.
Unlike other page builders, SeedProd is lightning fast and won't slow down your website. It uses minimal code and best design practices to ensure your site is as fast as possible.
Let's dive in!
Video Tutorial
If you'd prefer to read the written tutorial, follow the steps below.
1. Install SeedProd's Free Landing Page Creator
The first step is to install SeedProd's free landing page plugin. You can do this by navigating to Plugins » Add New from your WordPress dashboard.
Then type "SeedProd" into the search box on the right. This will show you the following results: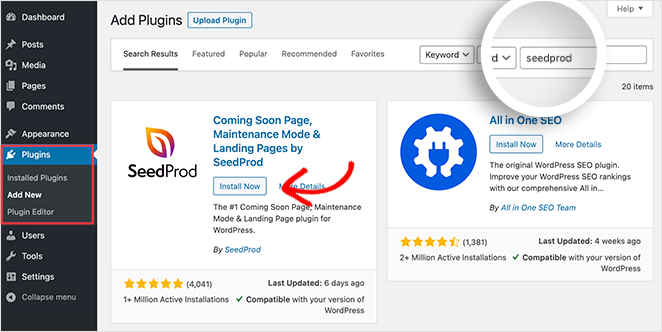 Click Install next to the Coming Soon Page, Maintenance Mode & Landing Pages by SeedProd option. Then, go ahead and click Activate.

After activating the plugin, you'll see the following welcome screen.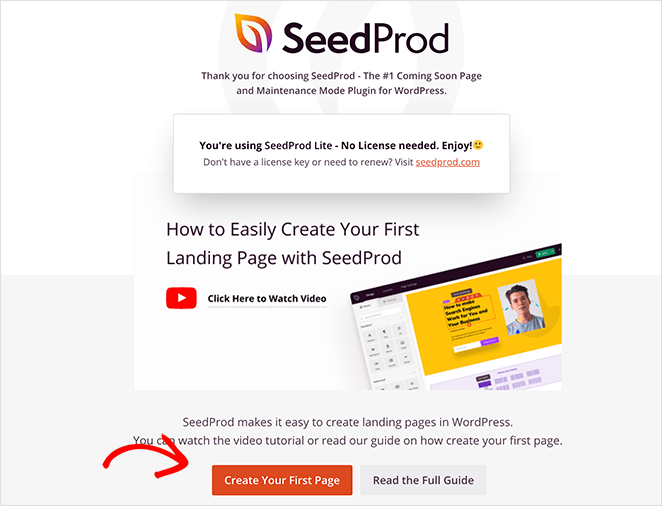 Click the Create Your First Page button next to get started. This will take you to SeedProd's landing page overview.
On this page, you'll first see the different page modes you can activate on your website.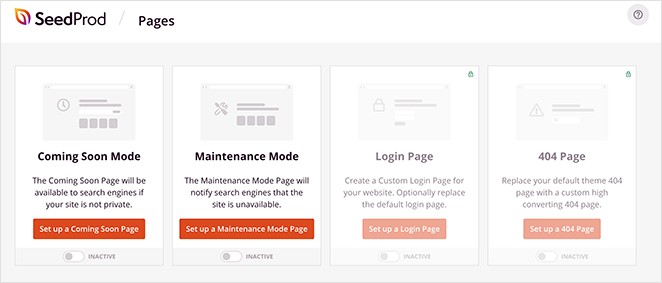 With the free version of SeedProd, you can activate Coming Soon Mode and Maintenance Mode. This allows you to add a user-friendly notice to your site while it's under construction or down for maintenance.
To use the 2 other page modes – Login Page and 404 Page – you'll need to upgrade to the paid version of SeedProd.
Under the different page modes are where every landing page you create with SeedProd is shown.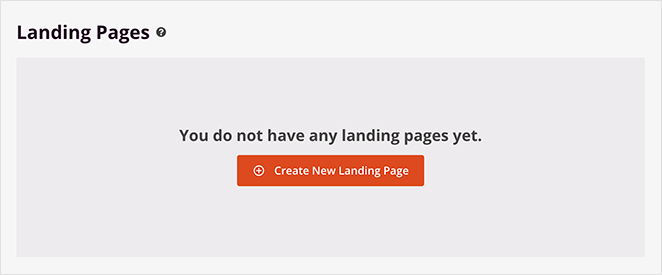 To create your first free landing page, click the Create New Landing Page button.
2. Select a Free Landing Page Template
After clicking to create a free landing page, you'll see SeedProd's library of mobile responsive landing page templates.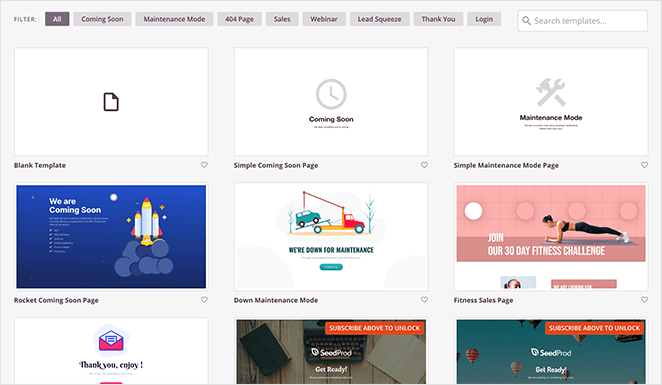 The templates can be filtered by clicking the different categories along the top of the screen, which are:
SeedProd comes with 7 free landing page templates. You can also unlock 9 more free templates by subscribing to the email list for free. To unlock even more templates, you can upgrade to SeedProd Pro.

For this tutorial, we'll use the free Fitness Sales Page template. Just hover your mouse over the template icon and click the tick icon.
After choosing your template, you'll need to give your free landing page a name and URL. Don't worry; you can change these details later.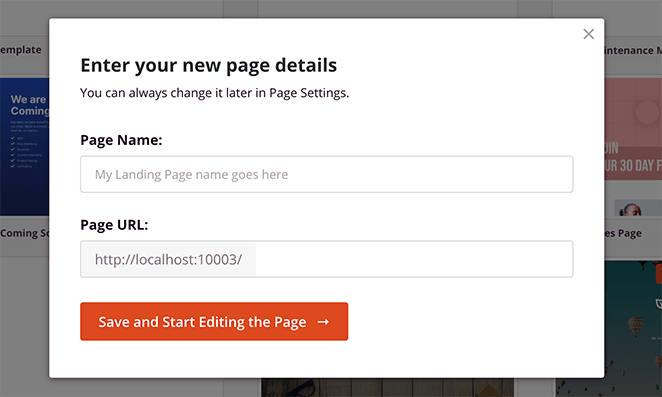 Now click the Save and Start Editing the Page button to launch your template in the drag and drop editor.
3. Add Your Unique Landing Page Content
SeedProd's visual page builder is divided into 2 distinct sections. On the left-hand side are the different blocks used to design your page, while on the right is a live preview of your landing page.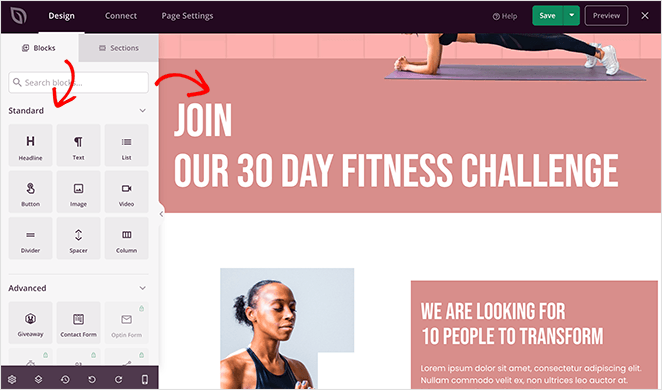 To add content, just drag a block from the left panel and drop it onto your live preview. You'll then see the changes in real time.
There are a variety of landing page blocks to choose from, including:
Headline
Text
List
Button
Image
Video
Divider
Spacer
Column
You can also use 2 of SeedProd's Advanced page blocks – Giveaway and Contact Form – for free. This allows you to show free RafflePress giveaways and free WPForms contact forms on your landing page, to drive targeted traffic and leads.
Start adding your unique content by clicking any block on your live preview. This will show a settings panel on the left-hand side where you can replace the default content with your own.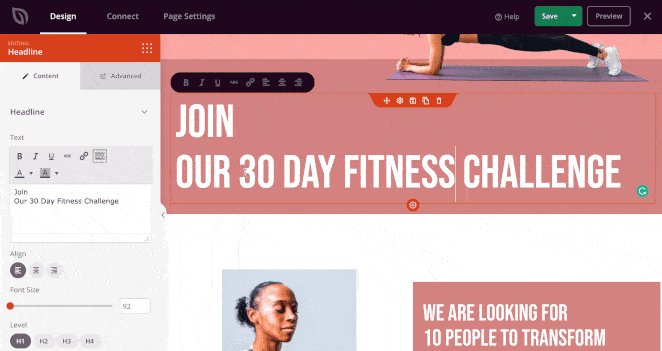 Alternatively, you can edit the content directly on your preview with SeedProd's inline text editing feature.
Replacing the default images is just as easy. Simply click any image on your live preview, and click the trash can icon in the settings panel on the right.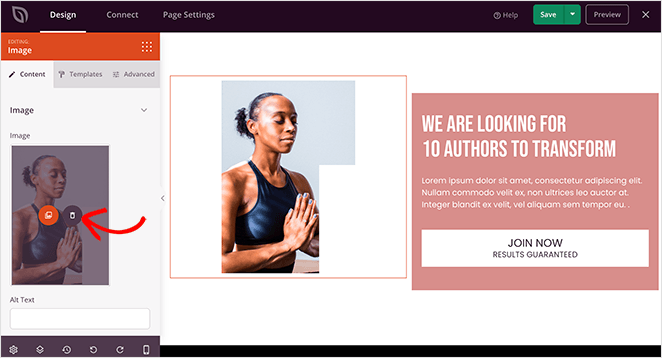 Then click the Use Your Own Image button to upload a photo from your computer or your WordPress media library.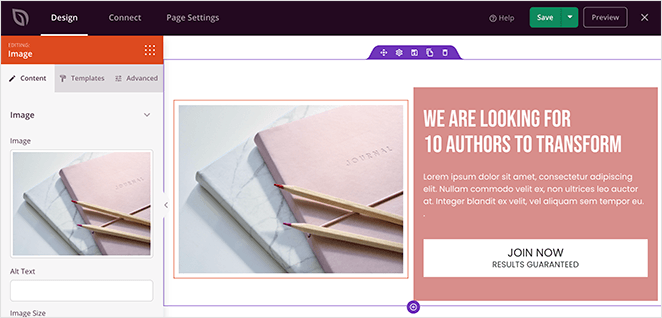 Keep adding content until you're happy with the overall look. Then click the green Save button in the top-right corner of your screen.
4. Customize Your Landing Page Styles
After adding your unique content to your free landing page, you'll want to make sure the styling is consistent with your brand.
You can do this easily by clicking the gear icon in the bottom-left corner to view your global page settings.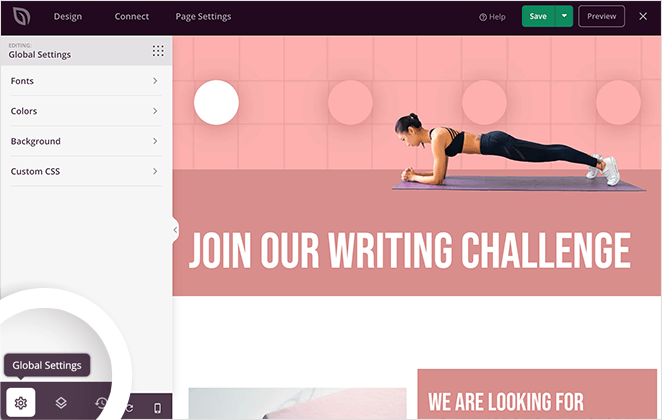 This setting allows you to customize your landing page:
Background
Colors
Fonts
Custom CSS
Let's start by clicking the Background option to customize your landing page background. In this area, you can change the background color, add a color gradient, or upload a custom background image.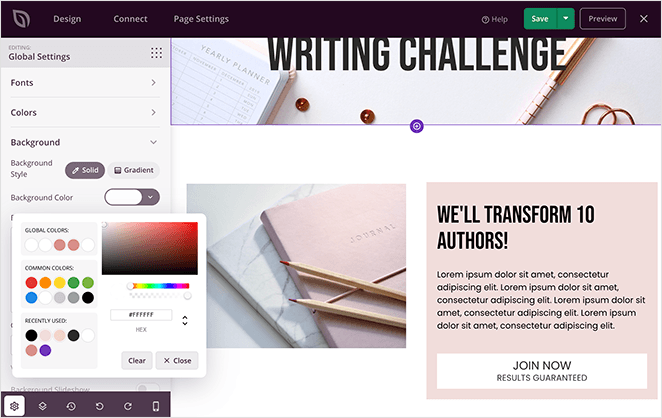 To add a custom background image, just click the Use Your Own Image button.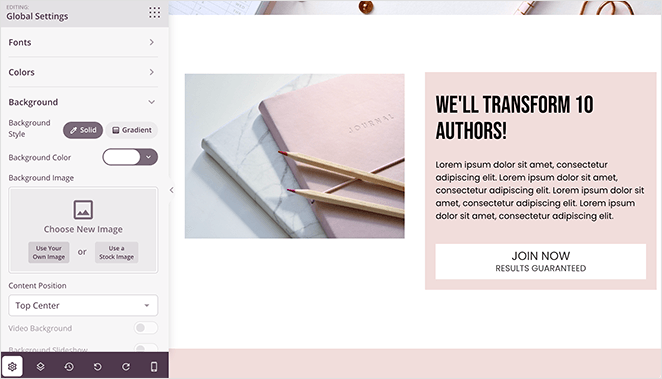 In the Fonts section, you can choose from a near unlimited number of free Google web fonts for your landing page headings, links, and body text.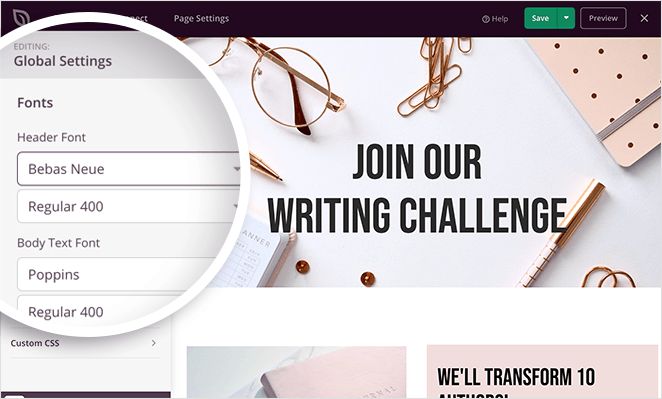 Just click any of the drop-down menus to choose your preferred fonts.
The Colors section has similar point-and-click settings where you can choose custom colors for headers, text, links, buttons, and more.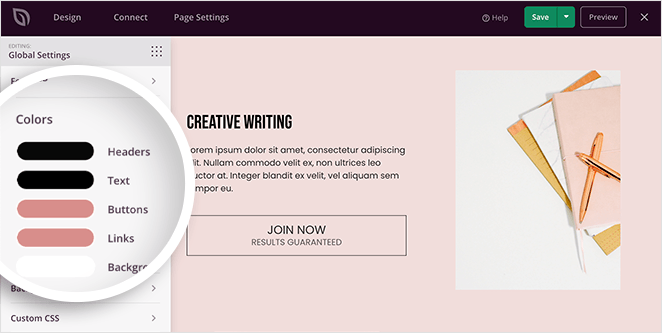 Just click any option and use the color picker to choose one that matches your branding and overall page design. This will edit those colors for your whole landing page.
When you're happy with your landing page design, click the Save button to store your settings.
5. Check Your Landing Page Works Correctly
With your free landing page design in place, you'll want to ensure everything works properly before publishing it on your website. Go through your design and double-check that your CTA button links work, and make sure there are no typos or grammatical errors.
You'll also need to make sure your landing page looks good on mobile devices. This is super-easy with SeeProd's mobile preview option.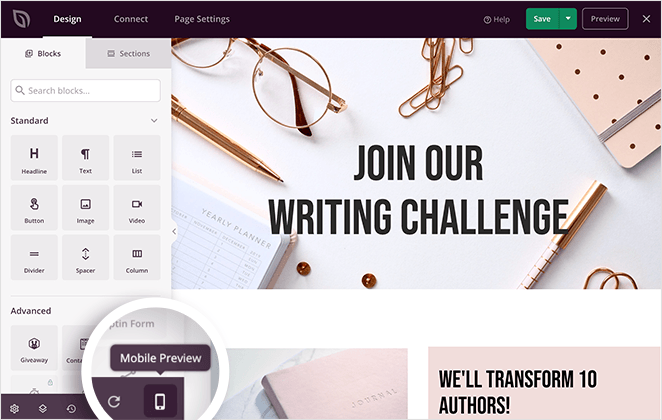 Just click the mobile icon at the bottom of your screen to preview your landing page on mobile.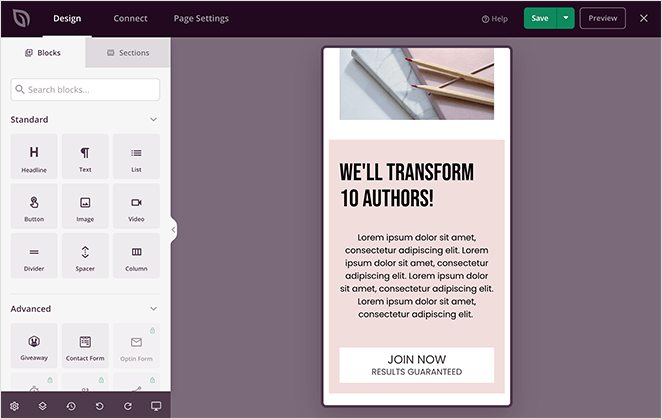 From there, you can move things around until your page looks great on both mobile and desktop screens. Any changes you make are applied to both versions of your page automatically.
6. Configure Your Landing Page Settings
After checking that your landing page works correctly and is easy to view on mobile, it's time to configure a few settings.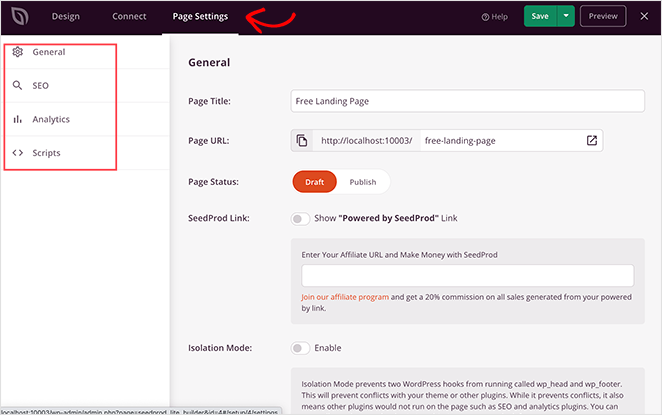 Click the Page Settings tab at the top of your screen to view SeedProd's various page settings, which include:
General settings: Change your free landing page's name and URL, and make the page a draft or published.
SEO: Set up your page's SEO title, meta description, and more with the All in One SEO WordPress plugin.
Analytics: Monitor your landing page performance with MonsterInsights, the best Google Analytics plugin for WordPress.
Scripts: Add custom tracking scripts to your landing page, such as your Facebook tracking pixel.
When you've finished editing your page settings, remember to click the Save button.
7. Publish Your Free Landing Page in WordPress
After putting the finishing touches on your free landing page, it's time to publish it on your WordPress website.
To do that, click the down arrow next to the green Save button in the top-right of your screen, and click Publish.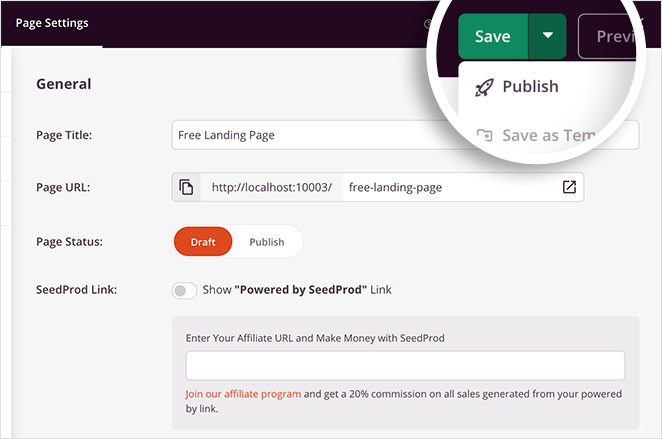 You'll then see a popup telling you that your landing page has been published.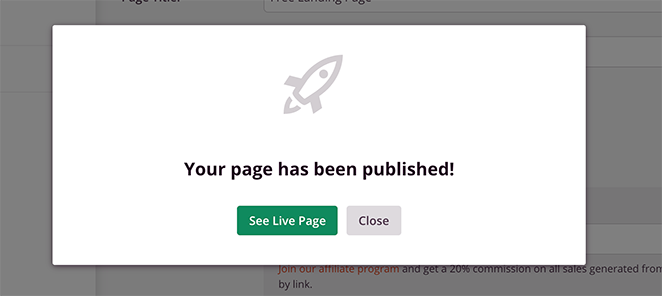 Go ahead and click the See Live Page button to preview your free landing page.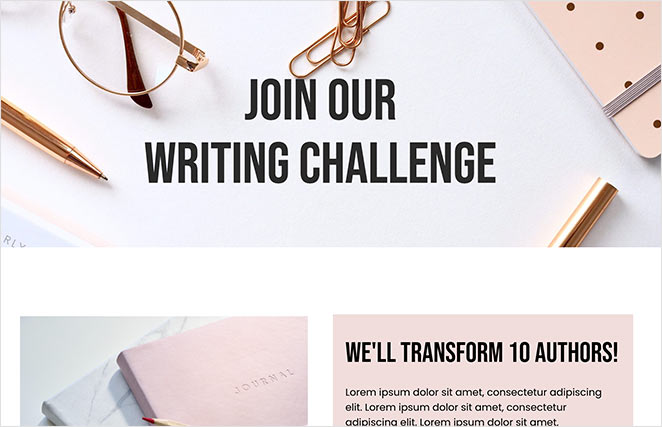 Congratulations!
You now know how to create a free landing page in WordPress. And the best thing is it required no technical expertise, or coding, and you didn't spend a dime!
For a more detailed overview of SeedProd's premium features in action, check out this tutorial: How to Create a Landing Page in WordPress
Or jump right in and…
And don't forget, if you like this article, then please follow us on Facebook and Twitter.