Do you want to create a YouTube channel landing page?
A YouTube channel landing page is a standalone web page that can drive targeted traffic from YouTube to your website. From there, you can convince users to sign up to your email list or buy your products or services.
In this article, we'll show you how to create an effective YouTube channel landing page to boost your conversion rates.
What Makes a Great YouTube Landing Page?
Several elements go into making a successful YouTube landing page. First, your page should be standalone and not connected to any navigation links on your website, like your header or footer menus.
In addition to that, your YouTube page should also include:
A convincing headline: Tell your audience what they'll get from your offer. Try to emphasize the benefits rather than your product features.
Images and videos to grab attention: Introduce your product with a short video tutorial, or show visitors how your product or services will transform their lives with an eye-catching hero image.
Bulleted lists and text: Explain the benefits of your offer with short paragraphs and bullet lists. People are in a hurry, so you must get your point across quickly.
Testimonials to increase trust: Show quotes from people who already use your products or services. The more personal information you can provide, such as names, job titles, etc., the more trustworthy the testimonials are.
Social proof to show your popularity: Tell people how many subscribers you have, how many people currently use your products, and include logos and trust badges from well-known clients.
A compelling call to action button to boost clicks: Use action-oriented button text instead of generic phrases like 'Get Started' and 'Submit.'
Distraction-free footer: If you include anything in your footer, it should be nothing more than your privacy policy, terms and conditions, and your copyright information.
Check out this guide to learn the anatomy of a landing page.
How Do You Make a YouTube Channel Landing Page?
Now that you know what to include on your landing page let's look at how to create one on your WordPress website. For this guide, we'll use SeedProd to create a YouTube channel landing page.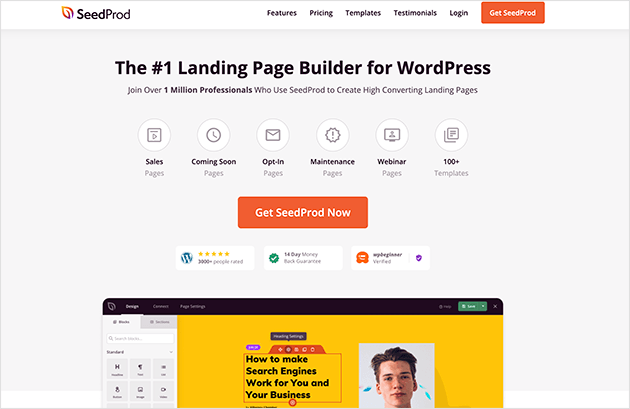 SeedProd is the best WordPress page builder with drag-and-drop functionality. It lets you create any type of landing page without writing code.
SeedProd comes with hundreds of responsive landing page templates that help you get started quickly. And you can customize any design easily in the visual drag-and-drop editor without hiring a developer.
Additionally, SeedProd includes powerful lead generation tools to help increase conversions, including:
Video blocks to showcase your online videos
Optin forms to collect email addresses
Giveaway blocks to drive brand awareness
Social media share and follow buttons to boost subscribers
WooCommerce blocks to sell your products
And many more
In the end, SeedProd has everything you need to create a landing page in WordPress easily.
For this tutorial, we'll create a YouTube channel landing page that users click and visit after watching a video ad.
So follow the steps below to get started.
Step 1. Install and Activate SeedProd
The first step is to download the SeedProd landing page plugin.
Then you need to install and activate SeedProd on your WordPress website. To do that, follow this guide on installing a WordPress plugin.
After installing SeedProd, you'll see a welcome message asking for your license key. You can find your SeedProd license key in the downloads section of your SeedProd account.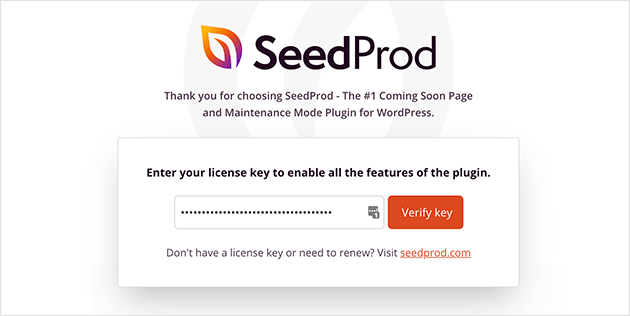 So copy your license key, paste it into the field, and click the Verify Key button.
Next, scroll down and click the Create Your First Landing Page button to get started.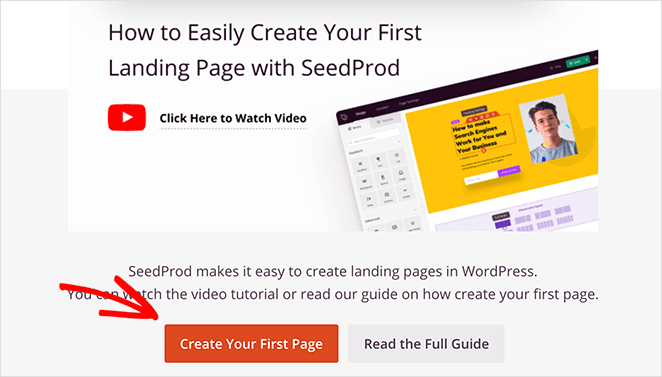 Step 2. Create a New Landing Page for YouTube
On the next screen, you'll see SeedProd's landing page dashboard. At the top are different page modes you can activate with a single click to put your site in maintenance mode, create a coming soon page, and more.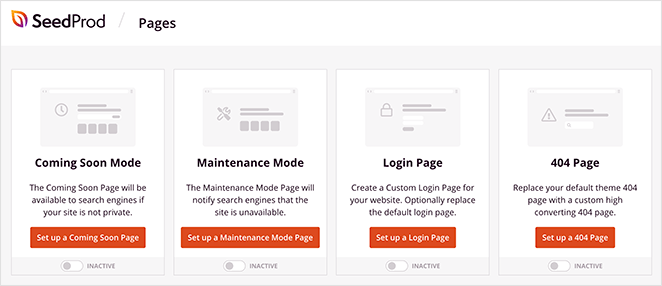 Under that area is where any standalone landing page you create shows up. So go ahead and click the Add New Landing Page button to create your first page.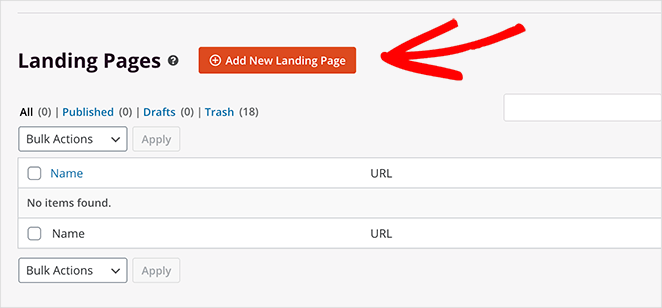 Next, you'll see SeedProd's library of mobile-friendly landing page templates.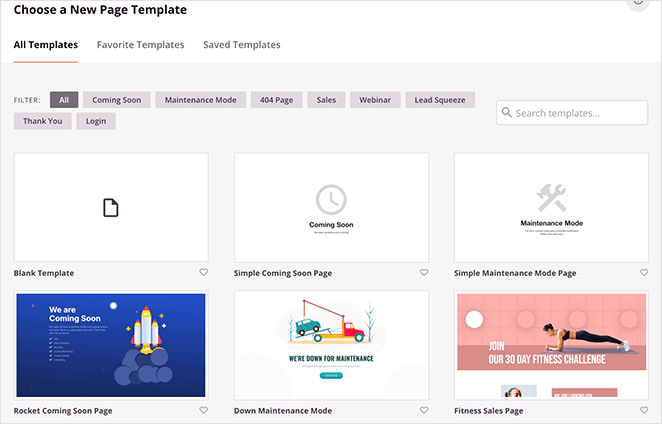 You can filter the templates by clicking any of the options along the top, including:
Maintenance Mode
404 Page
Sales
Webinar
Thank You
Login
Then, when you find a template that fits your needs, hover over the template thumbnail and click the checkmark icon to launch it.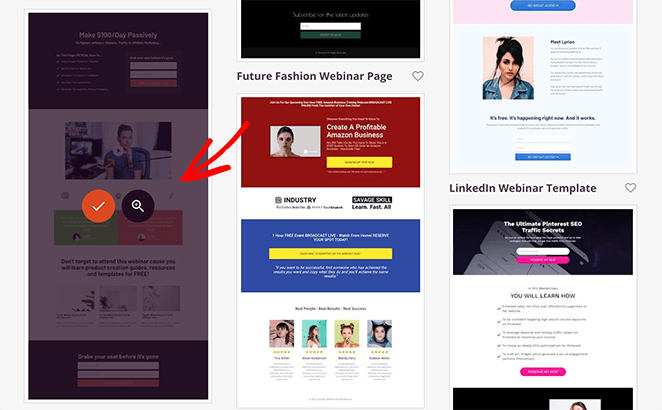 Now you'll see a popup asking you to enter a landing page name and URL. So choose a name that makes sense, and click the Save and Start Editing the Page button.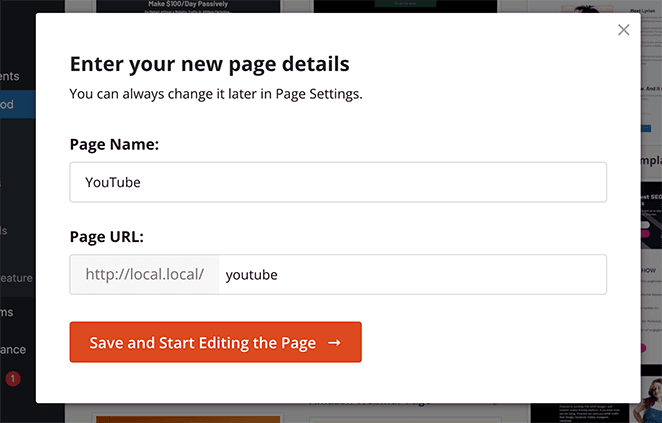 Step 3. Add Your Landing Page Content
On the following page is SeedProd's drag-and-drop visual editor. This is where you can customize your template and add information that persuades your audience to act.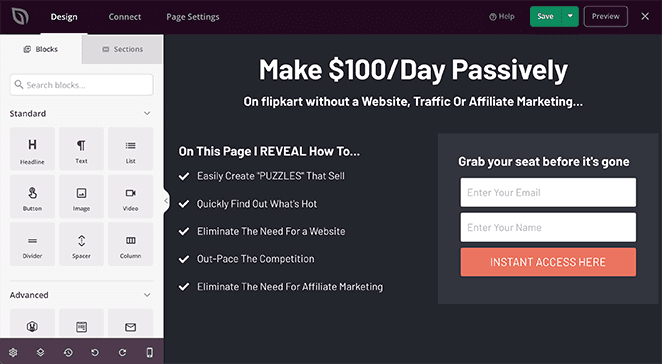 You can click anywhere on your page preview to edit a landing page element. For example, to change your heading, click the heading element and change the content in the left-hand panel.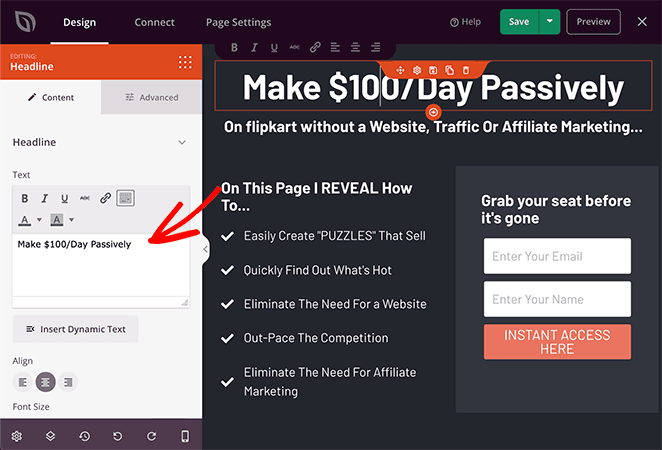 In the same panel, you can adjust your font size, alignment, and heading level. Additionally, you can click the Advanced tab to change the typography, color, and spacing.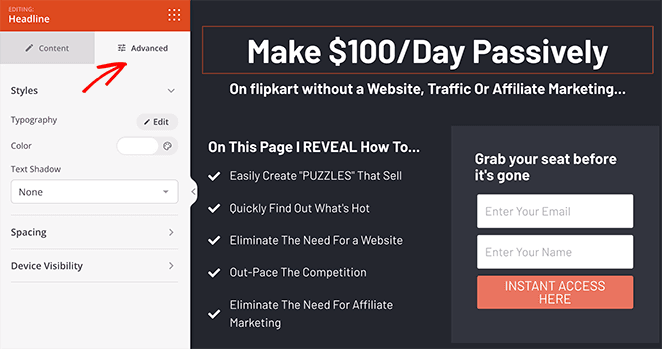 If you'd like to add a video to your page to increase engagement, you can do that easily. First, remove the existing image and link by hovering over the image block and clicking the trash can icon.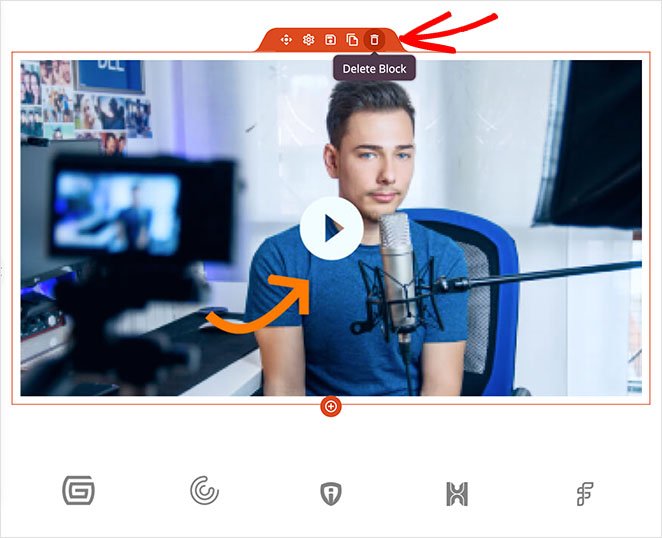 Then, drag the video block from the standard blocks panel and drop it into the empty row. SeedProd adds a placeholder video by default, but you can change the video in the block settings by pasting your YouTube video link.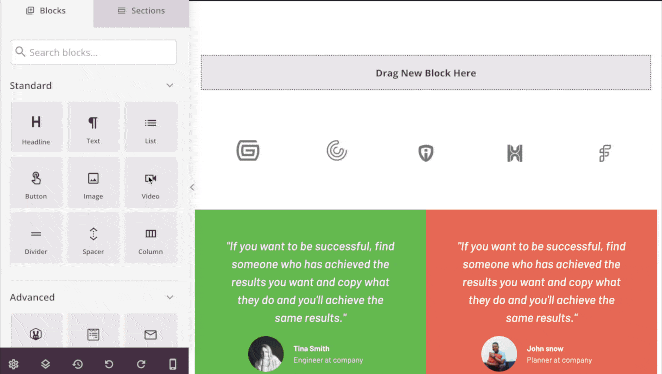 Keep adding and editing your landing page content until you're happy with the details. And don't forget to click the green Save button in the top right corner to store your changes.
Step 4. Customize Your YouTube Channel Page
Besides changing your landing page templates content, you can also customize the entire look and feel. That includes changing your landing page background, button colors, and global font styles.
So click the cog icon in the bottom navigation bar, and you'll see the Global Settings panel. From there, you can adjust your styles globally without changing each block's settings one by one.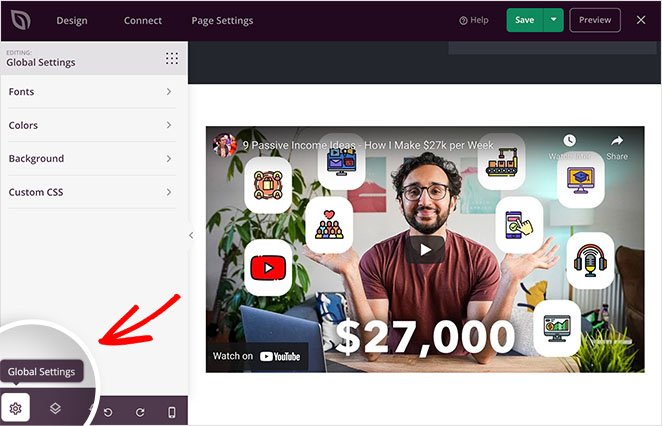 For example, you can choose a new color for every call-to-action button on your page all at once.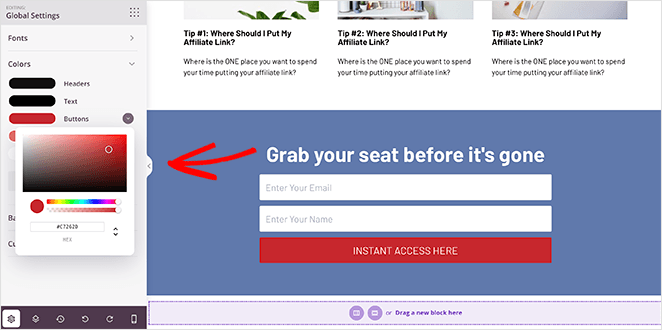 Or you can choose from hundreds of free Google fonts to change up your landing page typography.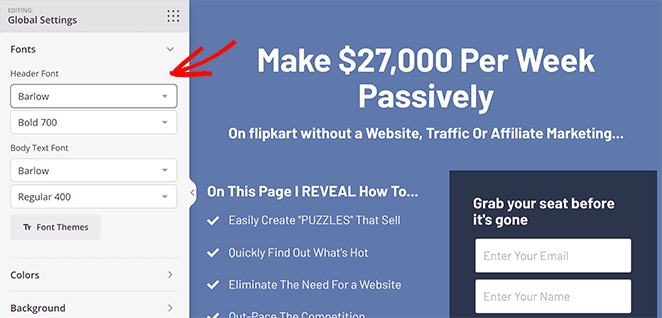 When you're happy with how your YouTube channel landing page looks, click the Save button to save your changes.
Step 5. Configure Your Landing Page Settings
Let's say your YouTube landing page's goal is to encourage visitors to join your email newsletter. In that case, you'll need a way to add those contacts to your email list.
Since SeedProd integrates with popular email marketing services, connecting your email list is easy. Simply click the Connect tab at the top of your screen, choose your favorite email integration, and follow the instructions to connect.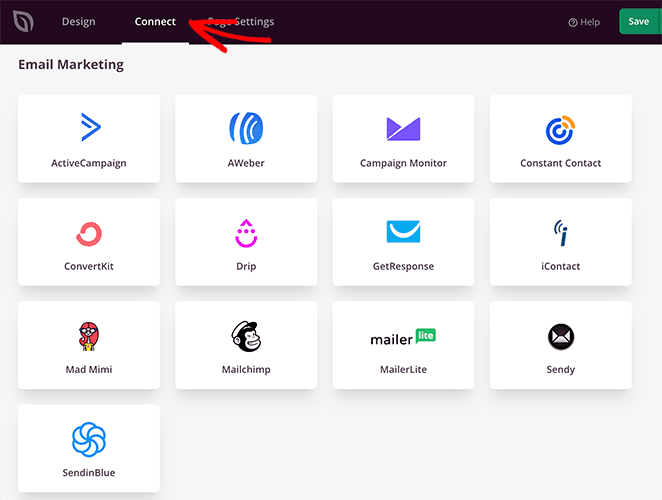 If your email provider isn't on the list, you can always use SeedProd's Zapier integration to get connected. And at the same time, you can connect to Google Analytics to track your landing page performance and Recaptcha to reduce spam.

Next, click the Page Settings tab, where you can adjust some more settings. On the General Settings screen, you change your landing page information and enter a Facebook App ID if needed.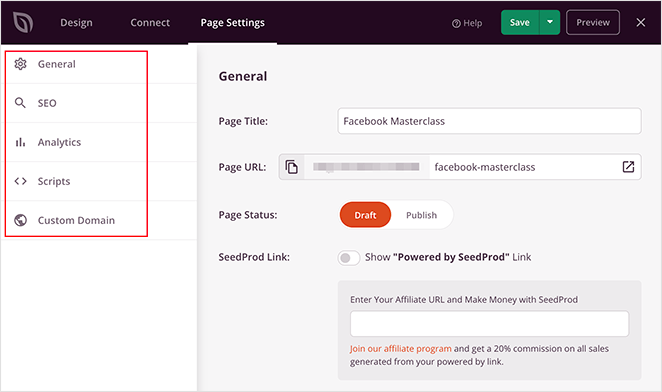 And if you have a Google Analytics and SEO plugin on your WordPress website, you can access their settings in the Analytics and SEO panels. We recommend using MonsterInsights for Google Analytics and All In One SEO for landing page SEO.
In the Scripts panel, you can add tracking and retargeting scripts for cookies, pixels, and other useful tools.
And if you have a SeedProd Elite license, you can use the Custom Domain panel to assign a custom URL to your landing page. This is useful if you want to have multiple landing pages with custom domains on a single WordPress site.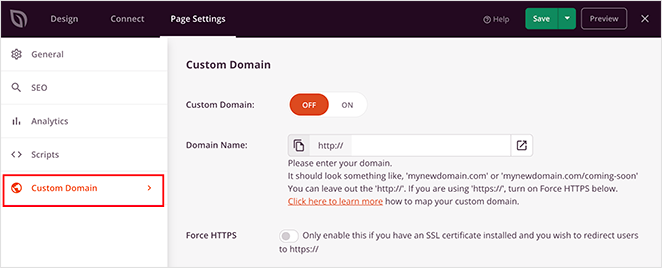 Step 6. Publish Your YouTube Landing Page
When your settings are complete, you're ready to publish your YouTube channel landing page. First, let's make sure it looks good on mobile devices by clicking the mobile icon in the bottom navigation bar.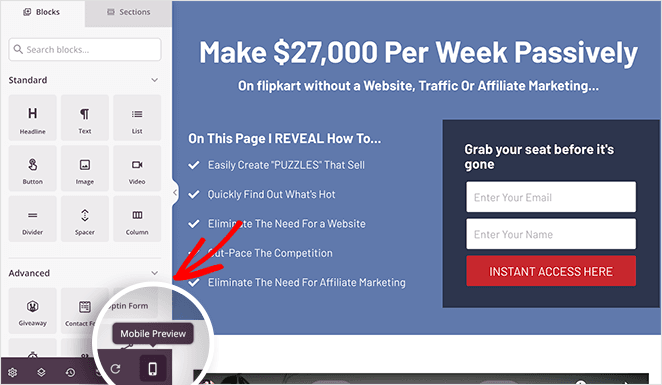 That setting previews your landing page in mobile view so you can see how it looks on mobile devices. If anything doesn't look right, you can easily adjust your design and even hide certain elements in the mobile view.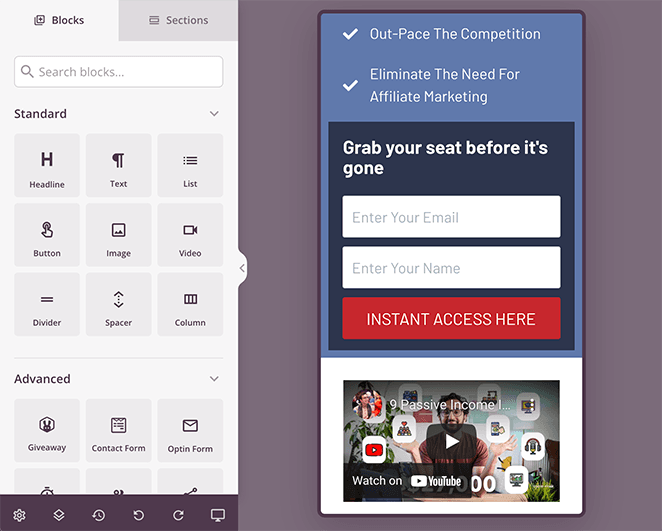 To do that, click any block and head to the Device Visibility tab. In that panel, you can hide the element on either mobile, desktop or both to create a better user experience.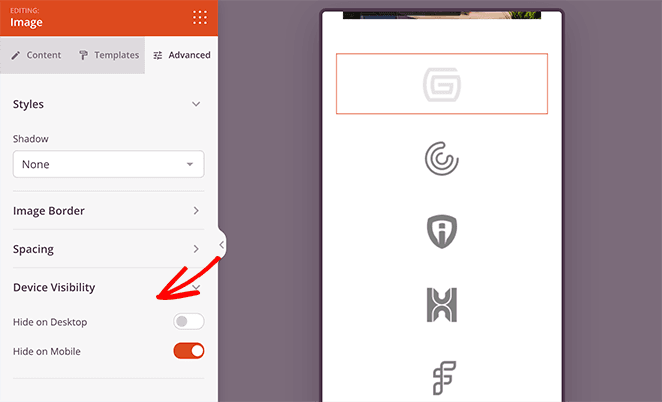 When you're ready to publish your page, click the dropdown arrow on the Save button and click Publish.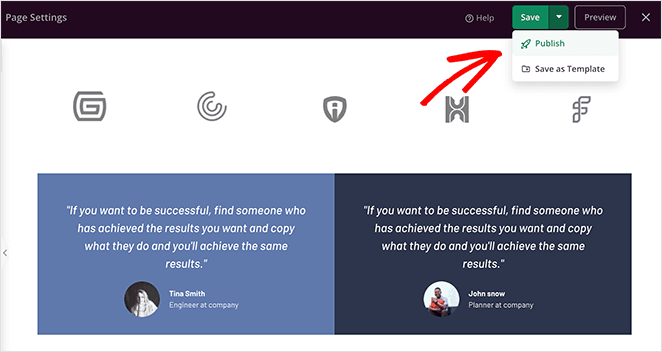 Now you can view your page live on your website and see how it looks.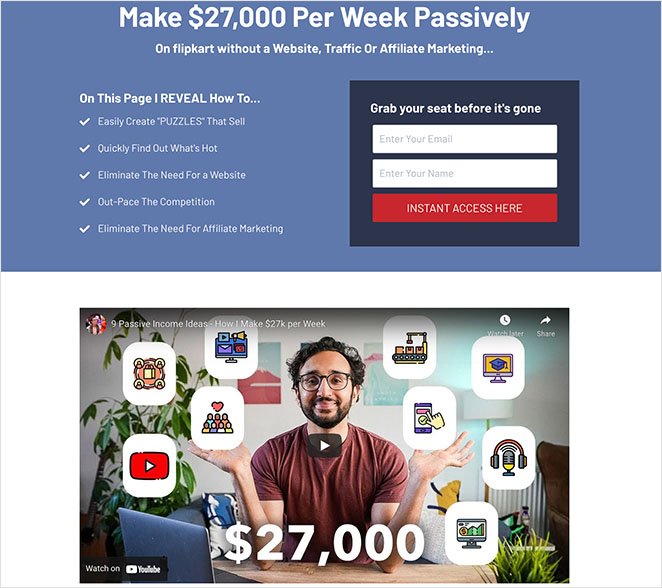 That's it!
You now know how to create a YouTube channel landing page to boost traffic and drive conversion rates. While you're here, you might also like this guide on creating a Google Ads landing page.
With SeedProd, creating high-converting landing pages is super easy. So what are you waiting for?
Thanks for reading. Please follow us on Twitter, Facebook, and YouTube for more helpful content to grow your business.