ClickFunnels vs LeadPages vs SeedProd: Which Funnel Builder is Best?
Are you looking for an unbiased comparison of ClickFunnels vs LeadPages vs SeedProd?
These 3 products are ideal for creating marketing funnels and landing pages that help to increase conversion rates. But which funnel builder is the best for WordPress websites?
This article will review ClickFunnels, LeadPages, and SeedProd to see which solution is best for your business website.
Before we compare these tools, let's look at the difference between a landing page and a sales funnel.
What Is a Landing Page?
A landing page is a page on your website that visitors land on first. For instance, it could be a sales page, email opt-in page, webinar registration page, or any other type of page you send traffic to.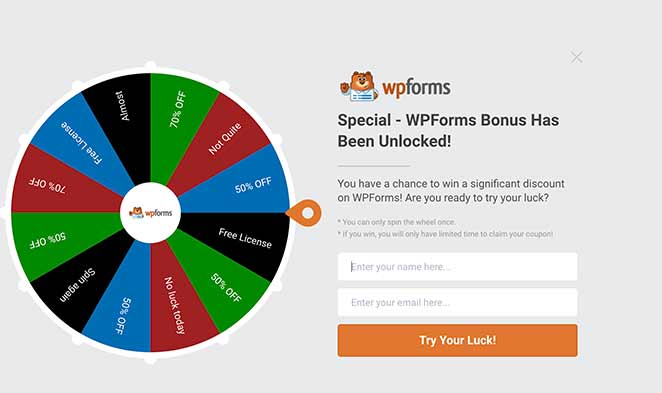 The goal of many landing pages is to welcome targeted visitors and help them learn more about your products or services. And while you may not make a sale at first, you can convert those visitors and capture leads by offering a lead magnet like a free ebook or course.
After you collect emails from first-time visitors, you can nurture your relationship until they become customers. From there, you can continue nurturing customers until they become repeat customers, affiliates, and even brand advocates.
But to get to that point, it starts with a high converting landing page, which is like the first page in your marketing funnel.
What Is a Funnel?
A sales funnel is a series of pages that leads your target audience towards a specific goal. And like landing pages, your funnel's goal may not be to purchase a product.
Instead, the goal could be to enter your webinar funnel, subscribe to your mailing list, or sign up for a free trial. Naturally, the ultimate goal is to sell your products or services, but not every funnel has to lead to a hard sell.
For example, you might have several funnels on your website, such as one to:
The great thing about this approach is you're never tied to a single funnel. And since each funnel is a series of optimized pages, they're relatively easy to create.
Here's how a typical sales funnel may look:
Content that educates visitors about your product
Landing page to collect email addresses
Sales page to sell your product or service
Discount or coupon page to upsell add-ons or related products
Now that you know what landing pages and sales funnels are let's look at 3 top solutions for building them: ClickFunnels, LeadPages, and SeedProd.
ClickFunnels vs LeadPages vs SeedProd: Overview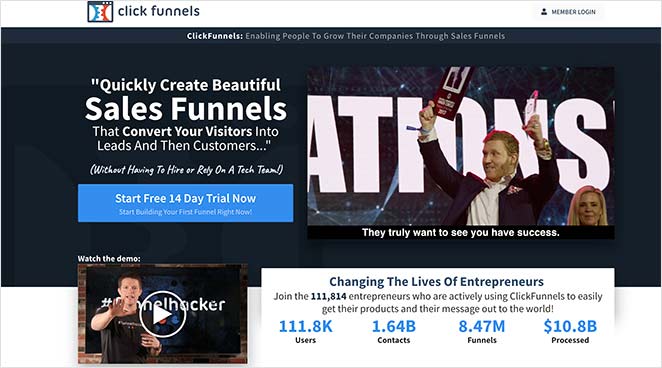 ClickFunnels is a marketing software that allows you to create high-converting pages you can use in your sales funnel. You can also use this software to run an email marketing service, track and manage affiliates, or even create a membership site.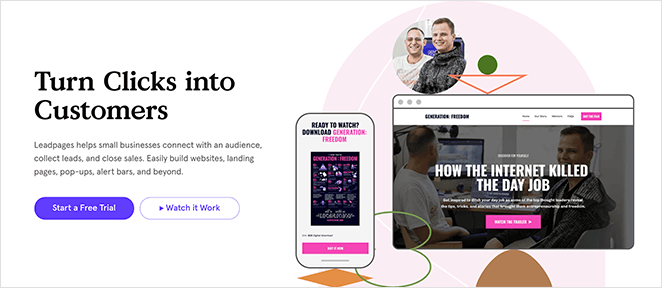 In comparison, LeadPages is a landing page builder that marketers can use to create optimized sales pages. And if you like, you can create entire websites on this platform. It includes Lead Boxes for creating popup forms and also offers a way to generate leads via text message.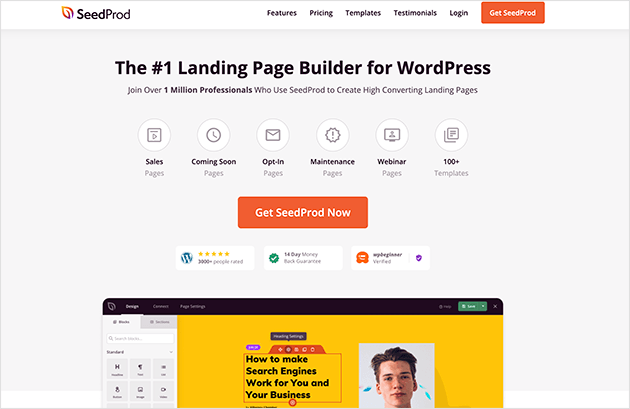 Lastly, SeedProd is an easy and powerful WordPress page builder plugin. It lets you create any type of page in WordPress without writing code or hiring a developer. And because SeedProd is a dedicated WordPress plugin, it works seamlessly with popular WordPress themes, plugins, and tools.
ClickFunnels vs LeadPages vs SeedProd: Comparison
Now let's see a detailed comparison of these tools based on their features, ease of use, and prices.
Features
The most important thing to look into before purchasing any tool is its features. It's essential to check if the solution you choose includes enough features that fit your website needs.
First, let's look closer at all the features of ClickFunnels vs LeadPages vs SeedProd.
ClickFunnels Features
ClickFunnels is a hosted sales funnel platform, which means you won't need website hosting to get started. Instead, you'll just need an existing domain, or you can register one through the software.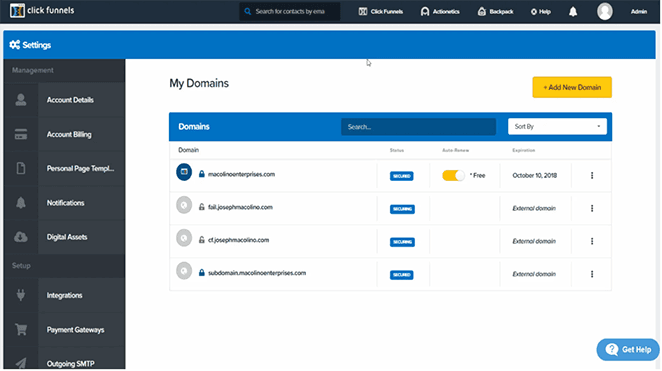 That said, ClickFunnels does offer a WordPress plugin that allows you to show its pages on your blog or website. And if you like, you can share any funnels you make with friends or search for pre-made marketing funnels and re-use them on your website.
Furthermore, ClickFunnels lets you set email marketing automation to warm leads and guide them further down your funnel. And with segmentation, you can group contacts based on demographics, behavior, and more.
Features:
Perform A/B split testing on funnel pages
Track key performance metrics
Built-in email marketing service to communicate with leads
Deliver lead magnets like ebooks automatically
Drag and drop pages to anywhere in your funnel
What you see is what you get visual editor
Pre-made sales funnel templates
Integrate with popular email marketing automation services
LeadPages Features
Similar to ClickFunnels, you won't need any coding skills to create optimized landing pages with LeadPages. It offers a drag-and-drop builder and tons of landing page templates you can customize in the visual editor.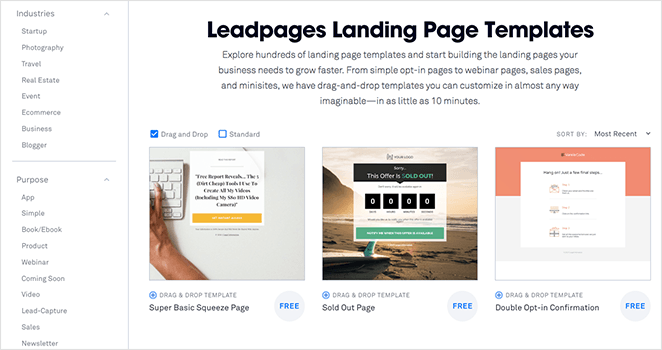 There are 2 different ways to create pages with LeadPages: Standard templates with limited customization options and drag and drop templates you can customize easily.
Features:
Great-looking landing page templates
Optin popups to collect leads using popup forms
Collect lead data and send it to your inbox
SMS sign up options to collect leads on mobile
Lead magnet delivery system
Integration with popular email marketing services and CRM
SeedProd Features
As mentioned earlier, SeedProd is a dedicated WordPress page builder, so it's easy to create pages for your marketing funnel without writing any code. You can create unlimited pages and customize each in the easy drag-and-drop builder.
SeedProd's page builder is fast, fluid, and bug-free. So you can build pages lightning-fast and see the changes in real-time.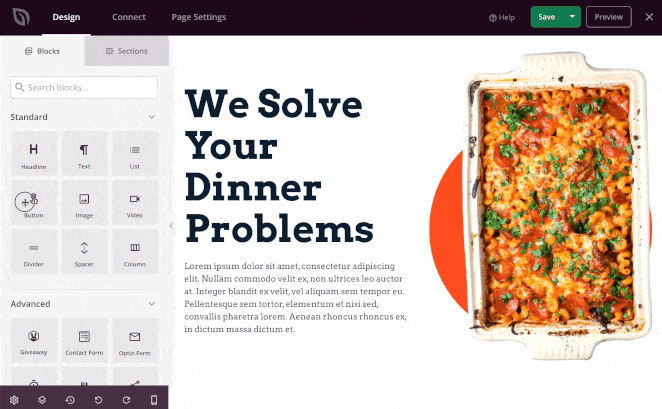 In addition, SeedProd offers dedicated support for WooCommerce websites, meaning you can create optimized checkout pages, shopping carts, and product pages. And with built-in subscriber management, you don't even need an existing email marketing service to get started.
Features:
Visual drag-and-drop page builder
Powerful opt-in forms, contact forms, and login forms
Create urgency with evergreen countdown timers and progress bars
Generate leads with giveaways, social profile buttons, and pricing tables
Create checkout pages, shopping carts, and product pages with WooCommerce support
Grow your following with social media embeds for Facebook and Twitter
Subscriber management dashboard
Live mobile preview and device visibility options
Built-in coming soon, maintenance mode, 404, and login pages
Powerful access controls to restrict access to your website
Point any landing page to a custom domain with domain mapping
Integrate with popular email marketing services
Works seamlessly with any WordPress theme
Ease of Use
Now let's see how user-friendly these tools are. We'll look at the process of creating pages with each tool and judge the available customization options from a beginner's perspective.
ClickFunnels Ease of Use
While ClickFunnels offers a drag-and-drop visual editor for creating funnels, its funnel templates aren't the best on the market.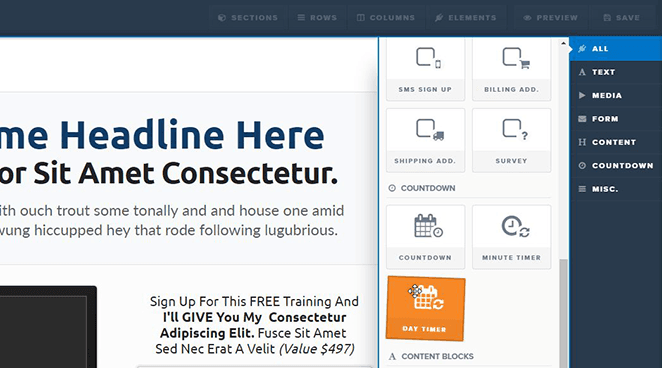 There are very few designs to choose from, and those that they offer are unattractive with an often 'pushy' look and feel. Plus, if you want to duplicate a funnel, you'll need to re-enter all the product information, which is a pain for busy website owners.
Both SeedProd and LeadPages have much better template options with solutions for a wide range of industries. And any page you create with SeedProd, you can duplicate complete with all the existing information.
In addition, the initial setup of ClickFunnels can be confusing and time-consuming for beginners. So if you don't want the added learning curve, it might not be the best solution for you.
LeadPages Ease of Use
LeadPages offers an easy experience with its drag-and-drop editing based on rows and columns. It also comes with several ready-made templates you can customize to your liking and split testing to get the best results from your pages.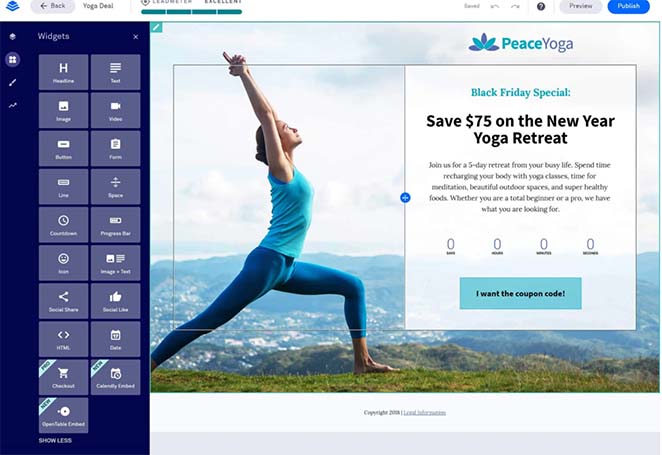 However, the builder feels clunky to use and not as intuitive as other page builders. For instance, integrating with HTML and CSS is difficult, and finding the different sections and features you need isn't as easy.
Additionally, LeadPages also lacks some important features that you'd find in more well-rounded landing pages, and sales funnel builders.
For example:
The drag-and-drop builder is buggy and frustrating
It doesn't offer any checkout pages
You'll need an existing email marketing service
SeedProd Ease of Use
SeedProd is built with the busy WordPress website owner in mind, which is why you can create a sales funnel and build a landing page at the speed of thought. In fact, anyone, no matter your technical ability, can easily publish a landing page on day one, with no coding required.
With SeedProd's drag-and-drop editor, it takes minutes to make a page that would usually take hours. And since there's no coding needed, you won't need to hire a developer.
Built on a system of rows and columns, and blocks, it's easy to customize any landing page template using the built-in features by dragging and dropping them into place. You can also customize virtually any page element with point-and-click settings, helping you make a stunning page in no time at all.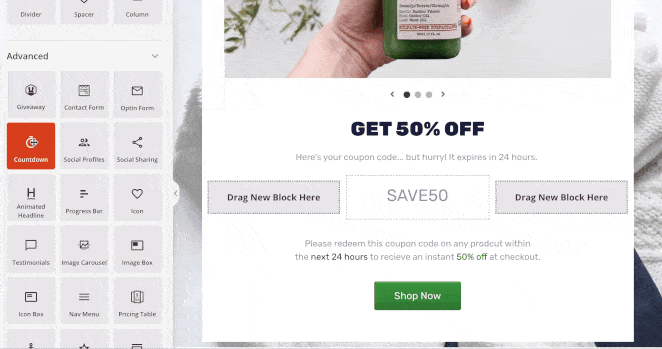 Both beginners and advanced WordPress users will have no trouble finding their way around SeedProd. Everything is clearly labeled with handy tooltips guiding you to the feature you want.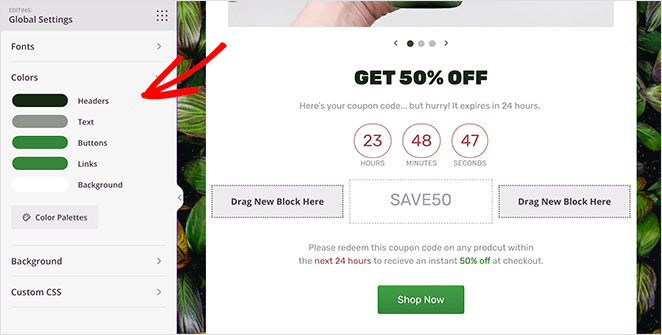 Pricing
Now let's look at the pricing options and value for money that ClickFunnels, LeadPages, and SeedProd offer.
ClickFunnels Pricing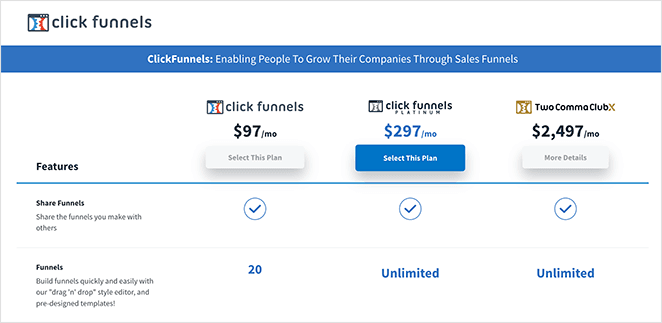 The ClickFunnels platform offers a 3 tier pricing plan that isn't for the faint-hearted:
ClickFunnels – $97 per month
ClickFunnels Platinum – $297 per month
TwoCommaClubX – $2,497 per month
The standard plan allows the creation of up to 20 funnels and 100 pages, while the advanced plans allow unlimited funnels and pages.
LeadPages Pricing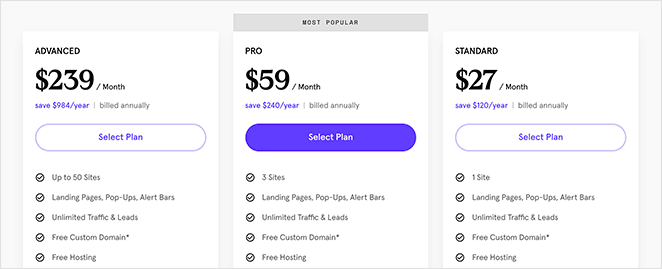 LeadPages has a similar pricing model, offering 3 tiers for use on an increasing number of websites:
Standard – $37 per month
Pro – $79 per month
Advanced – $321 per month
All plans offer free hosting; however, only the Pro and Advanced plans allow A/B split testing.
SeedProd Pricing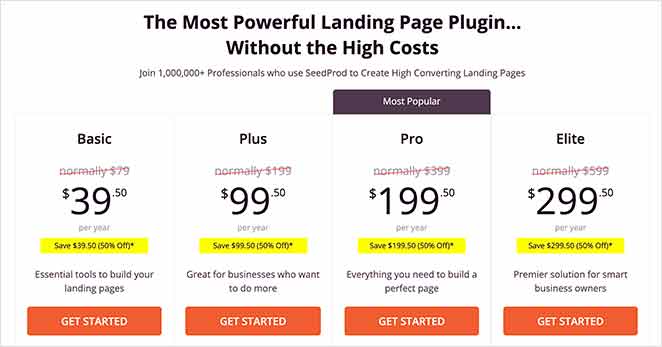 In contrast, SeedProd offers 4 tiers for website owners with varying budgets and needs:
Basic – $79 per year
Plus – $199 per year
Pro – $399 per year
Elite – $599 per year
All plans offer premium templates, pro landing page blocks, Access Controls, and a subscriber management dashboard. However, with the Elite plan, you also get RaffllePress, the best WordPress giveaway plugin's highest plan, for free.
Also, SeedProd offers a 14-day money-back guarantee so that you can use it on your websites worry-free.
ClickFunnels vs LeadPages vs SeedProd: Which Is Best?
After looking at these tools, you may be wondering which funnel builder is best? In comparison to ClickFunnels and LeadPages, we believe that SeedProd is the best solution.
Here's why:
SeedProd offers a truly visual drag-and-drop builder that's fast and easy to use.
It includes all the lead generation elements you'll ever need in a page builder plugin.
SeedProd is a native WordPress plugin, meaning you can create sales funnels and pages without generating and embedding any HTML code.
Everything is hosted in WordPress, with your hosting provider giving you complete control over your content.
SeedProd's templates are professionally designed to generate leads and are 100% mobile-friendly.
With WooCommerce support, you can create highly optimized pages to boost sales for your eCommerce store.
All your leads and pages are easy to access right inside your WordPress dashboard.
So if you want to build high-converting sales funnels and landing pages in WordPress, what are you waiting for?
We hope this article helped you decide between ClickFunnels vs LeadPages vs SeedProd. Next, you can check out how to create a WooCommerce coming soon page to generate leads for your new online store.
Thanks for reading. Please follow us on YouTube, Twitter, and Facebook for more helpful content to grow your business if you liked this article.