Are you thinking about making a startup landing page?
Creating a landing page for your startup business is an excellent way to reach potential customers. However, finding inspiration for your landing page design isn't always easy.
Check out the startup landing page examples in this post to kick-start your creativity. We'll also tell you how to make one in WordPress.
What Is a Startup Landing Page?
A startup landing page is a standalone web page that focuses on a specific campaign and target audience. Because startups in the early stages of their journey have limited resources and budgets, their landing page often doubles as the website's homepage.
There are typically 2 types of startup landing pages:
Lead capture: A lead capture page is a landing page that aims to generate leads for your startup by embedding a lead capture form. Once you have the lead, your sales team can follow up.
Click-through landing page: A click-through landing page is a page for warming up prospects and encouraging visitors to click through to a conversion page like a checkout or account creation page. As a result, users can convert immediately rather than waiting for a sales follow-up.
What Are The Benefits of Startup Landing Pages?
There are several benefits to creating a landing page for your startup. A landing page is a perfect opportunity for many companies to validate their business model without building a complete website they might never need.
Take Slack, for example. When Slack first started, it only had a landing page.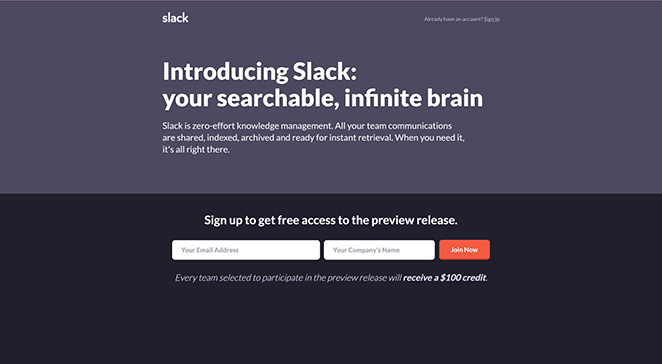 Slack used the landing page to test its messaging, gauge market demand, and generate leads for its beta test. After that initial research phase, they spent money on developing a fully-featured website.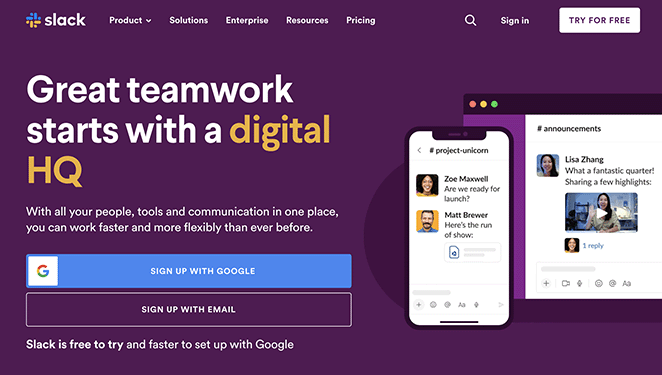 Landing pages essentially offer a low-risk way to launch your startup. You can test the waters with your products or services, split test your messaging, and build demand before committing to an official website.
How to Build a Startup Landing Page
Most startups have limited budgets, making it crucial you find a budget-friendly way to build your landing page. The most cost-effective solution is to use a landing page builder.
Landing page builders focus specifically on creating high-converting pages. They're also easy to use and often don't require coding or technical expertise.
One of the best landing page builders is SeedProd, especially if you plan on using WordPress to build your future website.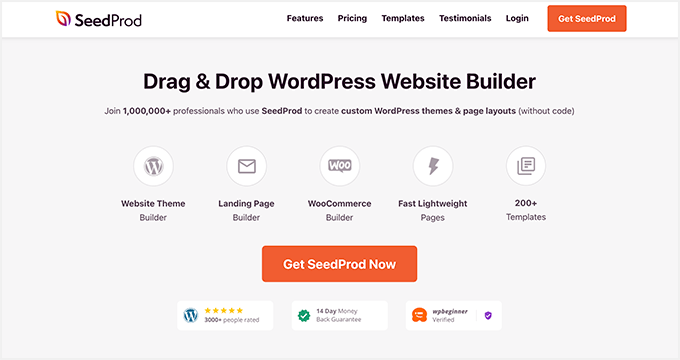 SeedProd is a landing page and WordPress website builder, allowing you to create visually appealing web pages without code. It comes with hundreds of high-quality landing page templates, and you can customize each design with its drag-and-drop editor.
The visual editor has all the building blocks needed to increase conversion rates, including:
Lead capture forms
Call to action (CTA) buttons
Image galleries
Pricing tables
Social media
Reviews and testimonials
Accordions
And more
You can also use its page modes to create a coming soon page for your startup, put your website in maintenance mode, or create a login and 404 page.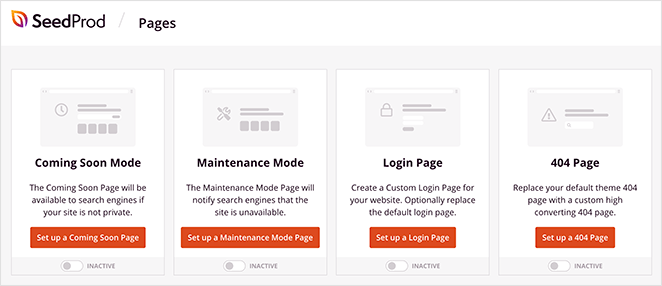 Here's a step-by-step guide on creating a landing page with SeedProd for your startup. It's also a good idea to check out this guide on the anatomy of a landing page to ensure you include the essential elements.
9 Startup Landing Page Examples
Do you need some inspiration before making your landing page design? Here are some stunning startup landing page examples that will give you some ideas.
1. SurveyAuto Startup Landing Page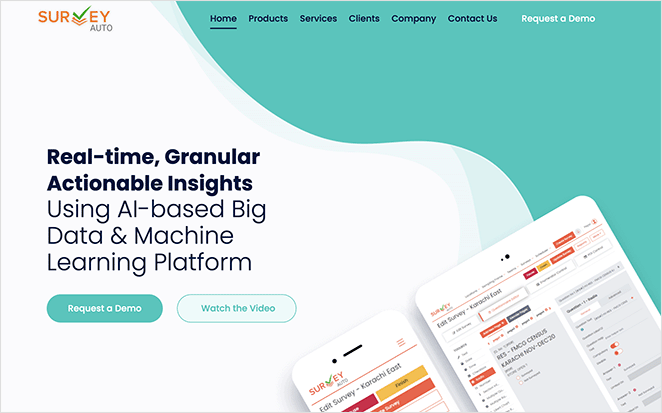 SurveyAuto's startup landing page is clean, engaging, and shows visitors crucial information about the business. The page has individual sections to separate content and uses imagery to hold your attention.
What we love:
Images demonstrate the product, giving users a good idea of how it looks
The scrolling carousel of clients adds valuable social proof for building credibility
They use video to explain how the product works, making it easy to understand
Multiple CTA buttons all lead to a method of generating leads
Users can try it for free, removing the need to pay right away
2. Streem Startup Landing Page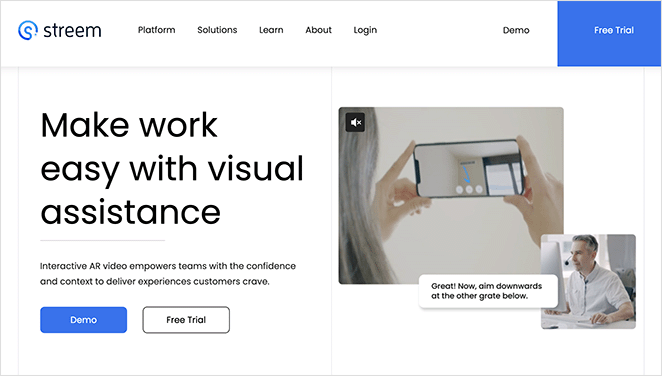 Streem has a minimalist startup landing page that uses white space and color contrast to direct attention. The top of the page features a video to demonstrate the product, while the rest of the page goes into more detail.
What we love:
Multiple CTA buttons encourage users to get a demo or free trial
The contrasting color stands out against the clean design
The navigation menu expands, helping users find the correct information
Client logos and testimonials build trust and authority
Features are benefits-based and address user pain points
3. Wheels Startup Page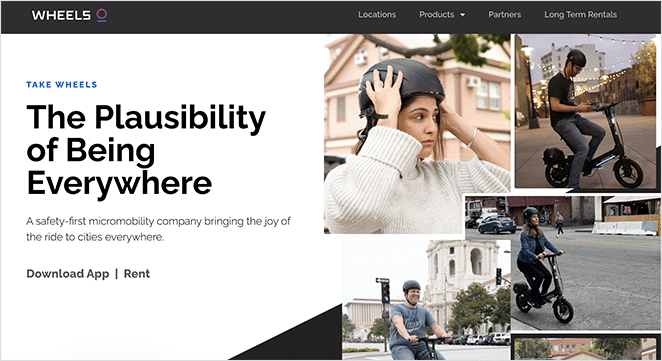 This startup landing page example from Wheels is another design that uses visual content to help users imagine using the product. A combination of highly-quality images and animations brings the page to life, prompting visitors to learn more.
What we love:
Compelling copywriting helps users visualize the product benefits
By using official statistics, the startup backs up and adds weight to its claims
The "trusted by" carousel includes logos from reputable companies
Users can interact with the product to learn more about each feature
The bottom of the page includes links to download the app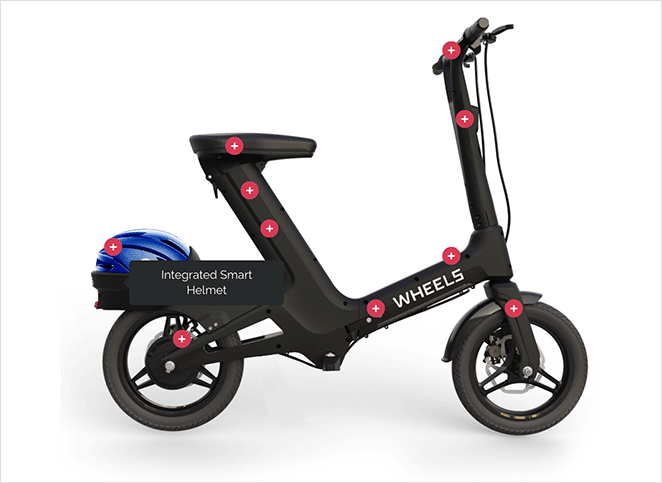 4. NutSpace Startup Landing Page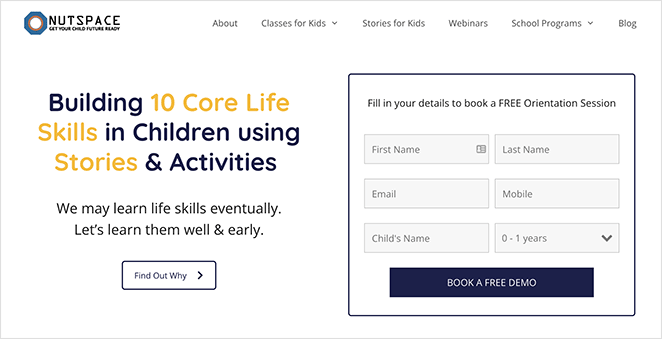 NutSpace has a colorful landing page for its startup, which makes sense, given that its products focus on children. The page uses popular digital marketing strategies to capture attention and guide users. It also allows visitors to book a free session right away.
What we love:
The lead capture form only asks for the email address and minimal extra details
Users can buy products directly from the landing page
The newsletter form at the bottom of the page helps to capture more leads
Bright colors draw attention and focus on crucial details
Social icons help users stay in touch
5. CoachHub Startup Landing Page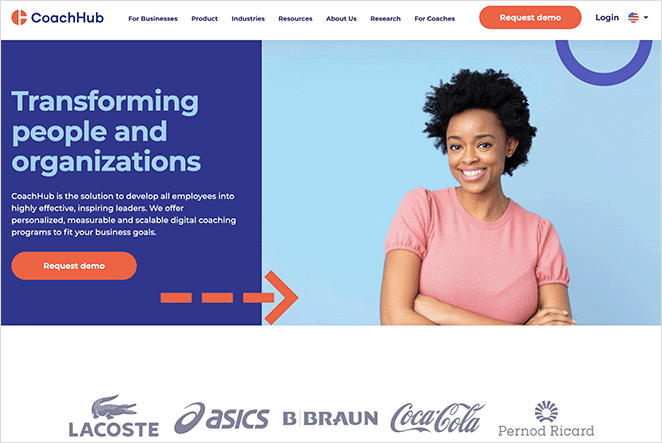 CoachHub offers another example of a stunning startup landing page design. Like the other pages in this post, it has clear page sections and uses visual content to explain the details of its product.
What we love:
The eye-catching hero section prompts users to act immediately
Client logos from popular brands build trust with hesitant users
The focus on safety helps ease concerns about data protection
Users can quickly learn more with the handy resources section
The simple animations help draw attention down the page
6. Pleo Startup Page Example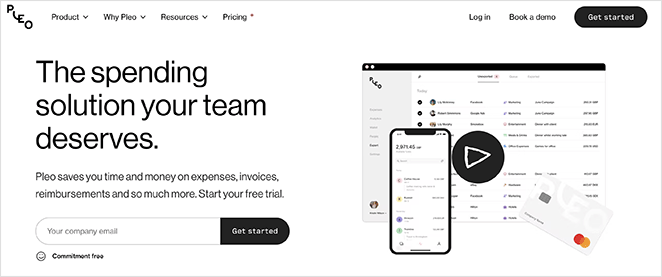 Pleo's startup landing page has a monochrome design and a modern layout. Visitors get a solid overview of the software as they scroll down the page with high-quality graphics, animations, and videos.
What we love:
The explainer video explains the product features at-a-glance
The signup form only asks for the user's email address
Video testimonials make the company more trustworthy
They use more than 1 signup form to capture emails at different decision-making stages
The animations are simple, lightweight, but also effective at demonstrating the product features
7. Meatable Startup Landing Page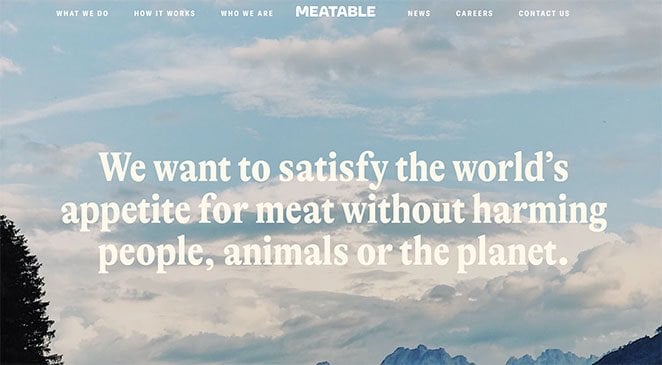 Meatable offers sustainable meat production, and this startup landing page demonstrates its values perfectly. The page takes you on a visual journey and uses emotional copywriting to help visitors imagine a more sustainable future.
What we love:
Bold, compelling headlines cut straight to the heart of the company's values and purpose
High-quality imagery helps to illustrate those values clearly
The co-founders section gives them a human face which makes them more relatable
Users can get in touch quickly by using the links at the end of the page
8. NeuroFlow Startup Page Example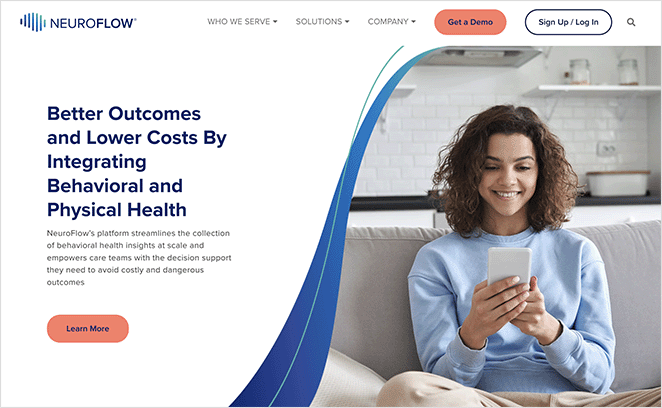 NeuroFlow's startup landing page design is simple, effective, and easy to navigate. The landing page layout is minimal, with clear sections highlighting product features in a way that's benefit-driven.
What we love:
The clever use of image dividers evokes a sense of "flow," directly relating to the brand
The feature sections include benefit-driven copy and supporting screenshots
Statistics and testimonials give the company credibility and trust
The lead capture form has minimal form fields, making it quick and easy to fill
Multiple CTAs offer more chances to generate leads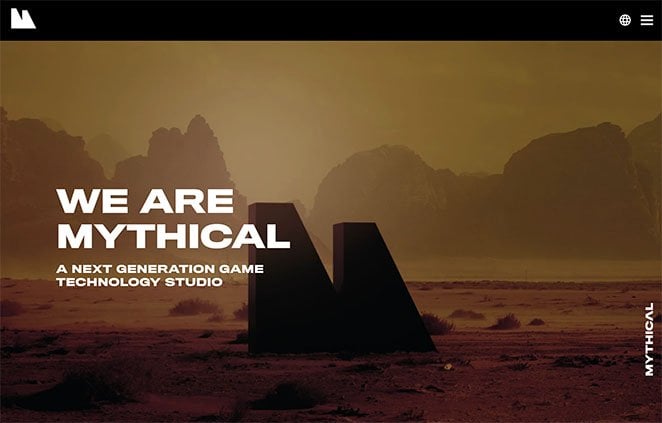 The final startup landing page example comes from Mythical Games, a next-generation game technology company. It's a simple landing page design, but successful startup pages don't need fancy bells and whistles to make an impact. You can get your message across effectively with even the simplest landing page elements.
What we love:
The imagery evokes a "mythical" impression, helping to set the company's tone
Bold headlines grab attention instantly, communicating the startup's core message
Endorsements from popular media outlets give the company credibility
Social media icons help users find the brand on different social media platforms
Next Steps
We hope this article helped you learn the benefits of creating a startup landing page. Use the examples in this post as inspiration for your startup.
Remember: the easiest way to create a startup landing page is with a drag-and-drop landing page builder, and SeedProd is the most cost-effective and easy-to-use solution for WordPress.
You might also like this post on creating a landing page with a countdown timer to add urgency to your page.
Thanks for reading. Please follow us on YouTube, Twitter, and Facebook for more helpful content to grow your business.