Do you want to know how to create an author website?
Building a professional author website helps you establish your online presence. It also allows you to connect with your readers directly to build a community and sell more books and other products and services.
In this article, we'll show you how to make an author website easily in WordPress, step-by-step, without code.
Here is a list of the topics we'll cover in this tutorial:
For example, let's say you gather hundreds of thousands of Twitter followers from a recent bestseller. What would happen if your Twitter profile gets blocked or banned? All of those followers would instantly disappear, taking your book promotion method with them.
That's why creating an author website is the best way to build your brand and promote your books. Because you own the website, no one can block you. You have complete control over what you publish and when without it disappearing.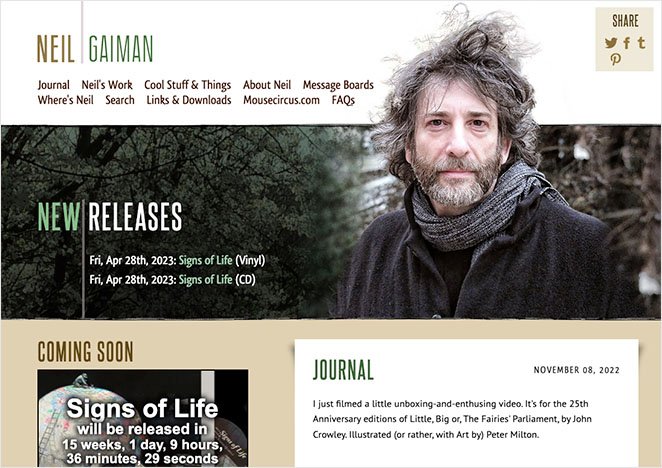 Now, we're not saying to abandon social media marketing altogether. You can still build a social media following, but we also suggest you make an email list. That way, you can contact your followers directly without relying on temperamental 3rd party author platforms and social networks.
More importantly, having the freedom of your own website can help you diversify your income. Besides promoting and selling books and audiobooks, you could start a subscription-based podcast, hold premium online workshops, or even create an eCommerce store to sell merchandise.
Ultimately, making an author website is one of the most reliable ways to take ownership of your book marketing and promotion. So without further ado, let's learn how to create an author website in WordPress without hiring a developer.
WordPress.org powers over 43% of websites online, with numerous authors choosing it to build their sites. You may even find that many of the top authors on the New York Times bestseller lists have a WordPress website.
That said, it's important to note that we're talking about WordPress.org for self-hosted websites, not WordPress.com, a website hosting service. If you find this confusing, you can see this guide on the difference between WordPress.org vs. WordPress.com.
Once you've decided to use WordPress to build your author website, you'll also need to get the following items:
Domain Name: (e.g., seedprod.com) This is what visitors will type into browser address bars to visit your website.
Web Hosting: This is where all your website files are stored online.
A domain name typically costs around $14.99 per year, while web hosting is anywhere from $7.99 per month, paid annually.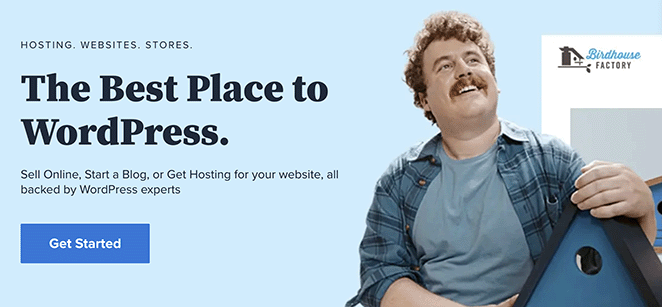 However, the Bluehost team is offering SeedProd users a free domain name with 60% off website hosting. That's only $2.75 per month to get up and running.
Click here to get started with Bluehost.
Bluehost is a popular hosting company, one of the biggest in the world. It's also officially recommended by WordPress, so you can be confident that your website is in good hands.
If you'd like to look at other hosting recommendations, you can see this showcase of the best WordPress hosting providers.
Setting Up Your Author WordPress Site
After signing up for website hosting, you're ready to install WordPress.
If your website hosting is with Bluehost, they'll automatically install WordPress for you. All you need to do is log into your Bluehost hosting account and click the Log Into WordPress button from your dashboard.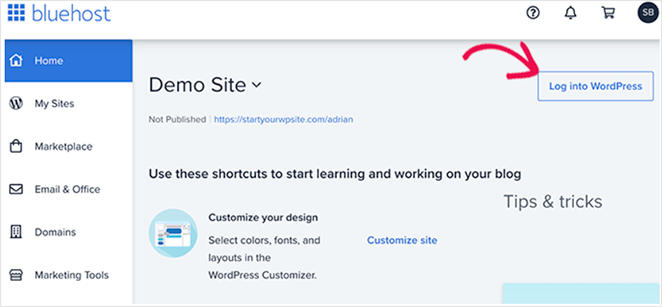 Not using Bluehost? Don't worry. WPBeginner has a handy guide on how to install WordPress using other hosting companies.
Once you log into your new WordPress website, you'll see a dashboard like this: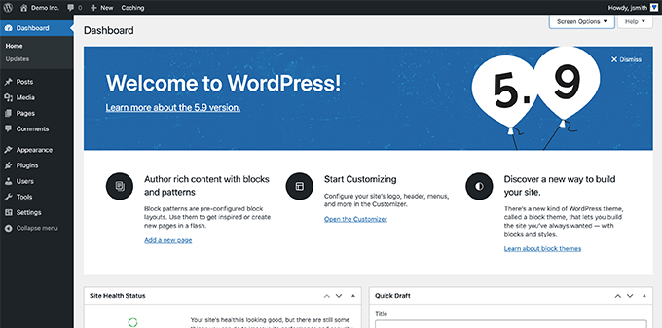 But before you start building your site, you'll need to plan how you want it to look.
Inspiration for Your Author Website Design
Before moving on, ask yourself a few essential questions like, what web design style do you like, and what features do you need? The great thing about WordPress is it has over 59,000 free WordPress plugins, which allows you to add virtually any feature you like.
With that in mind, we've compiled a quick list of author website examples we love. You can take inspiration from these sites and note the features you like for your design.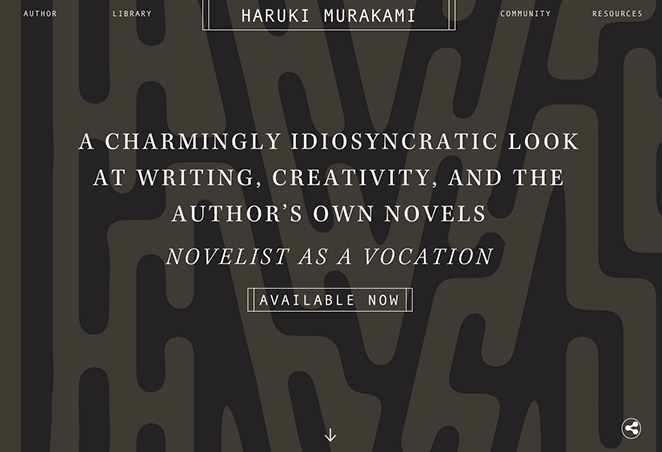 The author website of Haruki Murakami has the same minimalist design as his book covers. The homepage is simple, with a vertical carousel of headlines announcing his most recent books.
Elsewhere on the site, you can learn more about the author, sign up for his newsletter, follow him on social media, and learn where to buy his books.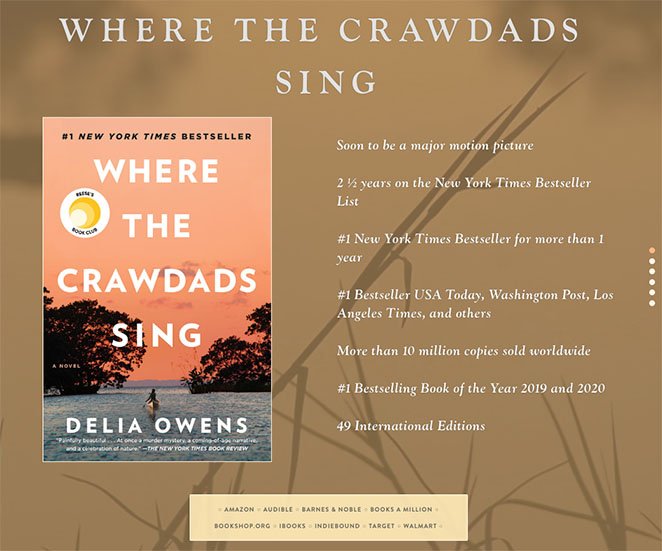 Famous for the best-selling book, 'Where the Crawdads Sing,' Delia Owen's author website prominently features her biggest-selling title center-stage.
Accompanying the book cover image are the books' awards, accolades, and links to buy at various outlets like Amazon, Audible, and Barnes & Noble.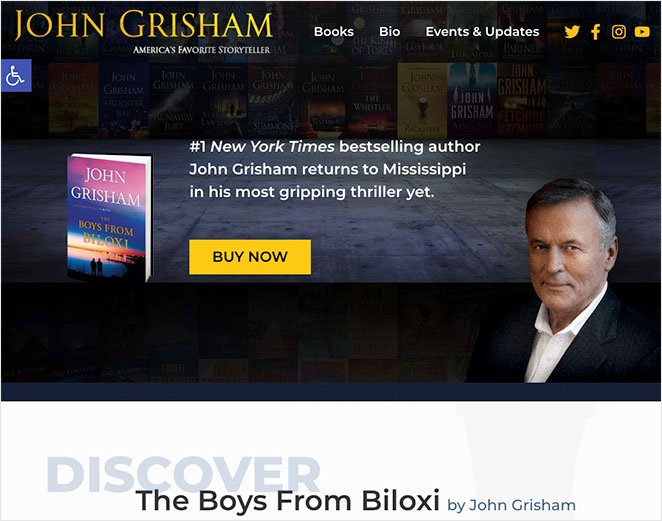 John Grisham's website features a bold hero area with a call-to-action button to buy his latest thriller. Further down the page is a grid of previous books that link directly to their respective book pages.
Additionally, the website features a lightbox popup encouraging visitors to sign up for the newsletter. This is a fantastic way to grow your email list.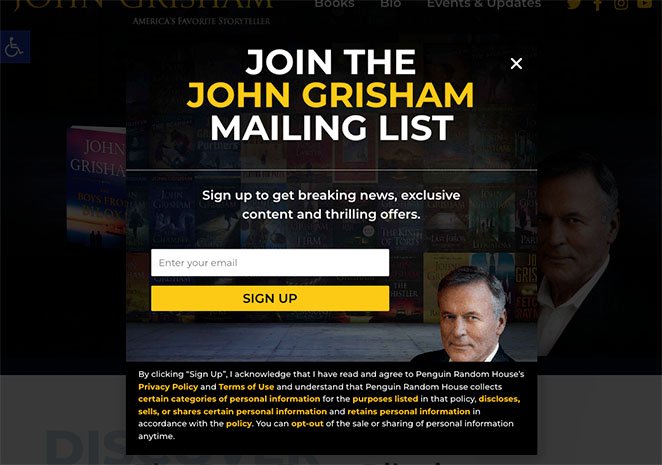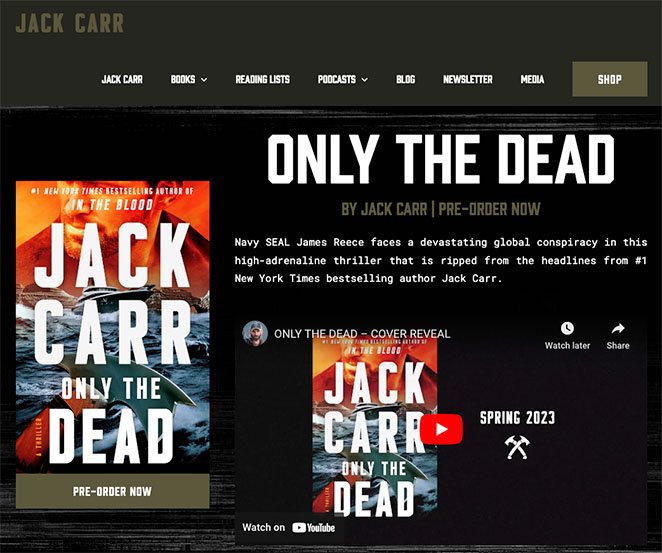 This author website example from Jack Carr features YouTube videos to keep visitors engaged and staying longer on the site. There are also prominent calls to action to watch his show on Amazon, pre-order his next title, and browse the shop.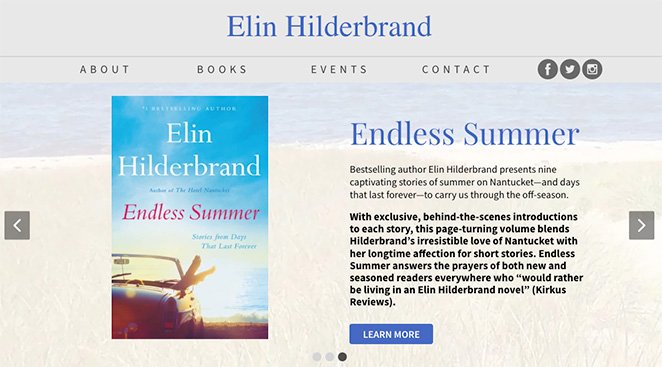 Elin Hilderbrand's author website has a light and airy design with a subtle color palette. All of her books feature right on the homepage with the help of sliding carousels that link to each book.
You can also browse upcoming events and follow the author via her social media profile icons.
Choosing a Theme for Your Author Website
Once you have some inspiration for the structure of your website, you can choose a design.
Here are 2 ways to pick a design for your author site:
Option 1. Choose a WordPress Author Theme
In WordPress, you can use themes to control how your website looks. They typically include several templates for different sections and parts of your site.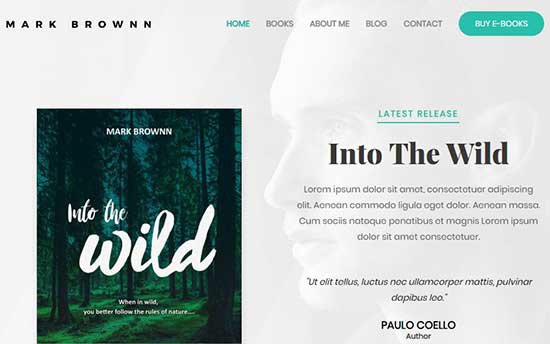 You can choose from thousands of free and premium WordPress themes to help create your author website. However, with so many available, it can be tricky if you're a beginner to decide which design would work best for you.
To make deciding easier, you can see this showcase of the best WordPress themes for authors. We suggest starting with a clean, minimalist design with lots of white space so your site looks professional.
Option 2. Use SeedProd's WordPress Page Builder
While WordPress themes are super easy to use, you may decide it's better to create your own custom site design.
That's where a drag-and-drop page builder plugin like SeedProd can help. It lets you create any layout you need with drag-and-drop.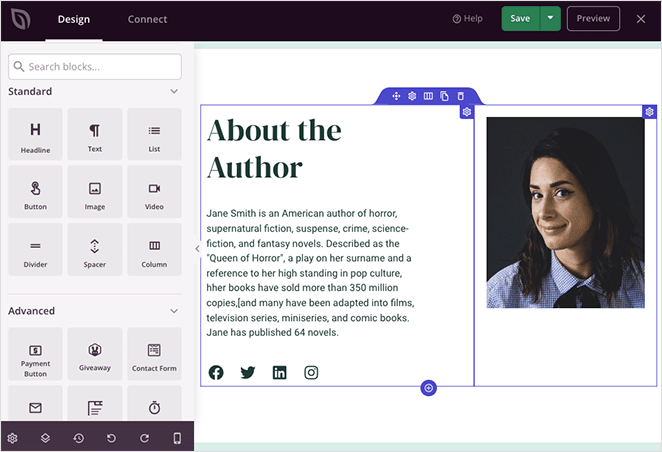 And don't worry if you're not tech-savvy. Working with SeedProd requires zero coding skills or design experience.
With SeedProd's page builder, you can point and click anywhere to edit design elements. You can also drag and drop items to create various new layouts.
SeedProd has countless website and landing page templates with unlimited customization options. It even offers global styling with pre-made color palettes and font pairings.
Additionally, SeedProd is theme agnostic. That means it will work no matter what WordPress theme you use.
Even better, you can create your own custom WordPress theme without writing code, then customize and edit it with the same easy drag-and-drop functionality and interface.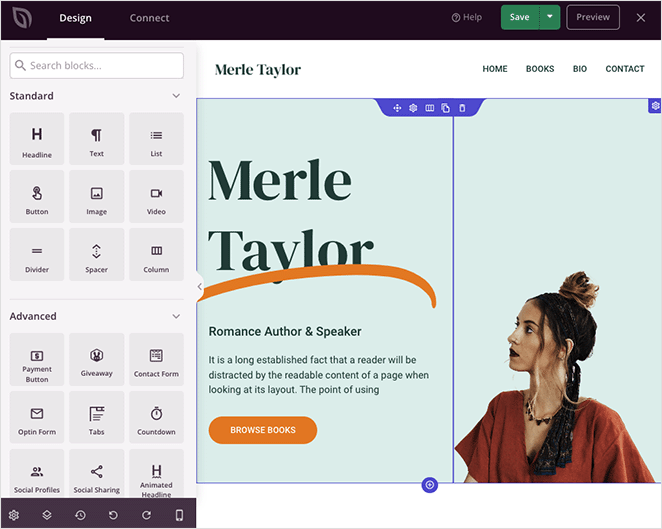 Whether you're self-publishing your book titles, a blogger posting short stories, or setting up an author page for the first time, it has everything you need to design your website the way you want.
Once you choose your website design, you can start building your layout and pages.
Building Your Author Website Layout and Pages
In WordPress, there are two common types of content: posts and pages.
Posts are typically part of a blog displayed in reverse order, with the most recent posts at the top. However, pages contain static content, such as your about and contact information.
Often, websites made for authors share a few standard pages:
Home Page: Your home page is the front of your website that visitors see after entering your domain name into their web browsers.
Blog Page: Blog pages are where you can post regular updates, news, blog posts (articles), and more.
About Page: On this page, visitors can learn more about you, such as the genre of books you write, your author bio, awards, and accolades.
Contact Page: This page generally contains a contact form and other contact information, like social media icons, publisher locations, and more.
You may decide that your author website needs more pages than the simple list above. For instance, you might need a shop page if you sell merchandise in an online store or a testimonials page to showcase praise from news outlets and readers.
How to Create a Page in WordPress
To add a new page in WordPress, navigate to Pages » Add New from your WordPress dashboard. You can then add a title and enter the content for your page using the powerful WordPress block editor.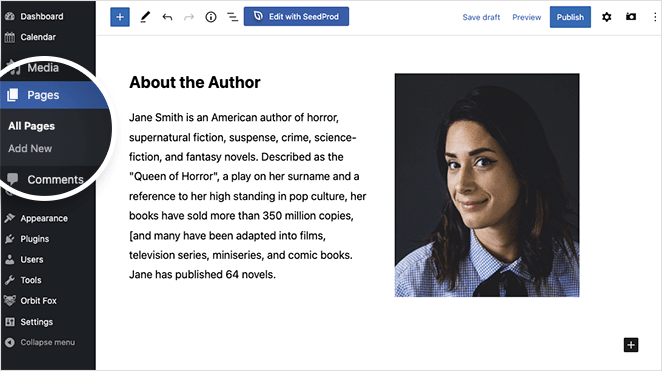 The block editor adds new content to your page in blocks you can customize and move around by pointing and clicking.
Alternatively, you can use SeedProd to create a custom page layout for your author website.
Simply install and activate the SeedProd plugin, then go to Pages » Add New and click the Edit with SeedProd button.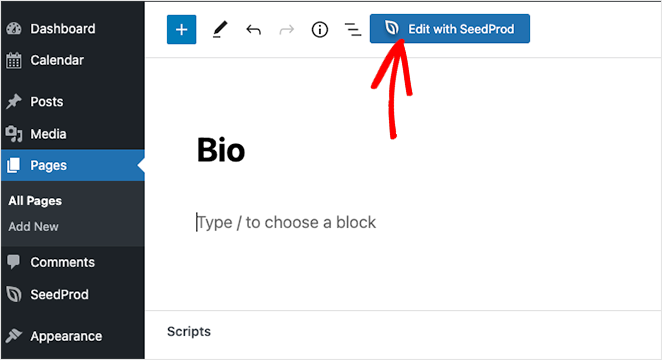 From there, you can either build your page using one of SeedProd's landing page templates or from scratch with the visual drag-and-drop builder.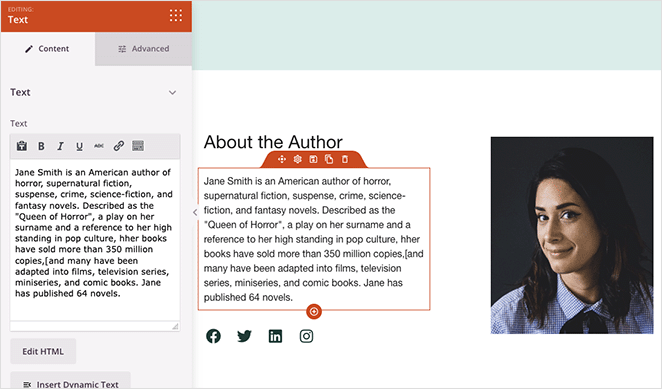 If you need help, here are some step-by-step guides to make different WordPress pages with SeedProd:
After creating some pages, you'll need to add them to the navigation bar at the top of your website.
To do that, navigate to your Appearance » Menus page and create a new menu. From there, you can add your new pages from the left-hand panel to your menu.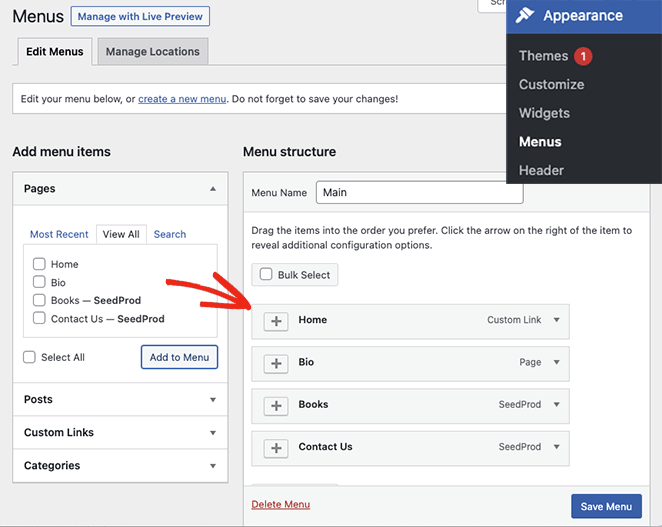 Remember to click the Save Menu button to save the changes. You can see our tutorial on editing menus in WordPress if you're struggling with this step.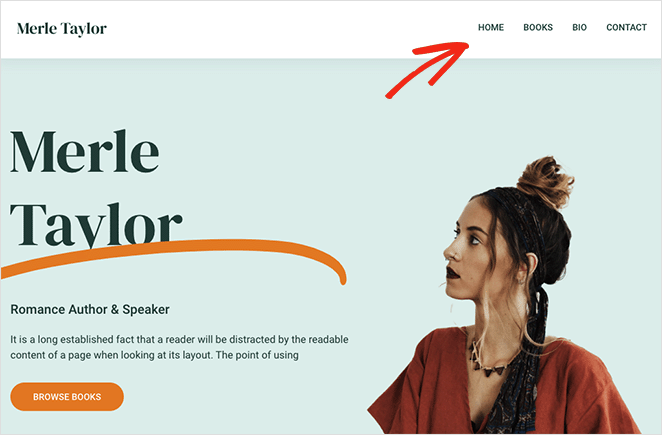 Now let's look at the best ways to feature books on your website.
Selling Books on Your Author Website
One of the main goals of an author website is to promote your author name and the books you write. With that in mind, you'll want to feature your books across your website, making them easy to find.
Both WordPress and SeedProd make this super easy.
You can make a dedicated Books page with your book cover images and a call to action button to buy them. Or you can add them to a section on your homepage with a button taking users to online retailers like Amazon to buy your books.
SeedProd even lets you sell books directly from your website. With its Payment Button block, you can add a buy now button that allows users to check out with Stripe.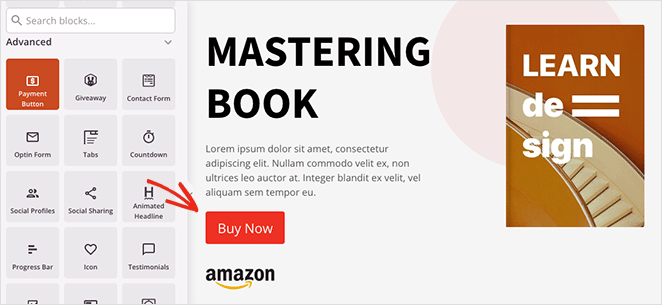 Alternatively, you can build your bookshop with WooCommerce and use the Add-to-Cart block, which lets users continue browsing your site before checking out.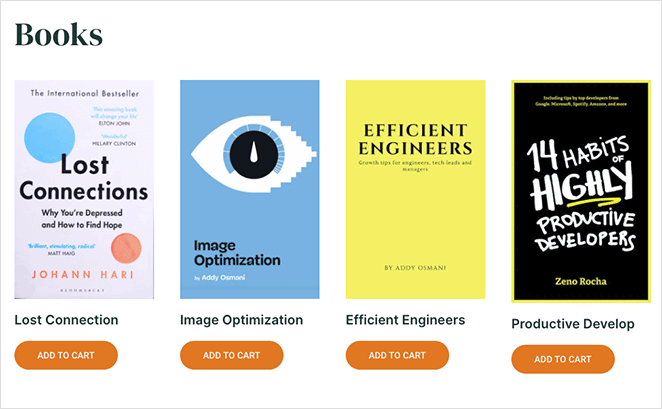 For step-by-step instructions, you can follow this tutorial on creating an ebook landing page in WordPress.
Great work; your author website is now set up. Now let's look at how to drive traffic to it.
Promoting Your WordPress Author Site
The next step in creating your site is to promote it to your target audience. Doing that will help establish your author name online, send traffic to your website, and ultimately sell more books.
Below, you'll find helpful tips that many authors use to promote their websites.
1. Create an Email Newsletter
Visitors to your website may not immediately purchase your books. However, they'll likely want to stay informed about your latest updates.
One effective way to keep in touch with existing and potential new readers is through an email newsletter.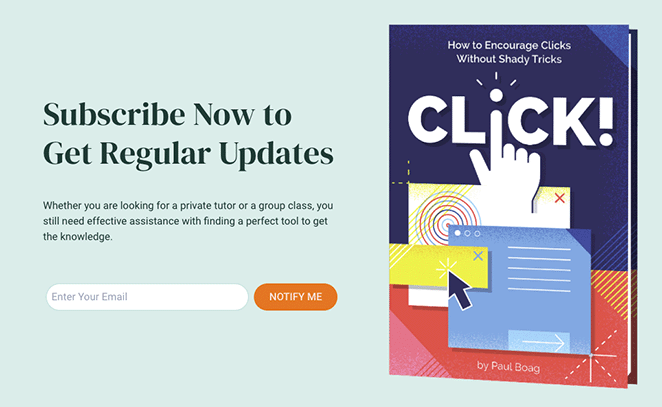 Beginner-friendly email marketing services like Constant Contact integrate with WordPress to make sending newsletters regularly easy. For more information, check out our tutorial on how to set up a newsletter.
In the long term, a large subscriber base is an excellent asset for negotiating new book contracts.
2. Grow your Email List
Creating a newsletter and adding a sign-up form to your website isn't enough to expand your email list alone. Instead, you'll need to promote your newsletter throughout your website and beyond to get more email sign-ups.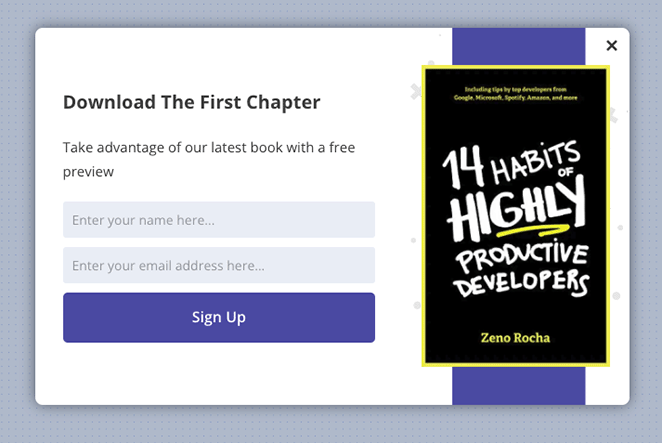 OptinMonster is a highly effective tool that can help you achieve this goal. As an industry-leading conversion optimization software, it allows you to turn website visitors into subscribers and customers.
OptinMonster has countless features, including slide-in popups, lightbox popups, header and footer banners, countdown timers, sidebar forms, and more. These features allow you to capture more emails and grow your newsletter quickly.
For even more list-building ideas, check out our tips on how to collect email addresses in WordPress.
3. Optimize Your Author Website for SEO
Search engine optimization, or SEO, is a technique that helps drive more traffic to your website from search engines for free. One effective way to improve your site's SEO is by using a plugin called All in One SEO for WordPress.
This plugin is a popular and user-friendly tool for optimizing your website, even if you lack technical expertise. One of its key features is schema markup, which tells search engines that your website is about a person, complete with a photo or headshot.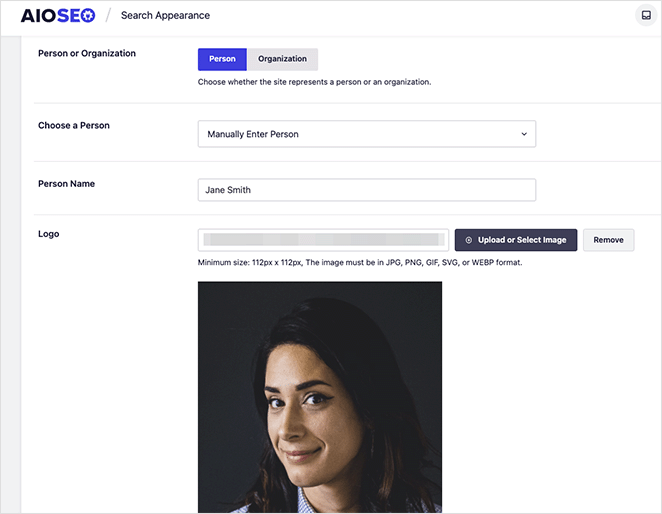 In addition, All in One SEO offers ways to track your website's SEO score and provides suggestions for improving your on-page optimization.
4. Add Contact Forms to Your Site
Beyond promoting books, an author website can serve many different purposes. You can use it to generate new business opportunities, collect feedback from your fans, and build your brand in other areas.
With that in mind, adding a contact form to your website is a good idea. That way, visitors can quickly send you feedback and messages.
To set this up, WPForms is an ideal solution. This plugin is popular among WordPress users for its easy drag-and-drop form builder.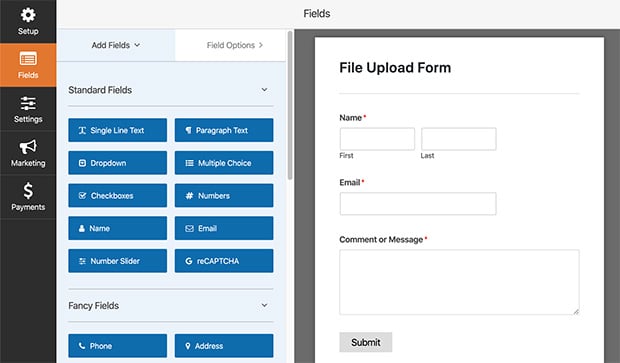 WPForms offers countless features to enhance your contact form, and you won't need any technical know-how to get started. These features can help with the following:
Managing entries
Conducting user surveys
Creating real-time polls
Receiving instant notifications
Pre-designed form templates
Spam protection
5. Sell Online Courses
Authors across various genres, such as self-help, health and nutrition, and business, have found success in providing online courses and exclusive member-only content on their websites. This enables them to diversify their revenue streams beyond simply selling books.
If you're interested in creating a similar offering on your website, one helpful tool is MemberPress. It's a popular WordPress Membership plugin that allows you to sell subscriptions, restrict content access to paid users, and sell online courses easily.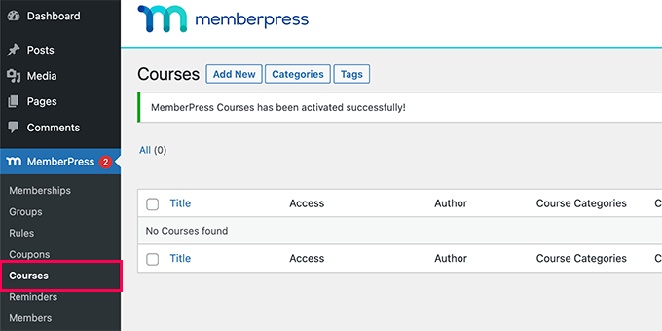 Using MemberPress, you can accept online payments, set up recurring payments, organize and present course content, implement rules for delivering content, and more. For a comprehensive overview, check out our guide on building a membership website.
6. Analyze Activity on Your Author Site
Once your website is up and running, keeping track of its performance is crucial. One convenient way to do that is to use a plugin called MonsterInsights. As the top Google Analytics plugin for WordPress, it makes it simple to add Google Analytics to your website.
With MonsterInsights, you can access easy-to-understand reports directly on your WordPress dashboard. This gives you a comprehensive understanding of your website's traffic sources and visitor behavior.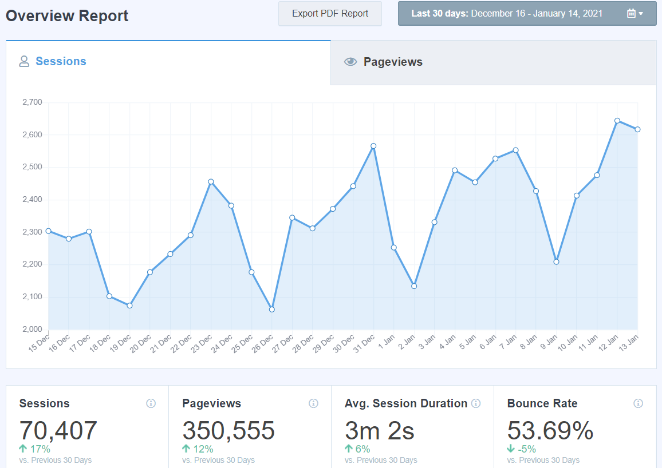 It also allows you to monitor the conversion rates of various website elements, such as forms, buttons, eCommerce, and more. This helps you optimize your website and increase the number of visitors who sign up for your newsletter, buy your books, or join your membership program.
Final Thoughts
Learning how to create an author website doesn't need to be daunting. With the right tools, you can make a successful website without hiring a developer, so you can build your online presence and promote your books.
We hope you found this tutorial on creating an author website helpful. Before you leave, you might also like this guide on creating a coming soon page to collect emails before your site launches.
Thanks for reading. Please follow us on YouTube, Twitter, and Facebook for more helpful content to grow your business.