Are you looking for the best WordPress author bio plugins?
Adding an author box to your content can help readers relate to you, increase your authority, and attract guest authors to your WordPress site.
This article will share some of the best author box plugins for WordPress.
What Is a WordPress Author Box Plugin?
An author box plugin is a WordPress plugin that adds information about your content's author to blog posts and articles. Typically it includes an author avatar, a short author summary, and in most cases, social icons.
Why Use an Author Profile Plugin for WordPress?
WordPress offers an author bio section by default by pulling information from the user profile. The result is a simple author box with limited customization options.
In contrast, an author bio plugin makes it easier to change how the author box looks, add social profile links, and more.
Including a custom author bio section on your website can also have many benefits:
Build a more personal connection with your readers
Improve the trust and authority of your content
Encourage guest authors to write for your website
Best WordPress Author Bio Box Plugins
So far, you know what an author box plugin is and why you need one. Now let's look at the best author bio plugins for your WordPress site.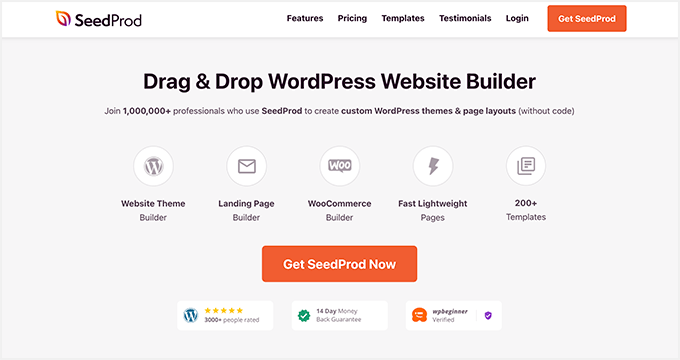 SeedProd is the best website builder for WordPress. It lets you create custom WordPress themes, high-converting landing pages, and flexible website layouts without code.
This powerful plugin includes 200+ themes and templates you can customize with the drag-and-drop page builder. You can also choose from 70+ content blocks to add custom content to your design.
One of those blocks is the Author Box. It uses the WordPress author profile information to add a fully customizable author box to your site.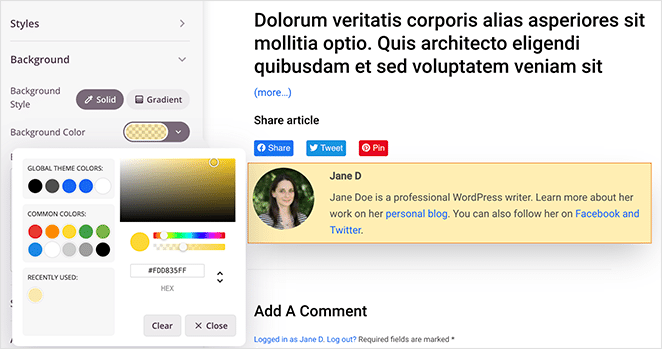 You can display the author box anywhere on your website, including posts, pages, and even your sidebar widget area. It's super-easy to use, and you won't need help from a developer to get started.
With SeedProd's theme builder, you can even create an author website without code. It lets you build custom author pages for every writer on your site an customize them visually.
You can create a simple landing page with SeedProd for free. You'll need the pro version to add an author box with customization options. SeedProd pricing starts from $39.50 per year.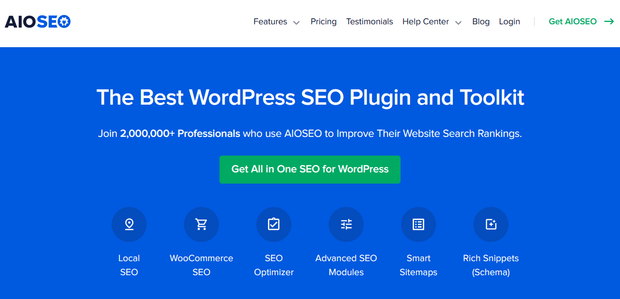 All In One SEO is the best WordPress SEO plugin. Over 3 million website owners use this plugin to improve their SEO.
It's a comprehensive SEO toolkit that helps you improve your website's search engine rankings without needing an expert.
For example, the easy setup wizard helps you choose the best SEO settings for your site. You can then work on optimizing your site for better search results.
All In One SEO improves the default WordPress author profile. You can add social media links to the metadata and connect your Twitter and Facebook profiles to make your author bio section more engaging.
You can get started with All In One SEO for free. The premium version starts from $49.50 per year.
See our All in One SEO review for more details.

Simple Author Box is one of the best free author box plugins available. Over time, this simple author box plugin has grown into a feature-rich solution with many customization options.
You can customize almost any aspect of your author bio box with author information, social media links, and a custom Gravatar. It's also easy to control the colors, background, fonts, etc.
You can show the author's email address for readers to get in touch. Plus, as you work on your custom author bio, you can see a live preview of your changes.
As mentioned before, this plugin is free. However, the pro version offers many more features.

Monlongui Authorship is an excellent WordPress author bio plugin. It lets you show an author box, guest contributors, and even co-authors on your WordPress site.
You won't need to create new WordPress accounts to display author bios with this plugin. Instead, you can credit multiple authors at once in your existing post bylines.
Molongui Authorship offers many customization options via the WordPress customizer, including:
Colors
Layouts
Fonts
Avatars
And more
You can also show the author bio above or below your website content.

Starbox is an easy-to-use free author bio plugin. It lets you make custom author bio boxes using its extensive features.
This plugin offers many starter themes for your author box, allowing you to create unique bios for every author on your website. You can add your author's name, image, job title, social profiles, and much more.
Additionally, you can add tabs to your author box showing that writer's latest posts. It also integrates with WooCommerce for your online store.

Meks Smart Author Widget is a powerful WordPress plugin that lets you add an author bio to any widget-ready area of your WordPress website. That includes your WordPress sidebar, footer widgets, after post widget area, and more.
For instance, you can show the author's avatar, bio information, and social media profiles. You can also link to their author profile page, which shows a list of that writer's blog posts.
This plugin is easy to use and includes a feature that detects the author for specific content automatically. That way, you can find the correct author for an article and display their profile instantly.
For this plugin to work effectively, you'll need to ensure authors fill out their user profiles completely.

WP Post Author is a straightforward free WordPress author bio plugin. It works seamlessly with your existing website design, so your author bio box has a consistent look.
This plugin allows you to display the author's profile picture, job role, name, biography, and social media links. You can also display which information shows in the author bio and its alignment.
There are 3 widgets and a shortcode for displaying your author profile box. Plus, as mentioned before, you can use them in any widget-ready area of your website.

Author Bio Box is a super simple WordPress author bio plugin that's free to use. It will display a simple author bio section under blog posts on your WordPress site.
You can include an image, social media icons, and a short description in the author box. The overall design is minimalist, so it won't distract readers from your content.
Author Bio Box lets you control the text, title color, background color, and border size. As a result, you can tweak the design to suit your branding.
The best free WordPress author bio plugin is Simple Author Box.
There you have it!
We hope this article helped you find the best WordPress author bio plugins for your business. You might also like our guide on creating a custom single post template in WordPress.
Thanks for reading. Please follow us on YouTube, Twitter, and Facebook for more helpful content to grow your business.