Fresh out of the oven, we are thrilled to announce SeedProd 6.15.8, loaded with new features that will take your website-building experience to the next level.
One of the most notable new features is the ability to copy and paste sections across SeedProd pages and websites. In addition, we've introduced a new Team Member block, making it simple to showcase your employees on your website.
Check out the video below for a quick overview of this release:
If you need more information, keep reading to learn how these powerful new features can help grow your business.
Copy & Paste Across Pages and Websites
If you've ever created a WordPress website before, you'll know that it can involve repetitive work. For example, if you're working on a unique call to action section, you'll need to rebuild it from scratch to use it on another page.
The same is true for other client projects. You'll likely want to apply and re-use similar design frameworks across different websites.
Wouldn't it be great if there was an easy way to take the style from one page section and apply it to another?
Well, now you can with SeedProd's new Copy & Paste Sections feature.
With this powerful new design option, anyone with a paid SeedProd license can easily duplicate sections of their WordPress pages.
To use this feature, simply open the Layout Navigation panel, click the 3 dots next to the section you want to copy, and click the "Copy Section" option.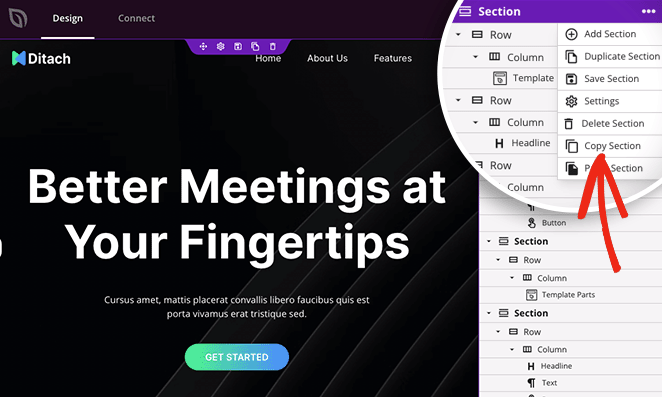 From there, you can navigate to another SeedProd page, repeat the same process, and click the "Paste Section" option. Your copied section will instantly appear on your new page exactly how it was on the original.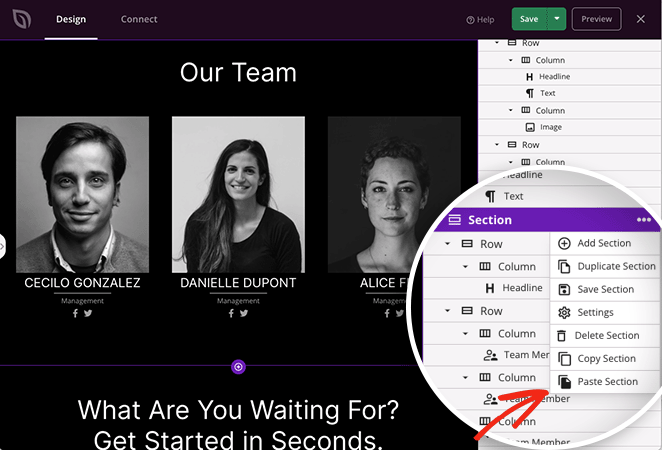 But that's not all. This entire process also works across multiple SeedProd websites, so you can clone the same designs to other projects.
How's that for a time saver?
Instead of manually recreating a section, you can copy and paste it, which is especially useful for creating multiple pages with similar layouts.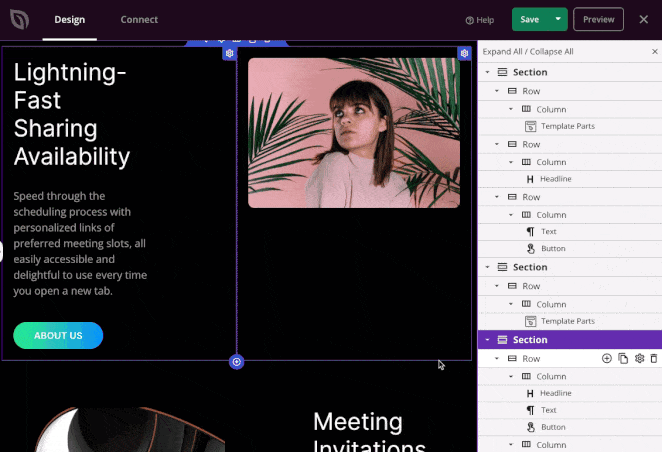 For example, you can take a section from your homepage and put it on your services page. Or, you can take that same section and add it to another website design.
It's also an efficient way to collaborate with team members. If you're facing a tight deadline, you can copy, paste, and tweak a section your team has already created and publish it in minutes.
The Copy & Paste Sections feature is a valuable tool that streamlines the website building process resulting in a more productive workflow. It eliminates repetitive work, allowing for the easy duplication of designs in WordPress pages and across multiple WordPress sites.
Showcase Your Team in a Few Clicks
Another exciting addition to our library of Pro WordPress blocks is the Team Members block. With this powerful tool, you can create a visually appealing section on your website dedicated to showcasing the individuals who make up your team.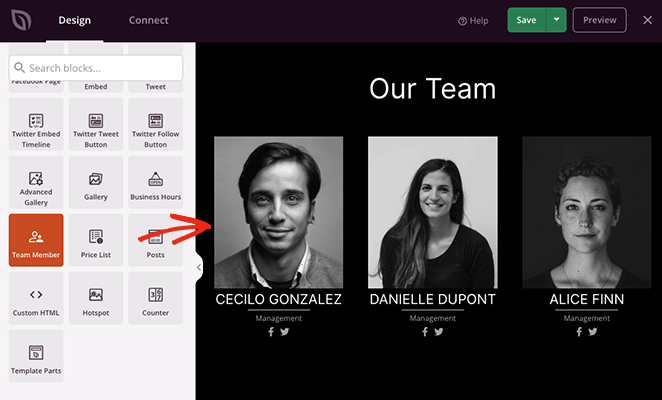 In the block settings, you can add custom images for each team member and control various image settings, such as size, shape, and position.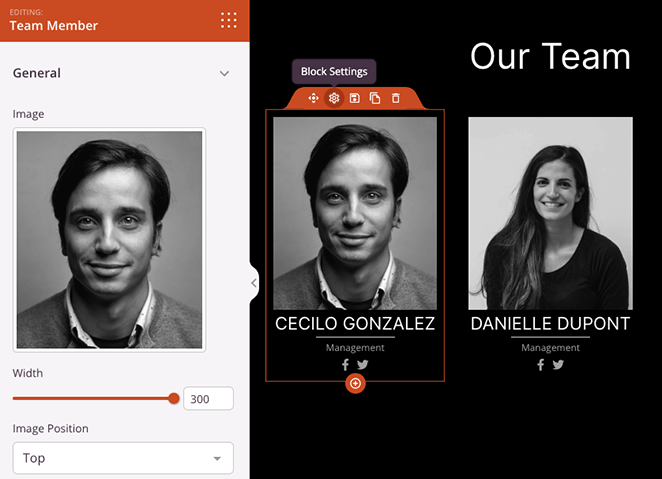 Moreover, you can include a team member's name, job title, and adjust visibility settings for mobile and desktop devices. This allows you to create a responsive and dynamic team section that adapts to different screen sizes.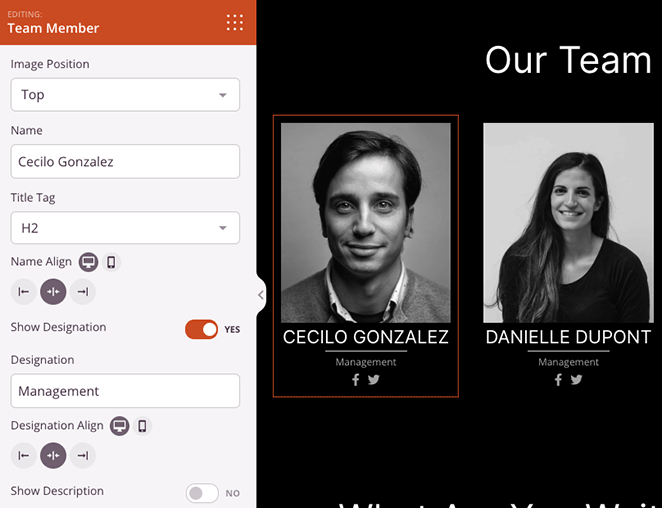 The block also offers options to customize the separator position and add links to each member's social media profiles.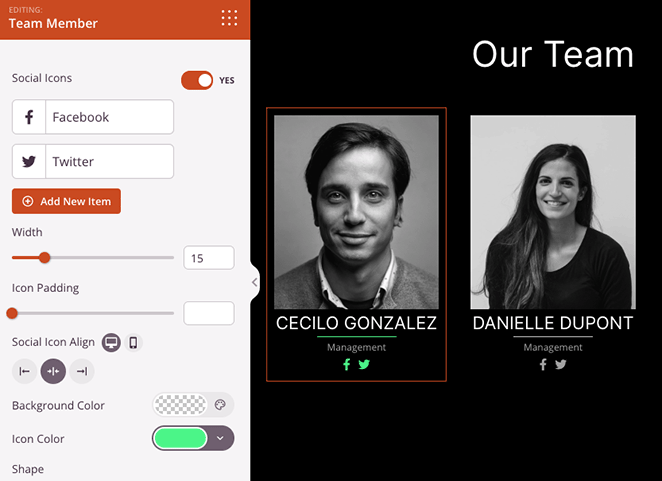 The Advanced tab provides even more customization options, allowing you to fine-tune the design and layout of the team members block with custom typography, colors, backgrounds, spacing, and more.
You can use the Team Members block to create a dedicated "About Us" or "Meet the Team" page on your WordPress site or include a team section on your homepage. It's also a fantastic way to feature specific team members on a landing page or a page relevant to their role in your company.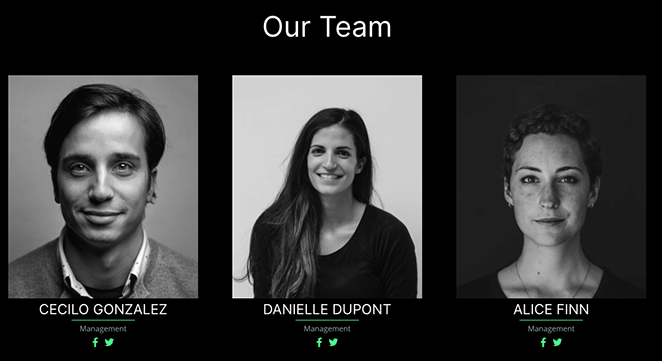 By showcasing the people behind your brand, you can build trust and credibility with your audience, making them more likely to engage with your business.
6 New Website Template Kits
If that wasn't enough, we also have 6 stunning new theme template kits for you to try. They include everything you need to create a professional-looking website without the hassle of starting from a blank page.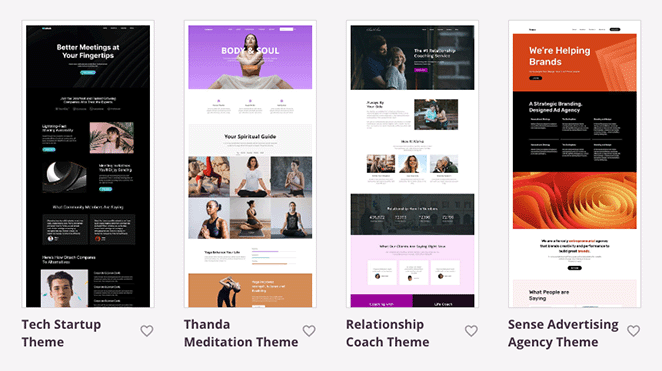 Our latest website kits include the following:
Tech Startup
Meditation Classes
Relationship Coach
Advertising Agency
eBook Author
Real Estate
You can view them in the template library on our Themes page and inside the SeedProd plugin. Looking for a design that we don't currently offer? Get in touch to tell us exactly what you need.
Update Your SeedProd Plugin Today
That's a wrap for now. If you have a premium plan, make sure you update your site to the latest version of the SeedProd plugin to try this exciting new update.
And if you're new to SeedProd, now is the best time to get SeedProd Pro and take this update for a spin.
We're so grateful for your continued support, feedback, and suggestions. Please keep them coming by reaching out to us.
We hope you enjoy using these new features as much as we enjoyed creating them. Thank you for helping us make SeedProd the best WordPress website builder.