Last updated on: August 29, 2019
Last week, we took at look at some of our favorite B2C under construction pages and what made them great. This week, we're turning our attention to B2B under construction pages and how they differ from B2C pages.
Two words come up again and again with B2B businesses:
Not only do B2B companies need to build a relationship with their clients, they also need to show their clients the value of their products or services.
Relationships become important because for some B2B companies, sales cycles get longer or more complicated. Sometimes, it's not as simple as adding a product to a cart and checking out. To keep a prospective client interested, B2B businesses have to build up relationships.
Likewise, business leaders don't tend to act on spur of the moment emotions. Buying decisions are more rational. Clients need to be shown the business value of your products or services so that they can make an informed decision to buy from you.
B2B under construction pages that put the right emphasis on business relationships and value are going to perform better than those that don't. Let's take a look how these B2B concerns are addressed in 10 great B2B under construction pages.
Want to create your own? See our tutorial on how to create a modern "under construction" page in WordPress.
Build Relationships with Your B2B Audience
Some B2B pages focus on relationships, either to keep potential customers and clients interested through a longer sales cycle, or to help turn them into repeat customers.
Please be aware that some of the under construction pages below no longer exist, either because the company has taken off or has decided to close.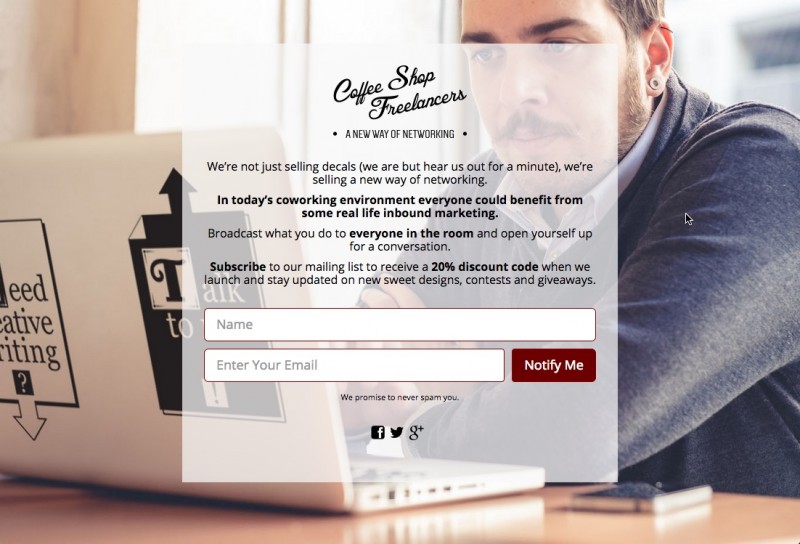 For Coffee Shop Freelancers' under construction page, the focus of the copy is networking, a key concern for a target audience of freelancers. The page offers the value of helping with that top concern, but also uses visuals and the rest of the page content to begin a relationship with potential customers. A subscription signup and social media profile links give visitors several ways to get connected and stay informed.
After all, repeat customers are important; it actually costs more to bring in a new customer than to retain an existing one.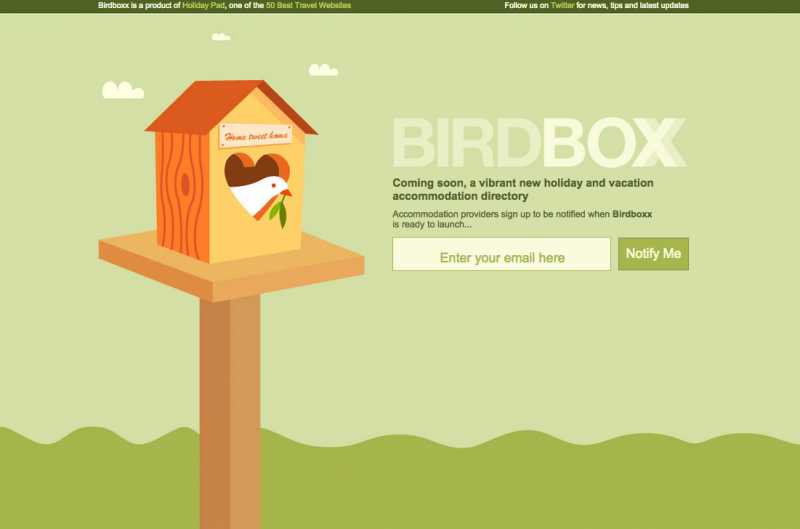 With its page, BirdBoxx hopes to build a long-term relationship with its target audience of accommodation providers. This is important because the company's services won't be a one-time sale. BirdBoxx will need to get clients to use their services repeatedly to meet their goals.
The birdhouse design and brand name are prominent in this under construction page design, and will likely be seen time and time again on the finished site and advertising materials. The distinct design could help efforts to build those all-important customer relationships.
For its value offer, the page promises a "vibrant new holiday and vacation accommodation directory" – which, for travel industry clients, could be very appealing. An email signup rounds out the page.
Shopidex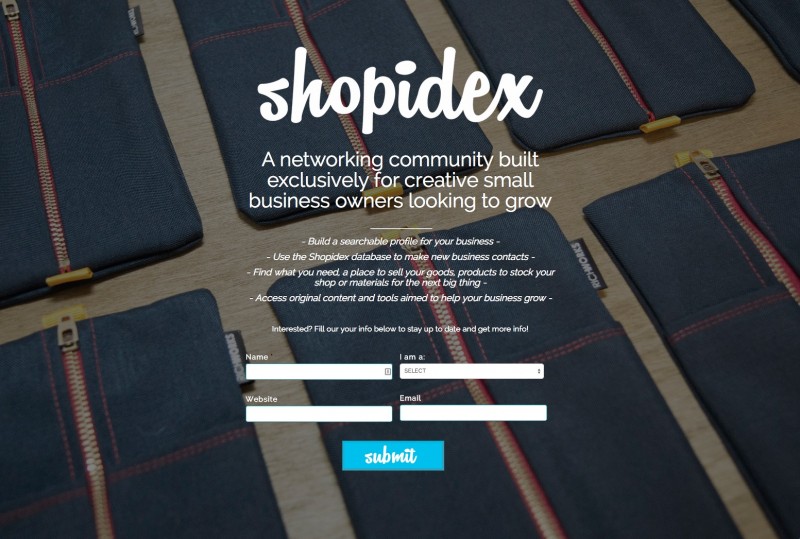 The Shopidex under construction page is about B2B relationships from its very first words. The page promises an offer of a networking "community" for small business owners. A Gravity Forms section enables business owners to input their info right on the under construction page to become part of the community.
However, it's worth noting that between the site description and signup form, the page gives a bullet list of values the community will provide. Even though the purpose of this page will be to build long-term relationships with business clients, the page shows clients what value their services will provide.
Brand Ahead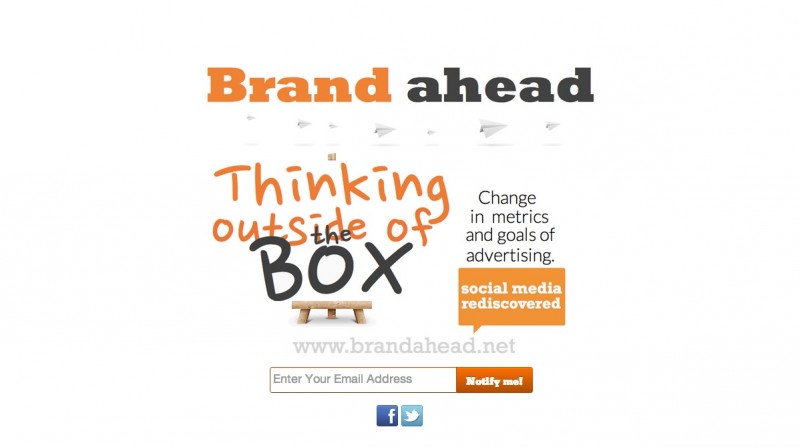 Brand Ahead is another business that puts the focus of their under construction page on long-term relationship building. This B2B business' services are focused on advertising, an industry that typically requires longer sales cycles than a quick online purchase.
The "thinking outside of the box" graphic adds an incentive for like-minded visitors to connect with the brand. An email signup along with Facebook and Twitter profile links give those potential customers several ways to begin a relationship with Brand Ahead.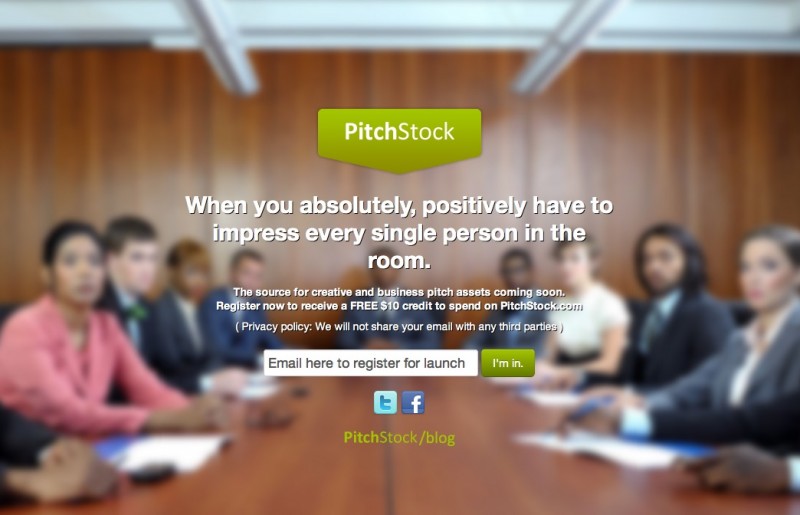 PitchStock is another company that does a nice job starting that business relationship with under construction page visitors. A key step is identifying with your potential customers. This page does so with a well-chosen visual and nice copy.
The boardroom view in the image could be intimidating to many potential customers, and addressing that concern could go a long way to cement a relationship. The page's tagline identifies a thought many potential customers might have: the need to impress everyone in the room.
While the background image and tagline get visitors interested in a B2B relationship, the page's email signup, social media links, and blog link give them ample ways to get connected.
Demonstrate Value to Your B2B Audience
Other B2B under construction pages can focus on the value of a particular product or service. Telling a visitor upfront how your business offer can help their business goes a long way towards winning their business.
Bookelish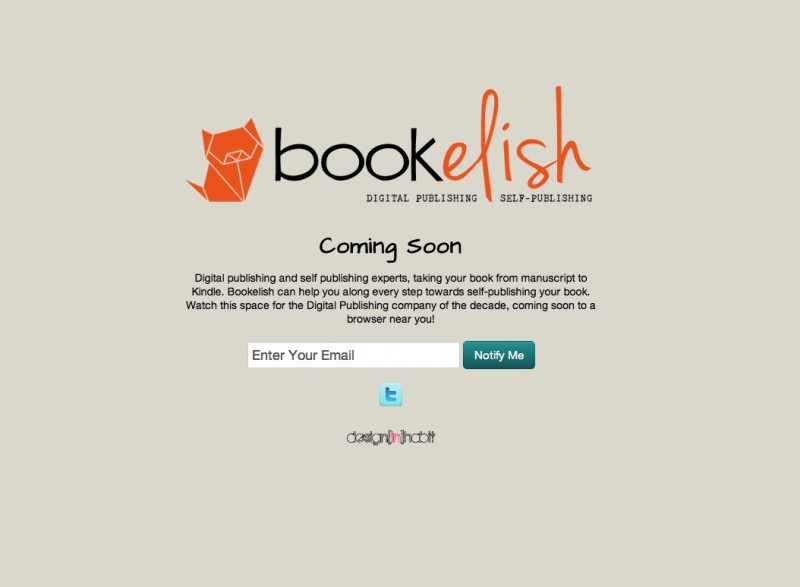 Bookelish's under construction page offers services to authors who want to publish and sell their work. The under construction page offers several values to its audience. The site promises experts in the publishing field help with self-publishing, and the promise that it will be a major publishing company — "of the decade" — is of big potential value to authors.
The page follows up its value-focused copy with a prompt for visitors to sign up for email and a link to the company's Twitter page – valuable tools to help Bookelish continue building a relationship.
The Threads Collective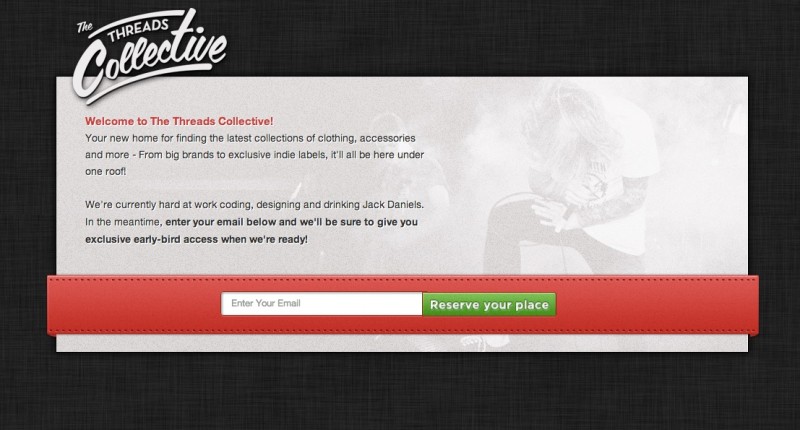 With its under construction page, the Threads Collective leads off with the value of what types of goods they will sell and what quality potential retail clients can expect. The page promises "clothing, accessories, and more" sourced from the latest fashion collections. Big brand names and indie label goods will be on offer and the page emphasizes the added value clients receive by having access to both from the same vendor.
This site follows up its value case with a few words that might help build a relationship with target clients: we're currently hard at work coding, designing and drinking Jack Daniels. This copy makes clear that there are real people behind the business and adds a bit of personality.
Lastly, the page makes sure to prompt visitors for their email and offers yet more value with the promise of "early-bird access".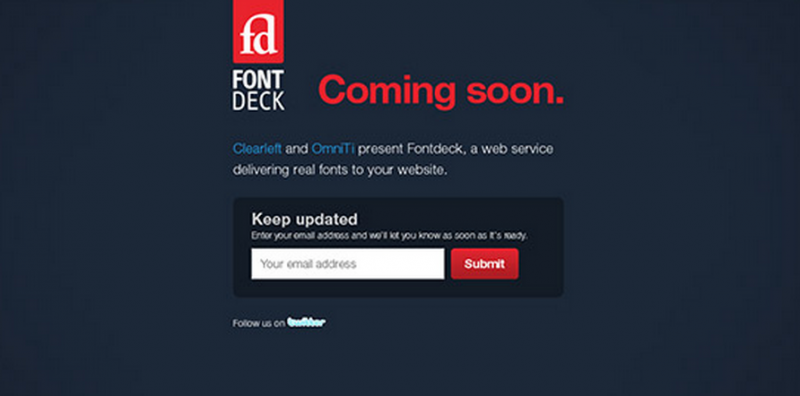 Fontdeck's under construction page keeps things simple, but makes sure to identify how their business can help clients. The company's service makes custom font options available to client websites – a simple proposition that could offer a lot of value for businesses that need custom website typography.
The page features an email signup and a call to action to follow Fontdeck on Twitter.
InstantPSD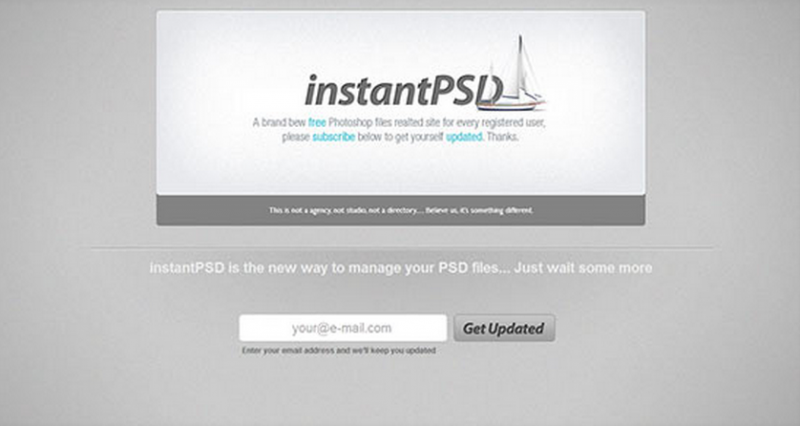 The under construction page for InstantPSD is short on copy length but not on content. It offers a "new way to manage your PSD files" for prospective graphic designer users – a specific pain point graphic designers are likely to identify with. Also notice that the word "subscribe" is highlighted in blue – it emphasizes the email signup call to action below.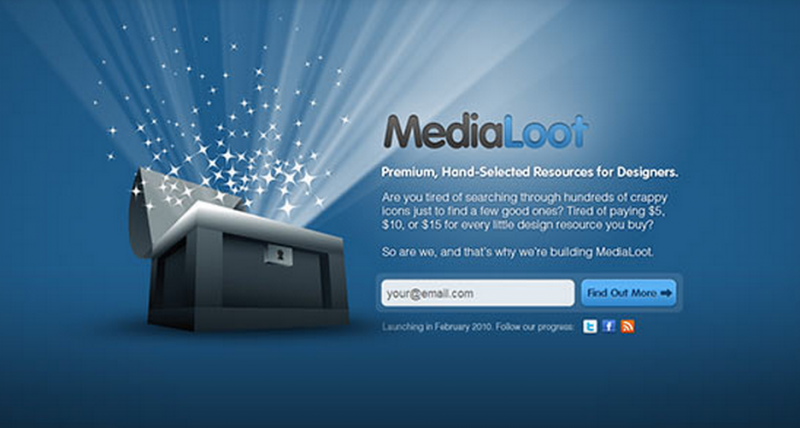 MediaLoot is yet another B2B under construction page targeted at designers. This company's tagline makes it clear what value the company offers prospective customers: design resources that are not only "premium", they're "hand-selected" as well. The under construction page doesn't specify the cost of its products, but does suggest it has a valuable deal for designers who sign up — presumably less than $5 for an individual resource, according to the copy.
This page is yet another that doesn't stop at value. Much of the copy also begins the process of connecting with potential customers, by identifying common frustrations with other design resource shops.
The under construction page closes with an email signup and several ways to connect — Twitter, Facebook, and via RSS.
Wrapping Up
For B2B businesses it's clear: your under construction page should focus on business relationships, business value, or both.
You can use your under construction page to not only keep the attention of potential customers and clients through a longer sales cycle, but also turn them into repeat customers by building relationships.
You can also give your B2B customers a reason to buy. Focus on the value your product and services provide to your customers and clients in order to win their business.
Lastly, remember that you don't have to choose only one tactic. Notice that even though some pages focus more on relationships or value, it's still hard to separate the two. A number of our favorite under construction pages on this list did a good job balancing both.
Put the right emphasis on relationships and value, and your B2B under construction page could help bring in business, even before your site launches.
Do you have a favorite B2B under construction page? Let us know in the comments below.