Are you about to launch a website using WordPress? If you are, you might notice a few problems that come up when you have a massive to-do list.
It could be that you're:
Overwhelmed by how big the project is, and
You miss some important steps in the confusion
Launching a site can feel challenging. You don't want to miss checking something crucial to your success. Fortunately, this post is here to help.
Today, we'll look at all the tasks, big and small, that need your closer attention. We'll explain why they're important and how to check each one off your WordPress website checklist.
Ready? Let's jump right in and get started with making sure everything's working right.
WordPress Website Prelaunch Checklist: Functionality
Before launching your site in WordPress, you need to make sure everything functions as it should. The last thing you want is for people to visit your website for the first time and discover it's not even working!
Talk about a bad first impression.
Try to complete this section of your checklist at least 4 weeks before you launch. That way, you can iron out any issues that take more time to finish than those further down your list.
1. Install a WordPress Backup Option
You should always have a backup solution on your website. Backups are like an insurance policy for your site. If anything goes wrong, you'll always have a backup to restore things to the way they were.
There are many good WordPress backup plugins available, both free and paid. Plus, they usually take only a few minutes to set up.
Make sure the plugin you choose automatically schedules your backups to save to the cloud. Cloud storage services like Google Drive, Amazon S3, and Dropbox are popular options.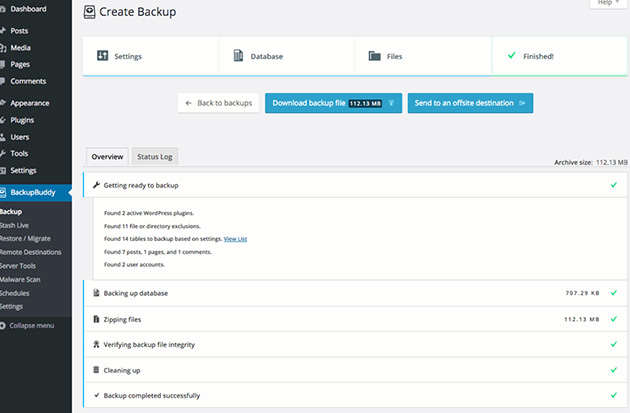 We recommend using BackupBuddy. It can store backups in more than one location, and it's easy to install.
2. Set Up Your Security Plugins
With a backup solution in place, you should turn your attention to the security of your website. Adding robust security protocols provides even more protection against hackers.
There are plenty of plugins that can help you, along with some wise advice in this ultimate WordPress security guide.
3. Create a Custom 404 Page
Sometimes a website visitor might land on a missing page or URL with a typo. In most cases, they'll close the page and head somewhere else. This is a missed opportunity for your site, but you can solve it quickly.
Installing a 404 page before you launch your WordPress website helps you engage your visitors and direct them to another area on your site.
SeedProd makes a 404 page plugin to make this easier. It also offers several ways to help you collect more leads.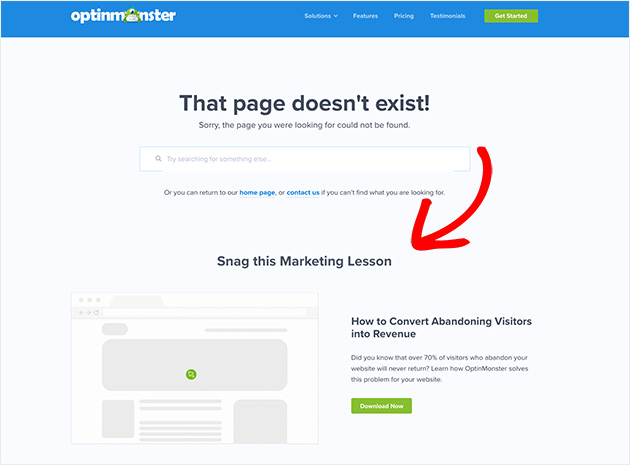 In this example, OptinMonster uses its 404 page as an opportunity to grow its email list with a lead magnet.
Follow this guide to create a 404 page in WordPress.
4. Secure Your WordPress Admin
There's no denying that WordPress is one of the most popular content management systems in the world. But with that popularity, it poses a big target for hackers to aim for.
Many sites run without facing this kind of threat, but it's better to be prepared just in case.
Security plugins like Sucuri Firewall help keep your site secure and prevent attacks. It's like having a personal security system for your home.
5. Create a Coming Soon Page
Another important task on your WordPress website pre-launch checklist is to make sure you have a coming soon page. This point on your checklist is crucial if you're still working on your design and content.
A coming soon page is like a teaser of your site. It lets people know that something is coming and allows them to stay notified.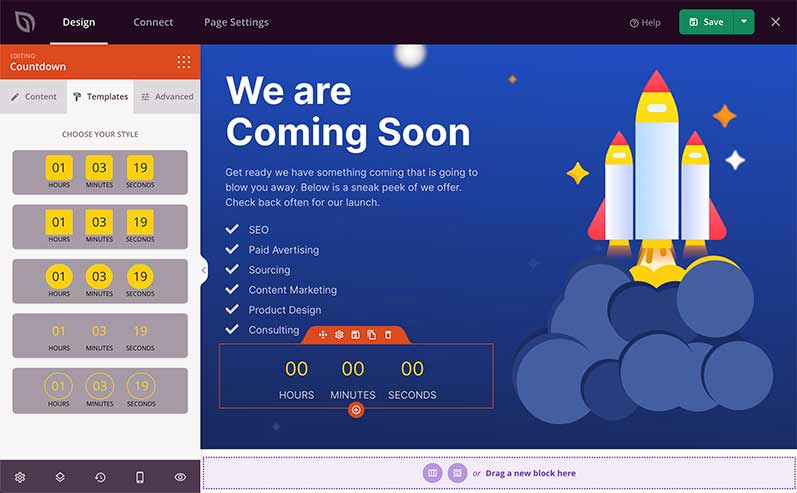 SeedProd's drag and drop theme and page builder plugin is the best choice for your coming soon page because…
You can launch your page in minutes while you work privately behind the scenes.
You can add signup forms to grow your email list before you launch.
Having an active coming soon page can give you a head-start in Google rankings.
It includes over 500,000 free background images to make your page look stunning.
Over 750 Google fonts help your content stand out and look sharp.
Choose from many coming soon page templates to create a beautiful page without knowing a single line of code.
To learn more about how to create a coming soon page in WordPress, check out this handy tutorial.
Or you can jump right in and get started with SeedProd:
6. Your Ecommerce Features Work
If your website has an online store, you'll need to ensure people can use it properly. If your store elements are broken or don't work as they should, it could prevent people from buying your products, which in turn can lose you money.
To give you an example, something as simple to fix as an awkward returns policy can cause 80% of people to abandon your site.
Go through the whole process as a customer: adding a product to the shopping cart to the checkout. You can even test a transaction to make sure it works properly.
If your products are digital, make sure you send them to the customer quickly, and there are no hitches in the process. You should also check invoices, receipts, shipping costs, and any taxes that need to be applied.
For WooCommerce users, you can add maintenance mode on your shop pages while you test things out.
7. Your Forms Work Properly
Most websites these days use a contact form. You might even have forms for subscriptions or generating leads.
Before launching your website in WordPress, make sure all your forms display and function correctly. Don't stop at perfecting the design, either. Ensure any forms that collect data store it in the correct place.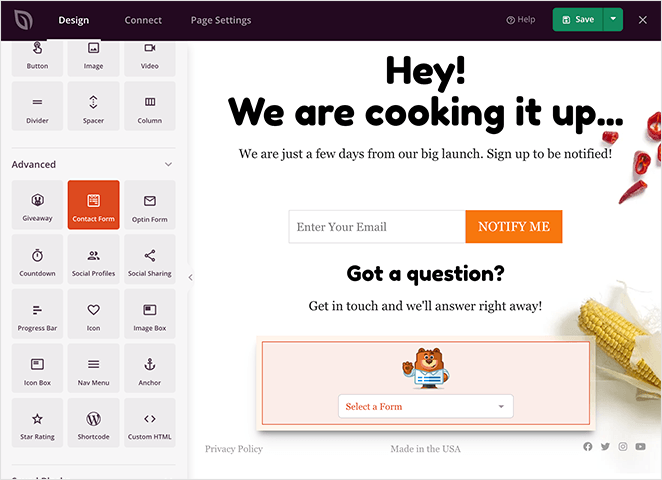 SeedProd's built-in contact form block makes it easy to insert a contact form. That way, people can contact you before you go live. Any emails collected can be stored in WordPress or an email service of your choice by connecting to Zapier or WPForms.
Additionally, ensure your WordPress survey plugin is installed and working correctly to collect Customer Feedback.
8. Your Site Functions in All Browsers
It would be nice for your website visitors to use the same browser. But the fact is, people have their own tastes when browsing the web. Many still use older versions of popular browsers.
You should check your site displays and functions across all browser types with that in mind.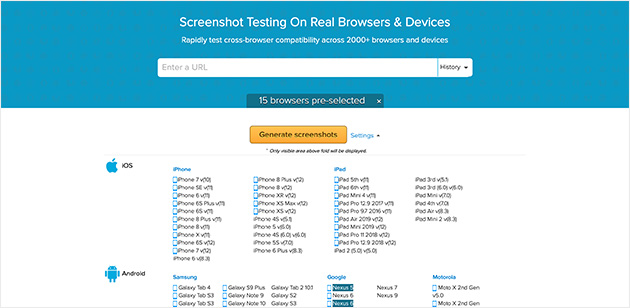 BrowserStack's Browser Screenshots is a great free web tool with an easy-to-use interface.
It's important to remember to check your site's functionality on mobile, which this tool allows. More and more users are accessing the web through mobile devices, so your site must present correctly for them.
9. Your Themes and Plugins Are Up to Date
It's vital to keep your version of WordPress, along with your themes and plugins, up-to-date to prevent any vulnerabilities. Hackers can easily take advantage of any weaknesses in outdated software.
The great thing is WordPress works hard to update anything with reported vulnerabilities. So the best thing you can do for the safety of your site is to keep everything updated.
10. Your Site Is Accessible
Another thing you can overlook when launching a website is how accessible it is.
Accessibility is all about making sure your site can be used by everyone, regardless of their ability. This includes visitors who have problems with their sight or hearing.
Think about your site's structure.
Can you reach all pages easily?
Are there any obstacles?
Is your content labeled in a way that would make sense to screen readers?
Is the text large enough to read?
Check out this guide to learn more about improving accessibility in WordPress.
WordPress Website Checklist: SEO and Marketing
The next section of your WordPress launch checklist deals with your site's search engine optimization (SEO) and marketing. This is how people will find your site in search engines and how you'll reach them on other platforms like social media.
11. Connect Your Site to Analytics
Before you launch your site, make sure you have a way to track your site's performance. After all the work spent on building and readying things, you want to know how many users are visiting, how they got there, and where they spend the most time.
Google Analytics is the standard choice for many websites wanting to track this data. Several great plugins will integrate Google Analytics with WordPress.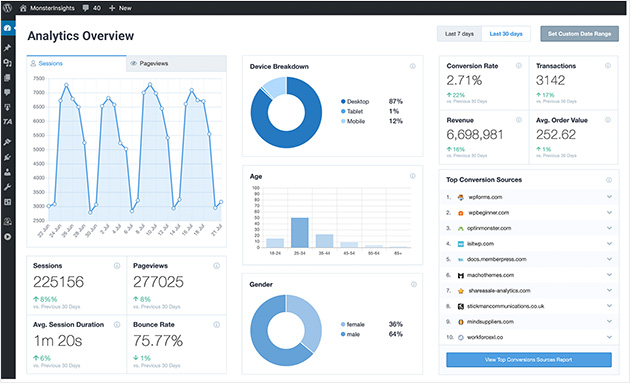 MonsterInsights makes it easy to add tracking codes to all your pages and collect data about search results and error pages.
You can view real-time stats, track affiliate links and even review analytics reports straight from the WordPress dashboard.
Check out this MonsterInsights review for even more details.
12. Set Up Meta Tags
Meta tags are a way for WordPress to talk to search engines like Google about what's on your site. They're like a cheat sheet that search engine bots can check to learn about your site's content, authors, images, and more.
It might sound technical, but don't worry, you don't have to know any code to do this. You can use a plugin like All in One SEO to add meta descriptions and more.
It makes sense to spend time helping search engines as they index and catalog your web pages, ultimately directing more traffic to your site.
13. Optimize Page URLs for Search Engines
Before you launch your site, you'll want to make sure that your page URLs look good, are easy to read, and are search engine friendly. This gives users and search engines more information about your content.
An optimized URL would look something like this:
https://seedprod.com/how-to-grow-your-email-list
On the other hand, an unoptimized URL might look like this:
https://seedprod.com/?p=69384
This is easy to set up before launching, but it can be tricky to change afterward!
There are several options for naming your post pages under Settings » Permalinks in your WordPress admin area.

We recommend choosing the Post Name option for most sites to keep things simple and easy to read.
14. Use Alt Text in Your Images
As we mentioned earlier, accessibility is vital for your site. The alt text of your images directly links with this as it helps support features like screen readers. That said, it's also a critical SEO feature.
Along with the Title tag, adding alt text will help search engines decide how an image relates to the rest of the content on the page. In turn, that could help your users find relevant content on your site via search. Here's a handy guide on alt text vs. image titles for beginners.
15. Test Your Social Integrations
Social media plays a vital role in the launch of your website. Don't miss out on using the power of viral marketing for yours.
Make sure people have a way to connect with your site on social media platforms like Facebook, Twitter, and Instagram. Also, check any social plugins on your site are working correctly.
Before you launch, SeedProd can help you grow your social following by allowing visitors to share your website with their network. You can even reward them the more they share with referral tracking. This can create a viral loop!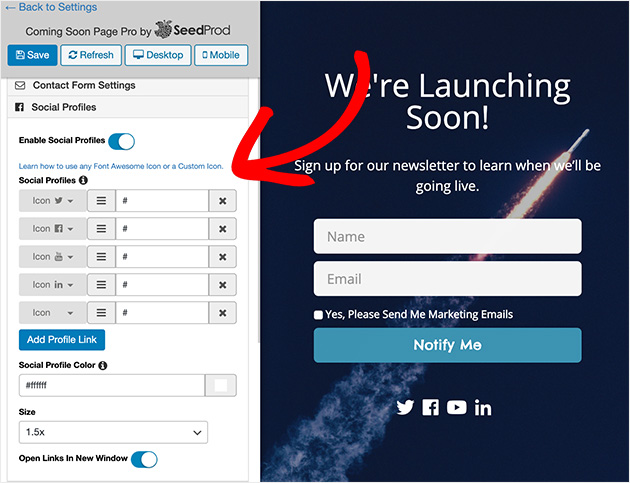 SeedProd also allows you to embed social media content directly in WordPress. For example, its Twitter and Facebook blocks let you embed your:

Twitter timeline
Facebook Feed
Twitter posts
Facebook events
Facebook meida
And much more.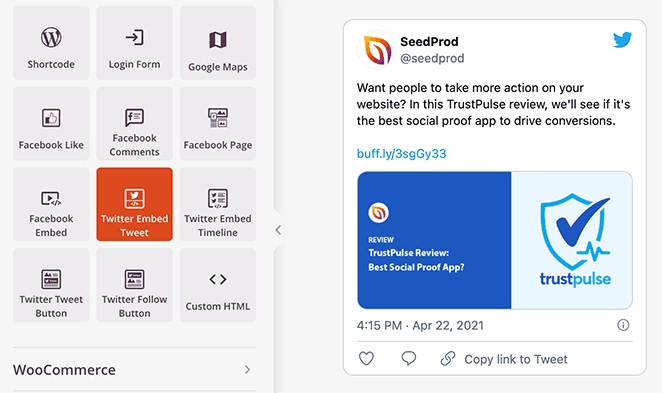 WordPress Launch Checklist: Content and Design
Ensuring the design and content of your site works flawlessly should feature towards the end of your WordPress website launch checklist. With important functionality and SEO tasks ticked off, it's time to check everything looks and reads well before going live.
16. Your Site Is Responsive Across All Devices
More and more people are using mobile devices to browse the internet.
With this in mind, make sure you know how your site will look and function on different devices. If you use the SeedProd page builder for your coming soon page, you shouldn't have any issues with this as it's 100% mobile ready and responsive to look good on any size screen.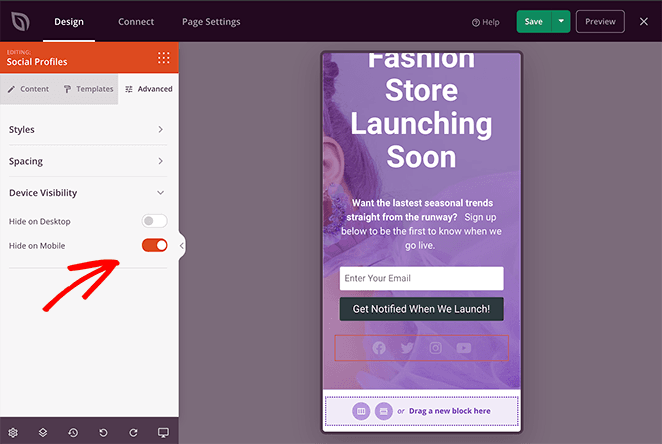 Google Chrome's Screen Resolution Tester is a handy tool to have. This Chrome extension lets you see how your site will look on various devices through your Chrome browser.
To see how your site will look on different devices, try using a tool like Viewlike.us. This free web program gives feedback on how readable your site is and how easy it is to use on different size screens.
17. Your Site's HTML and CSS Code Is Valid
Before you launch your site, it's important to ensure that your code is valid. W3 Consortium has a free online validator tool. It will check your HTML, CSS, XHTML, and XML code for errors.

Why is valid code necessary? It helps ensure your site works with the current standards used by major browsers. Errors that aren't taken care of could cause your site to break later on if a newer browser version conflicts with a problem in your code.
You can also help your site's SEO by running your code through validation software. Some errors may cause parts of your site to go unindexed, meaning they won't turn up in search results.
If you're using a professionally coded WordPress theme, it should check out just fine.
If you happen to run into a few errors, the validator tool provides suggestions on fixing them. But try not to worry too much; WordPress is continually being updated to adapt and change. There shouldn't be anything to worry about as long as your site functions as you want it to.
18. You've Site Has a Favicon
Favicon is short for favorites icon, and it usually appears in the top left corner of a browser tab. But it also appears in many other places, like a bookmark icon on desktop or mobile.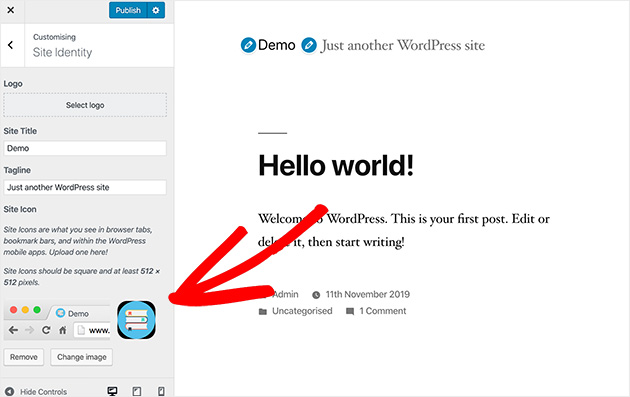 Most WordPress themes let you easily upload a favicon without any trouble.
WordPress lets you upload one via the WordPress Customizer and preview it before going live. This removes the need to add another plugin to your site.
19. There Are No Spelling and Grammar Errors
Poor spelling and grammar can easily make or break your site. We all make mistakes, of course. But any more than one or two minor errors on your site will lose the trust of your users and impact your business' credibility.
There are many tools and plugins to help you fix your spelling mistakes.
We recommend using Grammarly, an AI-powered grammar checking assistant.
Grammarly isn't just for WordPress either. The handy chrome extension checks your spelling and grammar live in your web browser, Google Docs, and social media.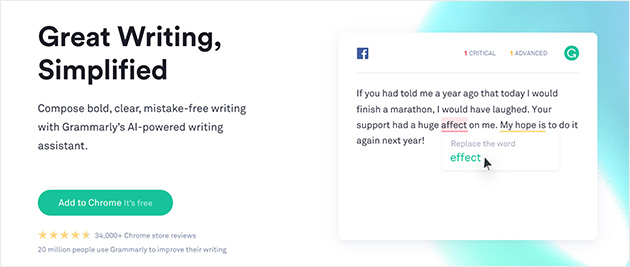 For more information on how to use Grammarly in WordPress, check out this guide.
20. You've Have Content in All Areas
As you're building your site, you may end up using placeholder content, thinking, "I'll fill this in later."
Placeholder content can be pretty helpful as you build and design your site. But, you need to make sure you go back and fill in all your content areas before you launch.
Sadly, there's no magic bullet plugin that will seek out such missing content areas.
You'll want to keep track of pages and sections where you've loaded placeholder content so you can find them easily. Also, consider having other members of your team or a beta user group work through your site to look for problems.
21. There Are No Web Page Formatting Errors
At times it's easy to overlook the simple things, like images being out of alignment or a heading in the wrong place. Take an objective look at your site and ask the following questions:
Are your content and images formatted so they display correctly on the page?
Is your use of text and image formatting styles consistent across the whole website?
If so, excellent!
If not, fix them now before your users confront the problems. If you don't know any code, you can easily use a tool like CSS Hero to make style changes on your site.
Having a uniform look and feel across your website provides a more professional experience for your site visitors. Inconsistencies give an amateur impression and can quickly put visitors off from staying.
Again an easy way to test this out is by having a beta user group navigate through your site and report back.
22. Your Print Style Sheet Is Created and Tested
This is a launch checklist item that many websites forget. Who prints web pages, anyway?
Still, there are plenty of reasons your users may choose to hit print:
Project or services quotes
Receipts
Resumes and bios
Info for viewing offline
Sharing an article
Giving your users a well-formatted print stylesheet is a nice touch, and it's pretty easy to set up.
23. Your Site Has No Broken Links
Broken links are both frustrating for users and damaging to your SEO. We recommend using Ahrefs to find your broken links, and you can use it for keyword research and analyzing competitors.
Using their site explorer tool, you can generate a report of all broken links on your site. Then you can export them in CSV file format to fix them before you launch.
Here's a great step-by-step guide for finding and fixing broken links using Ahrefs.
24. Your Footer Has a Copyright Notice
The footer is one of the last parts of your website users see, but that doesn't mean you can neglect it.
You should include your copyright notice in your footer.
It helps warn people that copyright laws protect your original work from the moment it's created. Or (if you want to), you can list your content under a Creative Commons license to allow others to use your content.
Some sites also include essential information such as their business address or contact information. Others include a mini-site directory with links to all the crucial pages available on your site.

Wrapping Up Your Website Launch Checklist
Getting a web page ready for launch is no small task, as you can see. A WordPress website checklist ensures you don't miss anything important for your site's success.
What's next? Once your website is launched and gets traffic, make sure you convert those website visitors into subscribers to grow your email list.
Before you go, don't forget to like us on Facebook and follow us on Twitter for more helpful WordPress guides and posts about making your site a success.