31 Best Coming Soon Page Examples + How to Create Your Own (2020)
Launching a website takes a lot of hard work. And if you have a website coming soon, what can be a better reward than to see your website analytics showing steady growth from day 1?
That's where a great coming soon page can help.
In this article, we show you the best coming soon page examples we've seen across the web, and why they work so well to build a buzz and generate leads before launch. Plus, we'll tell you how to get started creating your own.
To make it easier for you to navigate this article, we put together a table of contents. You can use it to skip to the section that's most useful to you.
Before we jump into our list of coming soon page examples, let's take a quick look at why you should create one of these for your own website launch.
Why Do You Need a Website Coming Soon Page?
A perfect coming soon page can give your website's launch a serious boost.
It can do that by:
drawing visitors to your email list and turning them into subscribers
helping your brand establish an SEO foothold by using proper keywords
promoting your social pages and increase your followers
helping you market your website before launch day
A well designed coming soon page creates anticipation and excitement among your visitors and compels them to return to your site as soon as it's ready.
Not sure what the difference is between a coming soon page vs. maintenance mode? Check this out.
But what makes a good coming soon page that converts? Let's take a look.
What Makes a Perfect Coming Soon Page?
Coming soon pages need to be properly optimized if you really want them to convert.
Here are a few things that a coming soon page should have:
a clear value proposition
a quick summary of the project to define its benefits for customers
engaging graphics
a call to action (CTA) that converts
social links to encourage sharing
Now that you have a brief idea why you need a coming soon page and what makes it a perfect one, let's move on to see some of the best coming soon page examples.
31 Best Coming Soon Page Examples
Below are some of the finest examples of coming soon pages we've collected from websites coming soon in different industries.
Let's begin!
1. WiseJack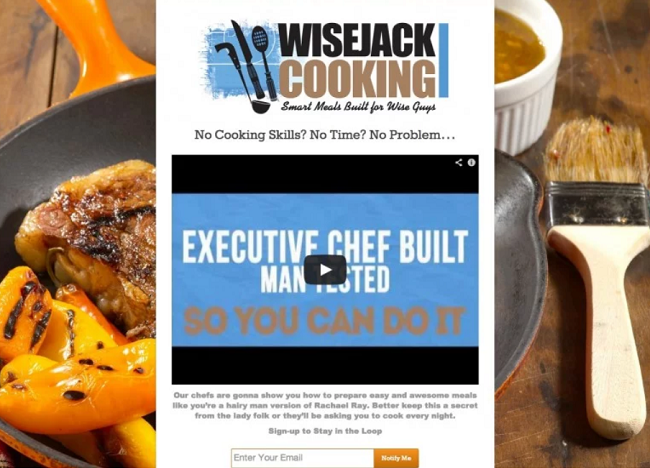 The coming soon page of WiseJack sends a clear message about what to expect from the website. It hooks you by asking a relatable question. Then it offers a smart way to help you solve your problem.
To entice visitors into interacting with the page, it embeds a video too. And finally, it tries to convince you to respond to its CTA by offering you something you'd love in return.
2. Backpacker Travel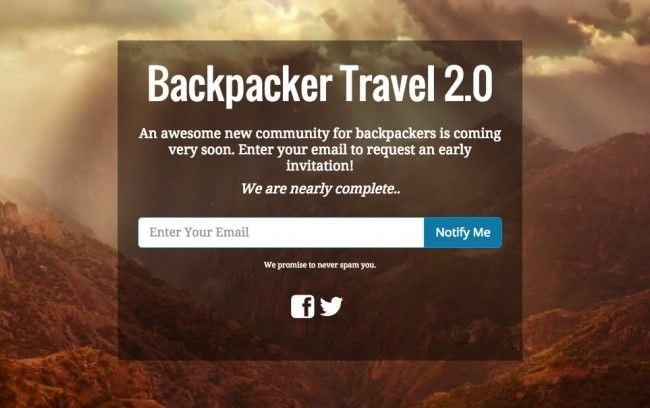 Backpackers Travel's website coming soon page design is a simple yet perfect one. The image in the background and the content has done a wonderful job to convey its message to potential backpackers about the upcoming community.
The translucent window against the content lets visitors read the information in the box without blocking the view of the backdrop. The CTA and the social icons can help them grow their email list and social media followings.
3. Fixers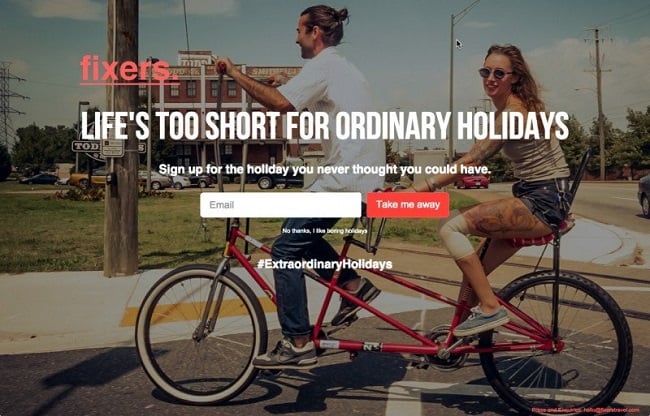 Fixer's coming soon page is another beautiful example for inspiring web designers. The first thing you notice on the page is the beautiful and vibrant image that replicates the message in the tagline.
The text in the CTA button is interesting too. It doesn't say something boring and obvious like "sign up for updates". Instead, it promises something more fun to match the niche of the brand: "the holiday you never thought you could have."
4. Arché Travel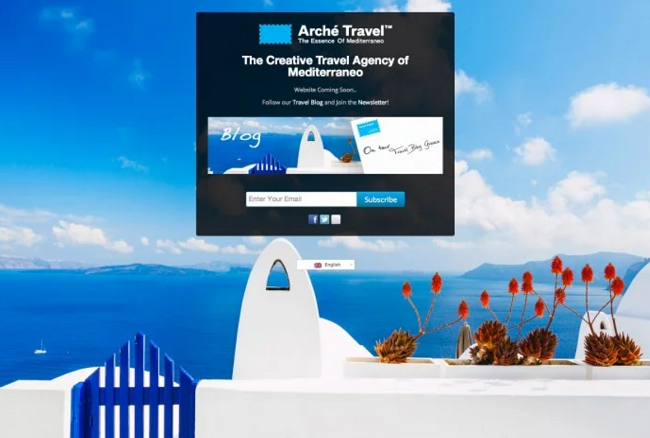 Arché Travel has done a wonderful job with it's coming soon page by trying to match its color scheme to the color of the brand. The agency has sought inspiration from Greece and has used website coming soon images to display a perfect tourist destination with its crisp white buildings against the calm blue sea in the background.
They have used a smaller version of the same image in the content frame which beautifully resonates with its blue coming soon logo and a customized blue subscribe button.
5. Atominx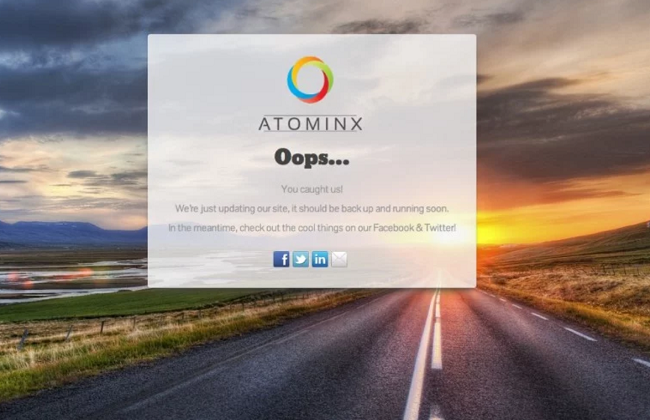 Got some maintenance tasks for your website? You surely don't want your visitors to land on your broken pages while you do that. A great idea to keep your visitors engaged during such times is to direct them to your other profiles until your site is ready to be back again.
Atominx did just that with their maintenance page that was designed using the Coming Soon Pro plugin. Its CTA did a great job to direct them to their social profiles while covering up the nuts and bolts used in the maintenance process.
6. Revista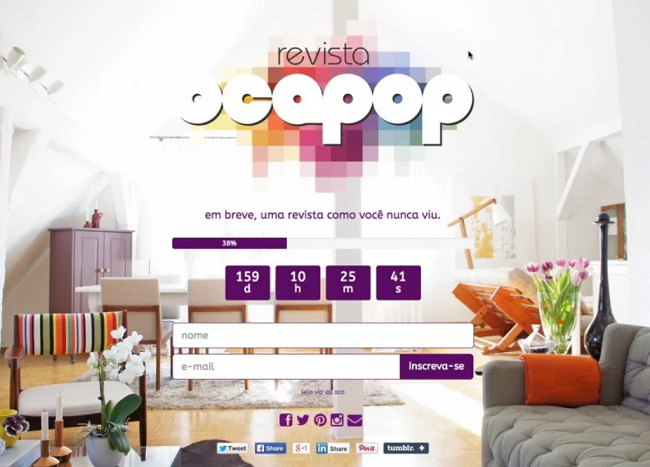 Revista's new website coming soon page is an absolute delight to look at. It just has so many great features tied together in such an appealing way. The content fits perfectly over Revista's featured image, with the logo filling up the empty space at the top.
We love the way they have synchronized everything with the purple color. The light purple wardrobe in the image looks stunning with the deep purple text, counter widget, and custom-colored social media buttons.
7. CleverDever Wherever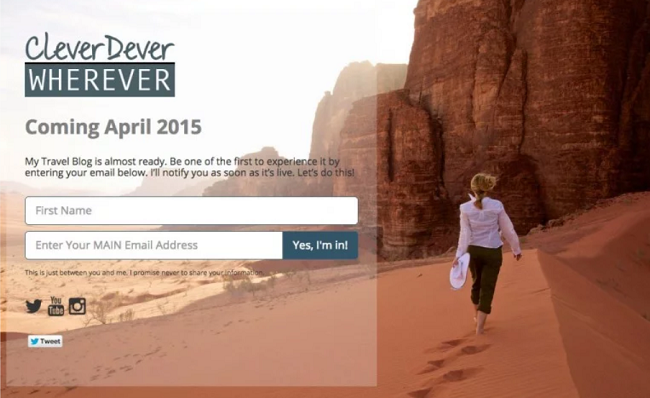 CleverDever Wherever's website coming soon design is another beautiful example to be inspired from. The blogger uses a promising image to encourage people to follow her on her adventurous journey. After adding such an apt image, the last thing anyone would do is to cover it up with a dead-center call to action.
The placement of the CTA was done in an interesting manner. The designer took advantage of Coming Soon Pro's near-endless customization options and arranged the content box on the left to leave room for a great visual focus on the right.
Check out this checklist for successfully launching your WordPress site to get up to speed.
8. Gator Treks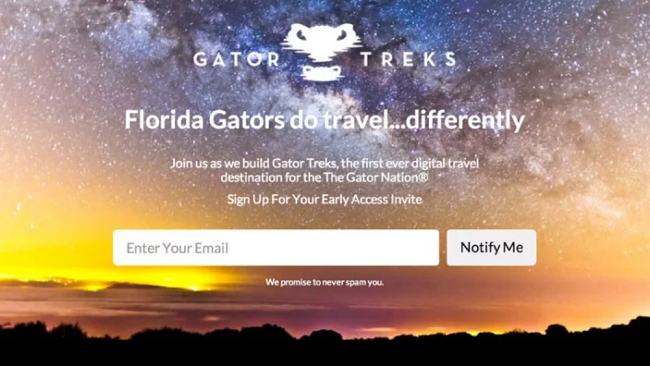 Gator Treks coming soon page design also looks quite inviting. The selection of the image is wonderful. The content on the page has been smartly used to build excitement while offering an air of exclusivity with its early access invite offer.
9. The Astonishing Post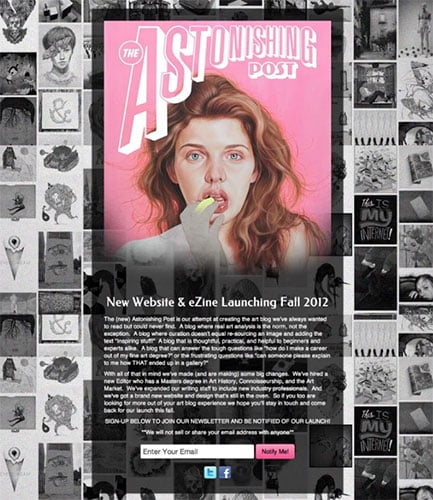 The right choice of colors can impact your website coming soon design to a great extent. The coming soon page of The Astonishing Post rightly does that by using the striking shade of pink.
The designer made wonderful use of the SeedProd Landing Page Builder color picker to choose just the right shade for their email signup button. The result is a perfect match with the page's other pop of color, the eZine's feature cover art image.
10. Les Mains dans le Cambouis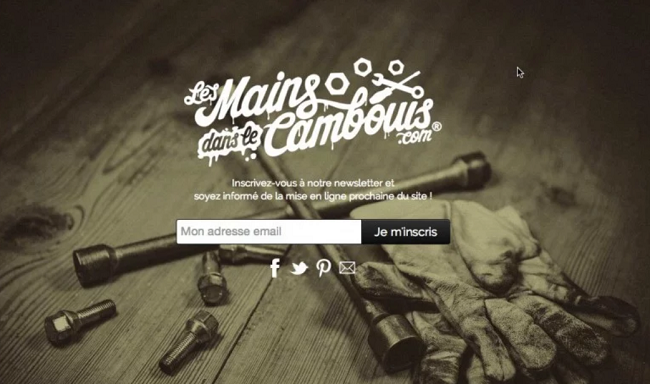 To come up with a perfect coming soon page, you don't really need to follow a standard format. The coming soon page of Les Mains dans le Cambouis with their one-of-a-kind word logo is a good example of that.
The coming soon page image logo is dropped right on top of a gritty photo of tools and gloves, probably covered in cambouis (that's dirty grease or oil for our non-French readers). An email signup option and some social links give the page a complete look and offers visitors more choices to interact with.
11. LAB Petite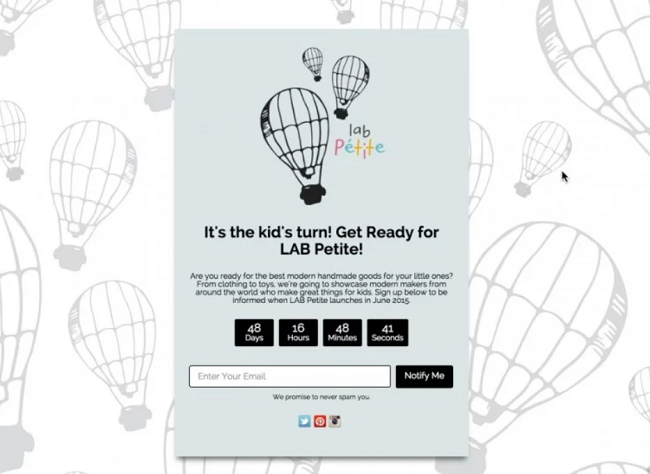 Lab Petite's coming soon page design with its whimsical hot-air balloon graphic is slightly different from the other examples in this list.
The content window balloons are sharp, with a colorful brand logo on its right, while the background balloons are arranged in the form of a light grey wallpaper pattern. That's a smart way to cover up the empty spaces if you're not sure how to use them.
12. Coffee Shop Freelancers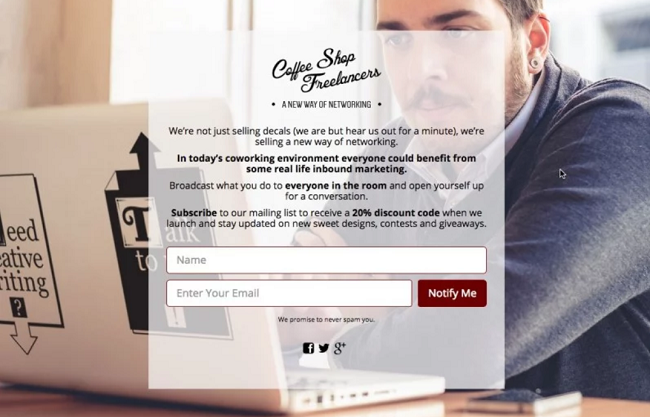 Coffee Shop Freelancer's coming soon page is another beautiful creation designed with SeedProd's coming soon plugin and landing page builder. Besides telling its visitors what it does, it has also tried to offer a discount at the time of its launch to attract customers.
13 Hosting Stars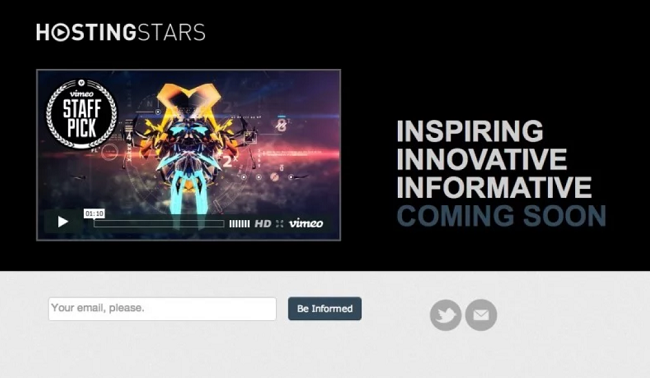 Hosting Stars took a slightly different approach and incorporated a video into their new website coming soon page. A Vimeo clip is included in a larger format on the left of the page, while the bold typography on the right tells visitors about the brand's values. The email signup and social links are arranged in a custom layout below.
14. Maria Mentiras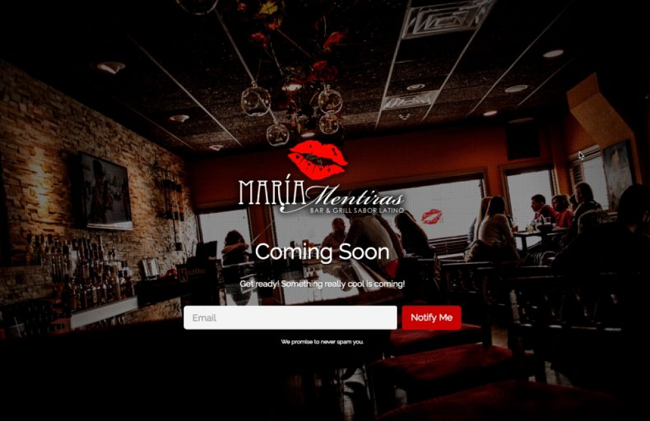 Maria Mentiras coming soon page is also a good example for you to be inspired from. The image in the background perfectly matches the business niche. The CTA button complements the color of the logo.
15. Beet Nut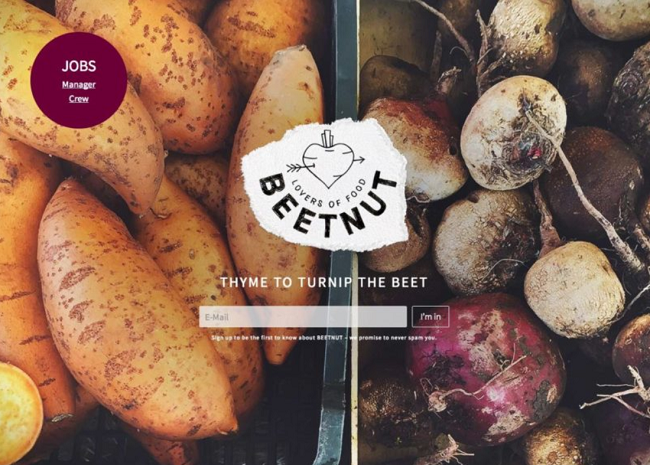 Do you see how Beet Nut have used its coming soon page to recruit their staff even before its launch? You can totally steal this idea for your business's launching soon page.
16. Phloem Coming Soon Page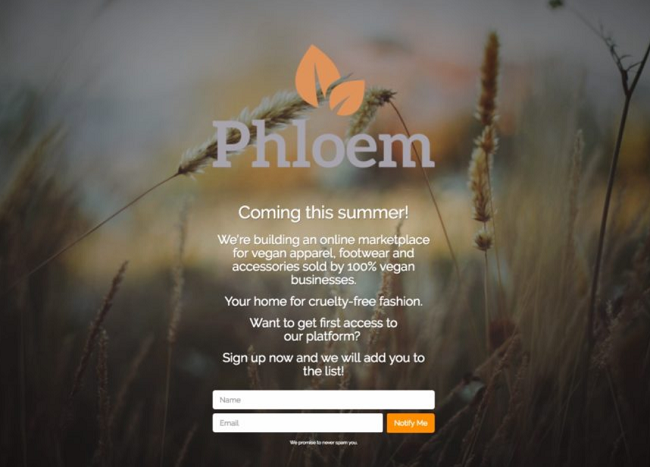 Phloem is yet another stunning coming soon page example created with the help of SeedProd's coming soon page templates. Since Phloem is launching soon in the summer, the designer has used a nice cool color to reflect the summery vibe in the overall design.
The picture in the background is beautifully complementing the feel. They have also used the content to describe what the business is about and why people might want to buy from them. Finally, it has asked visitors to sign up if they want early access to the store.
17. SeedProd Demo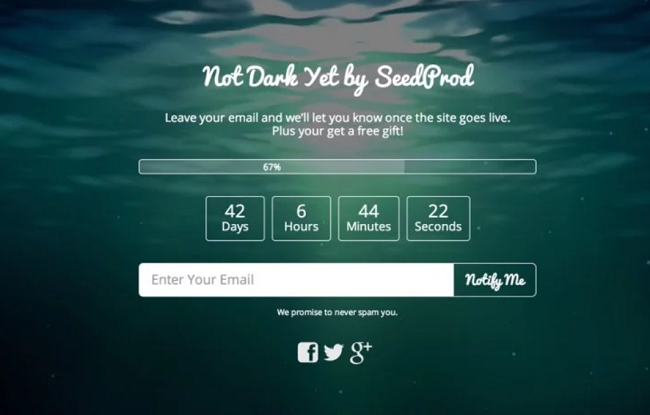 This is a demo page that we created with SeedProd's landing page and Coming Soon plugin. You can come up with a similar one if you want to overlay your text right on your new website coming soon image or video with just a slight tint of the image to make your words pop. It's a perfect way to make your page look sleek and professional while protecting your site while under development.
18. Indus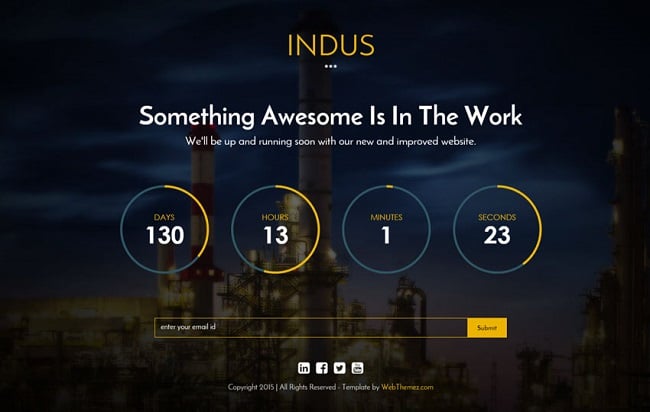 This is one of our favorite coming soon page examples. Indus has designed a page with a very rich look because of the bright yellow against the dark image in the background. They have not used too much text on the page but just a simple sentence to let people know that the site is launching soon with some great updates.
So people now know that they can expect an improved site. To keep up the excitement they have used the count down timer. The CTA button will help them expand their email list and the social buttons are a great way to get more shares and followers on social media.
19. Dizaind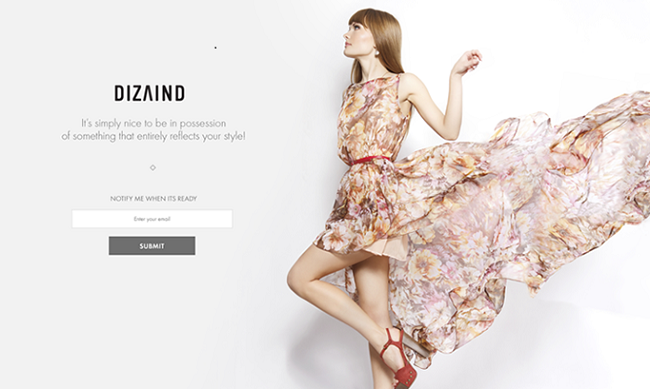 Dizaind has kept their coming soon page very simple. Yet you can simply look at it and tell that its something related to high fashion. Sometimes, you just need a powerful image that does all the talking.
20. Self Made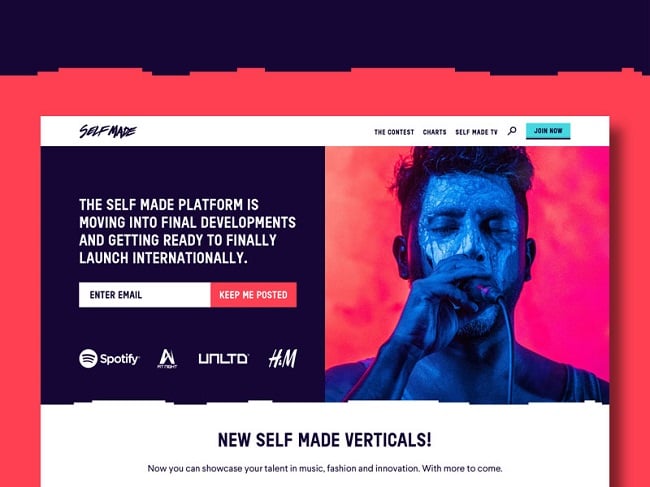 Self Made has done a great job with their design. We absolutely love the vibrant look they have offered to the page. To create symmetry in their design they have smartly used a red background against the singer and complemented it by using a red CTA button.
21. Niyati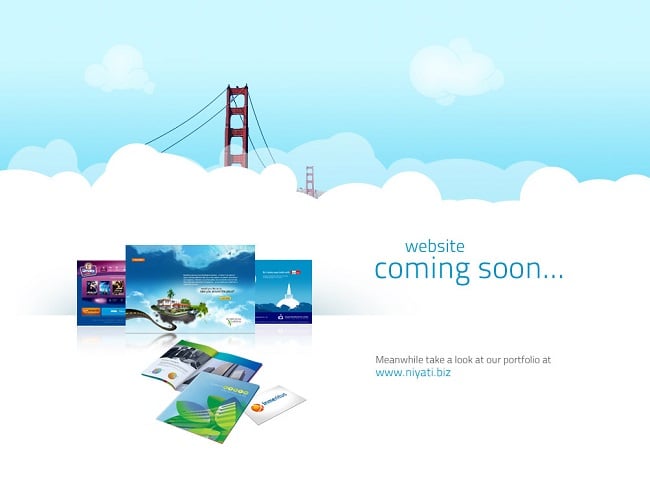 Niyati's coming soon page has done a wonderful job. They have not only kept the design minimal but have also smartly redirected all their visitors to another destination. By doing that they are letting people know that something new is coming soon while marketing their brand at the same time.
22. Ethercare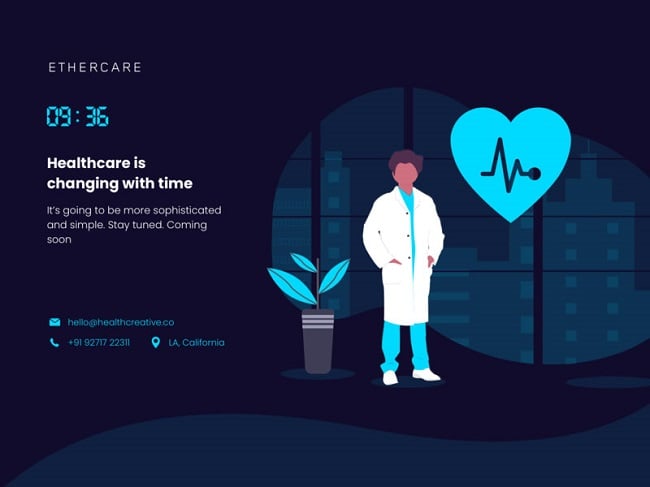 This design again has beautifully used a pop of blue to make the page look more catchy. They have also tried something different here. Instead of collecting emails, they have directly added their contact information for people to get in touch with them. This approach is good for bands who have already established their foothold in the market.
23. Serenity Fashion Coming Soon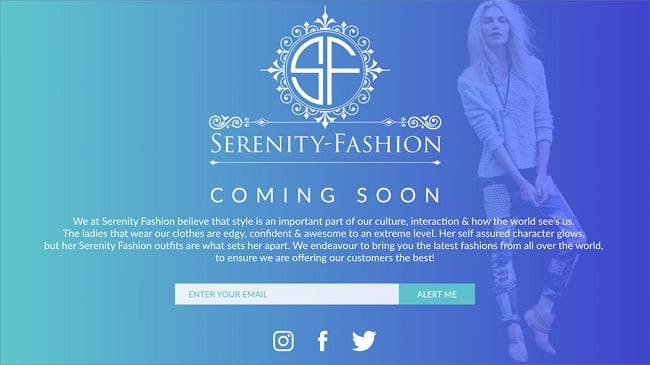 Serenity Fashion's coming soon page is another simple yet beautiful example. The logo at the top ensures that its the first thing people notice on the page.
By making it the central focus, the designers ensure that visitors of the page subconsciously register it in their mind. Right below that, it has used its content to tell people what they do. Interested people can use the CTA to get notified about any event or the launch that's coming up. It has also used social icons to encourage people to share their page with friends and family.
24. Landapart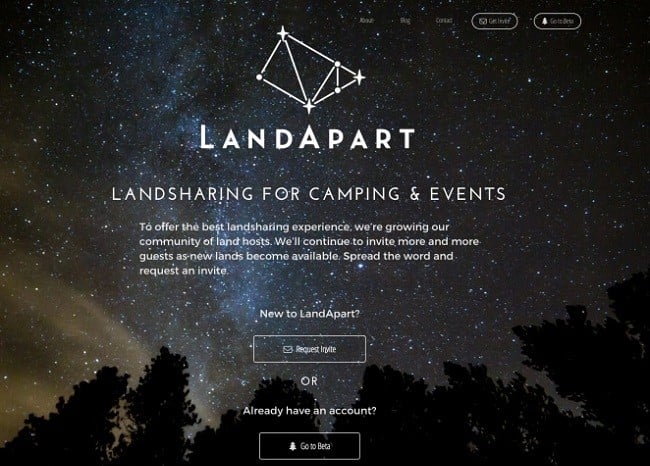 Landapart's coming soon page looks great with the new website coming soon image of a stunning sky full of stars. It gives you the wanderlust vibe perfect for a camping site.
25. Smooth Hound Smith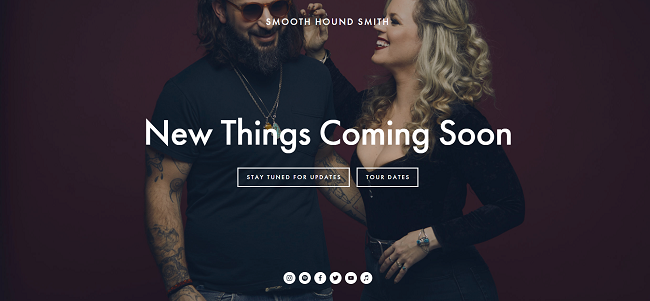 Smooth Hound Smith's coming soon page is a brilliant one. It didn't just put up a page to let people know they're working on the site, but also added a tour dates button so that people know when they are performing. That way they can easily start selling their tickets even before the website launch.
You can also submit your email address to stay updated about their latest events. To encourage you from sharing their site, they have used the social icons too.
26. Bezar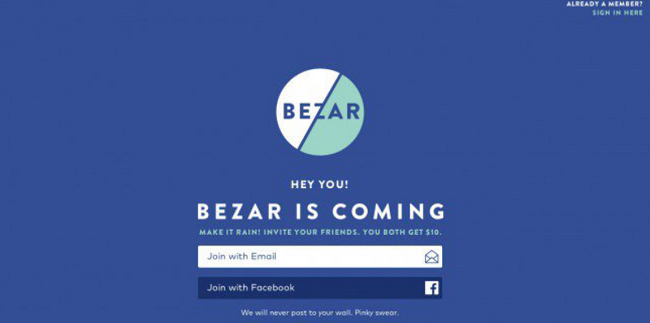 Not all of our coming soon page examples have complicated designs or detailed graphics. Bezar's coming soon page is definitely going to reach out to a lot of people because of its use of the refer and earn policy on the page. It's a great idea to be inspired from if you want your page to go viral too.
27. Tapster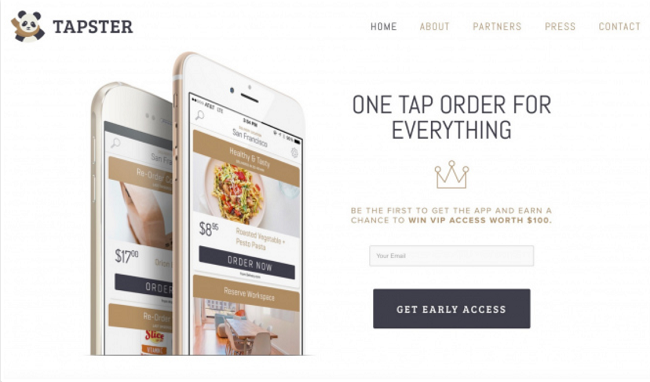 Tapster's coming soon page is a minimal yet powerful one. They have offered its visitors the possibility to win $100. And this is available only for the early birds. And people will surely not want to miss the chance. After all who would not want to win a $100 in exchange for the email address. It works as the perfect coming soon ad.
28. App Manager 5.0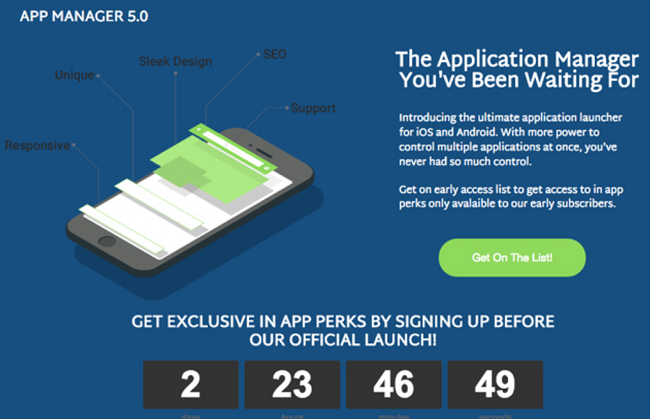 App Manager 5.0's coming soon page has almost all the elements that a good coming soon page should have. First, you have the brand's name. Then it tells you about the product and also displays an image of what they are working on. To hype the launch they have used a countdown timer as well. And of course, the green CTA button can help them collect the emails.
29. Bird Box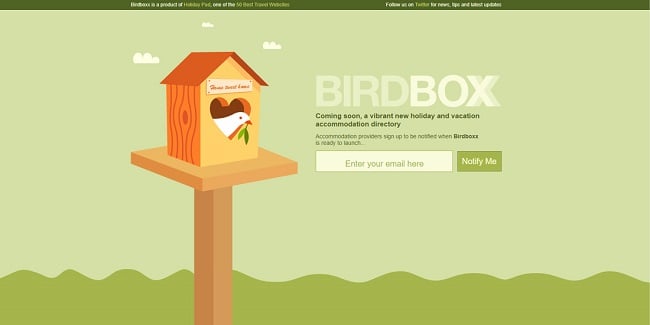 Bird Box's animated image looks wonderful against the light green background. The designer has done a great job with the use of color on the page.
30. Panda Doc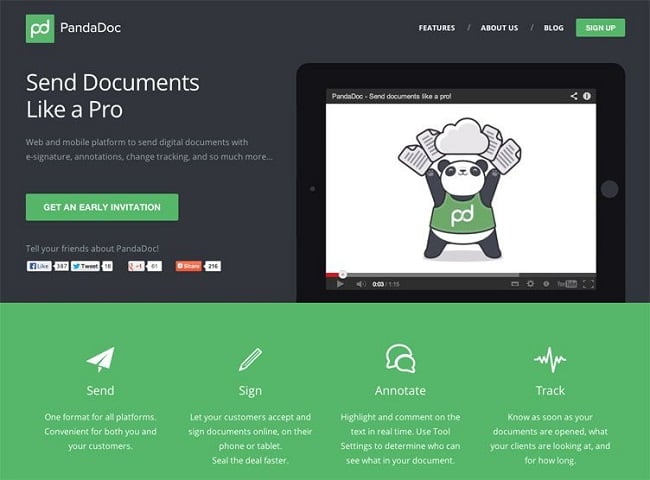 Panda Doc's coming soon page is an interesting one. The video added to the page is a great way to keep people engaged for a longer time. They also have social links to encourage people to share their site.
The CTA will surely generate some quick leads for them. The best thing is that they have also used the header and the footer to redirect visitors to a different destination.
31. Typetalk Coming Soon Page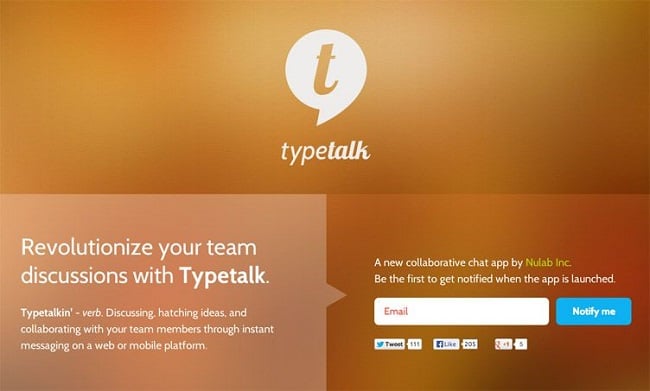 Typetalk is another striking coming soon page example you can check out. The coming soon logo at the top looks beautiful. One one side there's a description of what typetalk is and on the other side they have used the CTA and the social links for collecting emails and increasing their social followers.
How to Create a Coming Soon Page in WordPress
We have shown you various coming soon page examples so far. If some of them have inspired you, we can show you how to create a coming soon page for your own WordPress website too.
Most of the coming soon page examples in this list have been designed with the help of the SeedProd Landing Page Builder for WordPress.
And did you know that SeedProd uses beautiful lightbox popups for the contact form? You can learn about the best WordPress lightbox plugins here.
The best thing about this WordPress plugin is how versatile it is. Each website owner started with the same drag and drop landing page plugin, but came up with amazingly different, unique, and inspiring coming soon pages. It's hard to believe all these pages were built with the same plugin, but we're so glad they were.
So if you're ready, here's how you can create your coming soon page. Just keep in mind the basics – great imagery, strong copy, prominent social links, and enticing signup offers – and your coming soon page will go really far.
We hope this article was helpful to you. If you liked it, do follow us on Twitter and Facebook for more updates.