If you've decided to put a coming soon page up on your website, make sure you don't forget about Search Engine Optimization (SEO). But wait – is SEO really important for a coming soon page?
You bet it is.
Whether the site you're building will eventually be a business site or a blog, many of your visitors will most likely find you via search. You'll help more web users find you with a little attention to your coming soon page's SEO.
In this post, we'll look at our seven top SEO tips for WordPress coming soon pages.
1. Do SEO When You Build Your Page
Start your SEO campaign right along with the launch of your coming soon page. You'll find you can save time setting everything up at once. Thinking about SEO before creating any content for your page will also save you having to go back and make changes later.
Assuming your competitor launches around the same time, but skips out on a coming soon page and SEO, you'll do slightly better since your site is considered to be older. Older and more established sites get a small boost in SEO rankings. So, getting your foot in the door early with a coming soon page and a SEO strategy for that page, will give you an extra advantage.
2. Write a Great Meta Description
A good meta description is top of the list when it comes to basic information that will help your SEO. True, Google no longer uses meta descriptions or keywords for ranking, but that doesn't mean it's not important. As HubSpot points out, meta descriptions still matter when it comes to getting web searchers to choose your search result.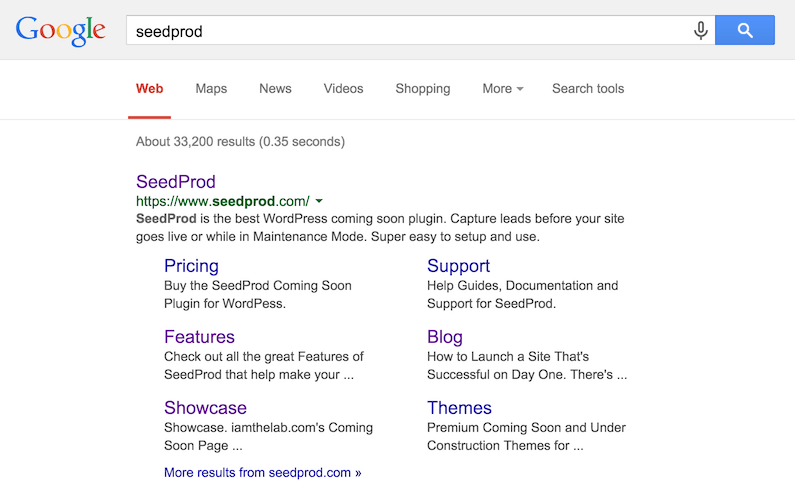 To write a great meta description, HubSpot recommends:
Call-to-action language that encourages clicks.
A relevant message tailored to your particular audience.
Offering a benefit or promise to the reader.
Following through on what you promise in your page content.
Doing it all in less than 155 characters.
When it comes to the content of your description, think about what your finished website will offer to visitors. Ask yourself how you would describe the site to a stranger in one short, interesting sentence. If there's a particular keyword your site will build content around, make sure you work it into your description.
You can easily set your meta description using a plugin like All in One SEO. With All in One SEO, you can manually write your meta description in the meta box. Or, simply click on tags like post excerpt, post content, current year, author name, and more to generate a meta description quickly.
Check out this All in One SEO review for more information.
3. Add Page Titles, Keywords, and More
Your description isn't the only thing that will show up in search results. Other information will be included in search result entries for your coming soon page as well.
When it comes to page titles, the SEO experts at Moz recommend:
Shorter page titles no more than 50–60 characters long.
Making a good first impression with your title choice.
Touting your brand upfront, when it's well known.
Moving important keywords to the front, when your brand's not well known.

Speaking of keywords, make sure you use the same target keyword in your page title and description, and make sure you choose a specific keyword or keyword phrase. "WordPress blog" may even be too vague. "WordPress plugin blog" or "WordPress tips blog" are examples of how specific your keyword phrase should be.
With All in One SEO, you can set a focus keyphrase, as well as additional keyphrases, and the plugin will score how well your page is optimized for that keyword. Plus, it gives you actionable insights for improvement.
Lastly, filling in your page title will help you beyond just Google's search results for your coming soon page. This element also shows up at the top of web browsers or browser tabs, as well as on external social media sites such as Facebook.
4. Make Your Page Content Awesome
Hopefully, you're already making your coming soon page content awesome, but if not, SEO is yet another reason to start making it so.
Matt Cutts of Google says that a coming soon page can play a dual role, being "a good thing for users and a good thing for search engines":
[youtube https://www.youtube.com/watch?v=R9JvBLjLrUI?rel=0]
Search engines want to you to create content for users that will also work for search engines, not just aim for the search engines. Quality page content will make this happen.
Think about some of the same considerations you had writing your meta description and page title. You need to:
Make a good first impression.
Tailor a message to your audience.
Provide some sort of a benefit to the reader.
The difference for your page content is that you can take a bit more space to accomplish these tasks. You've enticed the visitor to click through to your page, now you need copywriting and imagery that will get that person to further engage with your page. You want them to sign up to your email list, like or follow you on social media, or share your page with their network. All of which will help your SEO. We'll cover how to do this next.
5. Include a Signup Form
This one is a little more distant from core SEO prep for your site, but I promise, it's going to be just as valuable.
Let's say your coming soon page advertises your new business' site. There's probably a local influencer or perhaps a less local blogger who covers the topic of your new enterprise. Word starts to get out about your new site. These influencers, as well as future customers and fans, sign up to receive updates and more information about your site, and latter share updates from you with their own networks. Some of those web users will click over to your site to get a first-hand look at your page and sign up themselves. This builds an audience that will keep coming back to your site, which brings us back to SEO.
The more visitors who come to your coming soon page, and later your main site, the better your site will rank. So though a signup form may seem unrelated to SEO, it's most definitely not.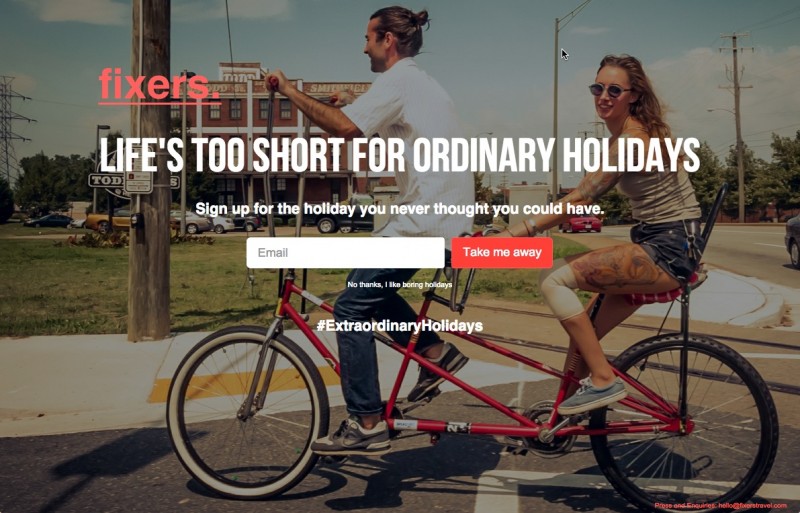 Signup forms will most definitely bring more people to your site by helping you grow a quality email list. Traffic from those list members will in turn help your SEO.
6. Add Your Social Media Profiles and Sharing Links
Social media can definitely have a positive effect on your coming soon page's SEO, though it's certainly a nuanced effect. As KissMetrics says, social media links don't currently boost your Google SEO, though Bing has gone on record saying that it does factor in how many shares a particular link receives for its algorithm. The same KissMetrics article points out that just because Google doesn't currently factor in shares, that doesn't mean it won't in the future.
Social media has a wider value for SEO than just shares however. Social media profiles and pages do show up in search results. Therefore, you can improve your search by creating matching profiles for your site.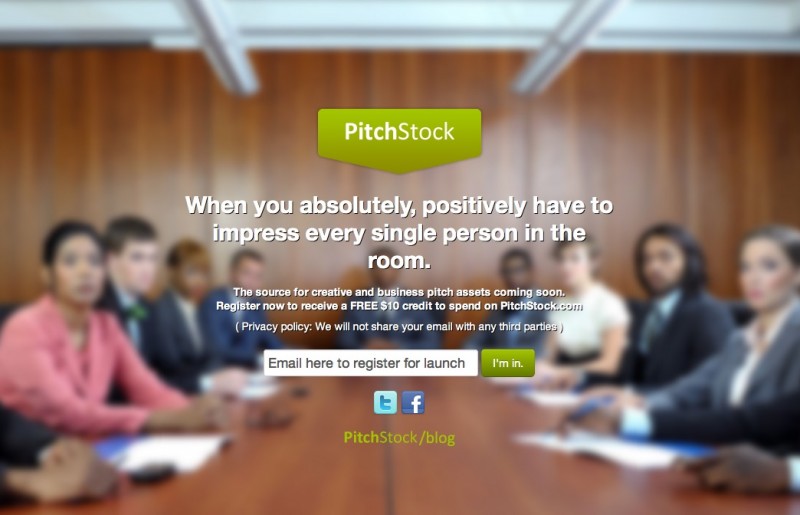 Your social profiles also give you more space to tell users about your site and your brand. Linking from your coming soon page makes it easy for visitors to learn more and then sign up for your list.
7. Use Links to Improve Your Results Further
There are two ways that links can help your coming soon page's SEO:
You can engage visitors with links to a blog or other ready-to-view material from your page, which helps build your audience.
Organic links to your coming soon page from social shares or posts by fans can factor into and help raise your search result ranking.
That blog or ready-made content gives visitors yet more reason to learn about and become fans of your brand, giving you a bigger audience come launch day. When visitors link to your page organically, an even bigger audience has the opportunity to learn about you and to interact with your brand.
Just one word of warning here – the keyword is "organic". Faking lots of links to your content from sub-par content sites can actually hurt your SEO significantly. So just be awesome and wait for your new fans to sing your praises with their own links.
Wrapping Up
So there you have it. These seven tips will get your coming soon page off to a great start with both search engines and your users.
Get started right away with your SEO. Think about how you can make a great first impression, whether it's with your page title, description, page content, or social profiles. Use a signup form to connect with first-time visitors and keep them coming back as you hit milestones and launch your full site. Also, think about social and organic links and how they can help get even greater exposure for your coming soon page and your eventual full site.
Lastly, if you're wondering where you can find a coming soon page builder to help you do all these easily, SeedProd's Coming Soon Page Pro WordPress plugin can definitely help. Our plugin includes fully customizable page content options, an email signup tool, social profile and sharing links, and the ability to easily include links to outside content. On the back end, the dashboard can help you with your page name, description, keywords, and other settings.
What do you think of coming soon pages? What experience have you had with SEO on your coming soon page? Let us know in the comments below!