How To Customize the WordPress Login Page
Do you want to create a WordPress custom login page for your site? If you run a membership site or an online store, your users will need a page where they can log in and access your site. So customizing the default WordPress login area will help you reflect your brand and offer a better user experience.
In this article, we'll show you how to customize the WordPress login page with 2 different methods.
Here's a table of contents to help you navigate this article. Click any section you need to jump straight to it:
Before we start, let's explore why creating a custom WordPress login area is a smart idea.
Why Create a WordPress Custom Login Page?
Depending on your WordPress hosting, the default WordPress login page shows the WordPress branding and logo. If you're a small blog or website, this is perfectly fine because you're likely the only person with admin access.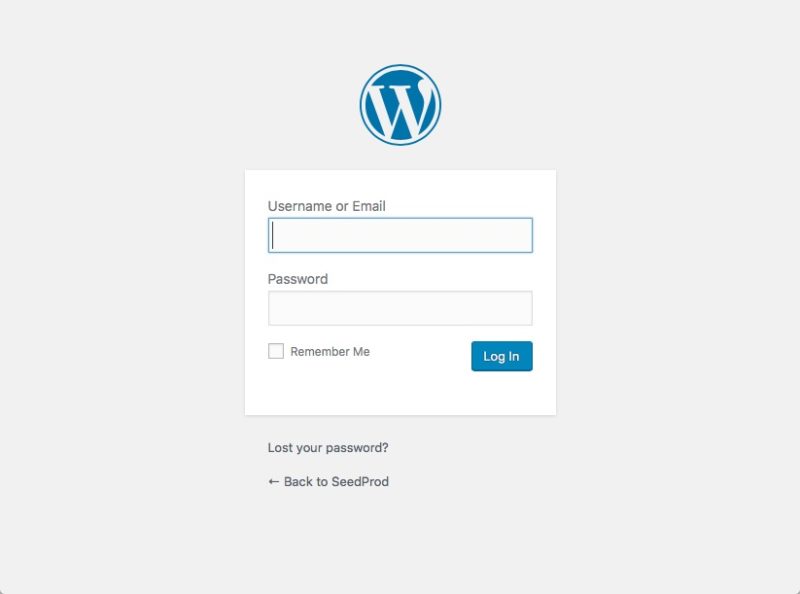 But if your site lets people become registered users and login to your dashboard, a custom login design offers a better, more professional user-experience.
When you use your own login design and logo, users feel more at home because they recognize your branding. However, if you send users to a login screen that looks nothing like your website, it could look suspicious to inexperienced users.
Furthermore, the default WordPress login screen doesn't have anything but the login form. So you can't take advantage of the space to promote other pages or craft a custom message for your users, which we demonstrate in the example below.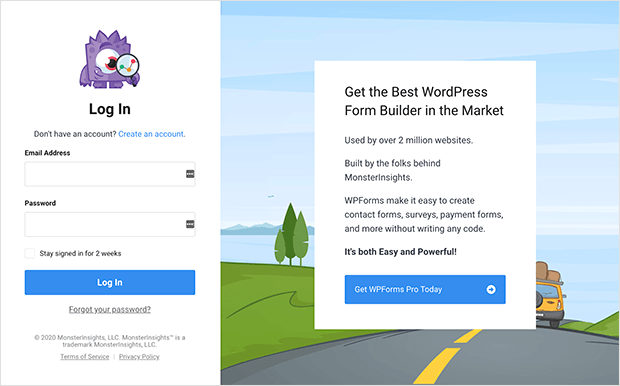 With this in mind, let's explore the different methods to customize your login page in WordPress.
Choosing a Plugin to Customize the WordPress Login Page
The easiest way to create a WordPress custom login screen is to use a WordPress plugin. WordPress plugins extend the functionality of your website, helping add extra features without needing to hire a developer or mess around with code yourself.
We'll walk you through creating a WordPress custom login page using the best WordPress plugins for the job, Login Page Pro, by SeedProd and WPForms.
Method 1: Using Login Page Pro
Login Page Pro is a premium WordPress plugin offered on checkout when purchasing the SeedProd Landing Page Builder plugin.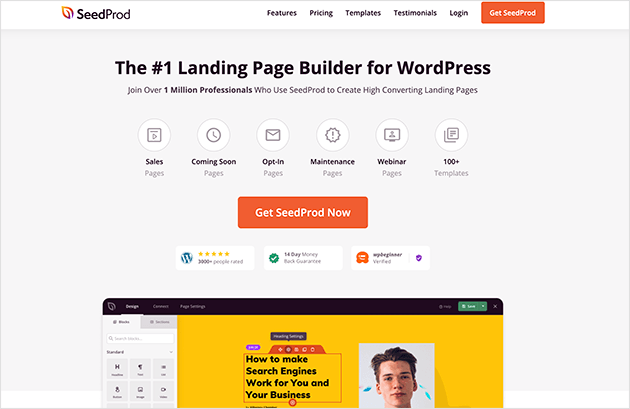 There is a free version of SeedProd's custom login page plugin available on the WordPress repository called Custom Login Page that lets you make the most requested edits. This includes changing the background, login text, page fonts, and colors of your login page in WordPress.
But if you want to add more functionality and branding to your page, it's best to pay for the pro version.
In addition to being able to perform all the edits you can in the free version, you can also perform the actions listed below on your login page.
Edit the login screen logo alt text and logo link
Add a message above or below the login form
Change any of the text on the page. For example, change the username/email or password label
Add a color overlay to your background image
Add a background slideshow or video on the login page
Change the white login form background to any color or make it transparent
Change the position of the login form
Change the color of any element on the login page
Integrate the page with Google Fonts
Add social media profiles to your WordPress login area
Add a Google Recaptcha to your login screen
Plus, the plugin adapts to your WordPress theme. Click here to get started with Login Page Pro by SeedProd.
Then follow the steps below to customize the default WordPress login page with this plugin.
Step 1: Install and Activate Login Page Pro
The first step is to download and install the Login Page Pro plugin on your WordPress website.
If you're unfamiliar with how to do that, check out this step-by-step guide to install a WordPress plugin.
After installing and activating the plugin, you'll see the SeedProd welcome page in your WordPress admin area, where you can enter your license details and view the quick start video.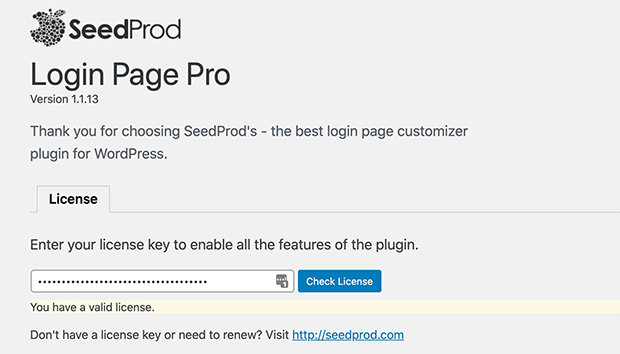 Step 2: Edit Your WordPress Login Page
To start editing your login page, navigate to Settings » Login Page Pro from your WordPress admin dashboard. This takes you to the login screen settings where you can enable, disable, and edit your page. By default, the page is set to Disabled.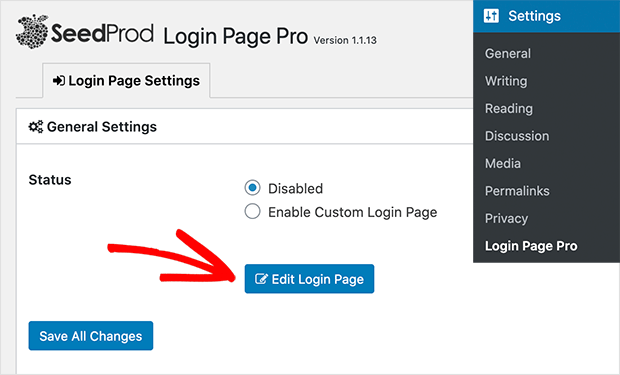 Click the Edit Login Page button to start customizing your page.
The next screen you see will be the default WordPress login page on the right-hand side, while on the left are the options to customize your page.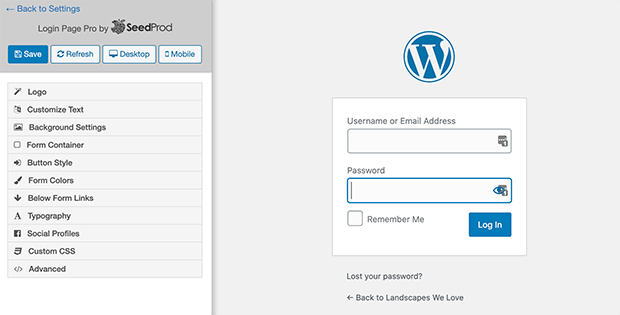 Let's start by customizing the login page logo.
Step 3: Customize The Login Page Logo
To add a new logo to your login page, click the logo heading on the left, then click the Choose Image button. This lets you choose a logo from your WordPress media library or upload one from your computer.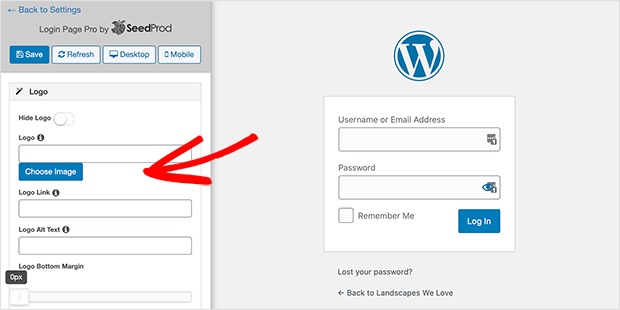 After, you can add a URL and some Alt text for your logo. This helps users navigate back to your main website.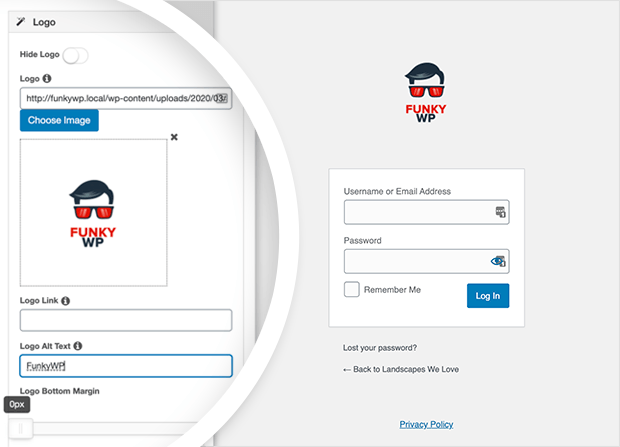 You can also adjust the margin at the bottom of your logo to reduce space.
Step 4: Customize The Login Form Text
The next step is to customize the WordPress login page text by clicking the Customize Text heading.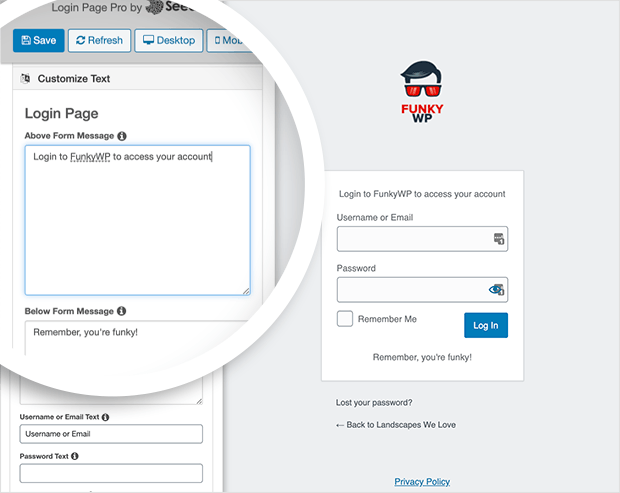 In this area, you can enter a message before and after your form, change the form text, error messages, and button label.
Step 5: Add a Custom Login Page Background Image
Now let's look at adding a custom image to your custom WordPress login page background. To do that, click the Background Settings heading.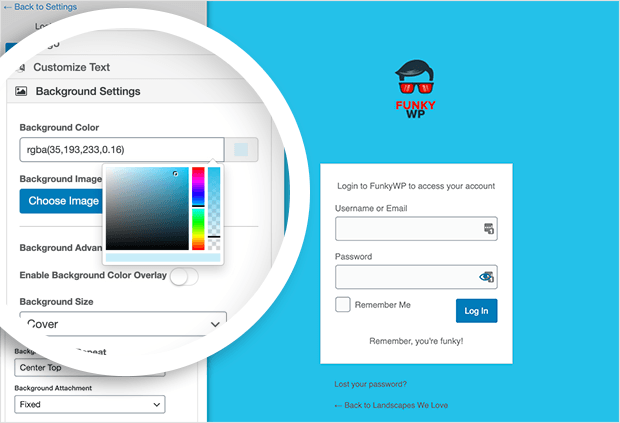 Here you can use the color palette to choose a color for your background, or click the Choose Image button to upload a photo.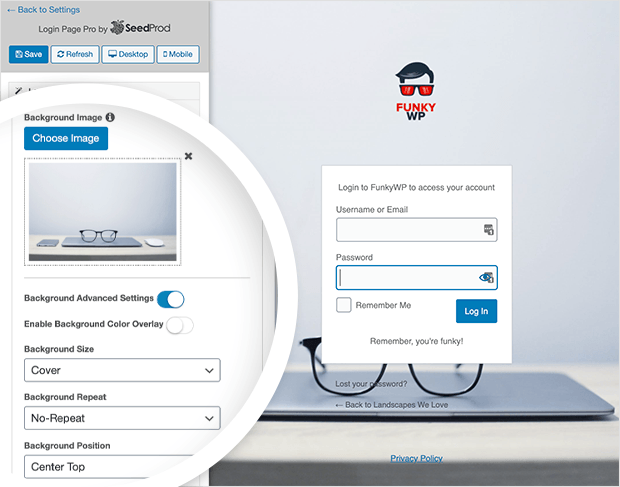 Below that, you can add an overlay color to the background to make your page elements stand out and choose how you'd like the image to display. For example, it can cover the whole page, or auto fit the page container.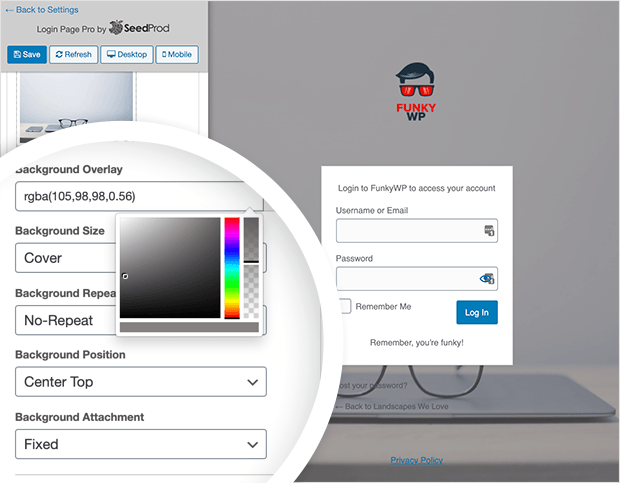 Alternatively, you can create a slideshow background by uploading multiple images or enter the URL of a video to use a video background.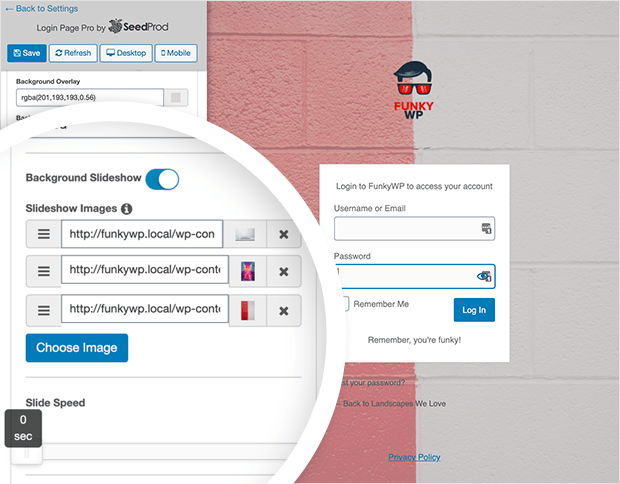 Remember to click Save periodically to preserve your settings.
Step 6: Customize Your Buttons, Colors, and Fonts
The next few headings deal with your login page's styling.
The Form Container heading gives you the ability to adjust the margins and padding in your page's form. You can also change the position of the form, its opacity, and add an animation.
The Button Style section lets you change the color of your login button, and give it a flat style.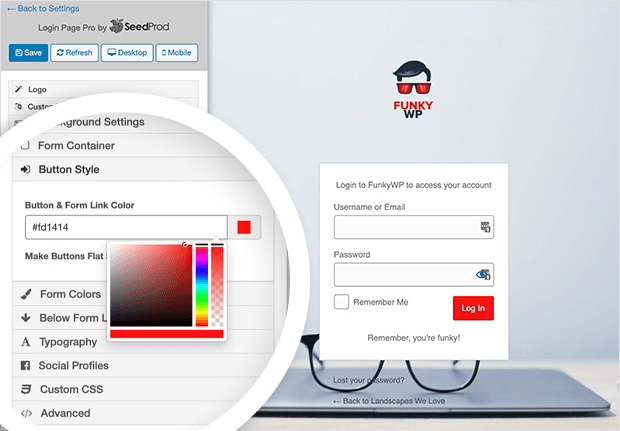 After that, you can change the color of your form's text, background, and error messages.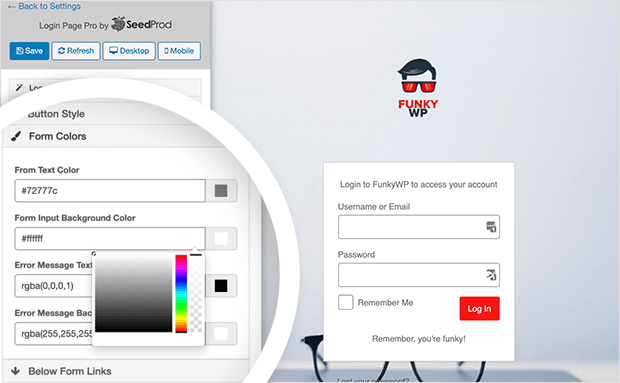 The Below Form Links section lets you hide the forgot password and back link on your login page. You can also give those links a custom color to stand out if needed.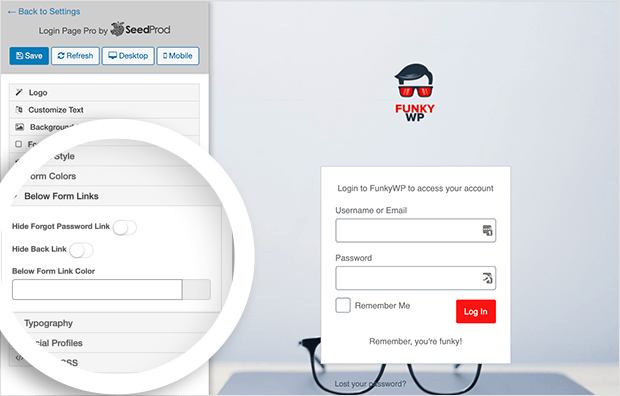 Then there's the Typography section. This is where you can choose from a vast range of Google Fonts to match your site's branding and theme. Then you can change the font weight, size, and height to get things looking just right.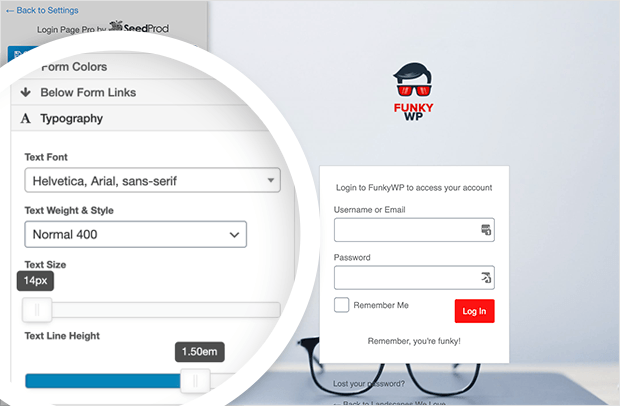 Step 7: Add Your Social Profile Buttons
Another stand-out feature of Login Page Pro is the ability to add custom social icon buttons to your WordPress custom login area.
Simply click the Social Profiles heading and click the Add Profile Link button to add a social channel.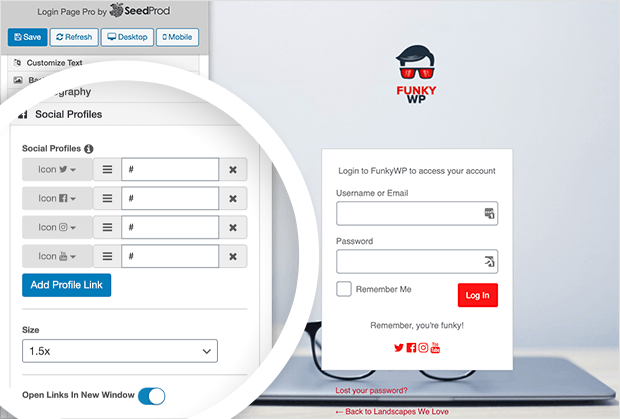 There are 19 different social icons to choose from when you click the drop-down arrow beside the URL field. Then in the link field, add the URL for your social media profile.
Below that, you can adjust your social profile buttons' size and choose to open them in a new tab when clicked.
After this section, is an area to enter Custom CSS to customize your login page further. Then you can use the Advanced section to enable ReCaptcha for your page, and import, or export your settings.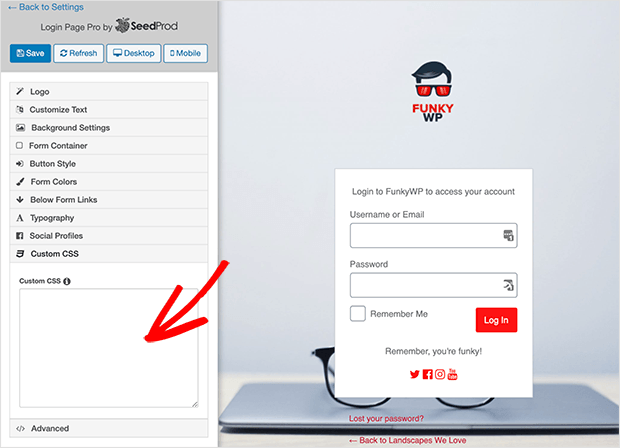 When you're happy with how everything looks, click Save, and the Back to Settings link.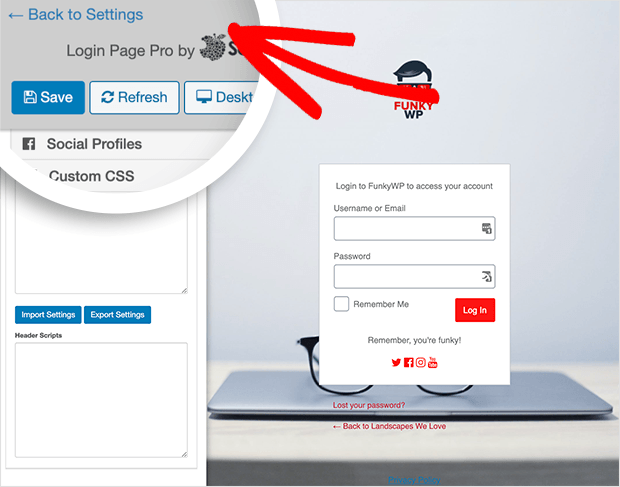 Step 8: Enable your WordPress Custom Login Page
Now that you've finished customizing your WordPress login page, it's time to make it live for your website users.
To do that, click Enable Custom Login Page from the General Settings page and click Save All Changes.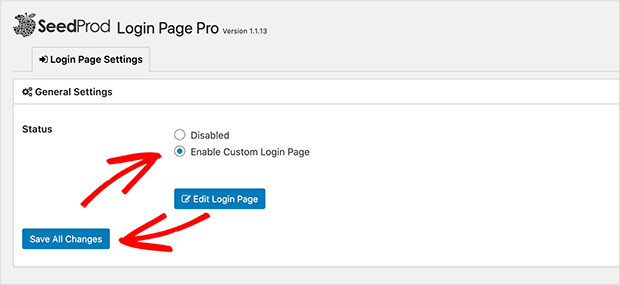 Now when users visit your WordPress login page, they'll see the custom design you just created.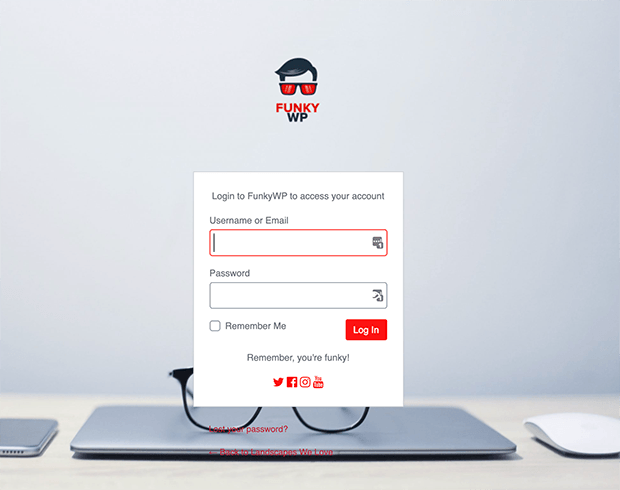 Method 2: Using WPForms to Create a Custom Login Page
The second method to customize the WordPress Login screen we'll cover today involves using the popular WPForms plugin.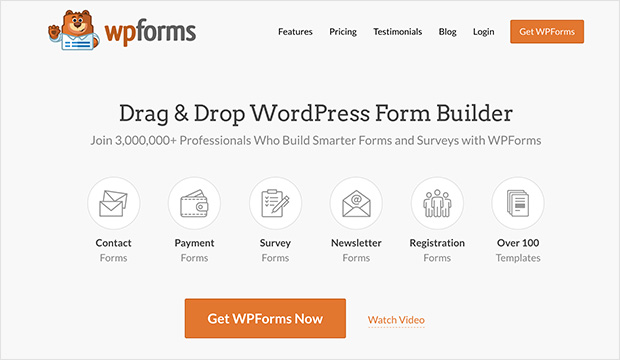 WPForms is the best drag and drop form builder for WordPress. And what you might not realize is that you can use it's handy User Registration addon to build a login page for your website.
With over 3 million website owners using WPForms to build smarter forms and surveys, you can be confident knowing you're in good hands.
So if you don't need a plugin dedicated to creating login pages, follow this step-by-step tutorial for how to create a WordPress custom login form using WPForms.
WordPress Login Page FAQ
I can't find my WordPress login page
You can find your WordPress login area in 2 ways using the WordPress login URL or link.
By adding wp-login.php to the end of your URL for instance: http://example.com/wp-login.php.
Or by adding wpadmin to the end of your URL, such as http://example.com/wpadmin.
If you keep forgetting your login details, you can always check the "remember me" box so you won't need to login each time.
That's it!
We hope this article helped you learn how to customize the WordPress login page for your website. Now you can keep your site looking professional and offer an excellent user experience for your customers.
So what are you waiting for?
Click here to get started with Login Page Pro today.
And don't forget to follow us on Facebook and Twitter for more helpful tips and tutorials.