Are you looking for the best WooCommerce grid plugins for your online store?
With a WooCommerce grid plugin, you can easily display WooCommerce products in a user-friendly grid layout. That way, it's easier for shoppers to find the goods they want at a glance.
In this article, we'll share the top grid plugins for WooCommerce stores that are both powerful and easy to use.
Ready to dive in?
Video Guide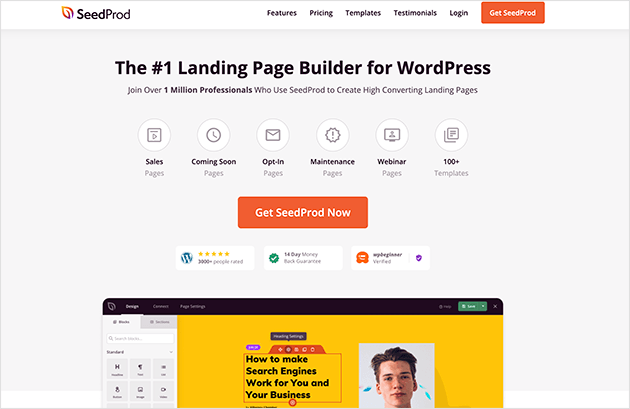 SeedProd is the best drag-and-drop WordPress page builder, with WooCommerce coming soon and maintenance mode functionality. This powerful WordPress plugin lets you create any type of landing page without writing a single line of code.
You can also use SeedProd to create an entire WooCommerce store without hiring a developer.
With tons of pre-built landing page templates, it's easy to get started with a stunning custom design. Plus, you can customize your page in the drag-and-drop visual editor and see the changes in real time.
SeedProd's content blocks let you create any page you like with the added benefit of helping you generate leads. For instance, you can:
Yet, the feature that puts SeedProd at the top of this list is its WooCommerce integration. With 9 custom WooCommerce blocks, you can showcase your products and services, leading to increased sales.
For example, you can display a beautiful grid of WooCommerce products right on your WordPress landing page with the Products Grid block. This is an excellent way to showcase featured products for a promotion or product launch.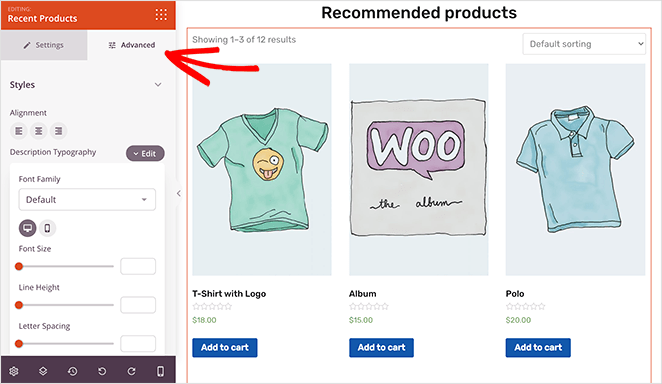 You can show grid list views of your products with different SeedProd product grids, including:
Recent products
Best selling products
Top-rated products
Sale products
Featured products
Plus, SeedProd's checkout and shopping cart blocks allow users to purchase products without leaving your landing page.
For a detailed overview of how it works, check out this tutorial on showing product grids in WooCommerce.
Alongside these powerful WooCommerce features, SeedProd offers built-in coming soon, maintenance, 404, and login pages. This means you won't need any extra WordPress plugins to add this functionality to your website.
And because SeedProd works with any WordPress theme, and is 100% mobile responsive and bloat-free, you won't face any compatibility, display, or speed issues.
Get Started with SeedProd Today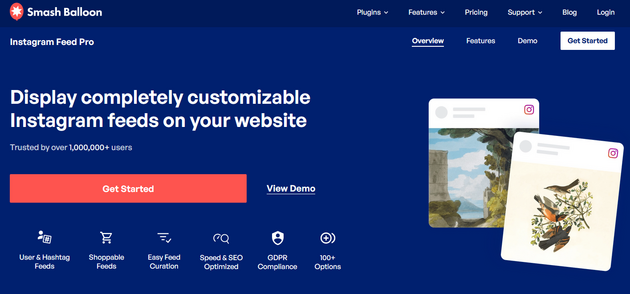 If you want to use social proof to persuade shoppers to buy your products, Smash Balloon has the ideal plugin. Its Instagram feed plugin adds beautiful shoppable Instagram feeds to your WordPress site without a complicated setup.
You can connect your WooCommerce store to Instagram with just a few clicks and, in a flash, showcase your posts in various responsive layouts. For instance, you can display feeds as grids, carousels, masonry, and even list layouts.
Even better, you can link each post to a page on your WooCommerce site. So instead of clicking through to your Instagram feed, shoppers head straight to the product page where they can purchase that item.
Unsurprisingly for one of the top WordPress Instagram plugins, you get tons of control over how images display on your site. You can change the width, height, and number of images displayed on your feed. Plus, the 'load more' button gives visitors the option to show more content.
As this plugin is fully mobile responsive, your Instagram content will look great on any device across your whole WooCommerce store.
For more details, see our Smash Balloon review.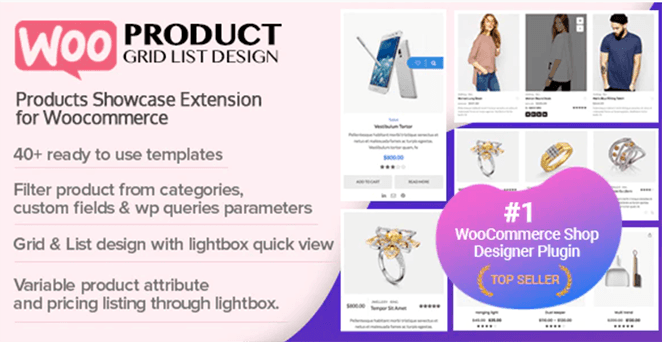 Next is Woo Product Grid/List Design. This WooCommerce grid plugin is an advanced WooCommerce extension that lets you showcase your products in several different ways.
For instance, it supports grid and list layouts and features extensive customization options to get your product grids looking exactly how you want. Plus, it's ready to go right out of the box.
With this plugin, you can choose from 30 different grid templates and 10 list templates for displaying your products. Other features include:
8 ribbon templates for featured, best-selling, and latest products
Products filtering system
Unlimited product grids
Custom post types and fields
Social share options
100% responsive design
What's more, it works seamlessly with popular WordPress themes for an efficient and optimized experience.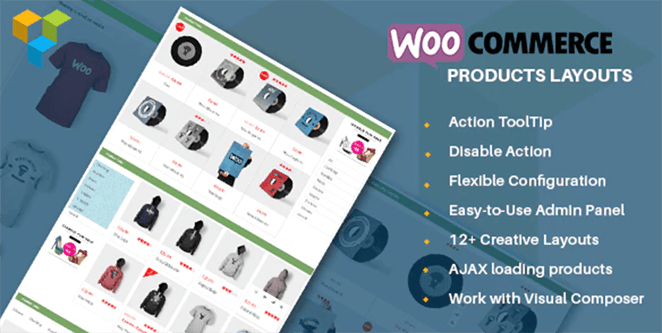 WooCommerce Product Layouts is another popular WooCommerce grid plugin. It offers plenty of options to customize your store and over 16 layouts for WooCommerce product grids.
Each layout offers several different styles, including:
And the plugin includes 8 different product styles, complete with interactive actions like add to cart, compare, quick view, rating, and more.
In addition, WooCommerce Product Layouts works with both the WordPress block and classic editor. That way, you can add and edit products in a format you're most comfortable with.
Plus, this plugin features multiple loading styles, product filters, and badges to showcase your products in style. With easy customization options, a responsive design, and WordPress theme compatibility, it's an excellent choice for your online store.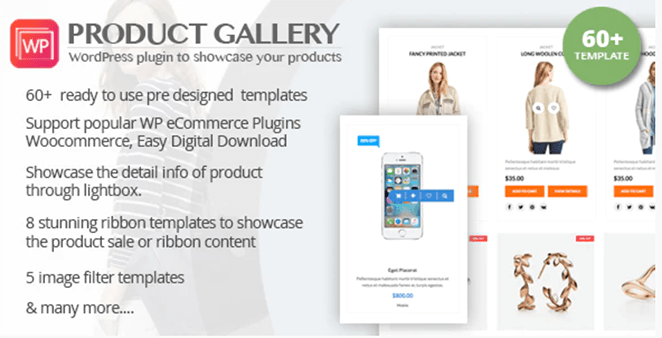 WP Product Gallery is a responsive eCommerce grid plugin with tons of features for showcasing your products. It works with various platforms, including WooComerce and Easy Digital Downloads, and also offers a built-in product manager.
With this plugin, you can choose from several product gallery layouts, including grid, masonry, carousel, slider, and frame. And each layout offers many customizable templates to display your products most appealingly.
In addition to the above, WP Product Gallery offers the following advanced features:
60+ premade templates
Filter products by taxonomies, categories, and custom fields
Product sorting options
Lightboxes for product details
Ribbon templates
Infinite scroll
And more
So if you need an easy way to highlight your top products, this plugin offers everything you need.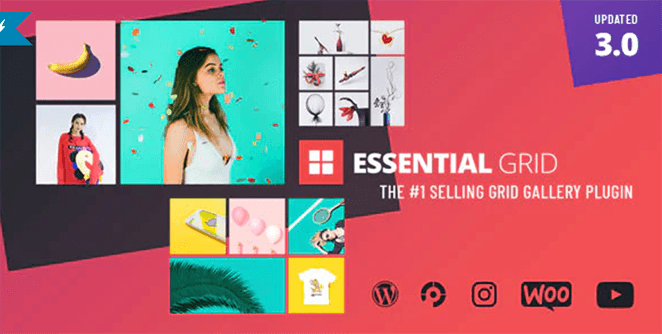 Essential Grid Gallery is a comprehensive gallery plugin for WordPress. You can use it to create a wide variety of galleries with content from various sources.
For example, you can pull content from other WordPress plugins like NextGen Gallery, social media platforms, and WooCommerce. From there, you can build custom gallery grids that look stunning on any device.
In addition to a library of gallery templates, Essential Grid also offers a full-blown visual skin editor. With that, you can create your own skins from scratch or build upon an existing template with customization options for background colors, title price, typography settings, and more.
Advanced features for Essential Grid include:
Animation types and preloaders
Adjustable rows, columns, and spacing
Boxed, full-width, and full-screen layouts
Custom meta with extra options for posts
One-click skin installer
And more
With extensive documentation and tutorials, getting started with this plugin should be super easy.

WooCommerce Product Carousel, Slider & Grid Ultimate is a free WooCommerce grid plugin. With this powerful free plugin, you can display your products in various ways to attract shoppers and encourage them to make a purchase.
To use this plugin, you won't need any technical skills. With a few clicks, you can generate a shortcode and display it anywhere on your WooCommerce store; no coding required.
This plugin offers 3 themes for the carousel and image slider layout and 3 different themes for the grid layout. Plus, the user interface is clean and easy for beginners to understand.
Other features for this grid plugin include:
Last/recent order and featured products display
Display unlimited products
Automatically crop and resize images
Display and hide product information
Cart button background color, font size, and font colors
Touch and swipe support
If you're looking for a free, easy-to-use plugin without too many bells and whistles, WooCommerce Product Carousel is an excellent choice.
Which Is the Best WooCommerce Product Grid Plugin?
After looking at some of the top grid plugins for WooCommerce, which plugin should you choose for your eCommerce store?
In our opinion, the best WooCommerce grid plugin for all of your needs is SeedProd. SeedProd works seamlessly with your existing WooCommerce store to create high-converting, shoppable landing pages without hiring a developer.
And unlike other WordPress page builders that are slow and bloated, SeedProd is built with website speed in mind. As a result, your product pages are fast, allowing your store to rank higher in search engines.
Frequently Asked Questions (FAQs)
What is a WooCommerce grid plugin?
A WooCommerce grid plugin is an add-on that allows you to display your WooCommerce products in a more appealing and organized manner, typically in a grid layout. It offers customizable options such as the number of columns, product details display, and more.
Why do I need a WooCommerce grid plugin?
A grid plugin can significantly improve the way your products are presented, making it easier for customers to browse through your product offerings. It's also useful for stores with a large number of products, as it allows for better organization and display.
Can I customize the product display with the grid plugin?
Yes, most WooCommerce grid plugins offer customization options. You can choose the number of columns, whether to display product titles, prices, ratings, add to cart buttons, and more. Some plugins also offer pagination or lazy loading features.
Are WooCommerce grid plugins mobile responsive?
Yes, most WooCommerce grid plugins are designed to be responsive, ensuring your product grids look good on all devices. However, this can vary from plugin to plugin, so it's important to check this feature before choosing a plugin.
Ready to skyrocket your store's revenue?
Get Started with SeedProd Today!
Don't forget to like us on Facebook and follow our Twitter account for more helpful WordPress guides if you liked this article.