Last updated on: October 28, 2016
WordPress has it's own Maintenance Mode it goes into when it performs a core, themes or plugins updates. The picture above shows what you see when WordPress is performing these updates. What most people don't know is that this is different from what a WordPress Maintenance Mode plugins would do. Learn more about the difference between WordPress's built in maintenance mode vs what a maintenance mode plugin does. In a nutshell a maintenance plugin will hide your site while you make changes, you still have access to the frontend and wp-admin backend, while the WordPress built in maintenance mode hides the entire site while the software itself is updating, no access to the frontend or backend. Therefore maintenance mode plugins won't work when WordPress is doing it's built in maintenance process. Today I'm going to show you how to customize the default maintenance message page which says "Briefly unavailable for scheduled maintenance. Check back in a minute." to a custom html page and even how to collect emails on this page while your site is down.
How to Create a Custom WordPress Maintenance Mode Page
To create a custom maintenance message for WordPress you simply need to create a file called maintenance.php and upload this file to the root of your wp-content folder. (Learn how to ftp into WordPress) This page will now be used when WordPress is performing updates to your site.
One thing to note is you'll want to make sure you put the correct http status code on this page so search engines know your site is in maintenance mode and will not index your maintenance page. This would be very bad for your SEO. To do this put this line of code on top of your maintenance.php file.

<?php
header('HTTP/1.1 503 Service Temporarily Unavailable');
header('Status: 503 Service Temporarily Unavailable');
header('Retry-After: 600');
?>

This tells search engines that your site is in unavailable and to try back in 10 minutes. WordPress core, themes and plugins updates usually only take a few seconds to update but we'll put 10 minutes to be on the safe side. Below that http status code you can now add a custom message or html to create a better looking maintenance page or even add code to collect emails while your site is down.
Free Customizable WordPress Maintenance Mode Page Template
If you don't know html we have included a download to our free maintenance mode template.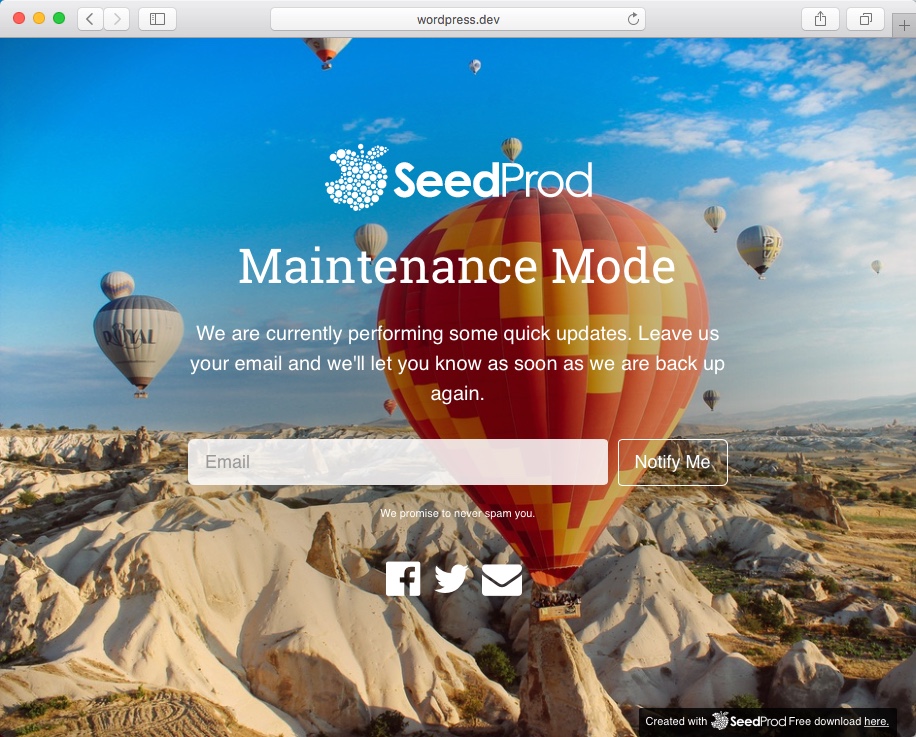 Get a free custom maintenance template for your WordPress website to use when WordPress is performing updates.
Features Include:
  Comes with 6 Background Images or Use Your Own
  Easily Customize the Logo, Headline and Description
  Collect Emails with MailChimp
  Display Links to Your Facebook, Twitter and Email Accounts
  Built with Bootstrap, HTML and CCS3
  Well Documented
Want to create a more customized maintenance page and collect email from different email providers? Checkout http://comingsoonpage.com, this builder creates custom html coming soon pages which can be repurposed for WordPress Maintenance Mode pages.
If you are looking for a free WordPress Maintenance Mode Plugin to use while you perform updates on your site instead check out Coming Soon Page & Maintenance Mode by SeedProd