Last updated on: March 2, 2017
Today I'm going to show you how to quickly put your WordPress site into Maintenance Mode so you can make theme, plugin, content or some other updates to your website. This prevents visitors to your site from seeing a broken page or some other content in mid transition. It also properly notifies Google that your site is down for maintenance (this is called a http status 503 for geek speak) so Google will not index any changes that are not completed.
Use a Maintenance Mode Plugin

Using a Maintenance Mode plugin is the quickest way to put your WordPress site into maintenance mode. While there are many to choose from in the WordPress.org repository we recommend the Coming Soon and Maintenance Mode Plugin by SeedProd. This free plugin lets you set up a great looking maintenance mode page for your visitors in seconds. Let's walk through the settings.
Step1 – Enter Your Maintenance Mode Message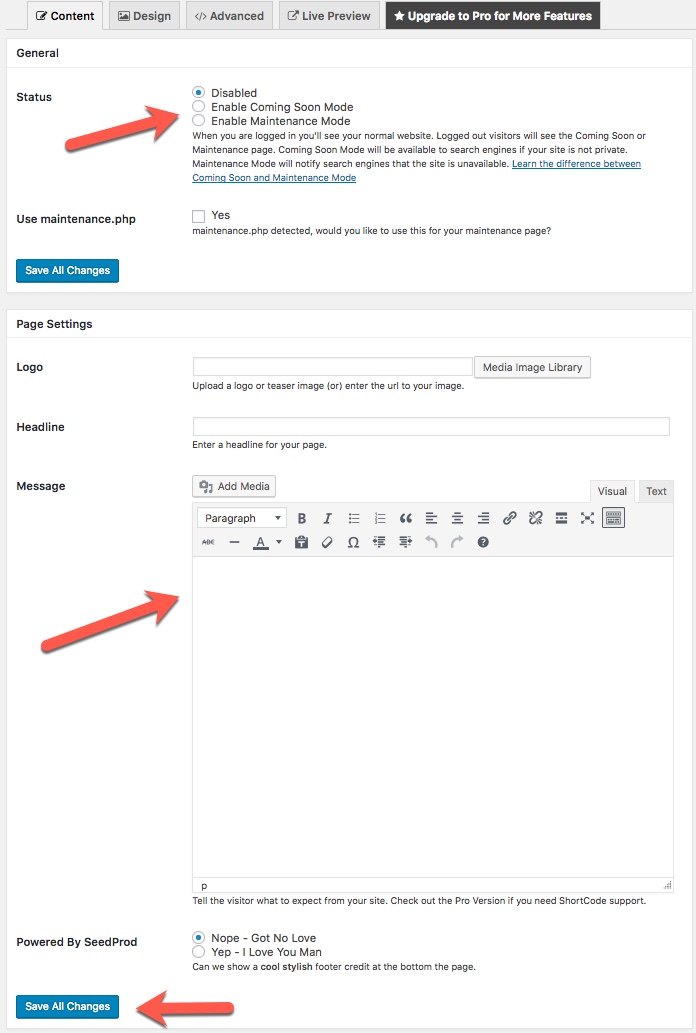 The first thing you'll want to do is enter you maintenance message in the message field in the plugin as shown above. You'll want to wait to activate the plugin until you have successfully configured all the settings. Note you can also enter an optional logo and headline message. There is also an SEO setting plugin below this screenshot not shown but you can disregard that section since your site is in Maintenance Mode. You'd only need to fill out that section if you were using Coming Soon mode in the plugin. As far as crafting a maintenance message you'll want to communicate clearly to your visitors that your site is down for maintenance and give them some sort of indication when you expect your website to be live again. Here's an example :
"Oops, looks like you caught us updating our site! No worries, we should be back online in the next hour. Please come back then to check out all out new updates."
Step 2 – Setup the Maintenance Mode Page Design
After setting your maintenance message,the next thing you'll want to do is set the design. Click on the Design tab to display the design options.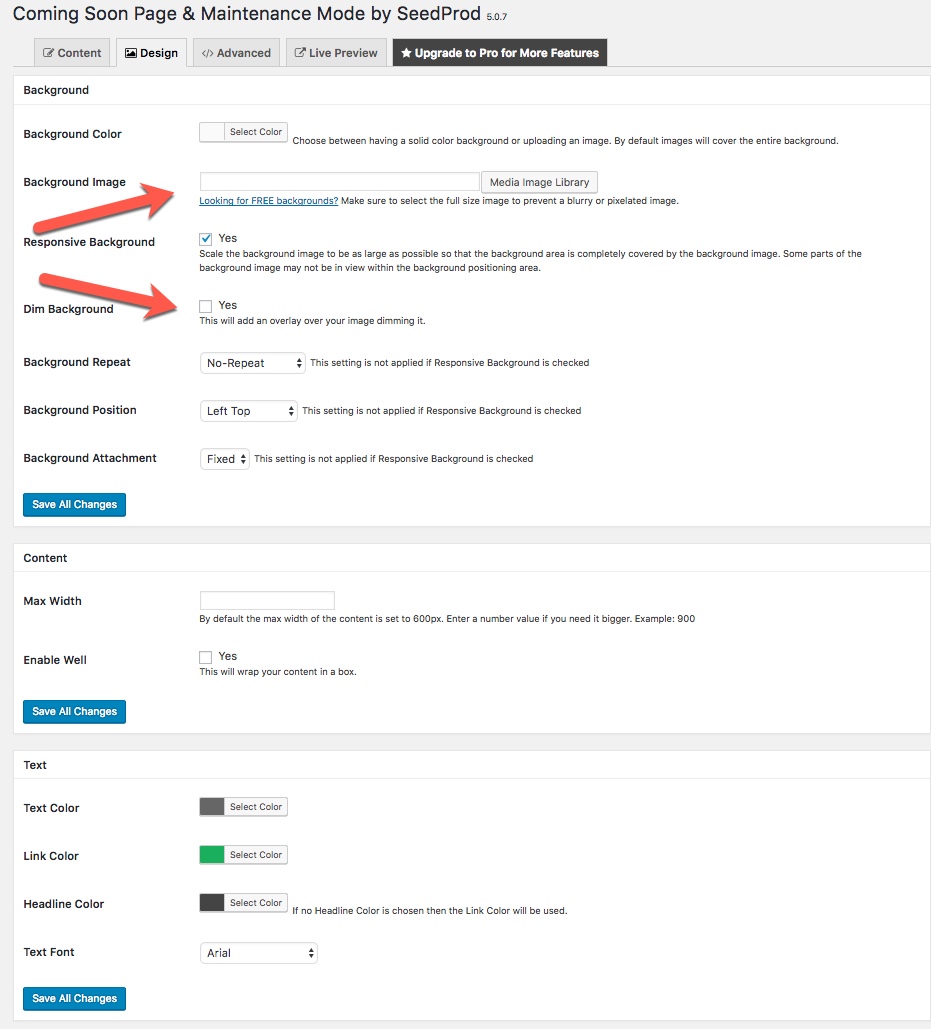 There are quite a few options on this page you can play with but the only two you need to quickly create a great looking maintenance mode page is the background image settings, dim background image and text color settings. If you do not already have a background image go to http://unsplash.com and grab one from there. Make sure to resize the image before using. Some images from Unsplash are super high resolution. Then upload it to the maintenance mode plugin's background setting. Next click the dim background option. This will allow your maintenance mode message to be easily seen. Also set all the text and headline colors to be white. Now click the Live Preview tab to see what it looks like. And that's it!
You now have a great looking maintenance mode page. Of course feel free to play with the other settings in the plugin but this will get you up and going quickly. Also don't forget to now enable maintenance mode in the plugin. Now when visitors come to your site they will see a maintenance mode page while logged in visitors can see the real site and can make updates.
Here's an example maintenance mode page I created: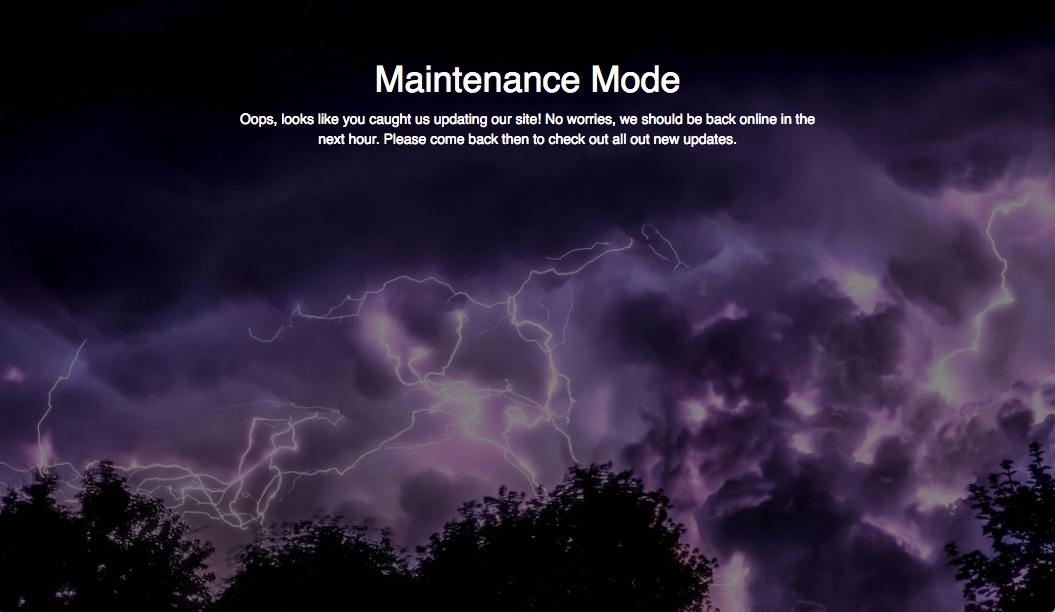 Conclusion
So as you can see using the Coming Soon and Maintenance Mode Plugin by SeedProd makes creating a maintenance mode page for your WordPress site a cinch! Depending on your business and nature of your website you may want to collect emails of your visitors while your website is down and need more design option like adding a countdown. In that case check out Coming Soon and Maintenance Mode Pro