We're back with another exciting update to revolutionize how you create and manage your WordPress website. SeedProd 6.15.10 comes with 2 new blocks, easier access to help and support, and even more templates for perfecting your dream web design.
The Business Reviews Block and the Alert Block make it easier for you to showcase customer feedback and communicate important messages with your audience. While the new Inline Help option provides instant access to tips and documentation without leaving the page builder.
Check out the video below to learn more about these exciting new additions to SeedProd:
Otherwise, you can keep reading for all the details of this update.
Showcase Reviews from Google & Yelp
Your online reputation can make or break your business's success, and customer reviews play a large role. Not only do 95% of customers read online reviews before buying, but positive reviews can increase spending by 31%.
With statistics like that, it makes sense to leverage customer feedback wherever you can on your website. What remains is finding a solution that makes doing so as painless as possible.
That's why we developed the Business Reviews block for premium SeedProd users.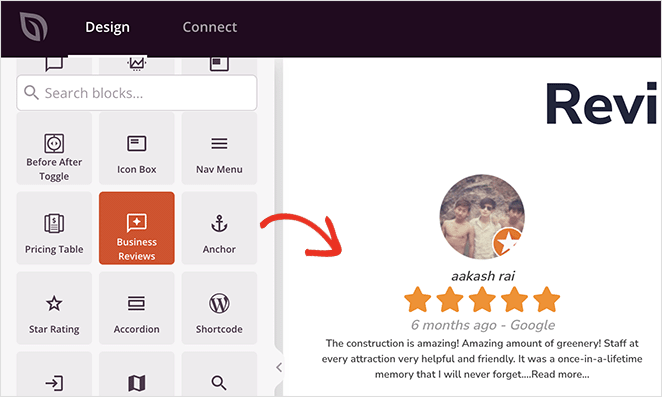 This powerful WordPress block lets you pull customer reviews and star ratings from Google and Yelp and display them anywhere on your site using SeedProd's drag-and-drop builder. You can show reviews from both platforms together in a single feed: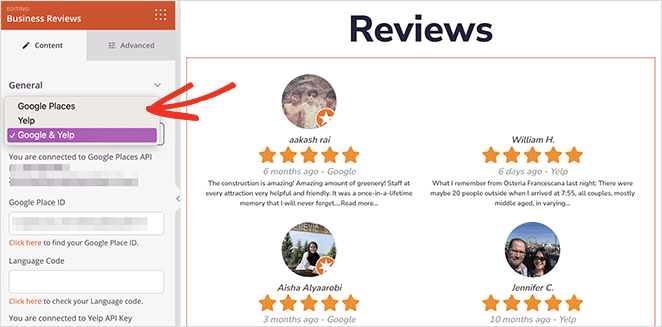 Or you can place the block multiple times and show reviews from Google and Yelp separately: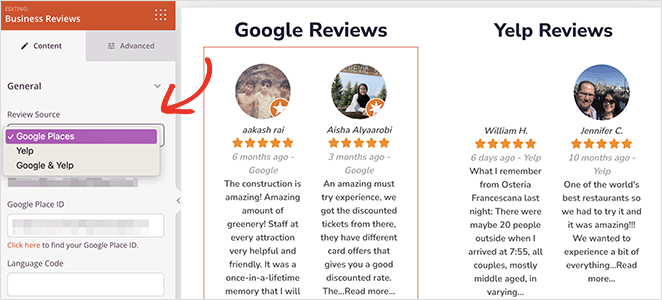 The block has countless customization options to tailor the reviews to your website design. It offers grid or carousel layouts with multiple slides and light or dark themes.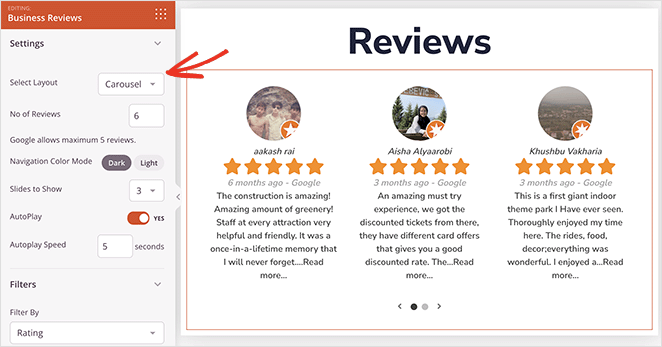 Additionally, there are dropdown menus to filter reviews by date or rating, allowing you to put your best reviews center stage.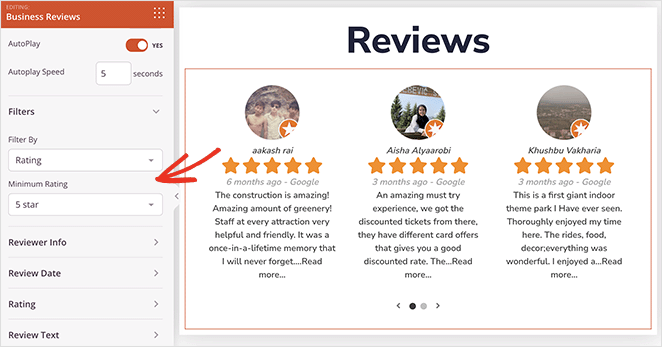 Further customization options include:
Review date type and color
Star rating icon size and color
Reviewer image, name, color, and link
Review text color, length, and read more text
Enable or disable specific review details
Advanced text styling and spacing options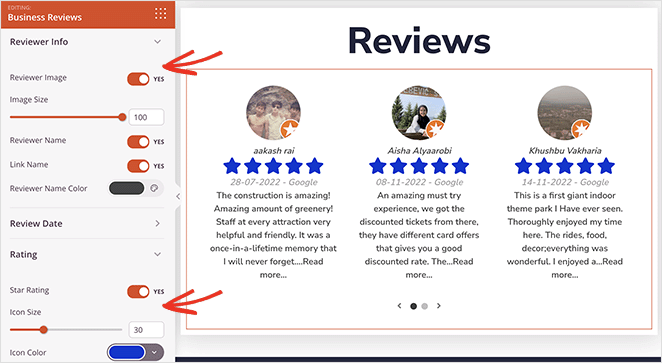 The Business Reviews block is an easy solution for any business to build trust and credibility.
With just a few clicks, online stores can display user-generated content for shoppers to make informed purchase decisions. Businesses with a physical location can also utilize reviews to attract local customers.
Moreover, adding Google and Yelp reviews to your site can provide valuable insights into what customers like and dislike about your business. With this information, you can make improvements to drive customer satisfaction, all without writing a single line of code.
Highlight Important Content with Alerts
Our next new feature, the Alert block, continues with the theme of better user experience. Otherwise known as modal dialog boxes, you can use them to display information or prompt website visitors to take specific actions.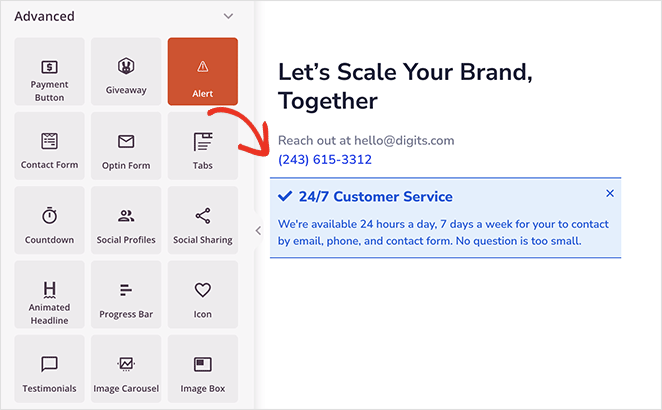 In the block settings, you can quickly choose the type of alert to display:
Info
Success
Warning
Danger
It includes spaces to enter the alert title and description and the option for users to dismiss the alert after reading it. Beyond that, you can customize the font sizes and title tags and choose an icon to display alongside the alert.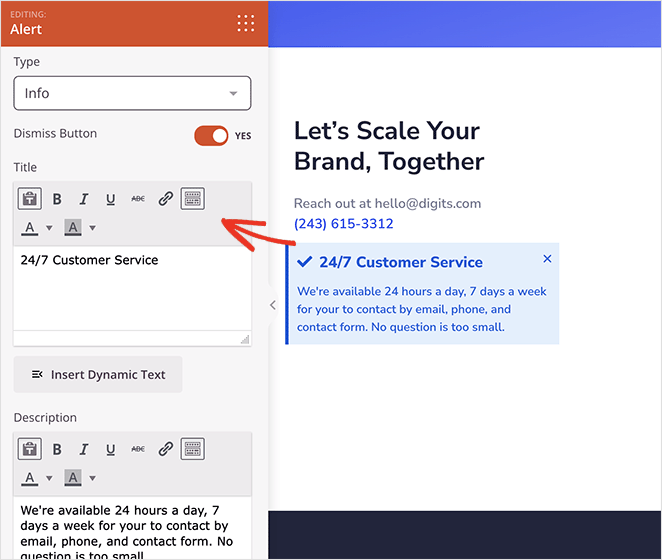 This block also comes with several pre-made block templates. With 4 styles to choose from, you can quickly find a design that best suits your website's look and feel.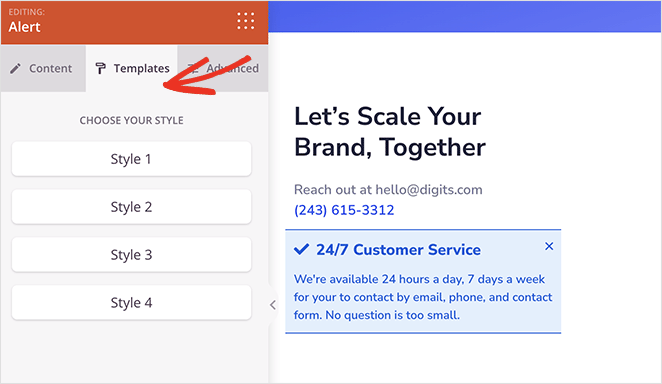 There are many ways to use the Alert block on your WordPress site. Want to remind shoppers to finish checking out? In that case, you can show a warning alert on your shopping cart page, explaining that shoppers will lose their progress if they abandon their cart.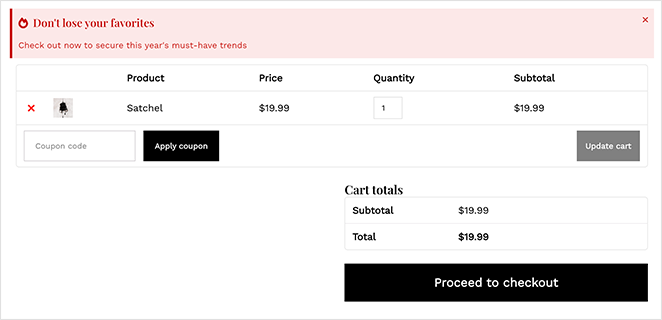 Similarly, you can display a success message on your order confirmation page to reassure shoppers that their order went through.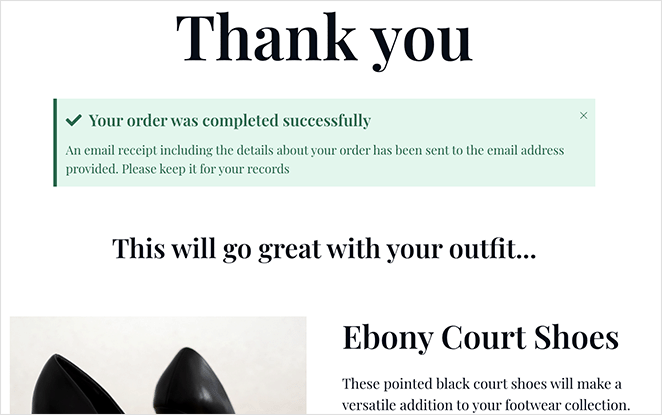 You can even use alert boxes on your blog to remind readers to subscribe to your newsletter for free updates.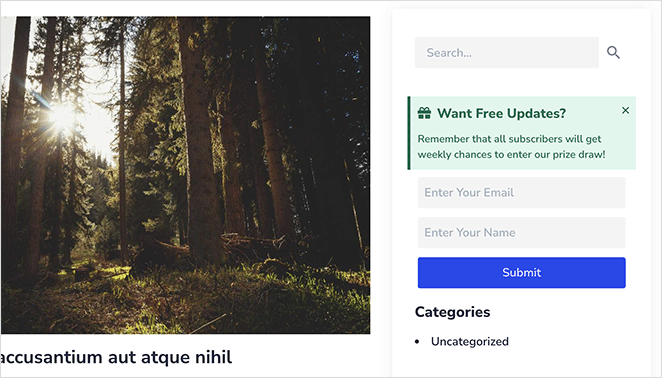 Easy Access to Help & Support
Besides adding valuable features to improve your web-design workflow, we also want to make it super easy for SeedProd users to get helpful tips, advice, and support. With this in mind, we're happy to introduce Inline Help so you can access our documentation without leaving the plugin interface.
Whenever you see the "Help" text or question mark icon, you can click it to see our documentation categories in the same window. From there, you can open individual help articles in a new browser tab and click the "X" icon to exit the help window and return to your project.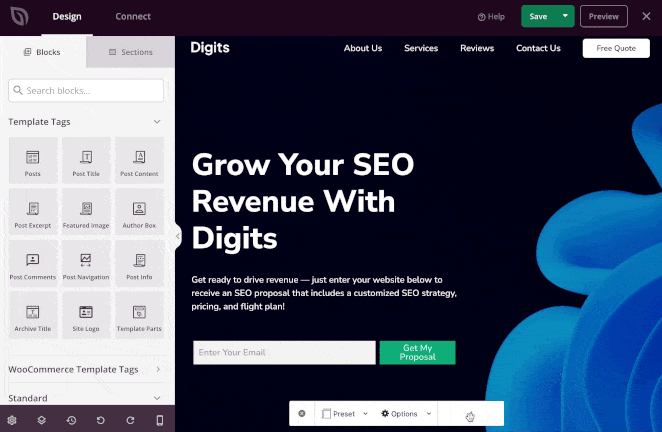 You can access Inline Help from the page builder, theme builder, settings page, and anywhere else in the SeedProd plugin dashboard. It's also free to use across our lite and premium plugins.
9 New Website Kits
No SeedProd feature release is complete without some brand-new designs for you to work with, and today is no different.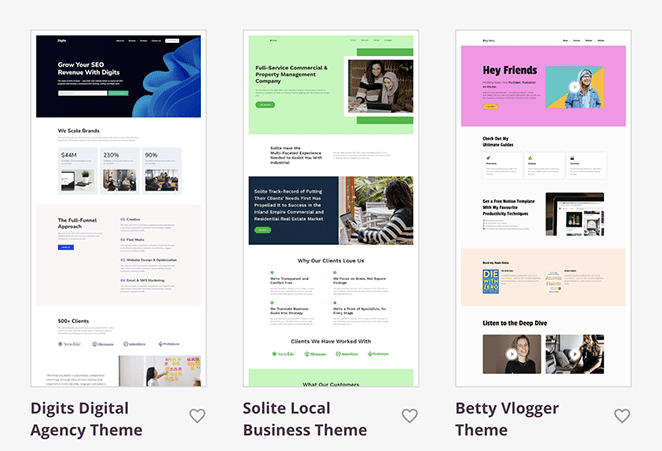 Our designers have been hard at work and are pleased to offer the following new Website Kits:
Vlogger Website
Local Business
Digital Agency
Dry Cleaning Website
Advertising Agency
Business Consulting Site
Local Services Wireframe
Portfolio Wireframe
Commerce Wireframe
You can find each kit inside your SeedProd template library by filtering the templates by new. And if you need a design we don't currently offer, simply get in touch to tell us what you need.
Update Your SeedProd Plugin Today
We're so excited for you to try these new features, so update your site to SeedProd 6.15.10 today to take them for a spin.
Remember, the Alert, and Business Reviews blocks are only available to users with a premium SeedProd license. If you're desperate to try them, now is the best time to upgrade to SeedProd Pro and enjoy all our best features.
If you have questions about this update, don't hesitate to contact our customer support team. We're always ready to help.
We're so grateful for your support, suggestions, and feedback. Please keep them coming. We're committed to making SeedProd the best WordPress website builder and can only do so with your help.