We've been hard at work listening to your feedback and improving SeedProd. And the newest update to the plugin offers even more powerful ways to create top-notch landing pages in WordPress.
Today we're back with Twitter blocks, better column alignment, and a few under-the-hood improvements to make SeedProd even easier to use.
Ready? Let's go ahead and see what's new with SeedProd!
Embed Multiple Twitter Blocks
We're thrilled to announce 4 new social media blocks for SeedProd, and this time, it's all about Twitter. You can now embed tweets, your timeline, and dedicated tweet and follow buttons right on your landing page.
Twitter Embed Tweet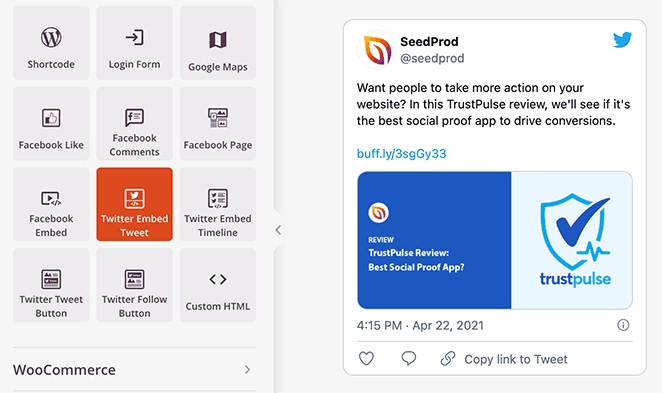 The Twitter Embed Tweet block makes it easy to embed any tweet on your page in WordPress. Just paste the tweet ID, and it shows on your page automatically.
You can set a light or dark color scheme in the settings, hide conversations, and even hide Twitter cards for a more compact layout.
With this feature, it's easier than ever to display specific tweets on your landing page.
For example, you can display a tweet on your sales page to announce a seasonal discount. Or, if you're launching a new website, you can add a tweet announcing a giveaway on your coming soon page.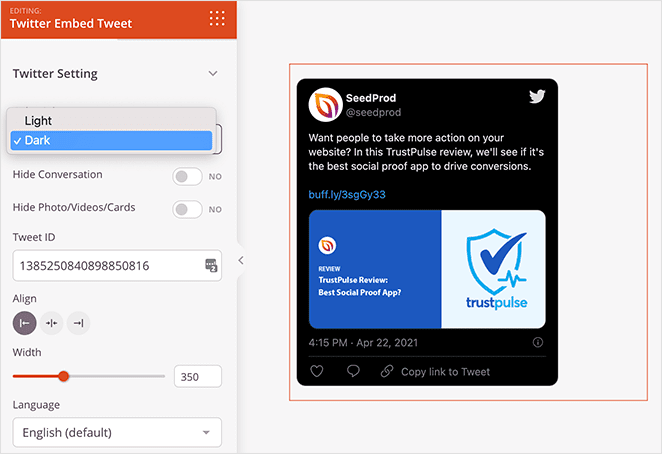 Twitter Embed Timeline
In addition, the Twitter Embed Timeline block lets you show your entire timeline on your SeedProd landing page.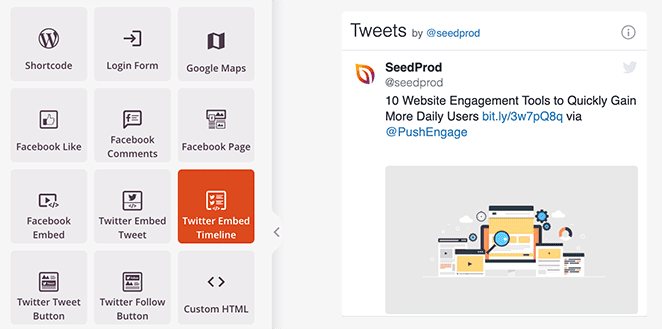 Just like the Embed Tweet block, you can choose from 2 color schemes and show or hide different elements, such as:
Header
Footer
Borders
Scrollbar
Replies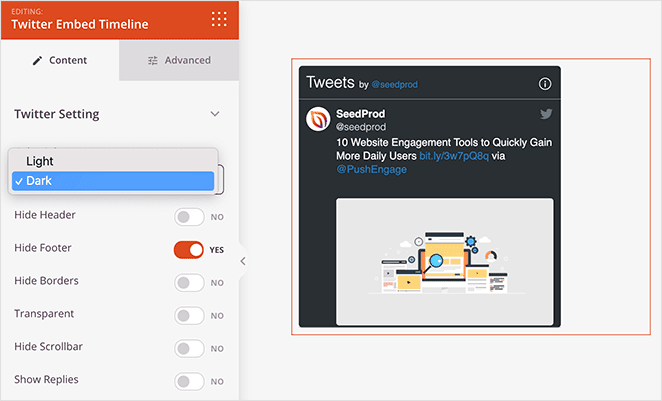 You can even make your entire timeline transparent, so it blends in seamlessly with your page.
All you need to set it up is a Twitter handle. This means you can show feeds from any Twitter account without needing any login details.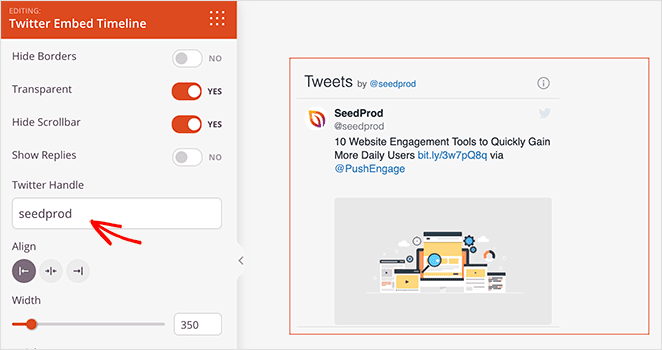 A great example is to embed your Twitter feed on your maintenance page. That way, visitors can monitor your tweets to see when maintenance is over.
Twitter Tweet Button
The new Tweet Button block is an ideal way to complement our new Twitter embeds. It allows your site visitors to share your page with their Twitter followers quickly.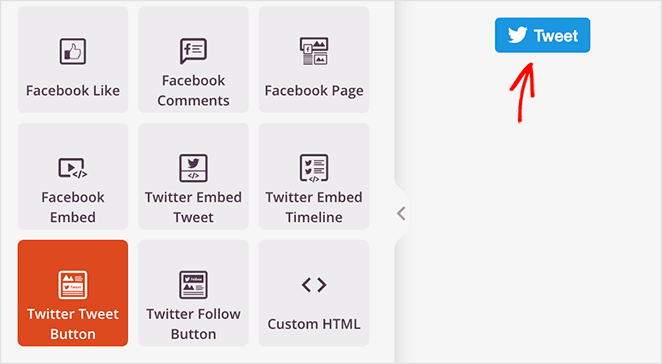 The Tweet button has both a small and large version, easy alignment settings, and several ways to customize the tweet.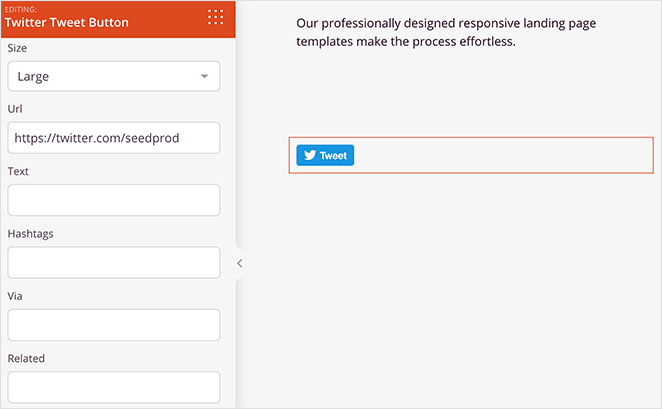 For example, you can set the:
Tweet URL
Message text
Twitter hashtags
Via @mentions
Language
With the Related field, you can use Twitter's parameters to show a list of accounts related to the content on your page. This allows you to spread the word about your landing page on Twitter quickly.
Twitter Follow Button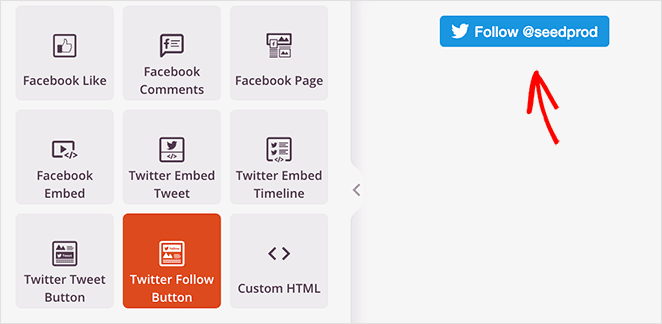 Similarly, you can add an individual Twitter Follow Button anywhere on your landing page. Naturally, this makes it a whole lot easier to grow your Twitter following without users leaving your website.
You can choose a large or small button, show or hide your screen name, and set the button alignment.
Plus, you can even display your total Twitter follower count for better social proof.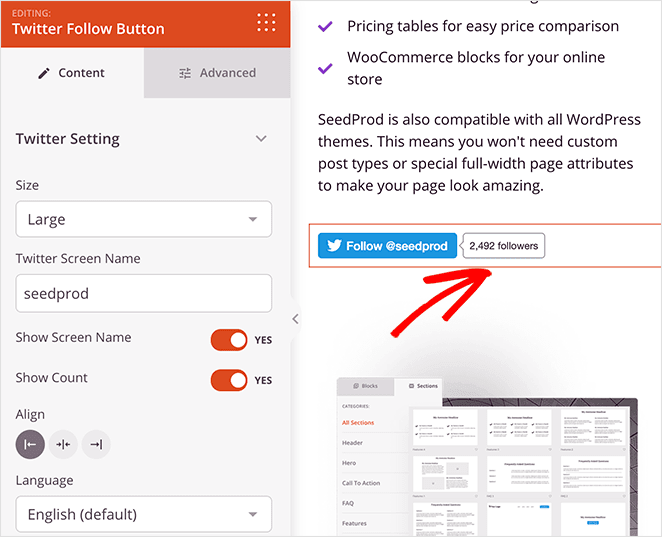 With all 4 Twitter blocks, it's now super easy to demonstrate your authority and increase brand awareness on Twitter right from your landing page.
You can learn more about how each Twitter block works in our block documentation.
Easily Align Landing Page Columns
In addition to growing our block library, we're also working hard on making SeedProd even easier to use. And today, we'll focus on columns.
Our new column alignment settings let you change the position of elements inside any column.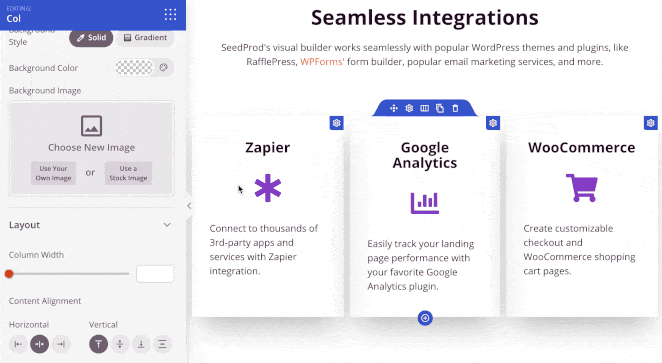 This means you don't have to change the alignment for each block in a column manually. Instead, you can easily align the blocks with just a few clicks.
Basically, you can create a more streamlined and professional look for your landing page.
Full-Length Template Thumbnails
If all the above wasn't enough, we're also working on improvements behind the scenes to make your SeedProd experience much better.
We're excited to introduce full-length template previews.
Previously, you could only see a small thumbnail when browsing for a new landing page template. Now, you can see a full-length screenshot. This means you can get a much better idea of a template's layout, design, and default block setup.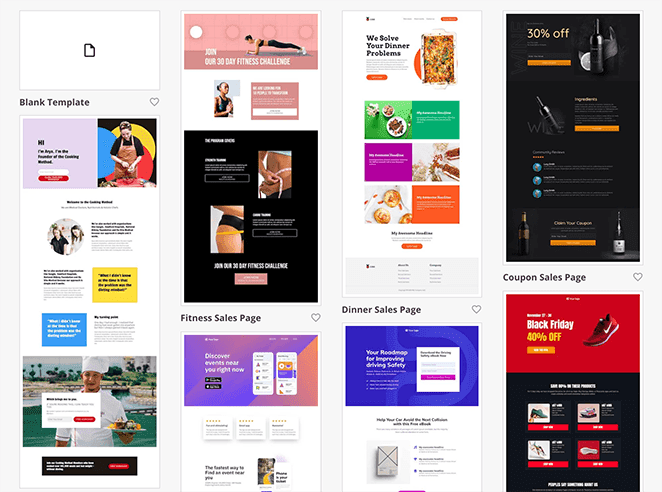 For example, a smaller thumbnail might not show the subscription form you need to grow your email list. To find it, you'd have to launch the template in the page builder.
With a full-length preview, you can see that it's there at a glance, so you can quickly move on with your page setup without any extra steps.
Plus, if a template preview doesn't have a feature you need, you can keep browsing until you find one that does.
This change goes with the newly designed templates page on our website. Here you can not only see full-length template previews but also filter templates by:
Newest
Most popular
Landing page type
Industry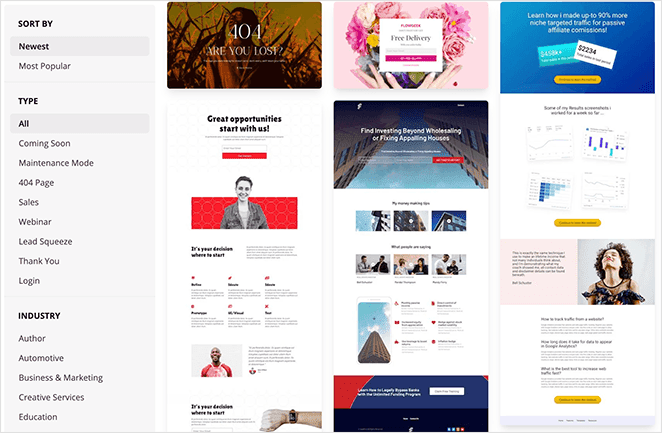 Because of this update, it's now easier to find the perfect design for your landing page at a glance.
Faster Image Loading
Next is an update on how images load in web browsers, called Image Source Sets. Source Sets allow browsers to load different image sizes depending on the type of screen you use.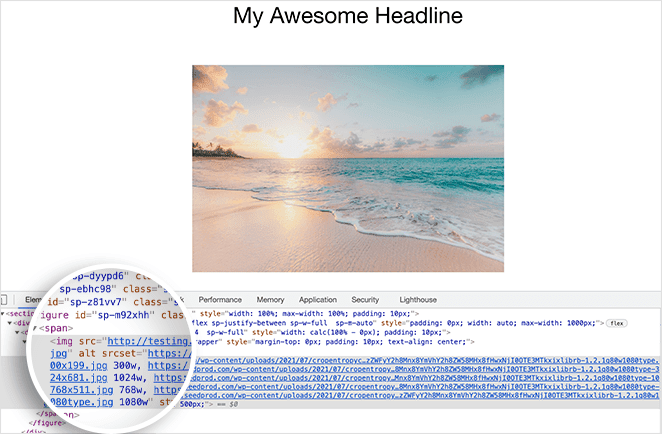 For instance, smartphone browsers load a smaller image, while laptop browsers load a larger image.
If this sounds complicated, don't worry.
This feature works behind the scenes automatically, and you don't need to configure any settings. But what it does do, is it helps landing pages with images load much faster on different devices.
In the end, it sends better page speed signals to search engines like Google and improves the browsing experience for your users. Plus, a good page speed can help improve your website's search engine rankings.
New Page and Section Templates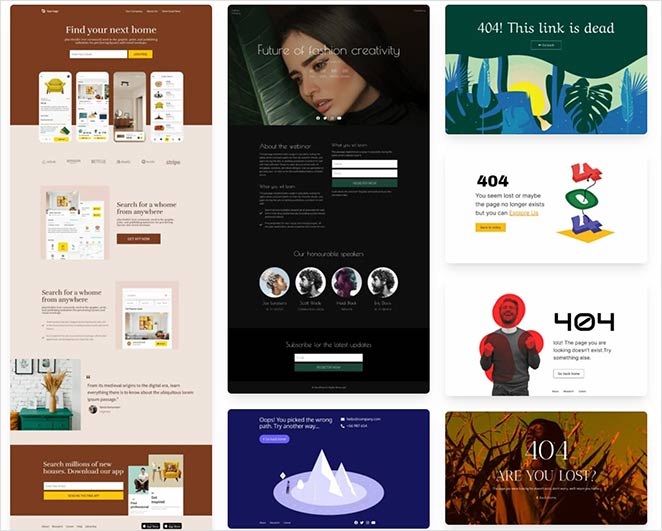 Last but not least, we've added a ton of brand new templates to our library, including 404, webinar, sales, and squeeze pages.
We've also released new section templates for accordions, hero areas, and testimonials. This makes it so much easier to create professional-looking pages without touching a single line of code.
For example with this new hero section, you can create an eye-catching area to promote your interior design business or furniture products.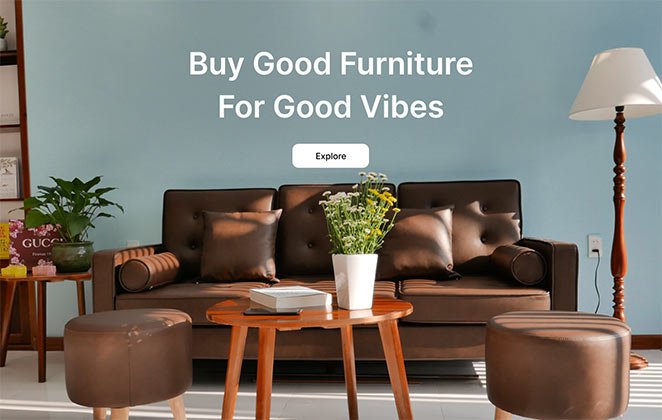 Even better, you can change the section design easily by uploading your own images.
Update Your SeedProd Plugin Today
We hope you're as excited as we are about these shiny new features inside SeedProd.
Everything in today's update is available to all SeedProd users with an active paid plan.
If you don't have the pro license yet, go ahead and get SeedProd Pro today to unlock all of the powerful new tools covered in this announcement.
We'd love to hear what you think about SeedProd and the updates we release. Feel free to reach out to let us know what you love about it, any ideas you have, or any other improvements you'd like to see.
Thank you so much for your continued support in making SeedProd the best WordPress landing page builder. We're truly grateful for you!