We're thrilled to roll out another game-changing update for SeedProd premium users. Introducing the Video Popup Block—a feature designed to boost your website's engagement and user experience.
But that's not all; we're also unveiling 12 brand-new website template kits to make your site-building journey even smoother. Read on to discover how these updates can transform how you interact with your audience.
Why Video Popups? The Power of Visual Content
In an era where digital engagement is key, video content has become more than just a flashy add-on—it's a cornerstone for effective online interaction.
But don't just take our word for it; the numbers speak for themselves. A recent study shows that as many as 91% of consumers want to see more online video content from brands. Additionally, 86% of marketing professionals use video as a marketing tool.
So, what makes video popups so compelling? They blend the immersive power of video with the immediacy of a popup, offering an engaging experience right on your webpage. This combination not only captures attention but also drives action—be it signing up for a newsletter, exploring a product, or simply spending more time on your site.
With SeedProd's new Video Popup Block, you can seamlessly integrate this type of visual content right into your WordPress site.
Getting Started with Video Popups
Setting up your new Video Popup Block is a breeze. You don't need to be a tech wizard to get things rolling; just follow these simple steps: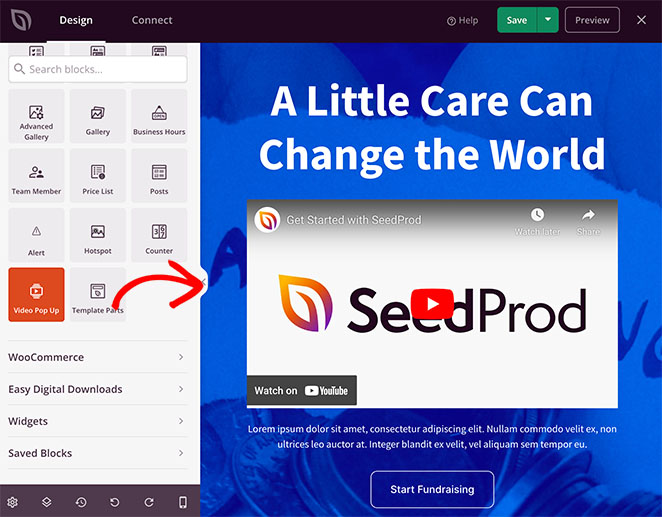 Edit Your Page: Open the page you want to edit with SeedProd.
Drag and Drop: Find the Video Popup Block in the blocks sidebar, then drag and drop it onto your page.
That's it! From here, you can dive into the customization options to make the video popup truly your own.
Display Videos from Multiple Sources
One of the standout features of the Video Popup Block is its versatility in video sourcing. You're not limited to just one platform; instead, you have multiple options to choose from:
YouTube: Perfect for those who already have a YouTube channel or want to feature trending videos. Just paste the video URL, and you're good to go.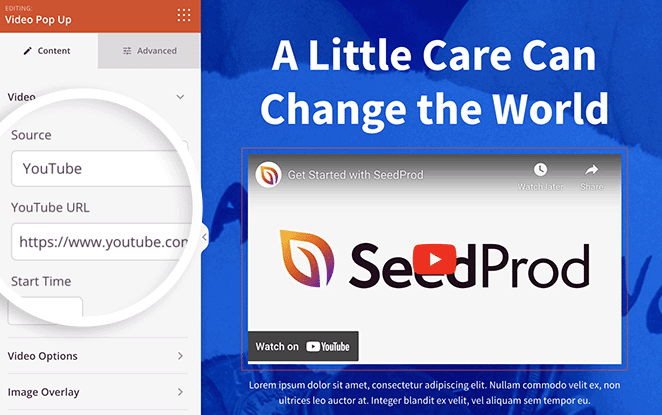 Vimeo: If you prefer the more professional and ad-free environment of Vimeo, this option is for you. Again, all you need is the video URL.
Custom: Want full control over your video content? You can upload your custom videos directly via the WordPress Media Library or from an alternative URL. This is ideal for exclusive content that you don't want to share on public platforms.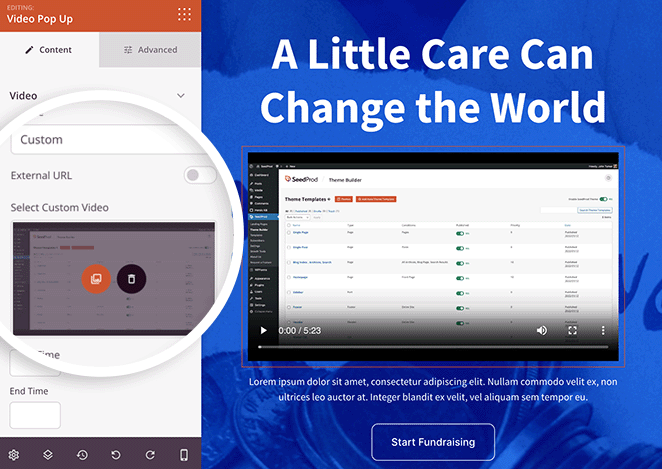 Improve User Experience with Versatile Video Options
The Video Popup Block isn't just about embedding a video; it's about providing an optimized viewing experience for your visitors. Let's break down the customization options you have at your disposal:
Autoplay: Ideal for grabbing immediate attention, autoplay starts the video as soon as the page loads. There's even a separate toggle to autoplay videos on mobile devices. Use it for welcome videos or important announcements.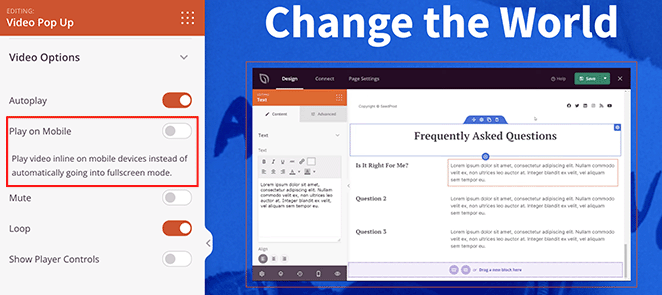 Mute: Sometimes, you want the video to be seen, not heard—especially if it's supplementary to the main content. The mute option ensures your video doesn't disrupt the user experience.
Loop: Have a short video clip that you want to play continuously? The loop feature keeps the video playing in a never-ending cycle, perfect for background visuals or ambiance.
Show Player Controls: Give your users the freedom to pause, play, or skip through the video with visible player controls. This is great for longer, informative videos where viewers may want to revisit certain sections.
Privacy Mode: For those concerned about data privacy, this option ensures that no cookies are stored on the viewer's computer until they play the video.
Lazy Load: Speed up your page loading time by only loading the video when it's visible to the user. This is crucial for mobile users or those with slower internet connections.
Suggested Videos: At the end of the video, you can display suggested videos to keep the viewer engaged. Choose between videos from the current channel or suggest any video.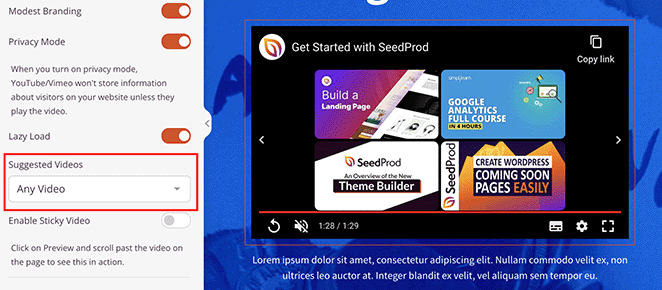 Use this to guide users to more of your own content or relevant third-party videos.
Keep Viewers Engaged with Sticky Video
The Sticky Video feature takes user engagement to the next level. Imagine your viewers can scroll through your website without missing a second of your video content. That's exactly what Sticky Video accomplishes.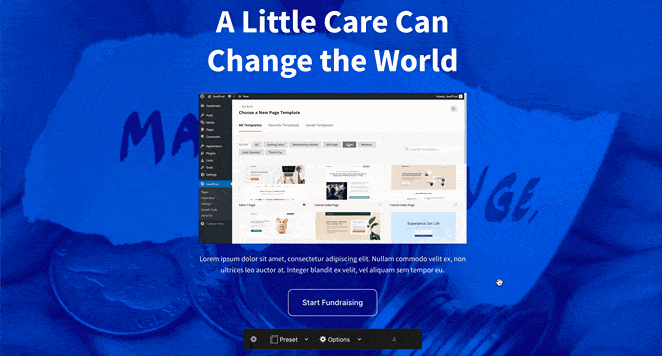 When this feature is enabled, the video minimizes to the bottom corner of the page as the user scrolls. This way, your audience can multitask—exploring other parts of your page while staying tuned into your video.
Increase Click-Throughs with Image Overlay
While the video content is the star of the show, the first thing your audience sees is the thumbnail image. That's why we've included customization options that not only make your video popups more visually appealing but also encourage clicks.
By enabling the custom thumbnail option, you can use your own image to give viewers a sneak peek of the video content. A compelling thumbnail can significantly increase your click-through rates.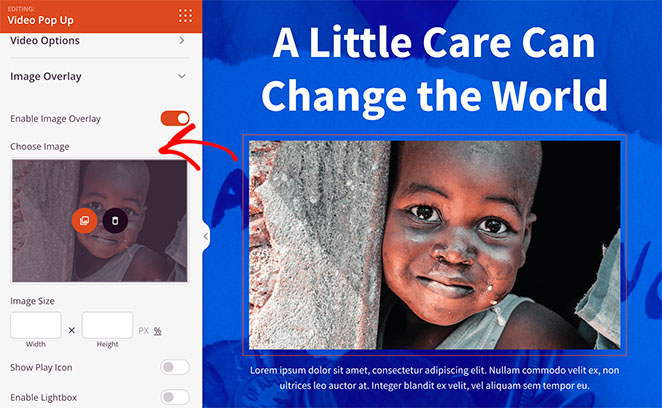 To go with your custom thumbnail, you can add a custom play icon to make it clear that the image is clickable and leads to a video.
Want to match your website's branding? Choose from multiple icons and change their color to anything you like with a few clicks.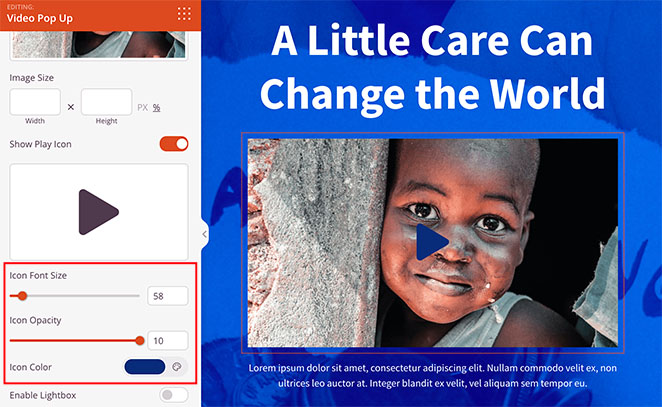 When enabled, the video can even open in a lightbox, providing a focused and immersive viewing experience. This is especially useful for videos you want to highlight or that contain important information.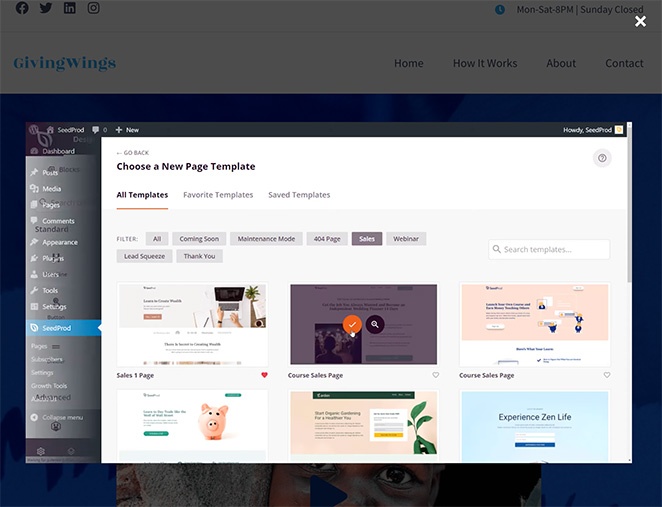 In summary, this new feature is more than just a way to display videos on your site.
Whether you're a content creator, agency, online store, or small business, it's an all-in-one solution for engaging and educating your audience in WordPress.
More SeedProd News
As if the Video Popup Block wasn't enough to excite you, we've got another big update—12 brand-new website template kits designed to cater to various niches.
Whether you're in the hospitality sector, healthcare, or eCommerce, there's something for everyone.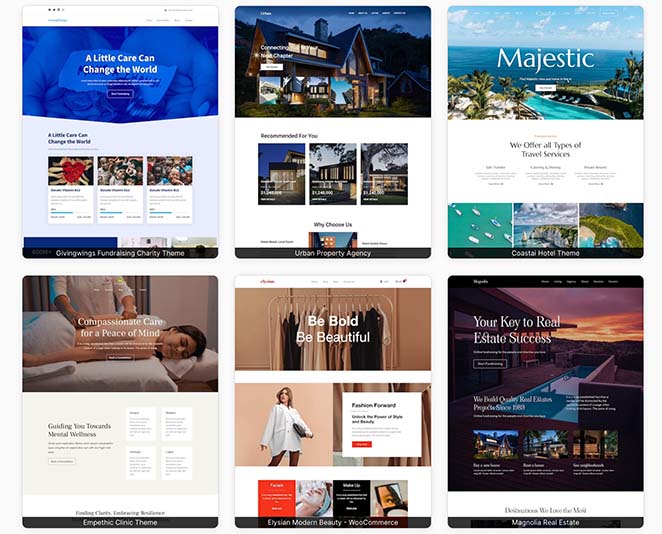 Here's a quick rundown:
Fundraising Charity: Perfect for non-profits looking to make a difference.
Property Agency: Ideal for real estate agencies aiming to showcase properties in a sleek, professional manner.
Costai Hotel: Designed for hotels and resorts, offering a luxurious user experience.
Empethic Clinic: Tailored for healthcare providers, focusing on accessibility and information.
Modern Beauty (WooCommerce): A stylish and functional kit for beauty eCommerce sites.
Magnolia Real Estate: Another great option for property listings focusing on visuals and details.
Nail and Beauty Salon: For salons looking to attract new clients and showcase their services.
Design Studio: Ideal for creative agencies and freelancers.
Fork Flask Restaurant: Perfect for eateries looking to display menus and take reservations online.
Grape & Vines Winery (WooCommerce): Tailored for wineries and liquor stores, complete with eCommerce support.
Fashion and Model Website: A chic template for fashion blogs, portfolios, and eCommerce.
Elite Consulting v2: A versatile template for consulting firms offering a professional, customizable layout.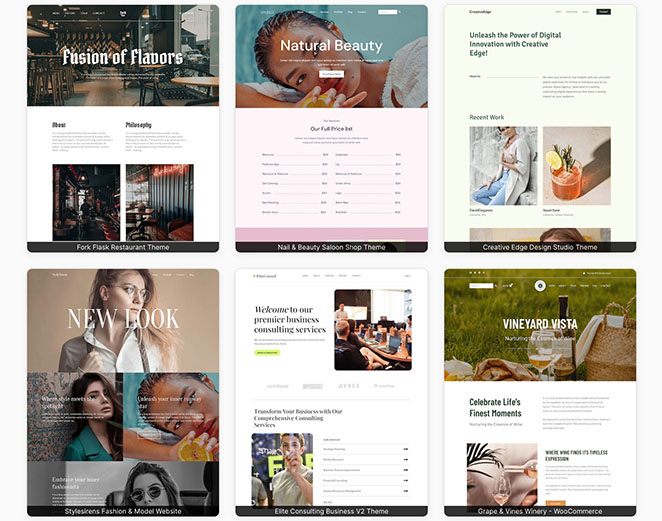 Each template kit is fully customizable and designed to work seamlessly with all SeedProd features, including the new Video Popup Block.
Ready to Engage Visitors with Video Popups?
There's never been a better time to improve your website with SeedProd. With the new Video Popup Block and 12 website kits, you have everything you need to create an engaging and effective website. Whether you aim to boost interaction with compelling video content or give your site a fresh, professional look, we've got you covered.
Anyone with a paid SeedProd license can update the plugin today to access all these new features and templates. If you have any questions or need help getting started, our support team is always here to assist you.
Are you still using the free version of SeedProd? Well, now's your chance to upgrade. Until Friday, November 3rd, 2023, at midnight EST, we're offering a huge Halloween discount with 60% off for lite users only!
As always, thank you for supporting us in our mission to make SeedProd the best WordPress website builder.