At SeedProd, one of our main goals is to make customizing your WordPress site as easy as possible. With this in mind, we're back with another exciting feature release to make your site more engaging and user-friendly without code.
From today you can now animate any part of your website with eye-catching effects. We've also released a brand new WordPress block that lets you accept payments with Stripe.
This update makes working with SeedProd easier and more enjoyable than ever. Check out the video below for a quick overview of this release, or continue reading for the full details.
Easily Animate Your WordPress Theme
Until now, if you wanted to add animation effects to your WordPress site, you'd need to use bulky external WordPress plugins or custom code. Yet, with SeedProd's new animations option, anyone with a Pro plan can unleash their creativity to design unique animated websites without impacting performance or hiring a developer.
Here's how it works:
Open a layout in the drag-and-drop page builder
Click any element
Select the Advanced settings tab
Open Animation Effects
Choose an animation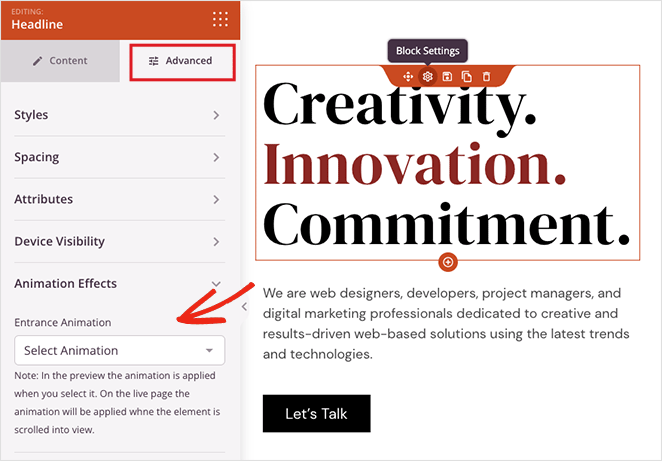 With a total of 46 animation effects, you can add eye-catching transitions and animations to any page of your WordPress site. They're super easy to use, requiring just a few clicks. Plus, they're so captivating to watch they're ideal for increasing engagement.
Let's take a closer look at the different animations available.
Attention Seekers
SeedProd's "attention-seeking" animations are designed to do exactly that: stop visitors in their tracks and command attention. They're a great way to get visitors looking at crucial design elements like call-to-action buttons, sign-up forms, and add-to-cart buttons.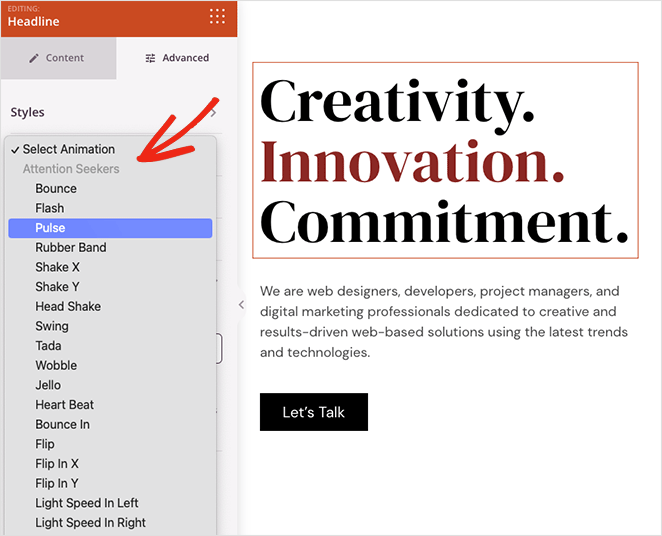 There are 18 Attention Seeker animations to choose from, including:
Bounce
Flash
Pulse
Rubber Band
Shake X
Shake Y
Head Shake
Swing
Tada
Wobble
Jello
Heart Beat
Bounce In
Flip
Flip In X
Flip In Y
Light Speed In Left
Light Speed In Right
Need an example?
Let's say you're creating a coming soon page and want visitors to sign up for email notifications. With a few clicks, you can make your sign-up form bounce as soon as visitors enter the page, instantly capturing their attention.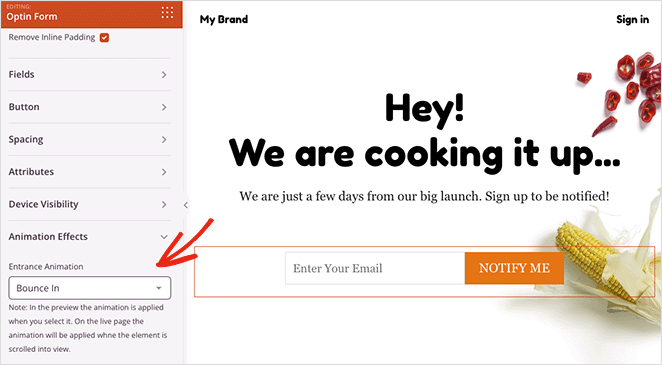 What if you're promoting an app? In that case, you can animate your Google Play or App Store image links to Flip, making them instantly more noticeable and clickable.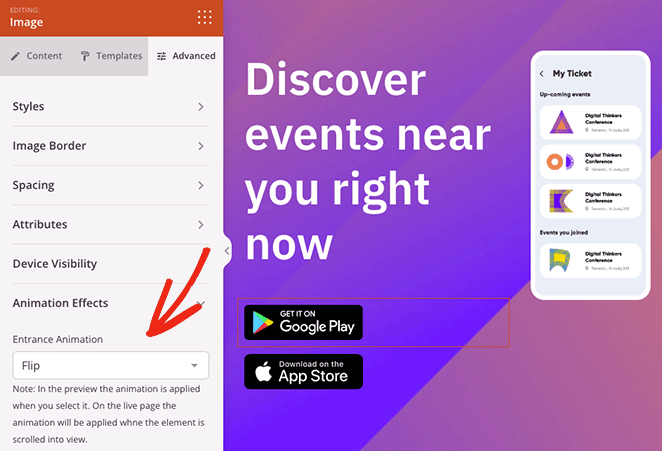 Slide, Fade, Zoom, and Rotate
If you're looking for subtler animation effects, our Back In and Fading animations are fantastic choices.
Under the Back In section, you can choose from 4 different sliding effects: down, left, right, and up. Because they slide onto your page from 4 different directions, they're ideal for introducing less urgent content like image galleries, team members, and services.
For instance, if you're an agency, you can use the Back In effect to gently nudge people's attention toward your portfolio.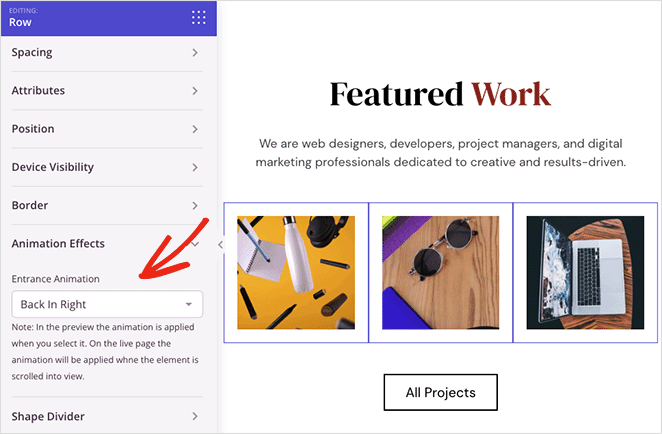 Similarly, the Fading animations help you create some unique and exciting effects. For example, you could animate every element on your page to fade upwards as you scroll down the page.

You can even use animation effects on header, footer, and sidebar elements.
The Rotating and Zooming effects are perfect for this, allowing you to highlight important information like your social media icons, blog categories, navigation links, and more.
As with any SeedProd feature, animation effects are 100% mobile responsive and adapt to any screen size. They offer endless ways to customize your website and are not only beautiful but can also considerably improve the user experience of your website.
Quickly Accept Payments with Stripe
Another exciting feature we're releasing today is our new Stripe Payment Button. Available to free and paid users, it lets you connect your Stripe account to SeedProd and collect payments directly from your WordPress site.
Note: there is a 3% fee per transaction, plus Stripe fees.
You can find the Payment Button block in the Advanced WordPress blocks section and drag it onto your page.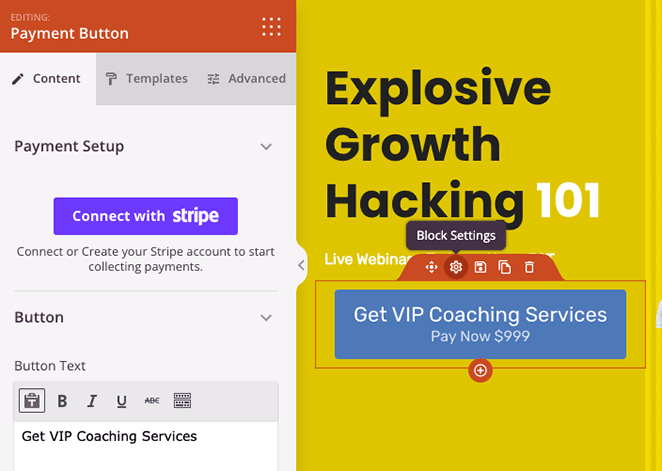 When you open the block settings, you can click the Connect with Stripe button to link SeedProd with your Stripe account.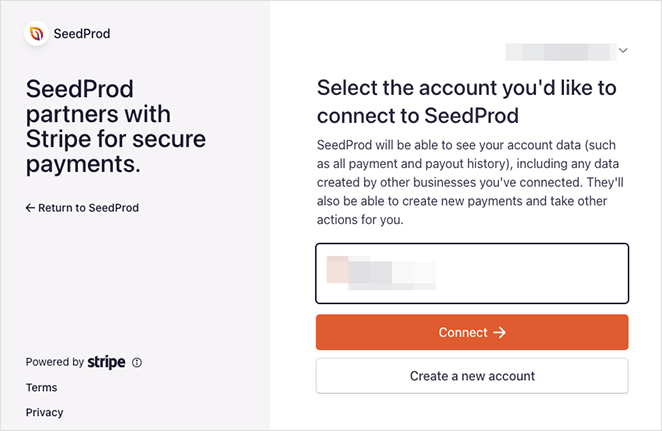 Once you've authorized the connection, you'll automatically return to your website, where you can customize the payment button. You can edit the payment amount, description, and currency and add a success URL.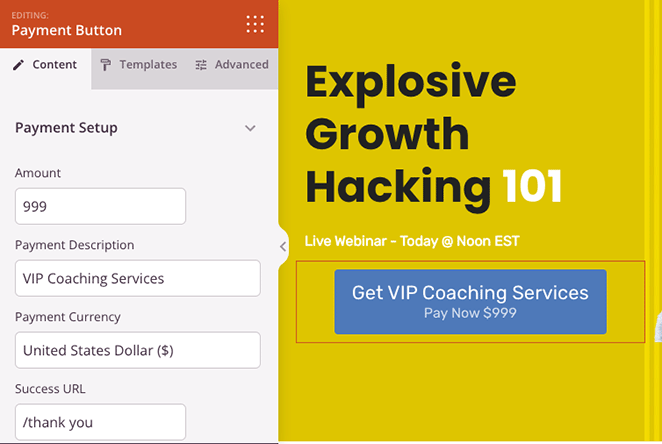 The success URL is a fantastic way to keep users on your website after making a purchase. For example, you can use SeedProd to create a custom thank you page that customers will see after checking out.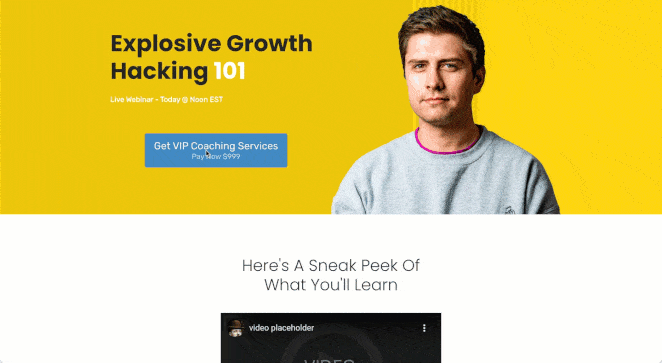 Moreover, styling your button is effortless. Simply click the Advanced settings, and choose your own typography, spacing, color, and device visibility options.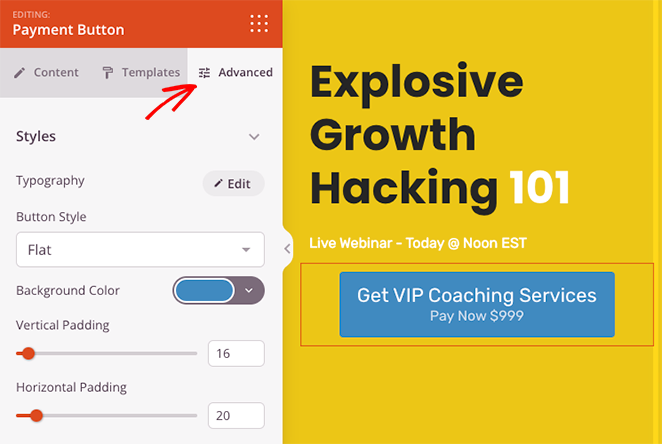 Our Stripe Payment Button is fantastic news for smaller business owners. It makes it much easier to sell single or multiple items and accept payments seamlessly without creating an entire online store.
Update Your SeedProd Plugin Today
We hope you find these new features as exciting as we do. Update your site to the latest version of SeedProd today to take them for a spin.
If you're new to the SeedProd plugin, now is the best time to get SeedProd Pro and enjoy its most powerful features.
If you have questions about these features, don't hesitate to contact our customer support team. We're always ready to help.
We're so grateful for your support, suggestions, and feedback. Please keep them coming. Our commitment to making SeedProd the best WordPress website builder is only getting stronger as we continue to win together with our customers.