For developers, WordPress may seem self-explanatory. But for your clients and users, learning how to use a new site, theme, or plugin can feel daunting.
The developer's job doesn't stop when the code is written. To keep clients singing your praises and customers using your themes and plugins, you need to educate them about the functionality of your site builds, themes, and plugins.
There are a number of ways you could go about this, most notably:
documentation,
video tutorials,
training, and
webinars.
Each has its pros and cons, and some users and clients may do better with one method than another. However, if you want to create foolproof tutorials for clients, I suggest creating great documentation that incorporates video tutorials.
In this post I'll talk about what you'll need to create these foolproof tutorials, and how they can help your clients and your development work.
Create Great Documentation
Your documentation is going to be the first step toward creating foolproof tutorials for your clients. Users need something they can return to and follow along with at their own pace.
In some cases, they may prefer a PDF that can be printed out. You can't print a video, but you can create helpful documentation to onboard your new users. Think about incorporating labelling, illustrative visuals, and text descriptions to tie it all together.
Label Everything
Your first step toward creating your tutorial materials should be labelling everything new on the client's screen. It may seem elementary, but there's a good reason for this.
If something is new to a user, they may not even know what they're looking at. That could make it almost impossible to field questions through email or phone. By labelling every back end menu, plugin dashboard, and widget settings panel, you're giving your clients the language to ask the kind of questions you can more easily answer, thus saving time.
Add Visuals
Visuals are so important to making your tutorials foolproof that you should make these before you type up any words describing your web designs or plugins. In fact, many people greatly prefer visuals – think of IKEA instructions or the popularity of infographics.
Studies show about 65% of people learn best through visuals. That's what WordPress trainer and blogger Bob Dunn found in a recent survey on his blog as well. Dunn found 63% of his readers preferred online screenshots with text for learning WordPress: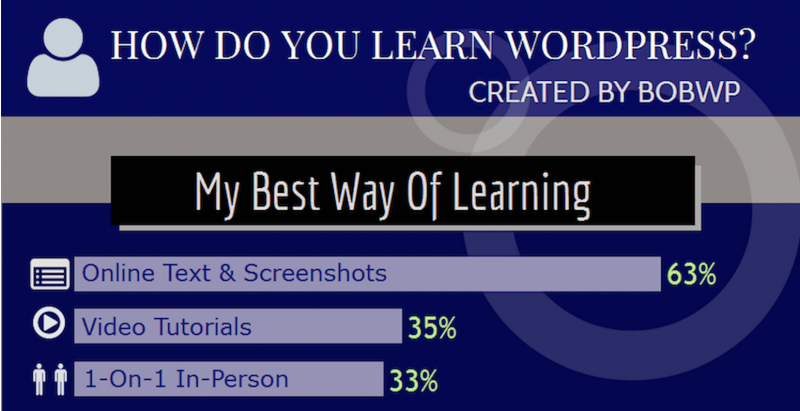 Whether you're just describing the wp-admin area for a first-time WordPress client or teaching a custom WordPress build that's much more complex, don't skip the screenshots.
Write Descriptions
Now that you've labelled everything and created visual examples and screenshots where necessary, you need to add some text descriptions that add context or instructions.
If you've depicted a particular functionality with screenshots, now you want to describe what that functionality is for the user. You may also need additional text to explain how to get from one screenshot step to the next.
For example, if the image below were part of a tutorial, I would accompany it with the following text:
Open the Jetpack plugin by navigating to Jetpack > Jetpack from the sidebar in the WordPress back end.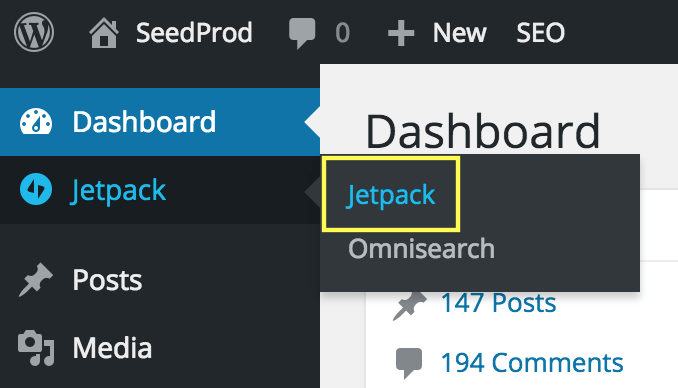 Most importantly, don't skip steps. Ask a non-technical friend to review your first few tutorials to make sure you aren't leaving out something important. It's so easy for us to get used to our development processes that we may not even notice we've skipped over something important. Getting a second pair of eyes on your tutorial will make sure you're not skipping ahead of your clients.
Incorporate Video Tutorials
At this point your documentation is done, but there's still more you can do for your clients. Sometimes users prefer to hear someone explain a concept to them, rather than read about it.
For clients like these, video tutorials may be a good next step. A video tutorial on its own might get the job done, but we're looking for foolproof results.
I'd recommend both documentation and videos for anything complicated, or for inexperienced users. That way, the documentation is there for users to refer back to without having to search through a video to answer their question.
Link to Existing Videos
Perhaps you need to get a website client up to speed with their new basic WordPress website. You might want to avoid reinventing the wheel and spending precious time creating your own basic tutorial. In this case, linking to third-party video tutorials from your documentation may be a good option.
If that's what you need, the actively engaged WordPress community has got your back. With just a quick search, I found 187,000 videos on YouTube with a search for "learn WordPress":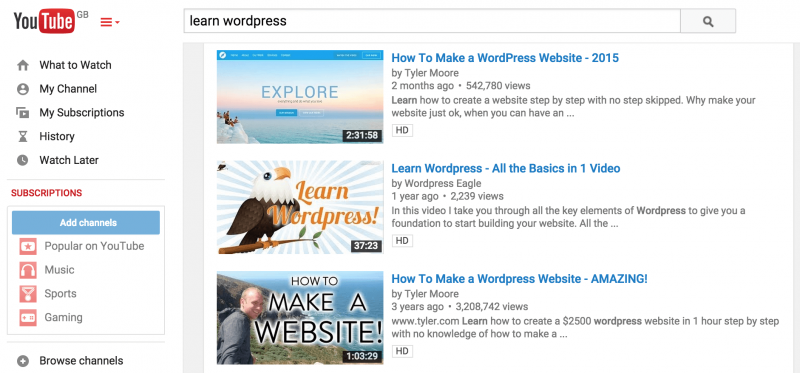 Linking to existing content has its pros and cons. On the one hand, you'll save time. You'll need to spend a bit of time vetting potential videos you find to make sure they suit your client, but not much else. On the other hand, this is only a solution for explaining standard WordPress functionalities and perhaps popular plugins with their own tutorial videos. You won't have control over what's in the video, how it's presented, or how long it's available online.
Make Your Own Video
If you can't find an existing tutorial solution that works, the next step is making your own tutorial video. Once you've made a couple of videos, you should be able to settle into a routine that doesn't take up too much of your valuable time.
There are a number of tutorial-making tools available online to help you make your video. Prices range from free to several hundred dollars for the more advanced, option-packed screencasting tools. Here are three worth considering:
CamStudio is a simple screencasting tool that enables you to capture video and audio, as well as add on-screen text annotations. This is an easy-to-navigate, user-friendly tool that you should be able to master with little effort. It's a Windows-based program and it's entirely free.
Jing is another popular option that enables you to capture video, animation, and still images. Its only notable limitation is a five-minute recording restriction. So if you plan to make long tutorials, you'll have to go with another option. You can use Jing on Windows or Mac, and there are free and premium versions available.
ScreenFlow is a Mac-only option with quite a bit more oomph in terms of options. You can do a good bit of post-production editing to your tutorial if needed. The interface itself resembles Apple's iMovie application. A free trial is available while the full version costs $99.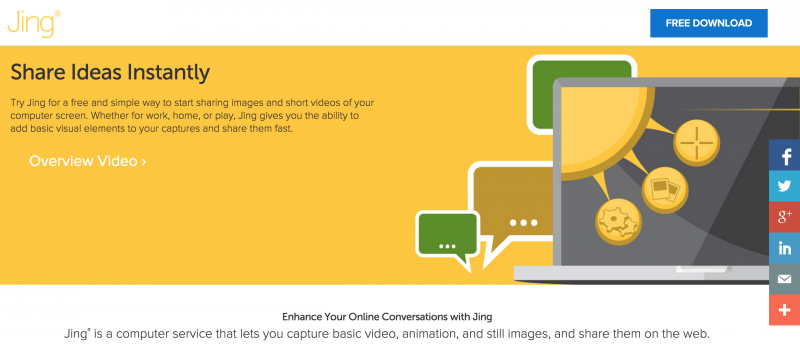 Any of these will get you set up with a custom video tutorial that you can show your clients along with your documentation. The next question is how to best tie-in your video tutorial.
Use a Tutorial Plugin
One answer may be to use a plugin. Several WordPress plugins are available that mean your clients watch video tutorials from within their site's dashboard. This could be an excellent all-in-one feature for developers doing entire site builds for their users.
I've found three nice options worth considering, so let's take a look: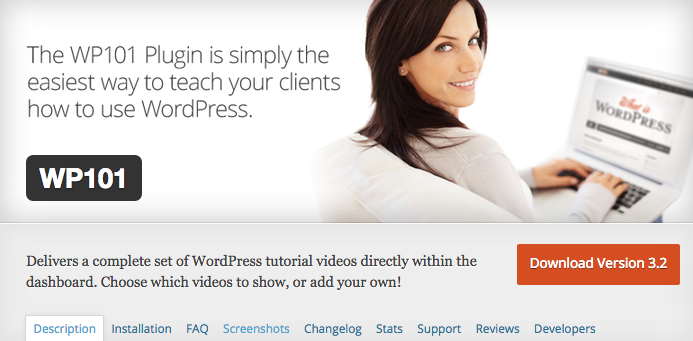 The WP101 Plugin puts access to regularly updated video content right inside the dashboard. About 20 getting started videos are included, such as "Posts vs. Pages," "Using the Media Library," and "Adding Widgets". There are also videos on SEO topics, and developers can make and add their own custom videos as well. There's a 30-day trial with a premium version starting at $24 per month.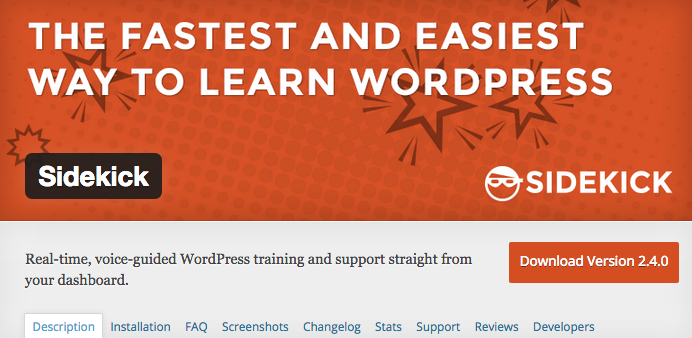 Sidekick is another nice Plugin Directory offering with real-time interactive walkthroughs from within the dashboard. A free version comes with 55 tutorials on WordPress dashboard functionality, website settings, and Genesis Framework functionality. The basic version is free, with the option to expand to over 200 tutorials for $3.50 per month.

The Video User Manuals tutorial plugin isn't in the Directory, but also offers some good options for developers. It features 59 videos that are integrated into a user's dashboard on topics ranging from basic WordPress videos to WooCommerce and Gravity Forms tutorials. This one also includes a WordPress user manual, which may save you the trouble of creating documentation. Single-site installs cost $70 each, but an unlimited-site developer license is $24 per month.
Foolproof Your Tutorial Experience Even More
With documentation and video tutorials in hand, your client ought to have an easy onboard experience with their new WordPress site or new plugin, but you could consider some other options as well.
Do In-Person Trainings or Webinars
With documentation and tutorial videos, we're trying to avoid some of the more time-consuming training you may be asked to do. Still, in some cases, it might be worthwhile to offer a white-glove experience for a client. Some clients may prefer more direct contact as they learn about their new WordPress site or plugins – and be willing to pay for it.
Offer a Maintenance Plan
Some clients may want to do everything in-house after you deliver your work, but others may want more of a lifeline. Offer a maintenance or support plan to these clients. It'll add to your monthly income and your clients will have help available if and when they get stuck. To avoid getting overwhelmed with support requests, you can set some guidelines on what you will and won't help with as part of the plan.
Create a Sandbox Site
Another trick to foolproofing your client's experience with your development work is to offer a sandbox site. It's a place where they can test out features and play around without the fear of breaking their brand new site. Creating a test site for the client obviously will be more work for you, but may be worth it in certain situations.
Make Your Foolproof Tutorials Work for You
You may have noticed that most of these tips aren't just helping out the client or end user of your work. We're also trying to help you, either by earning more for your services, or making your work more streamlined.
I'll just add a couple more thoughts on how you can make the most of foolproofing your tutorials:
Make Onboarding a Value-Added Feature
Your tutorials can be more than just a necessity to get clients up and running. Make your tutorials something that sets you apart and makes your proposal more appealing.
If you create a general-use tutorial, say for projects you do often, add it into your initial cost estimate for each client. Or, give it away for free and make sure you clients notice your training as an added feature. That way, they'll think they're getting more value from you than from your competitors.
Make It Once
Besides being able to charge for or plug its added value, a ready-made tutorial saves you time and money. Anything that you do repetitively for clients should find its way into a tutorial that can be used by multiple clients with little tweaking.
Create your resources once and you can use them over and over again. That way, you can spend more of your time working on your development projects.
Wrapping Up
All developers offer development work, but not all offer help with using their sites, themes, or plugins. You've probably experienced this at least once. You're sizing up a plugin and realize its Plugin Directory description is vague and that it doesn't offer any documentation or support. It may be enough to make you pass.
Your clients and users are no different. Difficult or complicated websites or plugins can be off-putting to them, too.
Make sure your documentation labels what's on the screen, provides visuals, and describes how it all works. Take the time to incorporate videos, either third-party or custom-made.
Your time putting together these foolproof tutorials will be well spent. Your onboarding work will serve as a value-added feature to prospective clients and you'll be able to charge more for your development work as a result.
How do you onboard your clients? Have you made your own WordPress video tutorials? What worked best for you? Let us know in the comments below!