We've just rolled out a fresh round of features and updates for SeedProd 6.15.11 that we know you'll love.
Introducing our new WooCommerce Product Gallery Block, Content Toggle Block, and Copy/Paste for Columns, Rows, and Blocks.
With these exciting changes, you can showcase product images in style, let visitors quickly toggle between content, and copy and paste even more design elements across projects.
Check out the announcement video for a quick summary of what's new in this release:
Alternatively, you can read all the details with screenshots below.
Display Stunning Product Galleries
First, let's look at our hottest feature request of the year: WooCommerce Product Galleries.
Regardless of your product collection's popularity, you'll struggle to attract potential customers if you can't display them beautifully across your website. That's why we're introducing the Product Gallery block for WooCommerce, which lets anyone with an Elite plan add multiple product photos in a stunning gallery without code.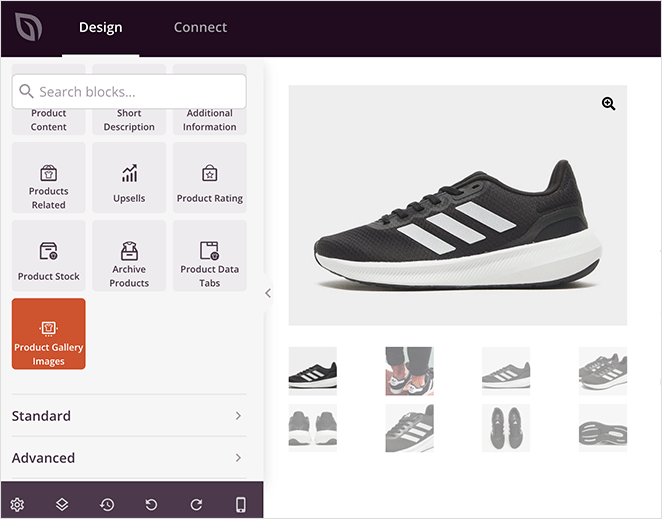 Using this block, you can showcase your WooCommerce products at every angle so customers get an accurate idea of what they're buying. Users can even hover over each image to zoom in on details similar to popular eCommerce sites like Amazon.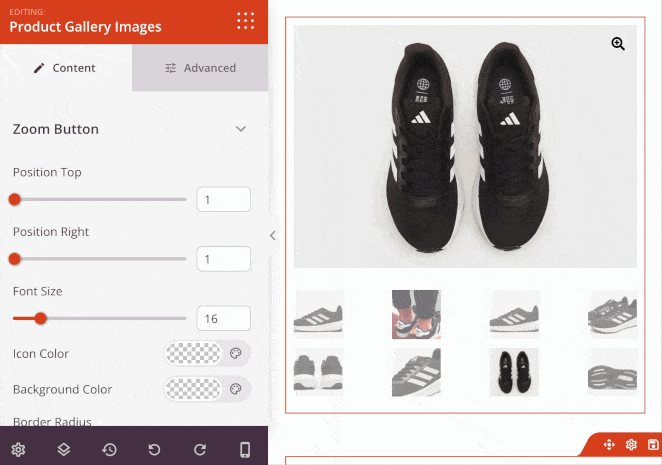 This brings us nicely to the block customization options, which include styling for the Zoom icon, like position, size, color, and border-radius.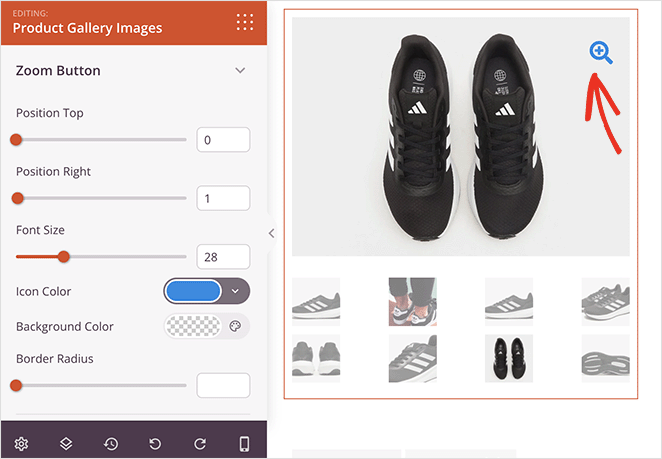 Similar options are available for the main image and thumbnail borders, which is a fantastic way to make individual images stand out from the gallery.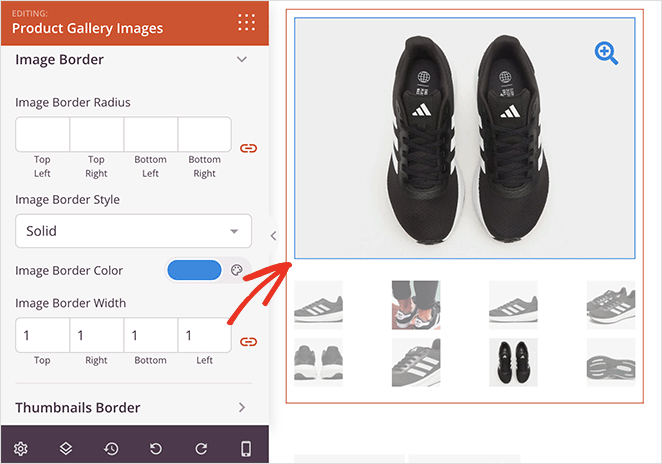 As with all SeedProd blocks, you can switch to the Advanced tab for even more ways to customize the look and feel of your product gallery. For instance, you can make it pop with an animation, adjust the margin and spacing, or hide the gallery on mobile devices.
If you sell products in different colors or patterns, you can use this handy block to show images of each variation. This helps customers see each version and choose the best fit for their needs.
You can also use the product gallery to highlight specific features. For example, if you sell a camera, you could use the gallery to show images of the camera's different modes, settings, or accessories.
If you sell products that are part of a larger environment, such as furniture or home decor, you can use this new block to create a virtual tour. This helps potential customers imagine how your product would look in their own space.
However you decide to use it, the Product Gallery block is a versatile feature for easily showcasing your products and helping customers make informed purchase decisions.
Quickly Toggle Content Types
If you want to make your WordPress site more interactive, the new Content Toggle block is the ideal solution for anyone with a Premium SeedProd plan. It lets you add a clickable toggle to your site, which allows users to switch quickly between two sets of information.
For example, if you have two different pricing scales for different target audiences, you can show them both on the same page. That way, users can quickly compare them to see the best fit for their needs without scrolling.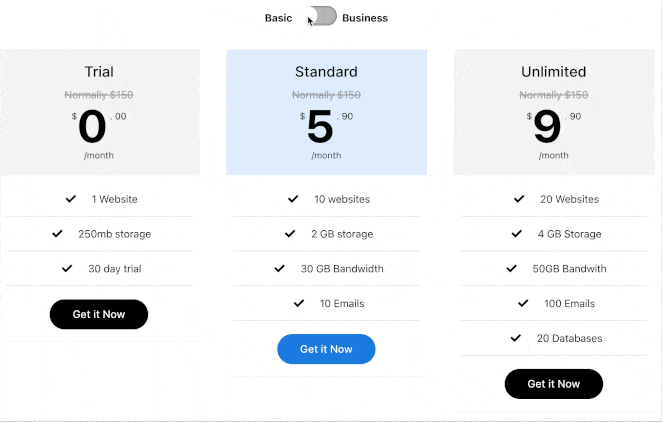 The way it works is super easy. Simply enter content for your first set of information in Content Area 1. Then do the same in Content Area 2 for your second set.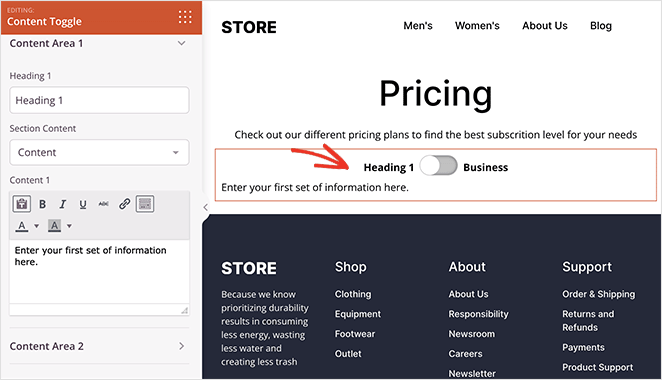 You can, however, make your content even more engaging by creating a template part with SeedProd's Theme Builder. That way, you can simply choose that part from the dropdown menu and show it instantly in either content area, which is what we did with this pricing table example: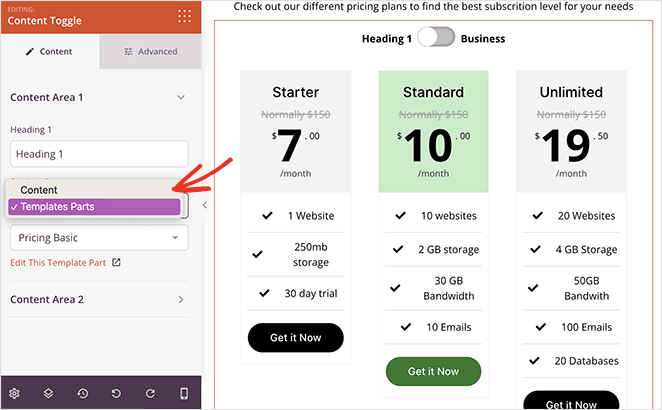 But that's not all. In the advanced tab, you can customize various styling options, including the toggle heading fonts, background colors, and switch shape.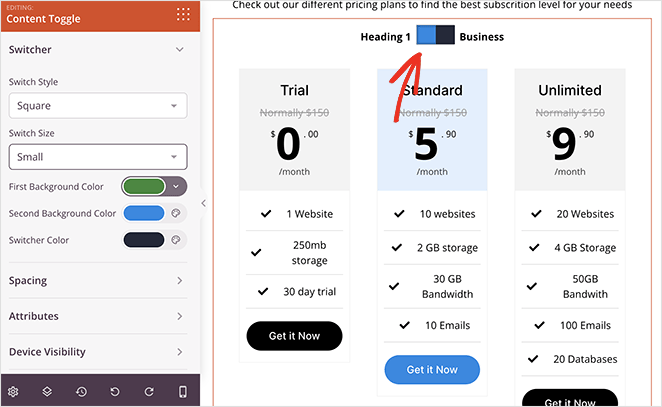 If you need a nifty way to build anticipation for new products or services, you can use the Content Toggle to allow users to switch between current and upcoming features.
Or if you provide services for different types of clients, the toggle is a great way to explain what you do for each audience.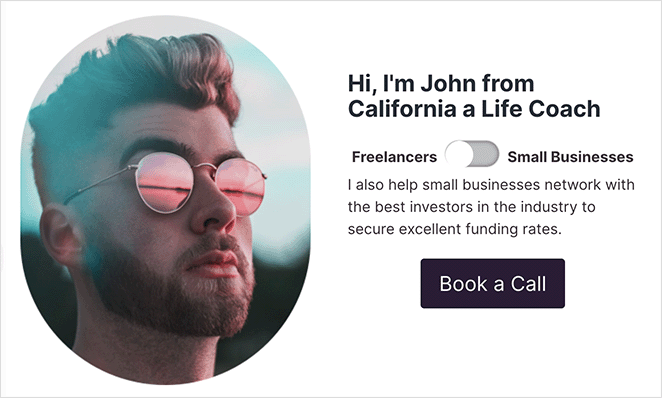 Copy & Paste Columns, Rows, and Blocks
In a previous update, we introduced the exciting copy and paste feature that allowed you to copy sections from one page and paste them onto another page or website. This feature was so well received that we made it standard for virtually every SeedProd design element.
That's right. You can now copy and paste, Rows, Columns and individual blocks across any SeedProd page or website. Simply open the layout navigation panel, find the element you want to duplicate, and click copy!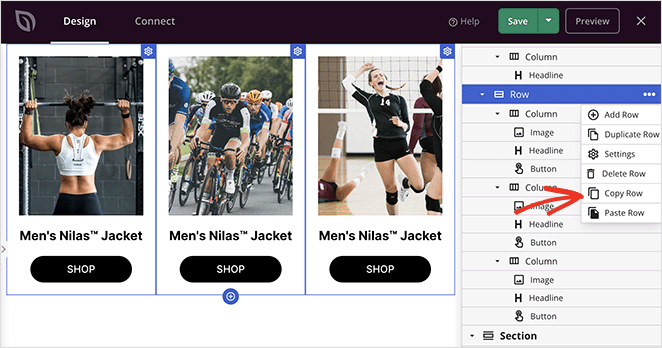 Then, you can repeat those steps to paste it, and you'll see an exact copy appear instantly on your new page.
Whether you want to quickly duplicate gallery styles, or use the same content toggle on different pages, now you can do it easily with a few clicks and zero code.
5 New Website Kits
If that wasn't enough excitement for one day, we're wrapping this announcement up by introducing 5 new website template kits.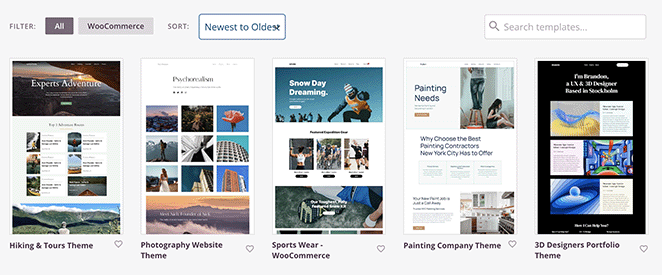 Our developers have been hard at work designing themes for:
3D Designer Portfolio
Sports Wear WooCommerce Store
Painting Company Website
Hiking & Tours Business Site
Each template is ready for you to test drive in the template library. Remember, installing a website kit is easy, just find one you like and click!
Update Your SeedProd Plugin Today
There you have it, another feature-rich release to make getting the most out of your WordPress site as easy as possible. Update your site to SeedProd 6.15.11 today to try it yourself.
Remember, the WooCommerce Gallery Block is available on Elite plans, while any premium plan can use the Content Toggle and Copy/Paste features.
So if you want to give them a go, but are still using SeedProd Lite, now is the best time to upgrade!
If you have questions about these updates, don't hesitate to contact our customer support team, where we're ready to jump in and help.
We also can't get enough of the fantastic feedback and comments you've been sending, so please don't hold back. Keep them flowing so that we can continue making SeedProd the best WordPress website builder together.