Display a list of posts within any post type from a particular category, other taxonomy, and more. You can show these posts with post titles, thumbnails, excerpts, authors, categories, and dates.
Using our Posts Block
Here are the key options you can use to customize your post listing and query.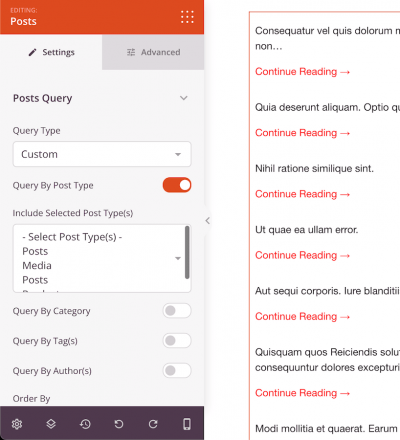 Post Query
Query Type – You can select the Default option for using the current query, the Custom option to create your own query, or the Manual option to enter your own query string parameters.
Query by Post Type – Turning on this option allows you to choose one or more post types you'd like to display posts from. This option is only available when using the Custom query type.
Query By Category – When enabled, this option allows you to select one or more of the available categories within the selected post type(s) you'd like to display posts from. This option is only available when using the Custom query type.
Query By Tag(s) – When enabled, this option allows you to select one or more of the available tags within the selected post type(s) you'd like to display posts from. This option is only available when using the Custom query type.
Query By Author(s) – When enabled, this option allows you to display posts created by the selected authors. This option is only available when using the Custom query type.
Order By – Order posts by available order options such as Date, Date Last Modified, Title, Comment Count, and Menu Order.
Order – Arrange posts in ascending (ASC) or descending (DESC) order
Layout
Columns – Set the number of columns to show posts
Pagination – Enable or disable pagination for the posts listed
Number Per Pages – Number of posts to show per page
Show Feature Image – Show or hide featured image for posts (if set)
Show Title – Show or hide post title
Show Meta – Show or hide post meta, eg. Date Modified, Author, Date, Time, and Comment Count.
Show Excerpt – Show or hide post excerpt (if entered) with the additional option to set the excerpt length
Show Read More – Show or hide "Read More" link