Last updated on: August 29, 2019
It's happened to everyone: you're all set to visit a page you are interested in, with content that you can't wait to enjoy.
After clicking the link, however, you receive a rude interruption to your browsing session: "Page Under Construction," or "Website Under Maintenance," flashes before you.
Clouds suddenly turn dark. Flowers around you begin to wilt. Now you've got to figure out a different way to get the information you need. A deep depression sets in. Somewhere in the distance, a sad violin begins to play…
Okay, so maybe that last part was a bit of an exaggeration, but it's still annoying when you visit a website that is unexpectedly under maintenance. It means that visitors aren't able to immediately find the answers that they seek, and in the worst cases, a page that's unexpectedly under construction can cost you a customer and/or a subscriber.
But it doesn't have to be this way. If you set your page up properly, you can actually use your maintenance mode as a powerful marketing tool that helps attract people to your company and what it has to offer. With some careful planning and a dose of ingenuity, your maintenance mode page can become an asset instead of a liability.
The frontal lobe in the right side of this picture is associated with familiarity and rewards
Use it to reinforce your brand
Your maintenance page should be consistent with the rest of your branding. Use the same colors, font, images, logos, etc. that you do on your other pages. If you have any company images that you use frequently, it's probably a good idea to include them on your maintenance mode page as well.
This might not seem like a huge deal, but reinforcing your brand using your maintenance page gives you the opportunity to become further entrenched in the memory of your prospects and customers.
There's actually scientific evidence that proves why this is important. Research shows that when people see logo designs they are familiar with, it activates the parts of the brain that are associated with rewards, including the pallidum, posterior cingulate and frontal cortex. So when you show your visitors your logo or another image related to your brand that they are familiar with, even if it's on a maintenance page, you are subconsciously connecting your organization with an emotional reward.
Link to other sites they might be interested in
No matter how great your maintenance mode page might be, there's still going to be a level of frustration on the part of visitors who were expecting to see the original page that they visited. There's nothing you can do about this: it's out of your control.
What is in your control, however, is the direction that you guide your visitors after they reach your maintenance page. And one of the best directions to point them in is to other pages of your website, especially if these pages contain the answers that they were originally looking for.
Suppose a visitor comes across a maintenance mode page for a specific product of yours, a site they visited to learn about that product's specifications. Even though the individual page is down, maybe you have a similar page that has general specifications about your other products, which might contain the answer to their original question. Include a link to this page, and you just might find that your visitors aren't as frustrated as they might have been.
You also might discover that, with a bit of guidance, you're able to get them interested in a completely different product or company offering all together. Don't overdo it, however: think carefully about the buyer persona of your page visitors and then pick a few links that make the most sense.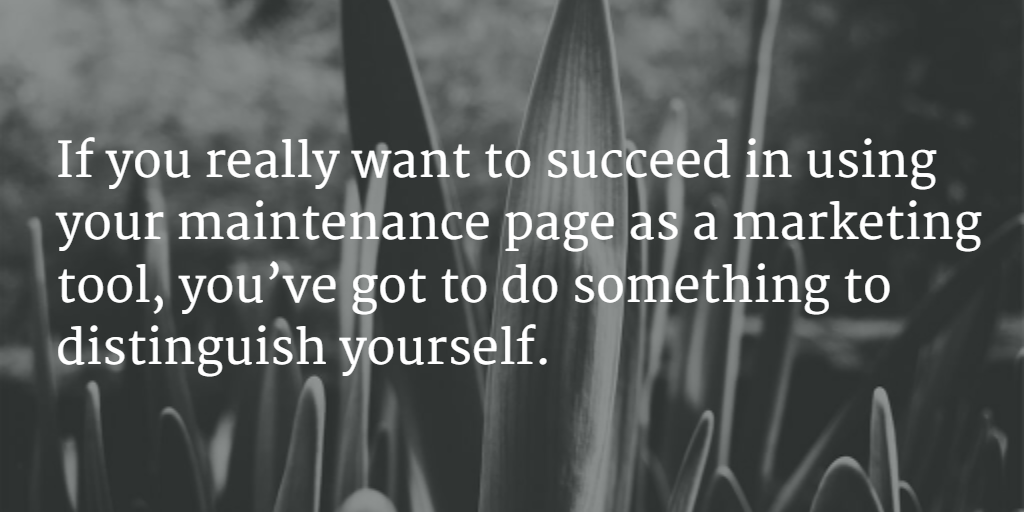 Provide your contact info
One of the most important facets of marketing is knowing what your audience wants. But unless you open yourself up to hearing their feedback, how can you expect to gain this understanding?
The short answer: you can't. So make sure that you offer at least a general email address where customers can reach you if they have further questions about your page. Even if no one actually contacts you, it's a show of good faith that you are open to listening to feedback. Sure, you might have to deal with venting from an annoyed customer or prospect here and there, but your audience will appreciate the openness, and you'll earn big points with them.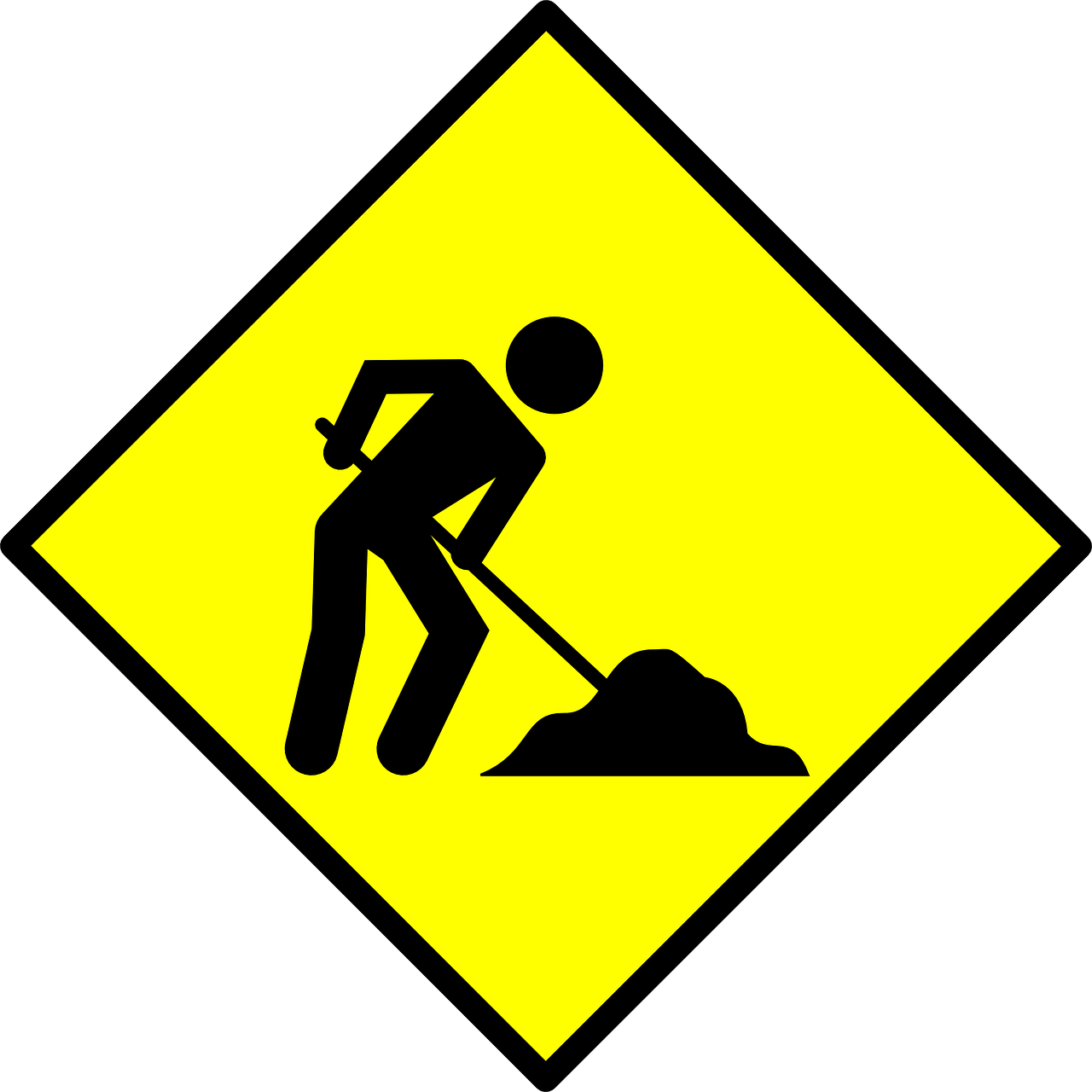 Remember this guy from under construction websites in the 1990s? Let's leave him there.
Be creative
Good marketing is creative marketing. As the digital world continues to grow, it's becoming harder and harder to stand out from others in your field. Think about how many other businesses have the same old "Under Construction" or "Please pardon our dust" messages on their websites. Boring!
If you really want to succeed in using your maintenance page as a marketing tool, you've got to do something to distinguish yourself. Be unexpected. Take risks. Make people remember you! The specific way that you do this depends on your industry and the kinds of people you are targeting.
One thing to note: there's also a slight difference between B2B maintenance pages and B2C ones. B2C pages should be more focused on the benefits of the product or service, while B2B pages should be establishing authority and building a relationship with team members.
Use it as an excuse to reach out
This is a valuable maintenance page marketing tactic to use that doesn't even have to be implemented on the page itself. If you know that you'll be working on changing a specific website or portion of your site, preemptively send an email to your list or make a social media update about the matter.
Of course you'll want to come across as apologetic, but you should also use this opportunity to let people know that you have a new offering or service or you are making an existing one even better. With an explanation, a sincere apology for the inconvenience, and the understanding that the downtime will make your offerings better, it's much easier for prospects and customers to accept that your page is in maintenance mode.
When one door closes, another opens
Don't look at a page in maintenance mode as an obstacle that stands in the way of building relationships with your customers. If you go about it properly, a page in coming soon mode can actually be the opposite. Think creatively about your target audience, keep your branding consistent, and be open and available for your customers and prospects, and you might find that a maintenance mode page actually helps your business instead of hurting it.